SummerFEST 2022 a big hit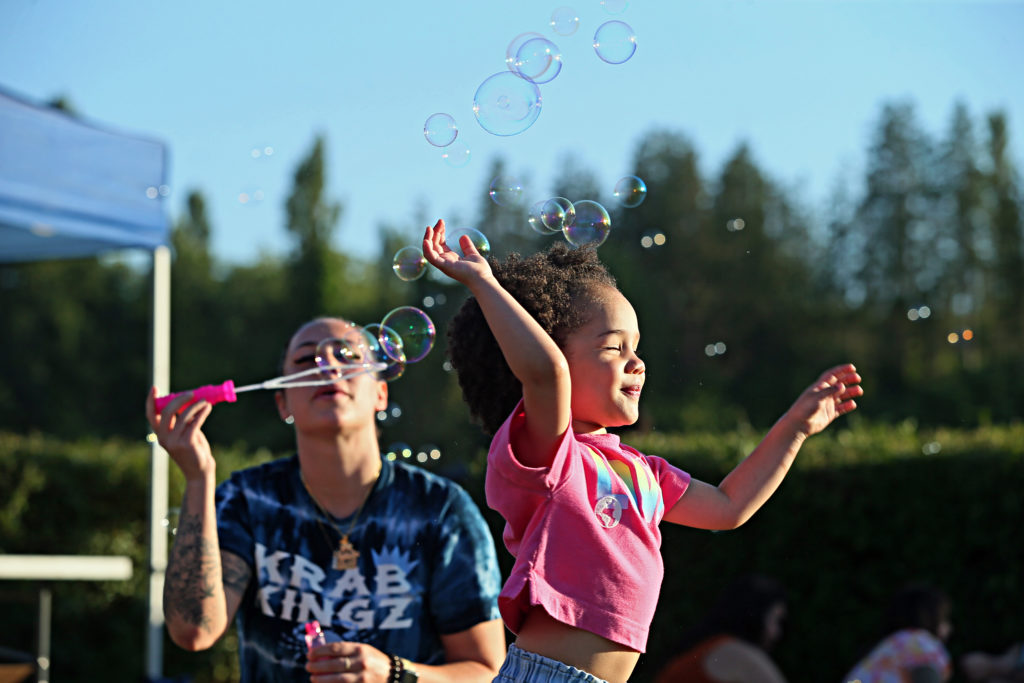 Did you join us July 23 for the return of SummerFEST? If you did, then you know what a great time we had celebrating the return of Lakewood's biggest event.
With 185 vendor booths, including 42 food vendors, visitors were able to learn about resources in the community, purchase handmade items from local artisans and enjoy food from around the world. Total food vendor sales alone were over $200,000 – a huge boost for our local restauranteurs who definitely appreciate the support after two years of uncertainty.
Like year's past, SummerFEST 2022 included activities for children through the "Live Your Best Life" themed Passport for Kids, live entertainment for all ages, a celebration of cultures from around the world on the Lakewood Sister Cities International Festival stage, live music and performances on the Main Stage, two beer gardens, a car show, circus acts, extreme trampoline shows and motocross stunts throughout the day. There were also hot air balloon rides in the morning and a visit from a Blackhawk helicopter, courtesy of our friends from Joint Base Lewis-McChord.
The evening crowd was treated to a lighted drone show at sunset, followed by the grand finale hot air balloon glow. Check out photo galleries of the event on Flickr, Facebook and see a raw video of the drone show in its entirety on the city's YouTube channel.
---
Pierce County Trails Day is Saturday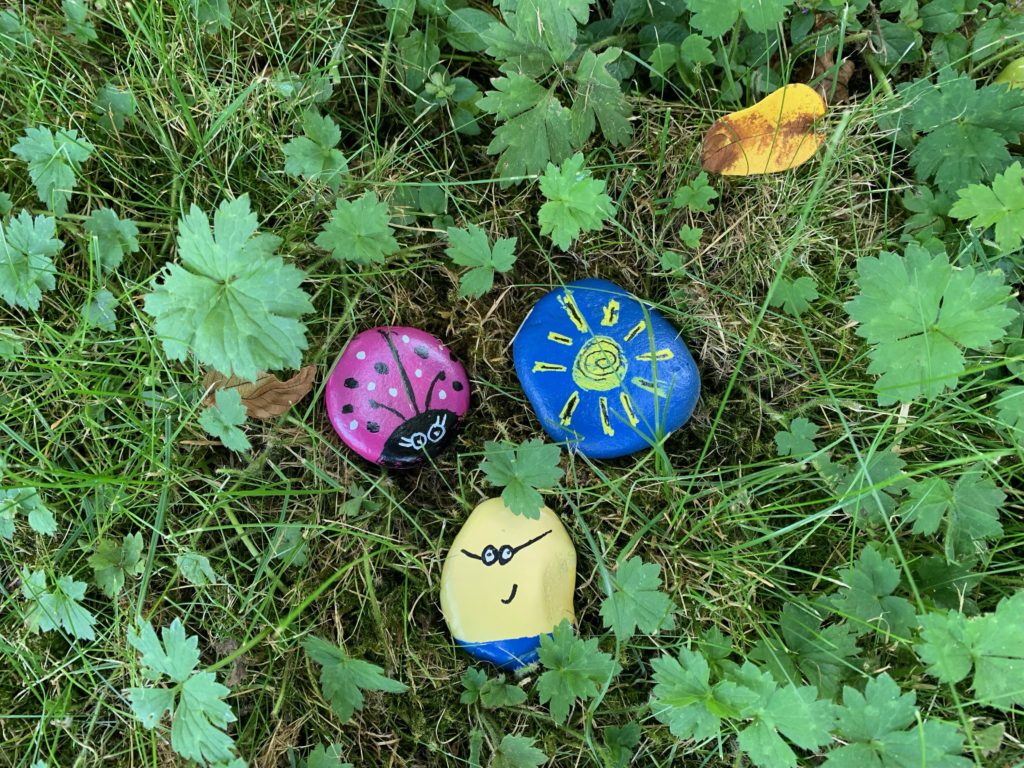 What is blue and yellow and has big eyes? Minions! This is just one of the fun rocks you can find Saturday, July 30 as we celebrate Pierce County Trails Day with our partners Forevergreen Trails.
Five of our parks: Fort Steilacoom, Harry Todd, Springbrook and Oakbrook will have painted rocks hidden for you to find on a treasure hunt.
If you're at Fort Steilacoom Park, head to the Waughop Lake picnic shelter at 11 a.m. for an educational family event. The Slater Natural History Museum will be there to let people touch local bird and mammal specimens, while the Puget Sound Model Boat Club will have its boats in lake for people to drive. Rikki McGee will lead Habitat Hikes every hour, and Pierce Conservation District representatives and noxious weed control board members will be on site to share information.
Grab your friends and family for a fun adventure of exploring the outdoors. Find more information on Forevergreen Trails website.
---
City Council Corner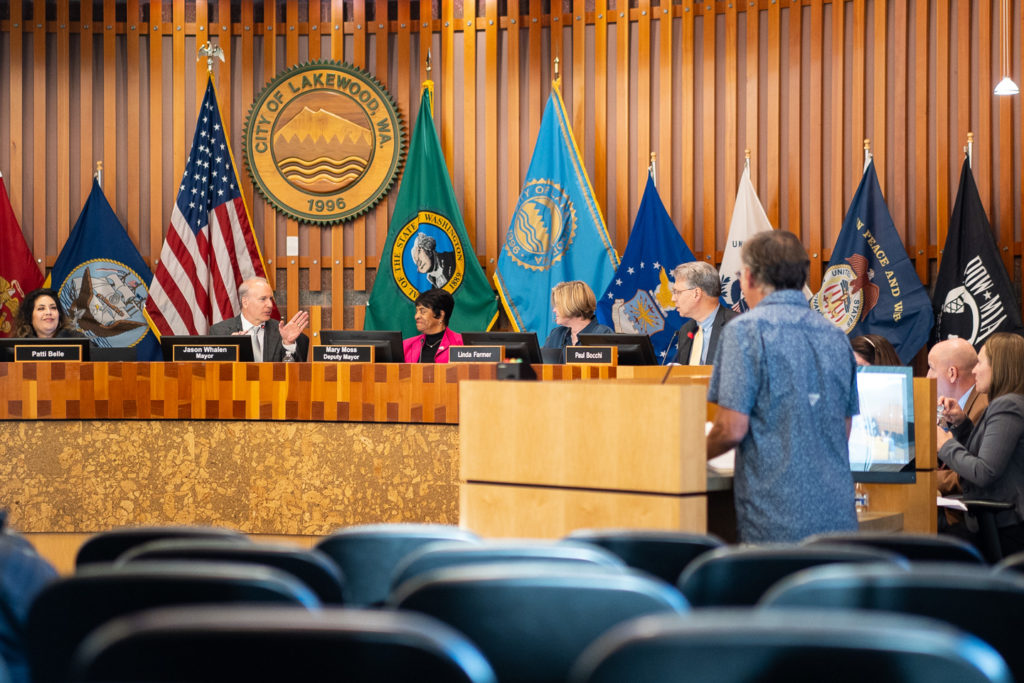 Meeting recap: At its July 25, 2022 Study Session the City Council heard from Lakewood Police Chief Mike Zaro who shared the department's second quarter report. The report provides an analysis of crime in the city, comparing against the prior quarter, as well as looking at larger trends in public safety.
Highlights from the report include a decrease in reported property crimes and society crimes from first quarter of this year. Looking at year-over-year numbers, these numbers are up compared to the same period in 2021, due to a number of factors.
The total crime rate for the city is driven by property crimes, not crimes against people. Specifically the property crimes committed are auto theft, retail theft and burglaries. Each of these areas saw a decrease in the second quarter compared to the first part of this year.
The police department recently completed a shoplifting emphasis at the Lakewood Towne Center and were successful at catching multiple people attempting to steal. The department will continue its efforts to return overall crime rates to levels seen before the pandemic. Read the full report.
Council also heard from Tiffany Speir, the city's Long Range and Strategic Planner, who provided information about the Pierce County Point in Time Count that looks at the number of people living unhoused in the county, and an update on the city's American Rescue Plan Act (ARPA) funds and future ARPA-funded projects. View the full report.
Next meeting: The Lakewood City Council meets for its regular meeting Monday, Aug. 1 at 7 p.m. Agenda items include:
Two proclamations, one declaring Aug. 2, 2022 as National Night Out and the other declaring Aug. 7-13, 2022 as Farmers Market week.
A district update from a representative of the Clover Park School District school board.
Ordinance No. 772, adopting amendments to the Lakewood Comprehensive Plan, including the future land use and zoning maps, and Lakewood Municipal Code Title 18A. Council first reviewed the ordinance at its July 11, 2022 study session and held a public hearing at its July 18, 2022 regular meeting.
What's on Deck?: Council's Aug. 8 Study Session includes a joint meeting with the city's Public Safety Advisory Committee and an update on the Tree Preservation Code.
How to attend: Attend in person at Lakewood City Hall, 6000 Main Street SW; Join via Zoom (dial (253) 215- 8782 and enter meeting ID: 868 7263 2373), or watch live on the city's YouTube channel.
Find the full meeting agenda and packet online.
---
Take the Lakewood Library survey
The Pierce County Library System is asking residents to help them provide library services to local residents by taking a short survey.
This survey will help supplement outreach conducted in 2019, prior to the pandemic. Responses will
be instrumental in understanding community priorities in 2022 as the library system determines how to move forward with providing library services to our community.
If you have questions, please contact the Pierce County Library System at 253-548-3300 or the Lakewood Library Building Advisory Committee.
---
Lodging Tax Advisory Committee applications available Aug. 1
Each year the city solicits project proposals that support and encourage tourism and cultural activities in Lakewood. The city's share of taxes collected for overnight stays at hotels and motels within city limits funds the projects approved by the Lodging Tax Advisory Committee (LTAC).
The application period for 2023 grants opens Monday, Aug. 1. Applications will be available on the city's website. The application deadline is Aug. 22, 2022 by 5 p.m.
---
Lakewood receives $325,000 in commerce grants
The state Department of Commerce issued three grants to the city of Lakewood totaling $325,000 to help the city with initiatives around housing, climate change and future growth planning over the next two years.
The three grants awarded are:
$175,000 for 2024 Growth Management Act Periodic Update.
$100,000 for Middle Housing Program.
$50,000 for Early Implementation Climate Planning.
The money awarded by the state for these initiatives will help Lakewood with these important updates to its growth planning policies and documents.
Read more about how the money will be used.
---
Road project updates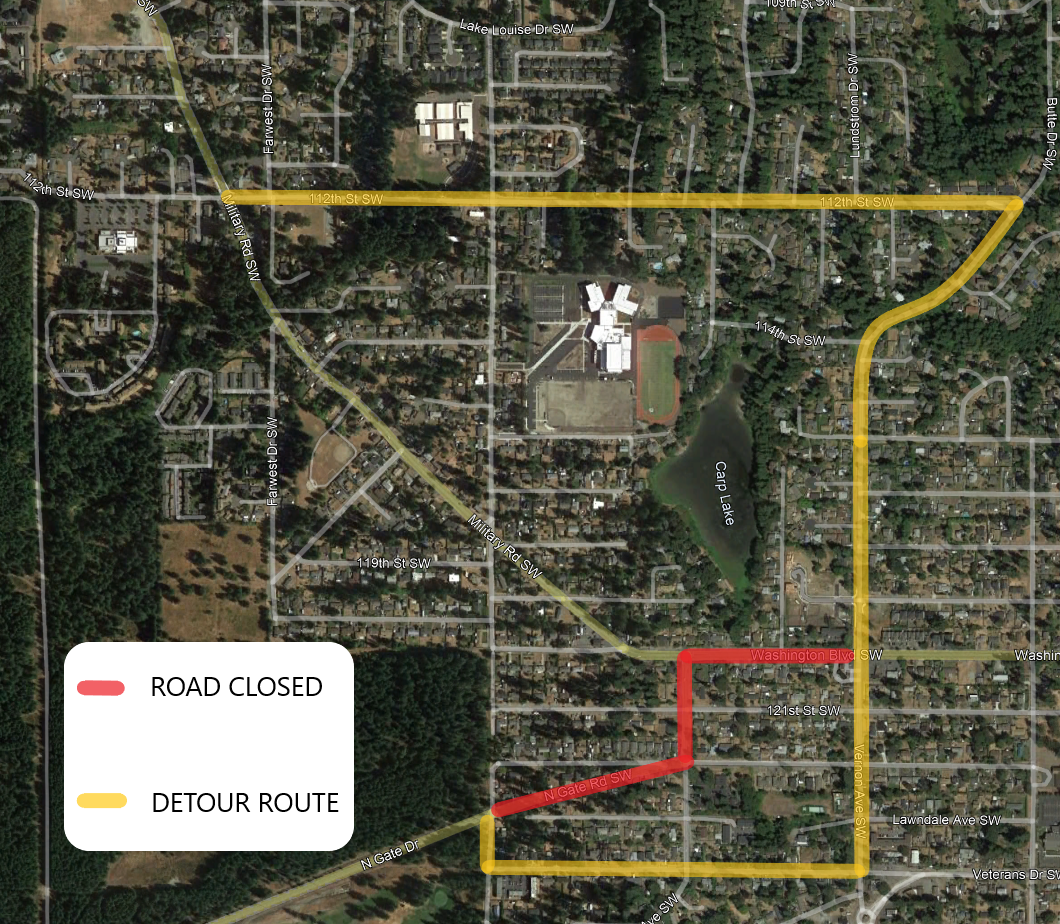 JBLM-North Access Improvement Phase 2: Monday, Aug. 1 Washington Boulevard will close between Edgewood Avenue and Vernon Avenue to remove the pavement and begin utility construction. The closure is expected to last around two months. Following that work, the contractor will proceed east along Washington Boulevard toward Interlaaken Drive.
Phillips Road: Curb installation is complete. The sidewalk will be poured Aug. 1-2. Once done the city's contractor will patch between the gutter pan and the existing roadway, stripe the bike lane, and complete some minor items.
59th sidewalk and 100th to Bridgeport Way: Project is expected to be completed by end of the day Friday, July 29.
Steilacoom Blvd, Weller to Custer: Project is awarded and headed to construction. Contractor is procuring signal equipment. Construction is slated to begin this fall. This project will construct curb and sidewalk on the south side of Steilacoom Boulevard between Weller and Phillips roads, then build curbs and sidewalk along both sides of 88th Street between Steilacoom Boulevard and Custer Road.
Pacific Highway/South Tacoma Way – 108th to SR 512 Overlay: Project was awarded and contractor is set to complete work over a short duration of nights in August and September. Work is limited to pavement repair, grinding, paving and striping.
2022 Chip Seal: Contractor will start the chip seal in the Lake Louise area at the end of August. The work includes one week of preparation and one week of chip seal activity is anticipated.
2022 Patching: Contractor is performing additional patching on Nyanza Road this week and into early next week.
---
Upcoming city events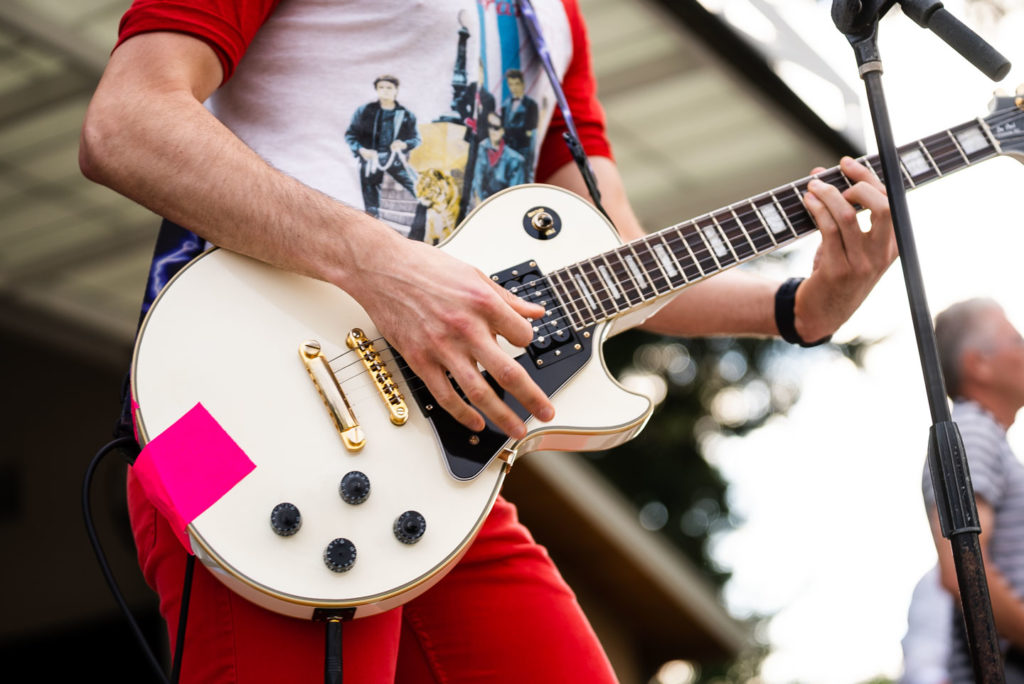 There's a lot going on in Lakewood this summer and we hope you can join us for some of the fun! See a list below of upcoming events and make sure to mark your calendar!
Aug. 2, 5 p.m.: National Night Out, various locations around Lakewood. Contact the Lakewood Police Department for information about where events are being held: 253-830-5000 or email [email protected].
Aug. 9, 2-7 p.m.: Lakewood Farmers Market and Summer Nights at the Pavilion concert starting at 6:30 p.m. with Good Co. Swing at Fort Steilacoom Park.
Aug. 13, 4-8:30 p.m.: Saturday Street Festival: Jazz Nights & Car Show with food trucks, a beer garden, market vendors, roaming entertainment, face painting and live music from Indigo Jazz Band (4-5:30 p.m.), Obe Quarless, Steel Pan Music (5:30-6:30 p.m.) and Michael Powers (6:30-8:30 p.m.).
---
988 Suicide & Crisis Lifeline is now live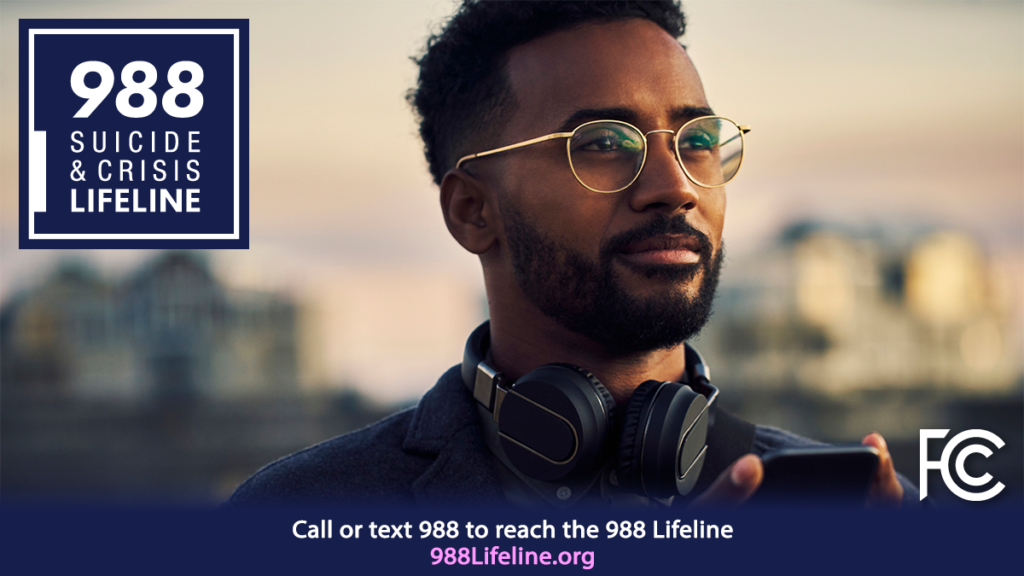 The National Suicide Prevention Lifeline is now 988. By dialing 988, people in crisis will be connected with a national network of more than 200 crisis centers that helps thousands of people overcome crisis situations every day. These centers are supported by local and state sources as well as the Department of Health and Human Services' Substance Abuse and Mental Health Services Administration.
Three call centers in Washington now operate 24/7 with trained operators to help people navigate crises related to mental health or substance use disorder. Call centers reported a 50% increase in call volume following the July 16 launch of the new, easy-to-remember 988 dialing code.
Lear more at www.988lifeline.org.
---
Stay up to date on Lakewood news
Never miss an update from the city of Lakewood. Follow us on social media to stay up to date on what's happening in the city.