The City designates 1% of its general fund to support human services in the Lakewood community. It does this through its biennial Human Services Grant cycle. Area social, health, and human services organizations are encouraged to apply to the City for funding.
Shannon Bennett
Human Services Coordinator
(253) 983-7774
Email: SBennett
To email Shannon Bennett add her email handle before @cityoflakewood.us
Rental Housing Safety Program
Phone: (253) 983-7850
Email: [email protected]
---
About
The City's Human Services Program offers three major services:
Uses money awarded by the Lakewood City Council to support community-based organizations that provide critical services. Use of money is based on recommendations from the Community Services Advisory Board
Leads the Lakewood Community Collaboration. This brings local organizations and community members together at Lakewood City Hall every month. They aim to identify and tackle issues related to our children, youth and families.
Partner with the Lakewood's Promise Advisory Board to meet the needs of children, youth and families. Specifically, they focus on living wage jobs and youth mental health.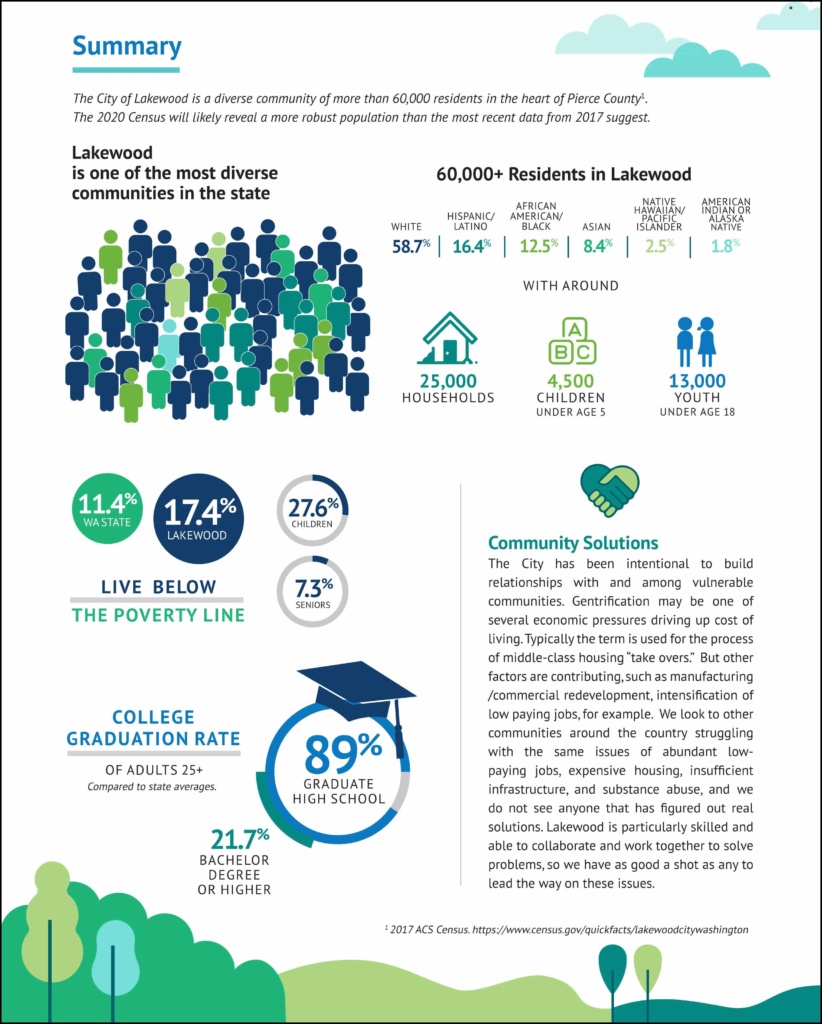 ---
Lakewood Community Collaboration
The Lakewood Community Collaboration is a group of organizations and city members that work to make Lakewood better. The Collaboration meets monthly during September through June and is open to everyone interested in working together for a healthy, thriving community.
Meetings are normally held the second Wednesday of the month from 9 – 10:30 a.m. and may be attended in person or virtually. The meeting site fluctuates between off-site locations and the City Council Chambers at Lakewood City Hall, 6000 Main St. SW. Detailed meeting invites are issued to Community Collaboration members at least one week in advance of each meeting.
Email Human Services Coordinator Shannon Bennett to be added to monthly meeting email announcements and community updates.
To email Shannon Bennett combine the first letter of her first name with her full last name and add @cityoflakewood.us
Join our meeting via Zoom with this link
Meeting ID: 874 2330 0524
Dial by your location
+1 253 215 8782 US (Tacoma)
https://us06web.zoom.us/j/87423300524
---
Workforce Development and Career Training
These career fields are in high demand, and local training programs are available to get you started.
---
Community Resources
Looking for community resources or assistance? Here is a list of agencies within Pierce County that assist people in need:
Community Resource List:
Download this list of available community resources (PDF)
All Community Resources and Referrals:
Aging and Disability Resources:
Emergency Assistance:

Food
Home Repair
Utilities

Employment:
Español Servicios:

United Way 211 Llame a este número 2-1-1

Health Care:
Homeless Services and Rent Assistance:
Income Assistance:
Landlord and Tenant Rights:
Legal Assistance:
Veteran and Military Services: