The Lakewood City Council began its regular meeting Aug. 15 with a special recognition: Reading a proclamation honoring the life and contributions of longtime Lakewood resident George Weyerhaeuser, Sr. who passed away in June at 95 years old.
Many people may not know this, but Weyerhaeuser married his wife Wendy at Lakewold Gardens, which was her family's home at the time. The Weyerhaeuser family has maintained a presence in Lakewood for generations, helping contribute to the fabric of our community.
In the proclamation, the Lakewood City Council acknowledged this influence, noting George H.W. Weyerhaeuser, Sr. was "an extraordinary civic and business leader" who is remembered for his contributions to the community and the forest products industry.
Council member Don Anderson presented the recognition to Weyerhaeuser's children at the meeting.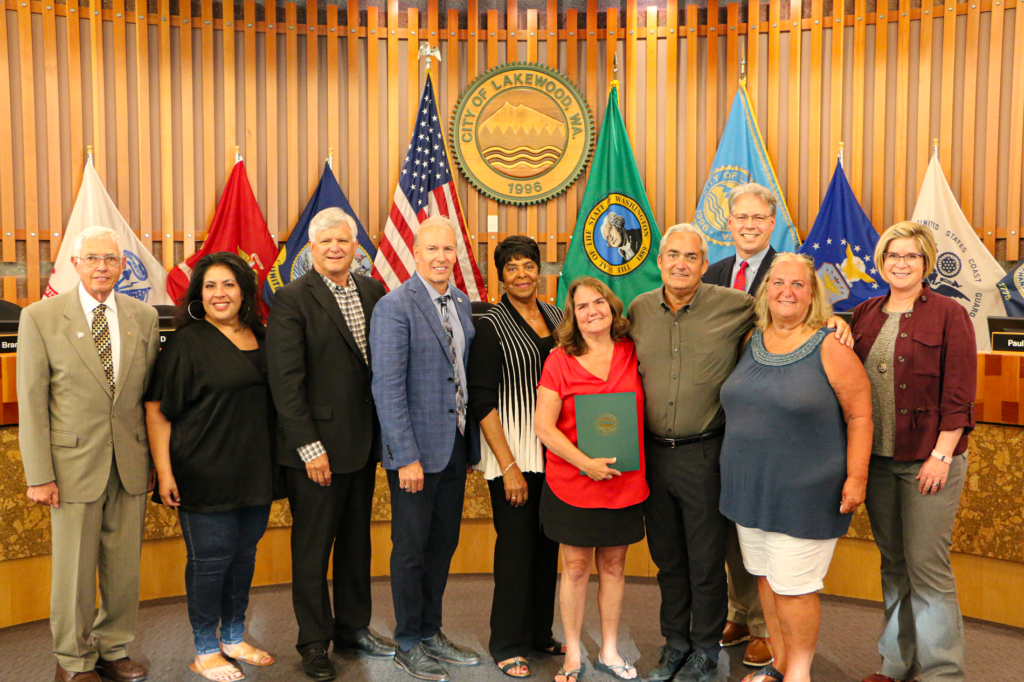 ARPA Updates
Council heard from two recipients of the city's American Rescue Plan Act (ARPA) funds, who outlined how the money has been used to-date.
West Pierce Fire & Rescue shared its second quarter progress report, including use of half the funds to purchase hardware, cameras, microphones, audio control, devices and license fees for four of its fire stations to help with communication efforts. Next steps are to begin with foreign language and HAM Radio components to ensure emergency messages are multi-lingual and have a far reach.
YMCA of Pierce & Kitsap Counties shared its before and after school child care program offered $3,281 in scholarships and financial assistance to three families that met the city's ARPA eligibility requirements. The YMCA also identified teens to participate in a Leaders in Training program, and three are actively participating in a workforce development program. These teens are receiving coaching and mentoring and learning important job readiness, life, communication and social-emotional enrichment skills. They are also helping with the Lakewood Summer Day Camp program, serving as camp counselors.
Public Hearing
Council held a public hearing on a road vacation request for 36 feet of 88th Ave. Ct. SW, west of the intersection with Wadsworth St. SW.
Resolution adoption
Council adopted Resolution No. 2022-11, adopting the Tacoma-Pierce County Solid and Hazardous Waste Management Plan and recommitting the city to its partnership with Pierce County.
Reports by the City Manager
Tiffany Speir, Long Range & Strategic Planning Manager, reviewed the 2022 Pierce County Countywide Planning Policies with Council. These policies are regularly updated to maintain consistency with VISION 2050, which outlines planning policies for the central Puget Sound region, and consistency with the state Growth Management Act (GMA).
In May the Pierce County Council adopted the latest round of countywide planning policy changes, which took effect in June. Cities can ratify these changes tby either approving an interlocal agreement showing support, or taking no action.
The adopted planning policies incorporate action that:
Supports equity and inclusion in the planning for, and investment in, communities;
Encourages strategies to create communities affordable to its residents;
Supports coordination between jurisdictions and governmental agencies, with a focus on tribes and military installations;
Supports strategies to slow and mitigate impacts of climate change;
Addresses potential displacement of residents and businesses resulting from housing and commercial/industrial development and redevelopment; and
Encourages the development of healthy communities.
Next steps: Lakewood has 180 days from when the Pierce County Council adopted the policies to either take no action, or sign an interlocal agreement with Pierce County. Lakewood planning staff recommends Council approve the 2022 Countywide Planning Policies with an interlocal agreement at its Sept. 6, 2022 regular meeting.
Next meeting
The Lakewood City Council meets Monday, Aug. 22 at 7 p.m. for a study session in Council Chambers at City Hall, 6000 Main Street SW. Find meeting information.