Parks Appreciation Day is Saturday
Join your neighbors to help cleanup Lakewood's parks and get them ready for the busy spring and summer season. Our annual Parks Appreciation Day is this Saturday, April 22, 2023 from 9 a.m. to 12 p.m.
Volunteers are needed to help clean up park areas, remove noxious weeds, spread wood chips and assist with overall maintenance. Park sites needing work this year include:
Edgewater Park
Fort Steilacoom Park
Harry Todd Park
Kiwanis Park
Lakewood Community Garden
Thank you to the more than 100 volunteers who already signed up. We look forward to working with you. Still debating if you can come? We can always use more hands! Please join us – even if it's just for an hour – at Fort Steilacoom Park or Harry Todd Park.
We will be out there rain or shine, so please dress accordingly.
---
Lakewood Mayor Jason Whalen joins other mayors urging changes to state drug possession laws
Lakewood Mayor Jason Whalen signed a letter this week joining mayors of 27 other cities across the state urging legislators in the state House to make changes to proposed legislation around controlled substances.
In a statement, Whalen said:
"This legislative session city leaders from across the state – including myself and my colleagues in Lakewood – have urged our state legislators in Olympia to strengthen laws that improve public safety. That includes passing a bill that punishes the possession of controlled substances. Lakewood already took action to protect our community by passing an ordinance that makes open drug use within the city a gross misdemeanor. Now, we ask our legislators to similarly step up for our communities…"
Read the full statement and the signed letter.
---
West Pierce Fire & Rescue Youth Academy
West Pierce Fire & Rescue's Youth Academy is June 17-18 this year for students who want to see what a career in the fire service is all about.
This is a great way for students ages 14-18 to experience what it's like to be a firefighter. This two-day academy offers students the opportunity to learn about various disciplines within the fire service, while gaining hands-on experience.
There is no cost to attend and all equipment is supplied. Visit the West Pierce Fire & Rescue website for more details or to apply.
---
Council Corner: April 17, 2023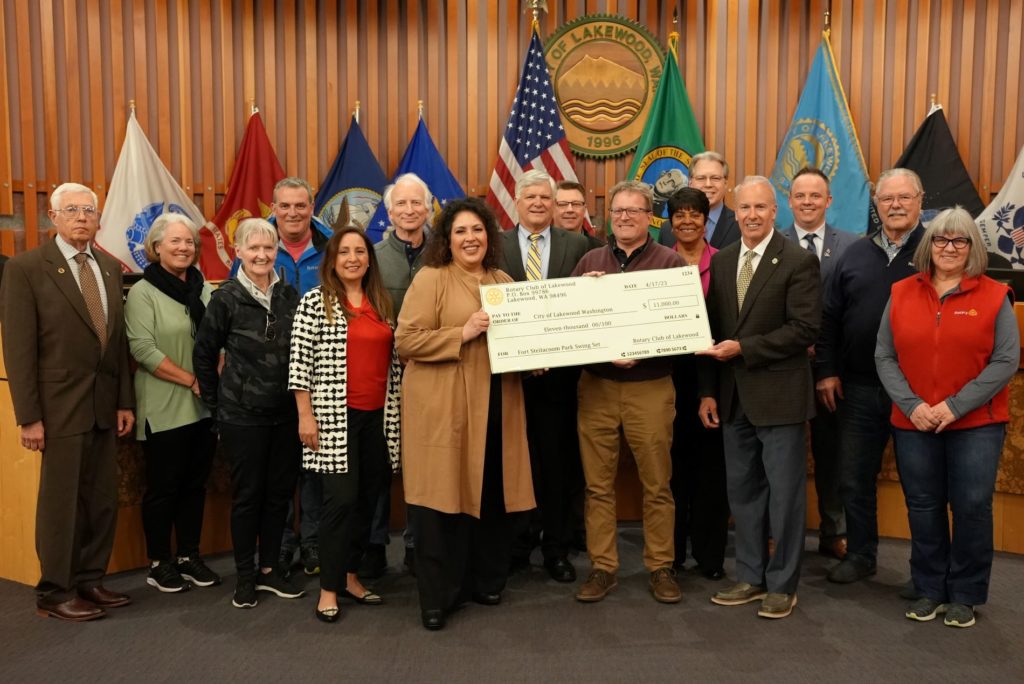 Thank you Rotary Club of Lakewood. The Lakewood City Council regular meeting started on a happy note. The Rotary Club of Lakewood presented Council and the city with a check for $11,000. The money is to help pay for the replacement of swingset equipment at Fort Steaciloom Park. Council appreciates the longstanding relationship with the club, which has made countless contributions to our community through monetary donations and sweat equity to improve the quality of life for all our residents.
CDBG Public Hearing. Council held a public hearing on the fiscal year 2023 Community Development Block Grant (CDBG) Annual Action Plan.
South Sound Military & Communities Partnership. Council received an update from South Sound Military & Communities Partners (SSMCP) director Bill Adamson at its meeting. In his update Adamson reviewed the organization's work plan.
Dolly Parton Imagination Library. The city of Lakewood received a request from the Rotary Club of Lakewood to use American Rescue Plan Act monies to support their efforts to bring a Dolly Parton Imagination Library to Lakewood. The program provides all readers with free books, regardless of socioeconomic status. Based on the club's analysis, there are 6,000 eligible children in Lakewood who would benefit from the program. The Rotary club would be the lead organizations administering the program and will work with community partners like the Peirce County Library System, YMCA, Clover Park School District and other child-focused service providers and civic clubs to reach students and sustain the program.
Watch the meeting.
What's on deck: The Lakewood City Council will meet Monday, April 24 at 7 p.m. for a study session. Tentative agenda items include:
Review of 2022 Transportation Benefit District (TBD) Annual Report
Review of 2022 Year-End Financial Report
Review of 2023 Carry Forward Budget Adjustment
Review of Non-Motorized Transportation Plan Update
Review City Council Liaisons to Citizens' Advisory Boards, Committees and Commissions
How to attend: Attend in person at Lakewood City Hall, 6000 Main Street SW; Join via Zoom (or dial 253-215-8782 and enter meeting ID: 868 7263 2373), or watch live on the city's YouTube channel.
---
Calling all vendors!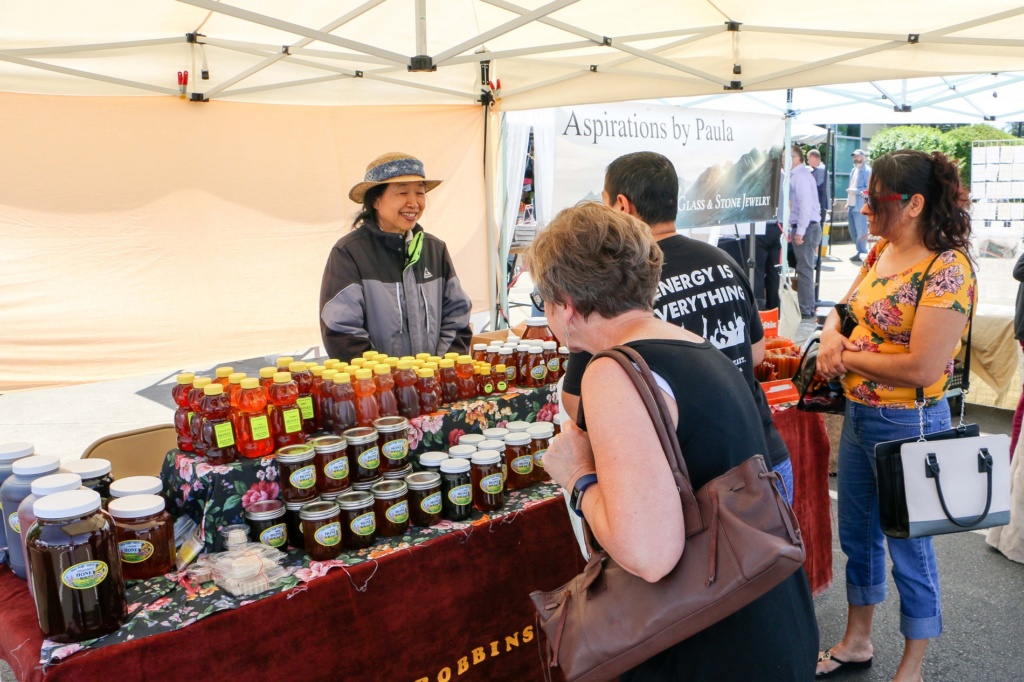 Are you a local vendor? Do you have experience selling at Farmers Markets? A few spots remain for processors, crafters or famers at our Lakewood Farmers Market, which kicks off June 6 and runs every Tuesday, 2-7 p.m. at Fort Steilacoom Park.
Interested? Email Recreation Coordinator Sally Martinez. To be considered you must include the following in your email?
Business name
List of products
1 or 2 photos of your product
Where you vend
Website or social media
SummerFEST vendor application now open. Want to get your business in front of thousands of people this summer? We are now accepting applications for vendors interested in attending SummerFEST. Happening this year on July 15 at Fort Steilacoom Park, this is can't miss event for the whole family. Find the application online. Applications are due May 31, 2023.
---
Comprehensive Plan update
The 2023 Comprehensive Plan Amendment Cycle Amendment Public Review is underway. The Lakewood Planning Commission public hearing hon the 2023 Comprehensive Plan Amendment Cycle will remain open through the Commission's May 3 meeting at 6:30 p.m. for proposed amendments 2023-03 (regarding the rezone of the Lakewood Racquet Club parcels) and 2023-05 (regarding the updates to the city's emergency housing, emergency shelters, permanent supportive housing, transitional housing and foster care facilities zoning and regulations).

You can watch the stakeholder review of updated proposed amendment 2023-05 (updating zoning uses and development code related to special needs housing) here.
---
Join our Independent Salary Commission
Want your voice to be heard? There are five positions open on the Lakewood Independent Salary Commission, which decides the salaries for the Mayor and City Council.
For more information on what the commission does or requirements to volunteer, visit the commission website.
Interested in getting more involved in the city? Check out our boards and commissions website to find volunteer opportunities.
---
Take the kids fishing
The annual Lakewood Kids Fishing Event is May 13. This event allows children 5 to 14 years to fish off the shoreline of American Lake.
Cost is just $5 per participant. Children get to keep their pole and their catch. All necessary fishing supplies are provided.
This year's event is Saturday, May 13. Note the location change: The event will be held on the shoreline of Harry Todd Park. Sessions are 45 minutes and run every hour on the hour from 8 to 11 a.m.
Spots are filling up quickly so make sure to sign up today: https://tinyurl.com/LakewoodFish
---
Emergency Food Network Hunger Walk
The Hunger Walk is an annual opportunity for the community to support Emergency Food Network's mission of providing food to our neighbors in need "so that no person goes hungry."
The 2023 Hunger Walk will take place May 6 at Fort Steilacoom Park. Virtual registration is available.
---
Work for the city of Lakewood
We're hiring! Looking to change careers? Looking for a new job? Ready to re-enter the job market?
Join the city of Lakewood! From maintenance workers, Information and Technology analysts, to assistant city attorneys and police officers, we have a variety of positions open. Lakewood offers a competitive benefits package. We are part of the state retirement system (PERS). And the city is a beautiful place to work.
Find a current list of open positions online.
---
Road project updates
Washington Boulevard
Paving began this week on Washington Boulevard. This is one of the last steps needed before this section of road can reopen.
Despite the rain and cold temperatures, the city's contractor worked longer hours during dry periods to complete the paving work. As a result, the section of Washington Boulevard that has remained closed over the last few months is expected to reopen by end of day Wednesday, April 26.
Next week the contractor will complete additional preparation tasks, including adjusting utility castings and signage. Once that is done, all of Vernon Avenue will reopen along with the section of Washington Boulevard between Edgewood Drive and Vernon Avenue.
The final section of Washington Boulevard slated for improvement is expected to close May 1. This section runs from Lake City Boulevard to Interlaaken Drive. Look for digital signs along the route with updated information about expected impacts.
We appreciate everyone's patience during the closure. We know this has been an inconvenience to drivers, residents and has had an impact on the area businesses. We are nearing the final stretch and are excited to see this last stage of work complete.