It's time to take the kids fishing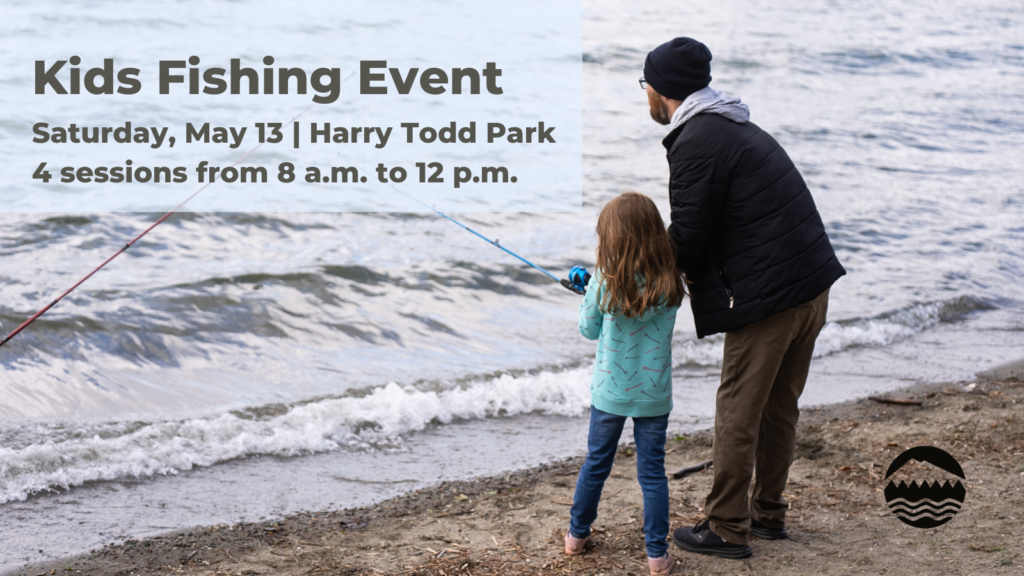 The annual Lakewood Kids Fishing Event is only a few weeks away! Have you signed up yet?
We still have a few spots available at the 8, 9 and 10 a.m. sessions. Our 11 a.m. slot is almost full.
Join us Saturday, May 13 for this event that let's children 5 to 14 years fish from the shoreline of American Lake. And with a freshly stocked lake, we're pretty sure they won't have to wait long for a bite!
Cost is just $5 per participant. Children keep their pole and their catch. All necessary fishing supplies are provided.
This year's event is at Harry Todd Park. Sessions are 45 minutes and run every hour on the hour from 8 to 11 a.m.
Spots are filling up quickly so make sure to sign up today: https://tinyurl.com/LakewoodFish
---
Help keep invasive species out of our parks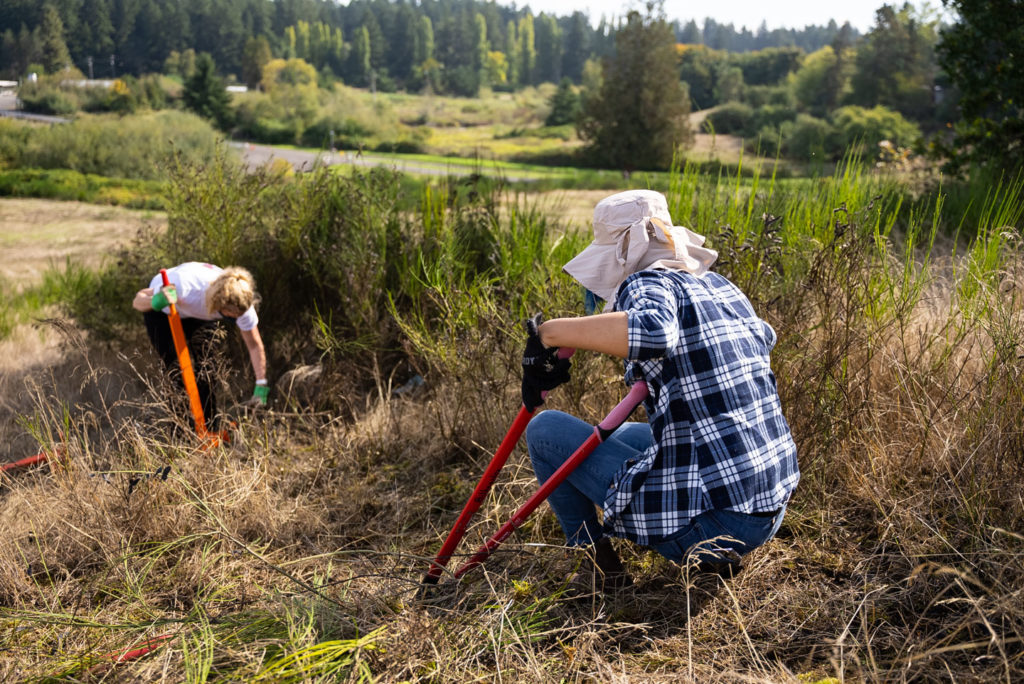 We are looking to establish a team of volunteers to lead habitat restoration efforts in the city. This includes removing invasive plants like blackberries, scotch broom and other non-native species from our parks.
If you are interested in learning more, or helping lead these efforts, please email our Parks, Recreation and Community Services department at [email protected]. Or call 253-983-7887.
We also encourage people to sign up for upcoming Pierce Conservation District classes. These classes will help prepare volunteers for the work we'd like to see done in Lakewood.
Once we have leaders identified, we'll share additional details about planned work parties and how people can get involved.
More about habitat stewardship
The Pierce Conservation District Habitat Stewardship Program works with volunteers to maintain open spaces in Fircrest and Puyallup. The city of Lakewood hopes to establish a similar program.
As a Habitat Steward volunteers take ownership of a site, develop an annual work plan and goals, and lead monthly work parties of volunteers.
Learn more about this program at a three-part series training in May.
During the training people will learn about the Habitat Stewardship Program, ecology, volunteer management and site planning. There is a field portion to learn about common invasive species, removal techniques and tool safety.
The dates are:
May 17, online 5:30-7 p.m.
May 20, in the field 9 a.m.-12 p.m.
May 24, online 5:30-7 p.m.
Sign up here: https://zfrmz.com/34irvZeADzveIiNI756P
There are limited spots available, so register quickly! If the May training fills up, you'll be put on a waitlist for future trainings.
---
Parks Appreciation Day recap: Thank you volunteers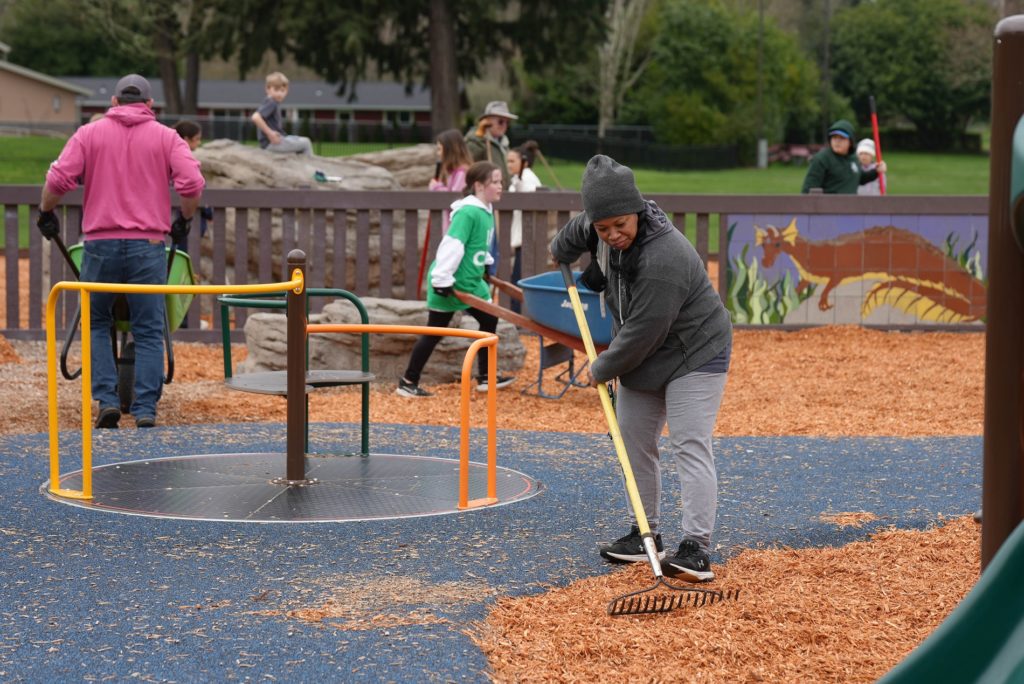 We had another successful Parks Appreciation Day over the weekend thanks to the outstanding roughly 150 volunteers that stepped up to help.
Thank you to the following service clubs and partner organizations:
Clover Park School District
Grave Concerns
Kiwanis Club of Lakewood
Lakewood Parks and Recreation Advisory Board
Lakewood Youth Council
LDS Church
Little Church on the Prairie
Rotary Club of Lakewood
West Pierce Fire and Rescue Dive team
In addition, we are grateful to the many neighbors and community members who showed up to volunteer for the day.
---
Lakewood Police Department Citizens Academy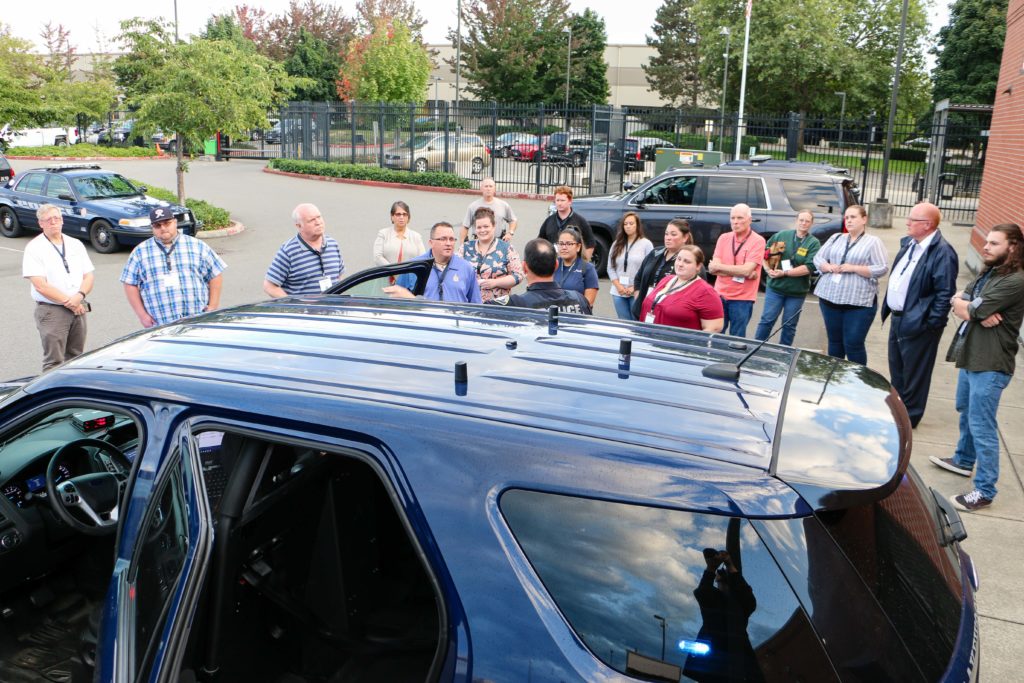 The Lakewood Citizens Academy is an annual event hosted by the Lakewood Police Department. Held at the police station, this is an opportunity for residents to learn about police operations first-hand from Lakewood officers, detectives and command staff.
Weekly topics offer snapshots of what police learn as part of their training to become sworn officers. This includes patrol responsibilities, criminal investigations, child abuse cases, K9 officers, the city's Behavioral Health Contact Team, use of force and how the court system works in Lakewood and Pierce County.
The 2023 Academy runs Thursdays, 6:30 to 9 p.m. from June 8 to July 27, 2023.
---
Congratulations to Youth Council member Brandon Elliott
The Association of Washington Cities Center for Quality Communities (CQC) announced eight recipients of its 2023 scholarships.
Lakewood Youth Council member Brandon Elliott is one of the recipients.
Elliott will receive a $2,500 CQC scholarship to use for college this fall and is invited to join the other recipients to speak at the AWC Annual Conference in Spokane on June 22, 2023. City officials and staff from each community nominated the students for a scholarship based on their leadership skills and dedication to civic service.
---
West Pierce Fire & Rescue Youth Academy
West Pierce Fire & Rescue's Youth Academy is June 17-18 this year for students who want to see what a career in the fire service is all about.
This is a great way for students ages 14-18 to experience what it's like to be a firefighter. This two-day academy offers students the opportunity to learn about various disciplines within the fire service, while gaining hands-on experience.
There is no cost to attend and all equipment is supplied. Visit the West Pierce Fire & Rescue website for more details or to apply.
---
Council Corner: April 24, 2023
2022 Transportation Benefit District (TBD) Annual Report: As required by state law, the city prepared a 2022 annual report for the Transportation Benefit District (TBD). The report identifies the status of transportation improvement costs, transportation improvement expenditures, revenues, and construction schedules to the public. Highlights from 2022 include using TBD funds to complete 2,000 square yards of pavement patching throughout the city and sealing work on the road around Lake Louise and 107th Street SW. Funds were also used to design projects to prepare them for future improvements. Read more.
2022 Year-End Financial Report: The intent of the financial report is to provide an overview of activity in all city funds through December 31, 2022. Council reviewed these funds, which includes a look at operating revenues and expenditures, property tax, sales and use tax collections and other funds. Read more (starting on page 7).
2023 Carry Forward Budget Adjustment: The proposed budget adjustment makes the following types of modification to the current biennium: Revises the estimated beginning fund balance to reflect the final 2022 ending fund balance; Adjusts to incorporate items previously approved by the City Council; Appropriates projects funded by grants and contributions; Continues capital projects; and identifies allocations as necessary. A public hearing will be held May 1, 2023 on the proposed adjustment with final council action scheduled for May 15, 2023.
Non-Motorized Transportation Plan Update: The Public Works Engineering Department in conjunction with Transpo Group completed an update to the city's 2009 Non-Motorized Transportation Plan and presented it to City Council in March. (Find the update online.) Numerous improvements have been made to city roadways, sidewalks, bike facilities, and shared use paths since 2009. The plan was updated to reflect this work, as well as other updates required by city or national standard changes and public outreach. This updated plan provides a comprehensive direction for how the city will enhance pedestrian, bicycle and other non-motorized use connectivity within its urban areas.
City Council Liaisons to Citizens' Advisory Boards, Committees and Commissions: Council reviewed its liaison assignments to its boards and commissions. This included a review of external committees and boards members serve on and the tentative schedule for attendance at upcoming Clover Park School District Board of Director meetings and Neighborhood Association meetings.
Watch the meeting.
What's on deck: The Lakewood City Council will meet Monday, May 1 at 7 p.m. for a regular meeting. Tentative agenda items include:
Council will read multiple proclamations to start its meeting, including recognizing May 2023 as National Asian American, Native Hawaiian-Pacific Islander Heritage Month.
Council will present the May 2023 Business Showcase to Crane's Creations owners.
The Lakewood Youth Council and Clover Park School District will report to Council.
Authorize four contracts, including three for upcoming road improvement work.
Approve the 2022 Transportation Benefit District Annual Report.
Public hearing on the 2023 Carry Forward Budget Adjustment.
Adopt the FY 2023 Community Development Block Grant (CDBG) Annual Action Plan.
Approve American Rescue Plan Act (ARPA) allocation for the Dolly Parton Imagination Library.
Update existing funding and authorizing new ARPA funding for certain internal and external uses.
How to attend: Attend in person at Lakewood City Hall, 6000 Main Street SW; Join via Zoom (or dial 253-215-8782 and enter meeting ID: 868 7263 2373), or watch live on the city's YouTube channel.
---
Calling all vendors!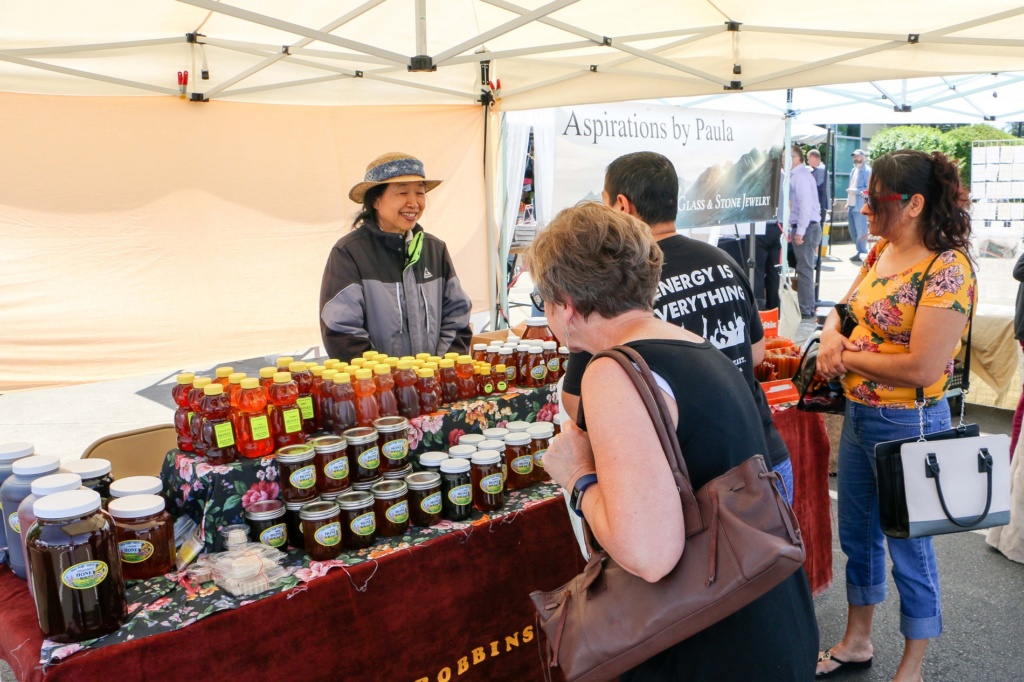 Are you a local vendor? Do you have experience selling at Farmers Markets? A few spots remain for processors, crafters or famers at our Lakewood Farmers Market, which kicks off June 6 and runs every Tuesday, 2-7 p.m. at Fort Steilacoom Park.
Interested? Email Recreation Coordinator Sally Martinez. To be considered you must include the following in your email?
Business name
List of products
1 or 2 photos of your product
Where you vend
Website or social media
SummerFEST vendor application now open. Want to get your business in front of thousands of people this summer? We are now accepting applications for vendors interested in attending SummerFEST. Happening this year on July 15 at Fort Steilacoom Park, this is can't miss event for the whole family. Find the application online. Applications are due May 31, 2023.
---
Comprehensive Plan update
The 2023 Comprehensive Plan Amendment Cycle Amendment Public Review is underway. The Lakewood Planning Commission public hearing on the 2023 Comprehensive Plan Amendment Cycle remains open through the commission's May 3 meeting at 6:30 p.m. for proposed amendments 2023-03 (regarding the rezone of the Lakewood Racquet Club parcels) and 2023-05 (regarding the updates to the city's emergency housing, emergency shelters, permanent supportive housing, transitional housing and foster care facilities zoning and regulations).

Watch the stakeholder review of updated proposed amendment 2023-05 (updating zoning uses and development code related to special needs housing) here.
---
Join our Independent Salary Commission
Want your voice to be heard? There are five positions open on the Lakewood Independent Salary Commission, which decides the salaries for the Mayor and City Council.
For more information on what the commission does or requirements to volunteer, visit the commission website.
Interested in getting more involved in the city? Check out our boards and commissions website to find volunteer opportunities.
---
Emergency Food Network Hunger Walk
The annual Emergency Food Network Hunger Walk is an annual opportunity for the community to support EFN's mission of providing food to our neighbors in need "so that no person goes hungry."
The 2023 Hunger Walk will take place next Saturday, May 6 at Fort Steilacoom Park. Virtual registration is available.
---
Work for the city of Lakewood
We're hiring! Looking to change careers? Looking for a new job? Ready to re-enter the job market?
Join the city of Lakewood! From maintenance workers, Information and Technology analysts, to assistant city attorneys and police officers, we have a variety of positions open. Lakewood offers a competitive benefits package. We are part of the state retirement system (PERS). And the city is a beautiful place to work.
Find a current list of open positions online.
---
Road project updates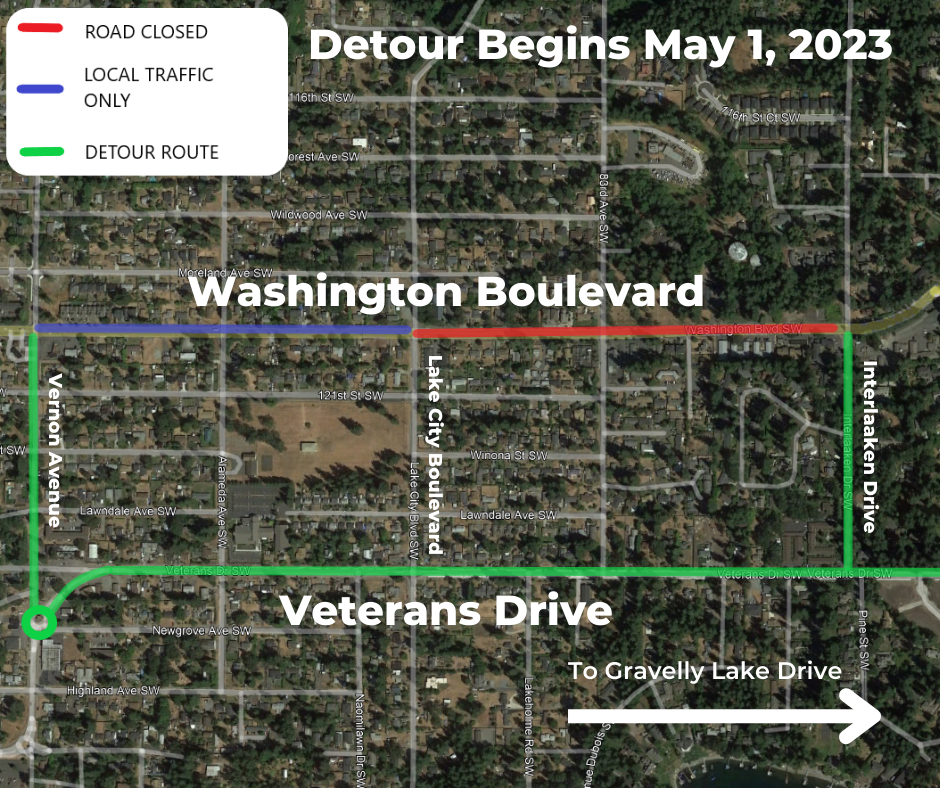 This week saw the re-opening of Washington Boulevard to through traffic. It was pretty exciting! The next – and FINAL – anticipated closure of the road will happen Monday, May 1.
The closure stretches from Lake City Boulevard to Interlaaken Drive. This is the final section of road to be improved. Crews will install new storm water drainage systems, curbs, gutters, sidewalks, two more roundabouts, street lighting and pave the roadway once complete. This section will remain closed to through traffic until work is complete.
The stretch of roadway from Vernon Avenue to Lake City Boulevard that remains unpaved will be paved end of summer. Unfortunately the heavy rains at the end of last week prevented the paving of this length of road.
Local access will be granted to residents who live along the closed section. Drivers passing through Lake City can use Veterans Drive, Vernon Avenue and other outlets to get around the closure.
We know this has been a lengthy project that has disrupted the area and we appreciate everyone's patience as the work is done. We're in the final stretch and are excited to see the finished product once the work is complete.