Spring Community Cleanup is here!
This weekend bring your unwanted items to the Lakewood Transfer Station Saturday and Sunday between 8 a.m. and 1:45 p.m.
The city partners with refuse provider LeMay to offer this service free to Lakewood residents. Proof of Lakewood residency is required for admittance. The Lakewood Transfer Station is located at 3869 94th Street SW.
Smaller items must be bagged and cannot be loose. Larger items like furniture do not need to be bagged. Hazardous materials like paint or other chemicals will not be accepted. Neither will larger-scale construction debris.
Friendly reminders:
Residents are responsible for unloading items.
A five-minute time limit may be enforced to help keep cars moving.
No box vans or vehicles over 7-feet tall will be admitted.
Small trailers only; nothing larger than 4 feet by 8 feet accepted.
Cars in line after 1:45 p.m. will not be admitted.
Find a complete list of what will and will not be accepted.
---
Council Corner: April 10, 2023 study session
Lakewood Police presented their first quarter crime statistics to the Lakewood City Council at the April 10 study session.
Funding allocations: Council reviewed two funding allocation requests related to federal monies the city receives. The first would allocate $1 million in HOME funds and the second would allocate $1.175 million in HOME-ARP funds to support the Living Access Support Alliance (LASA) Gravelly Lake Commons project. Council previously committed $1 million of the city's American Rescue Plan Act allocation to support this affordable housing project, which would add low-income housing units to the city.
City Hall Energy Audit: Council received an update on energy usage at Lakewood City Hall.
Watch the meeting.
What's on deck: The Lakewood City Council will meet Monday, April 17 at 7 p.m. for a regular meeting. Tentative agenda items include:
Presentation of check from Lakewood Rotary for the Fort Steilacoom Park Playground Project
Authorizing the execution of an agreement with KBH Construction, Inc., for the Bridgeport Way and Pacific Highway Gateway Monument project
Authorizing the execution of an amendment to the agreement with the Department of Enterprise Services for the City Hall Investment Grade Audit (IGA)
Authorizing the execution of an interlocal agreement with the State Department of Social and Health Services for the construction of a temporary traffic signal at Steilacoom Blvd and Chapel Gate Road
Canceling the City Council study session of Monday, May 8, 2023
This is the date set for a public hearing on the FY 2023 Community Development Block Grant (CDBG) Annual Action Plan
Reports by the City Manager – Review of 2023 South Sound Military and Communities Partnership (SSMCP) Work plan
Reports by City Manager – Review Dolly Parton Imagination Library Program
How to attend: Attend in person at Lakewood City Hall, 6000 Main Street SW; Join via Zoom (or dial 253-215-8782 and enter meeting ID: 868 7263 2373), or watch live on the city's YouTube channel.
---
Meet local artists April 17 at City Hall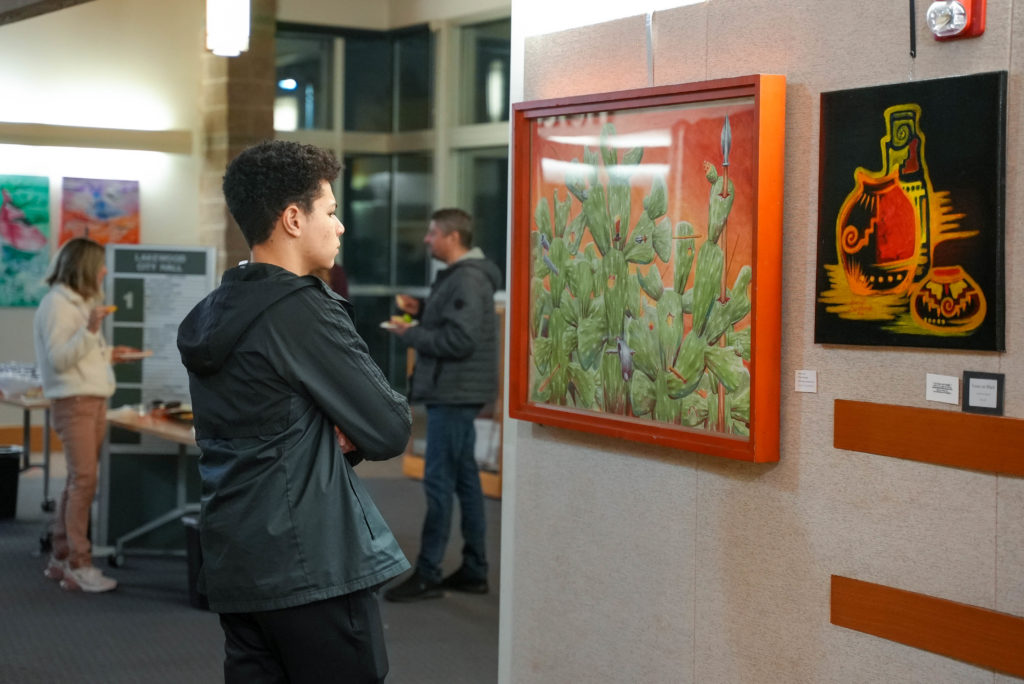 Meet local artists Mauricio Robalino, Renee Meschi, and Laura Martinez at the next Lakewood Artist Reception. The event is Monday, April 17 at Lakewood City Hall, 6000 Main Street SW. It begins at 5:30 p.m.
We honor local artists by hosting regular artist receptions. For each event artists hang their work in the entryway and ground floor hallways of City Hall for a limited time for the public to enjoy.
The reception offers an opportunity for visitors to meet the artists, learn about their inspiration and their chosen artistic medium. Light refreshments are served.
Learn more about public art in Lakewood.
---
Parks Appreciation Day
Join you neighbors to help cleanup Lakewood's parks and get them ready for the busy spring and summer season. Our annual Parks Appreciation Day is Saturday, April 22, 2023 from 9 a.m. to 12 p.m.
Volunteers are needed to help clean up park areas, remove noxious weeds, spread wood chips and assist with overall maintenance. Park sites needing work this year include:
Edgewater Park
Fort Steilacoom Park
Harry Todd Park
Kiwanis Park
Lakewood Community Garden
Let us know you're coming: Sign up online.
---
Have a creative kid?
The Pierce County Library System invites children and teens to design the next Peirce County Library System library card.
Submissions will be accepted at any Pierce County Library now through April 30, 2023.
Artists are limited to one entry per person. Artwork must be portrait or landscape orientation and up to 7 inches x 11 inches in size. Professional artists will review entries and select finalists. Then, in the coming months, the public will vote online for their favorite designs in two age groups ages (5-11 and 12-18).
---
Join our Independent Salary Commission
Want your voice to be heard? There are five positions open on the Lakewood Independent Salary Commission, which decides the salaries for the Mayor and City Council.
For more information on what the commission does or requirements to volunteer, visit the commission website.
Interested in getting more involved in the city? Check out our boards and commissions website to find volunteer opportunities.
---
Register now for Kids Fishing Event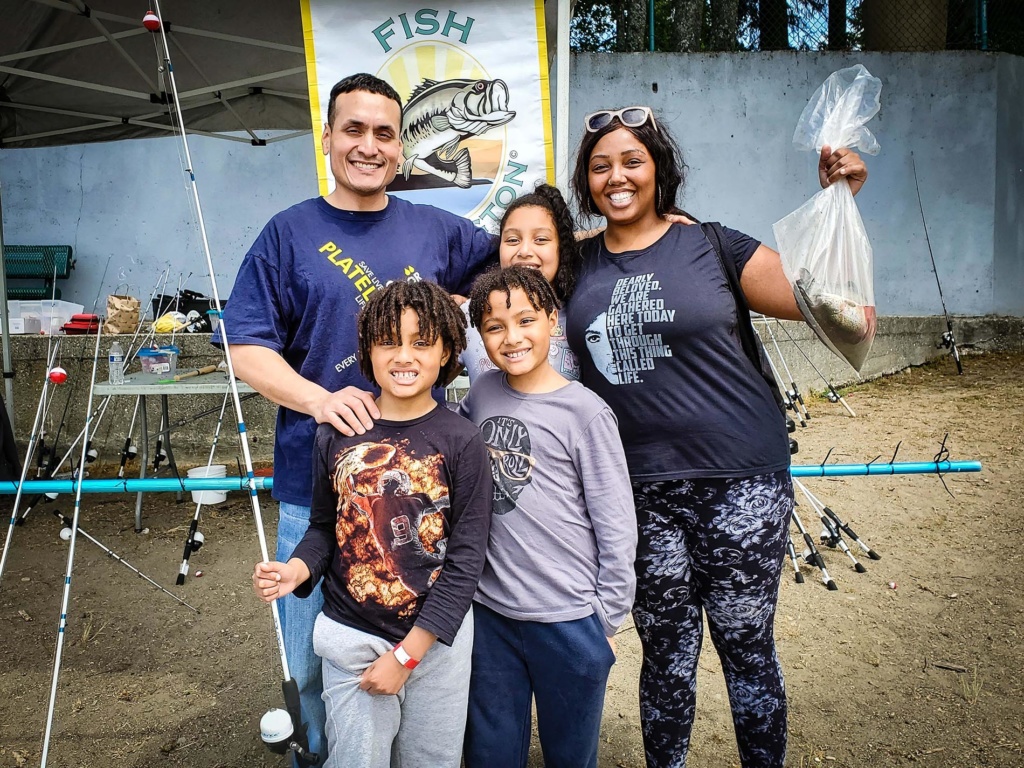 Registration is now open for the city of Lakewood's annual Kids Fishing Event. This event allows children 5 to 14 years to fish off the shoreline of American Lake.
Cost is just $5 per participant. Children get to keep their pole and their catch. All necessary fishing supplies are provided.
This year's event is Saturday, May 13. Note the location change: The event will be held on the shoreline of Harry Todd Park. Sessions are 45 minutes and run every hour on the hour from 8 to 11 a.m.
Space is limited. Sign up today: https://tinyurl.com/LakewoodFish
---
Emergency Food Network Hunger Walk
The Hunger Walk is an annual opportunity for the community to support Emergency Food Network's mission of providing food to our neighbors in need "so that no person goes hungry."
The 2023 Hunger Walk will take place May 6 at Fort Steilacoom Park. Virtual registration is available.
---
Work for the city of Lakewood
We're hiring! Looking to change careers? Looking for a new job? Ready to re-enter the job market?
Join the city of Lakewood! We have a variety of job positions open. Lakewood offers a competitive benefits package. We are part of the state retirement system (PERS). And the city is a beautiful place to work.
Available positions include openings in our maintenance division, Information Technology and police department.
Find a current list of open positions online.
---