Road alert: Temporary detour for 112th Street SW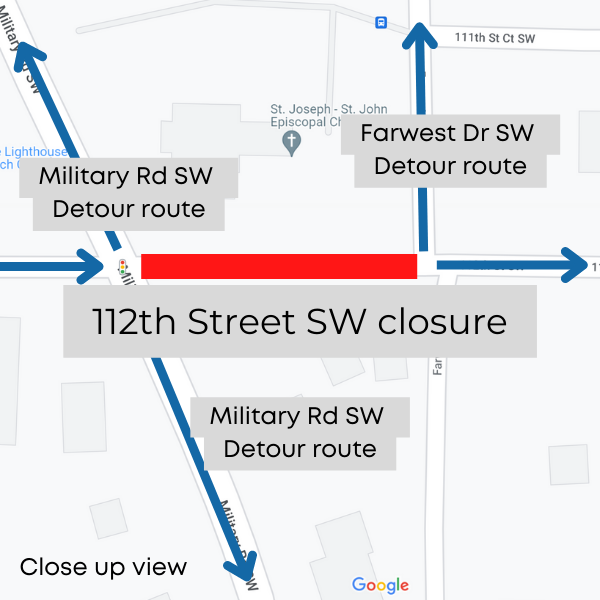 A temporary detour on 112th Street SW between Military Road SW and Farwest Drive SW begins Monday, Aug. 22 and runs to Friday, Aug. 26 while crews repair a section of the roadway that was damaged when a Lakewood Water District water main broke.
Drivers headed eastbound on 112th Street SW will detour around the closure by turning onto Military Road SW, then Holden Road SW to reconnect to 112th Street SW to continue traveling east.
Drivers traveling westbound on 112th Street will be routed to Farwest Drive SW at the road closure to ultimately reconnect with 112th Street SW past the road's intersection with Military Road SW.
Read more and view an interactive map.
---
What's happening at Fort Steilacoom Park?
This weekend the Pacific Harbors Boy Scout Council is hosting its WashJam 2022 event at Fort Steilacoom Park.
This is a regional jamboree that involves camping for the Scouts and daytime activities including kayaking/canoeing on Waughop Lake and a jousting demonstration by the Seattle Knights. There will be concerts Friday and Saturday evenings.
The public is able to attend, however it is a ticketed event with a cost to enter the main activity area. You can find more information online: www.washjam.org.
To accommodate the Scouts and their festivities, the park's RC Fly Zone area is closed.
---
Lakewood Farmers Market Extended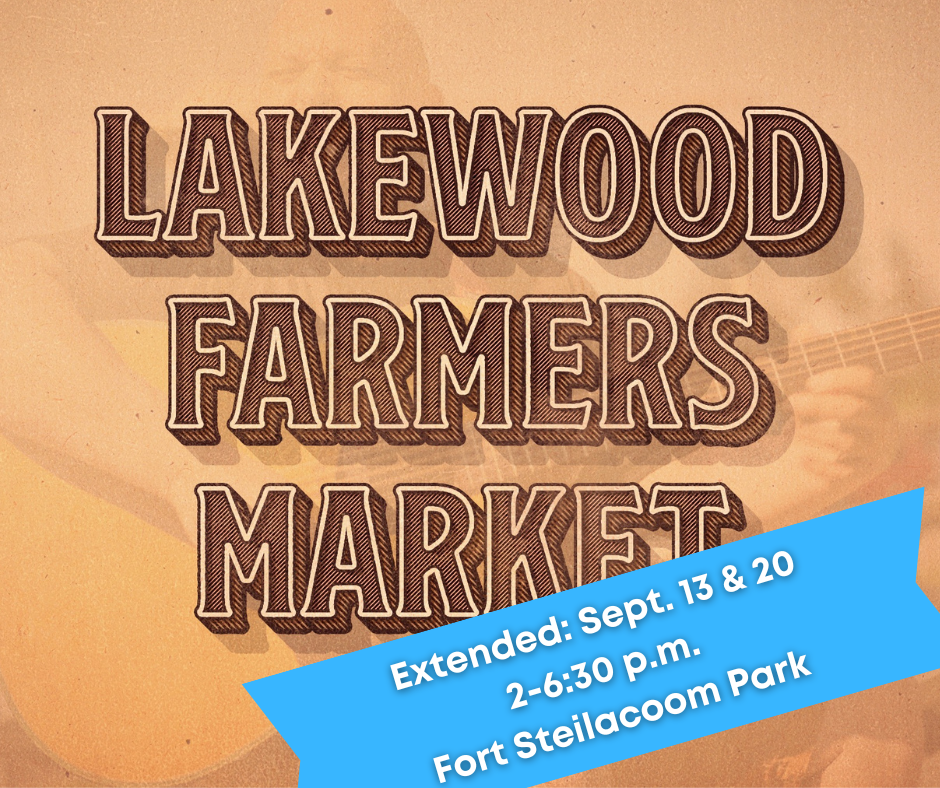 We heard you Lakewood Farmers Market shoppers: You want more market days! Due to the popularity of this year's market –and because we're just not quite ready to let go of summer – we're extending the Lakewood Farmers Market two additional weeks.
The market will run Sept. 13 and Sept. 20 from 2 to 6:30 p.m. It will keep its 2-7 p.m. schedule through August. The market is held in Fort Steilacoom Park near the playground and soccer fields, 8714 87th Avenue SW. Read more.
---
Council Corner: Aug. 15, 2022 Regular Meeting
Meeting recap: The Lakewood City Council began its regular meeting Aug. 15 with a proclamation honoring the life and contributions of longtime Lakewood resident George Weyerhaeuser, Sr. who passed away in June at 95 years old. Council member Don Anderson presented the recognition to Weyerhaeuser's children at the meeting.
Council also heard updates on American Rescue Plan Act funding allocations, passed a resolution adopting the Pierce County Hazardous Waste Management Plan and heard an update on the Pierce County Countywide Planning Policies, including recommended next steps. Read more.
Next meeting: Lakewood City Council study session Monday, Aug. 22 at 7 p.m. View the Agenda items here, including:
Economic Development Update
Biennial Review of the Downtown Subarea Plan
Tree Preservation Code Update
What's on Deck?: Council will not meet Aug. 29. Its next meeting is Tuesday, Sept. 6, 2022 at 7 p.m. (note the special meeting day). This meeting is the date set for a public hearing on the city's biennial review of its Downtown Subarea Plan and its Tree Preservation Code update. Find agenda items here.
How to attend: Attend in person at Lakewood City Hall, 6000 Main Street SW; Join via Zoom (or dial (253) 215- 8782 and enter meeting ID: 868 7263 2373), or watch live on the city's YouTube channel.
---
Lakewood recognized by Governor for its climate change and planning policies
Lakewood was recognized Tuesday as a leader in the state for its work on climate change and planning for population growth in the coming decades. The city was one of eight cities across the state to receive a 2022 Governor's Smart Communities Award.
Lakewood was awarded the Smart Climate Strategies Award for its work on climate change and the Judges Merit Award.
"It is an honor to see the city recognized for its proactive planning efforts aimed at improving the quality of life for current and future residents," said Lakewood Mayor Jason Whalen. "We've made significant strides, but we still have work to do and the Lakewood City Council is focused on next steps as it relates to policies around growth and future climate impacts." Read more.
---
Department of Commerce grants available for business, nonprofits
This week the state Department of Commerce announced $75 million in state pandemic relief grants is available for small businesses and nonprofits with a focus on the arts, heritage and science sectors and businesses relying on in-person conventions in the state.
The application period opened Wednesday, Aug. 17. Applications are due by 5 p.m. Sept. 9. The online portal – commercegrants.com – is live and has guidelines and more to help applicants with their application preparation.
$34.5 million available for non-profits assisting underserved businesses
Money from the $34.5-million Small Business Innovation Fund is available to non-profits with a history of assisting state small businesses, or those that propose offering community-based programs and services tailored to the needs of black, indigenous and people of color entrepreneurs, women-owned small businesses and those located in underserved, low-income or rural areas. If selected organizations could receive between $500,000 and $5 million to help continue these efforts.
Deadline to apply is Sept. 2, 2022. Find more information.
---
Lodging Tax Advisory Committee applications due Monday
Each year the city solicits project proposals that support and encourage tourism and cultural activities in Lakewood. The city's share of taxes collected for overnight stays at hotels and motels within city limits funds the projects approved by the Lodging Tax Advisory Committee (LTAC).
The application period for 2023 grants is now open. Applications are available online. Deadline is Aug. 22, 2022 by 5 p.m.
---
Road project updates
112th Street SW between Military Road SW and Farwest Drive SW: The road will be closed while crews respond to a Lakewood Water District main break. A detour will be in place from Aug. 22-26. One lane of traffic will remain open on 112th Street and Farwest Drive while crews repair the road.
JBLM-North Access Improvement

Phase 2: Installation of storm drainage infrastructure continues as crews work to dig 10-foot deep trenches to install the equipment. Work continues east along Washington Boulevard toward Interlaaken Drive. Detour is in place until October.

Phillips Road: The contractor continued restoration of right-of-way landscaping this week. A temporary suspension will be issued until Sept. 1, 2022 to allow the asphalt to cure prior to placing the final striping. Cluster mailboxes will be installed upon delivery.
Steilacoom Blvd, Weller to Custer: Construction begins Sept. 12, 2022. This project will construct curb and sidewalk on the south side of Steilacoom Boulevard between Weller and Phillips roads, then build curbs and sidewalk along both sides of 88th Street between Steilacoom Boulevard and Custer Road.
Pacific Highway/South Tacoma Way from 108th to SR 512 Overlay: Work is scheduled to begin Sept. 6, 2022. The work will be done over a short duration of nights and is limited to pavement repair, grinding, paving and striping.
2022 Chip Seal: Contractor will start the chip seal in the Lake Louise area at the start of September. The work includes one week of preparation and one week of chip seal activity is anticipated.
---
Upcoming city events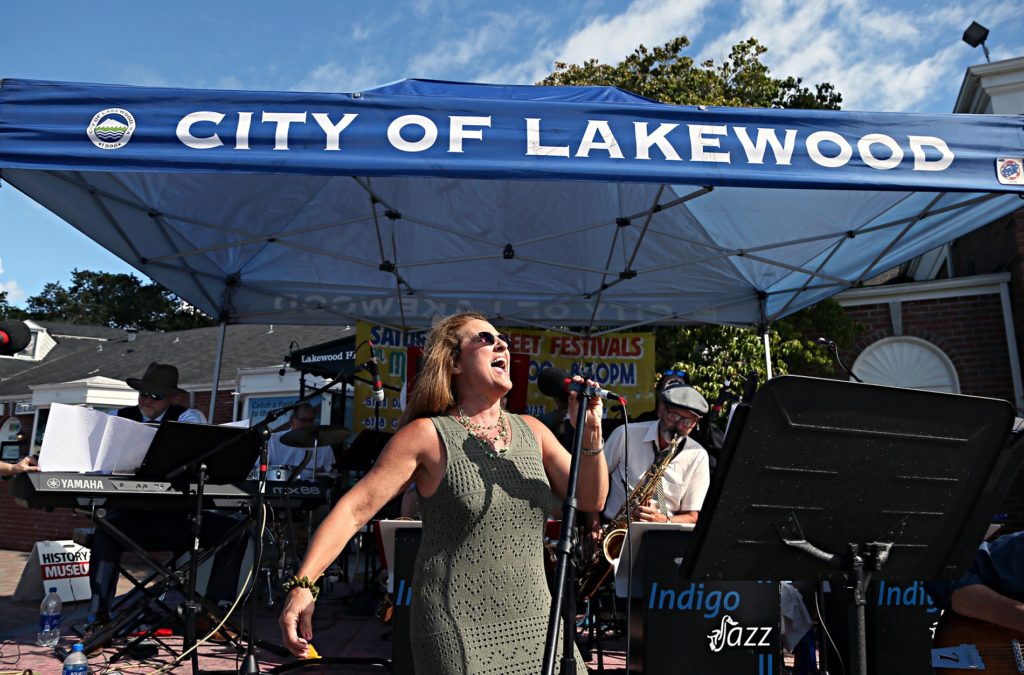 While summer is winding down, we are squeezing every last drop of sunshine out of it! Make sure to mark your calendar for these upcoming events:
Aug. 23, 2-7 p.m.: Lakewood Farmers Market at Fort Steilacoom Park.
Aug. 30, 2-7 p.m.: Lakewood Farmers Market at Fort Steilacoom Park.
Sept. 17, 4-7:45 p.m.: Saturday Street Festivals on Motor Ave. The final street festival of the season is themed "Fiesta de la Familia" and celebrates Hispanic culture with live entertainment, food and more.
See pictures from Saturday's Aug. 13 Jazz Night & Car Show on our Facebook page, or check out our online photo gallery. Who won the car show?