Council Corner: Aug. 22, 2022 Regular Meeting
Did you know that in 2020 and 2021 more than 1,400 companies either started or relocated to Lakewood?
At its Study Session Monday, the Lakewood City Council heard from Community and Economic Development Department staff, who provided an update on economic development in the community and progress made by the department in the last couple of years – including new businesses coming in. View the report. (Beginning on page 4.)
Second Biennial Review of Downtown Subarea Plan
This year the Planning Commission conducted its biennial review of the 2018 Downtown Subarea Plan and related planning documents. The commission made recommendations for Council consideration. The recommendations include combining the next review with the city's review of the 2024 Comprehensive Plan and then extending the review period to once every five years.
As expected, economic activity and development projects in the Downtown subarea, just like the rest of the city, were negatively affected by COVID-19 in 2020 and 2021. Overall, Lakewood development activity began to pick up in 2021 and continues to do so in 2022, as demonstrated by an increase in city permits and fees revenue seen in the first quarter. View the report (Beginning on page 44.)
Tree Preservation Code Update
In its second review of the proposed Tree Preservation Code update, Council members received answers to questions raised at the Aug. 8, 2022 study session. Members also heard options for amending city code to include more tree protection and information about the creation of an urban forestry program and what that could look like.
Council will hold a public hearing Tuesday, Sept. 6, 2022 at 7 p.m. on the proposed updates. Read the update (Beginning on page 196.)
Next meeting: Council will not meet Aug. 29. The next meeting is Tuesday Sept. 6, 22 at 7 p.m. (Note the special meeting day due to the Monday holiday.) Agenda items include:
Proclamation declaring September 11, 2022 as Patriot Day and Day of Remembrance
Proclamation recognizing September as National Hispanic Heritage month
Reports by the city's Youth Council and Clover Park School District
Authorizing the execution of the 2022 Pierce County Countywide Planning Policies interlocal agreement
Authorizing an $343,378 agreement with David Evans and Associates, Inc., for design engineering services for the Ardmore/Whitman/93rd sidewalks project
Authorizing execution of agreements related to the Washington opioid settlement
Appointing a Youth Council representative to the Lakewood's Promise Advisory Board
Public Hearing on the Biennial Review of the Downtown Subarea Plan
Public Hearing on the Tree Preservation Code Updates
Ordinance considering the proposed vacation of 36 feet of 88th Ave Ct SW west of the intersection with Wadsworth Street SW.
What's on Deck?: Study session Monday, Sept. 12, 2022 at 7 p.m. Agenda items include:
Review of Second Quarter (2022) Financial Report
Six-Year (2022-2027) Financial Forecast
Review of three (3) year Climate Change Work Plan
How to attend: Attend in person at Lakewood City Hall, 6000 Main Street SW; Join via Zoom (or dial (253) 215- 8782 and enter meeting ID: 868 7263 2373), or watch live on the city's YouTube channel.
---
Lakewood Police Chief recruitment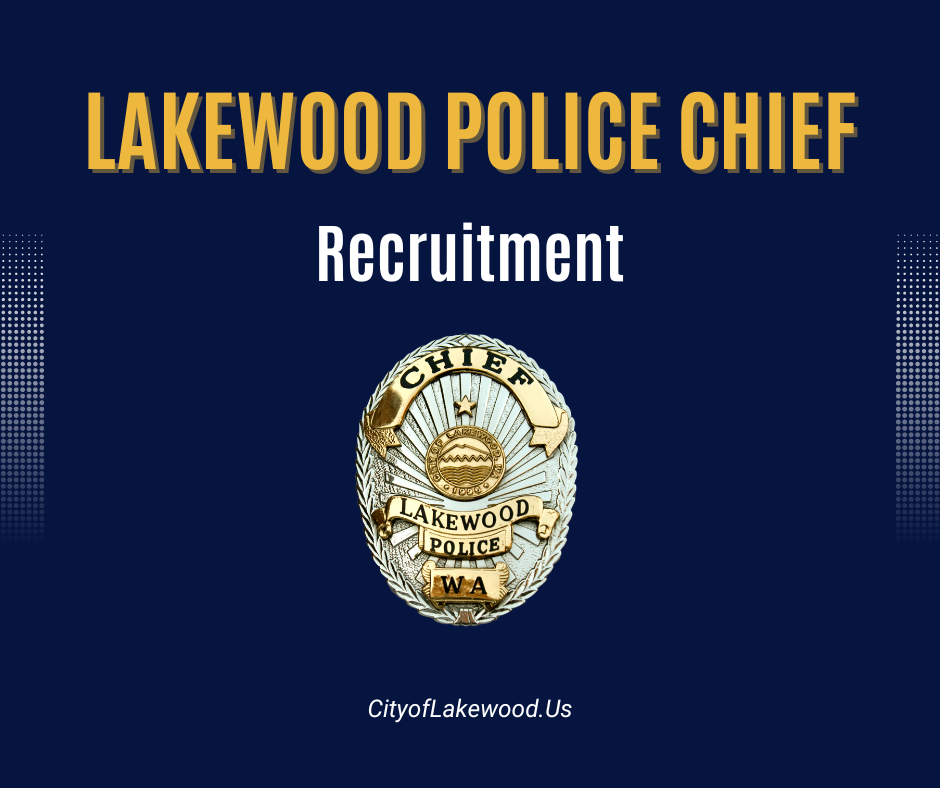 The city is embarking on a national search to find its next police chief. Part of this process includes public involvement through community surveys, online forums and focus groups with local business owners, community advocates, residents and civic leaders.
In the coming weeks the city will advertise an opportunity for residents to participate in a virtual forum where people are invited to share their thoughts and perspectives around what they want to see in a future leader of the Lakewood Police Department. Look to the city's website and social media channels for that information.
Earlier this year, Lakewood Police Chief Mike Zaro announced plans to retire in early 2023, ending his 30-year career in law enforcement. Zaro was named to the department's top leadership position in 2015, and before that served as Assistant Chief. He has been with the department since its inception in 2004, and patrolled Lakewood as a member of the Pierce County Sheriff's Department before the city had its own police force.
---
Applications due for 2023 Comprehensive Plan amendments
Proposed changes to the city's Comprehensive Plan are being accepted for review and consideration as part of the annual amendment process.
Once received the Lakewood Planning Commission and then City Council will review and confirm the list of amendments to be considered over the course of the year, including privately-initiated amendments. This list is known as the "Annual Comprehensive Plan Docket."
Proposals to amend the plan and associated zoning code provisions must be received no later than 4:30 p.m. on Aug. 31, 2022. Proposals received after the deadline will be considered in the 2024 Comprehensive Plan Docket.
Application forms for the various types of amendments are available on the Long Range Planning webpage under "Announcements: 2023 Comprehensive Plan Amendment Cycle Open". Submit forms here.
For more information, email Tiffany Speir, Long Range and Strategic Planning Manager.
---
Lakewood Farmers Market Extended
We're extending the Lakewood Farmers Market two additional weeks. The market will run Sept. 13 and Sept. 20 from 2 to 6:30 p.m.
It will keep its 2-7 p.m. schedule through August. The market is held in Fort Steilacoom Park near the playground and soccer fields, 8714 87th Avenue SW. Read more.
---
Department of Commerce grants available for business, nonprofits
Are you a local nonprofit or Lakewood business? You may be eligible for the latest round of pandemic relief funding through the state Department of Commerce. There is $75 million available in state pandemic relief grants for small businesses and nonprofits that focus on the arts, heritage and science sectors and businesses relying on in-person conventions in the state.
Applications are due by 5 p.m. Sept. 9. The online portal – commercegrants.com – is live and has guidelines and more to help applicants with their application preparation.
$34.5 million available for non-profits assisting underserved businesses
Money from the $34.5-million Small Business Innovation Fund is also available to non-profits with a history of assisting state small businesses, or those that propose offering community-based programs and services tailored to the needs of black, indigenous and people of color entrepreneurs, women-owned small businesses and those located in underserved, low-income or rural areas. If selected organizations could receive between $500,000 and $5 million to help continue these efforts.
Deadline to apply is Sept. 2, 2022. Find more information.
---
Road project updates
112th Street SW between Military Road SW and Farwest Drive SW: Crews were able to complete the necessary road repairs during the five-day road closure. The road was expected to reopen to traffic at the end of the detour period Aug. 26. 
JBLM-North Access Improvement

Phase 1: Installation of the light pole at the intersection of Gravelly Lake Drive/Washington Boulevard/ is expected Sept. 7, 2022.

Phase 2: Installation of storm drainage infrastructure is expected to be complete by the end of the month. Following that work the contractor will install the water main, street lighting conduit and irrigation before pouring the curbs. Once the curbs are poured the roundabout at Washington Boulevard/Edgewood Avenue will be completed and sidewalks poured. Following that the next stop is North Gate/ Nottingham and Washington/Vernon where the road will be paved. The detour is in place until October.

Phillips Road: Some of the road striping was done this week. The contractor is expected to finish work by the end of next week (Sept. 2, 2022). Cluster mailboxes will be installed upon delivery.
Steilacoom Blvd, Weller to Custer: Construction begins Sept. 12, 2022. This project will construct curb and sidewalk on the south side of Steilacoom Boulevard between Weller and Phillips roads, then build curbs and sidewalk along both sides of 88th Street between Steilacoom Boulevard and Custer Road.
Pacific Highway/South Tacoma Way from 108th to SR 512 Overlay: Work is scheduled to begin Sept. 6, 2022. The work will be done over a short duration of nights and is limited to pavement repair, grinding, paving and striping.
2022 Chip Seal: Contractor will start the chip seal in the Lake Louise area at the start of September. The work includes one week of preparation and one week of chip seal activity is anticipated.
---
Upcoming city events
While summer is winding down, we are squeezing every last drop of sunshine out of it! Make sure to mark your calendar for these upcoming events:
Aug. 30, 2-7 p.m.: Lakewood Farmers Market at Fort Steilacoom Park.
Sept. 17, 4-7:45 p.m.: Saturday Street Festivals on Motor Ave. The final street festival of the season is themed "Fiesta de la Familia" and celebrates Hispanic culture with live entertainment, food and more.