Sound Transit wants to make it easier to get around Lakewood
Sound Transit is planning a better-connected network so more people can walk, roll, bike and take transit to Lakewood Station and community destinations. This could include filling in missing sidewalks and curb ramps, adding bike lanes, updating bus stops and more.
Give your input at the online open house through January 5: https://lakewoodstation.participate.online. Or visit a Sound Transit staff in-person at the Springbrook Connections Christmas giveaway, 5204 Solberg Dr SW #C: Saturday, Dec. 17, 2-4 p.m.
---
Holiday Parade of Lights & Tree Lighting recap
Thank you to everyone who joined us last weekend for our Holiday Parade of Lights and annual Christmas Tree Lighting.
It was wonderful to see so many of our neighbors line the parade route to cheer on their friends, families and local businesses. In case you missed it, you can watch parade highlights on our YouTube channel.
Congratulations to this year's parade award winners:
Most Original: Lakewood Moms, "Baby It's Cold Outside"
Most Spirited: Beyond1031
Best Theme: Boys Scouts of American Troop 53
Most Inspirational: Asia Pacific Cultural Center
Find photos from the event on the city Facebook page.
---
Wishing farewell to Council member Linda Farmer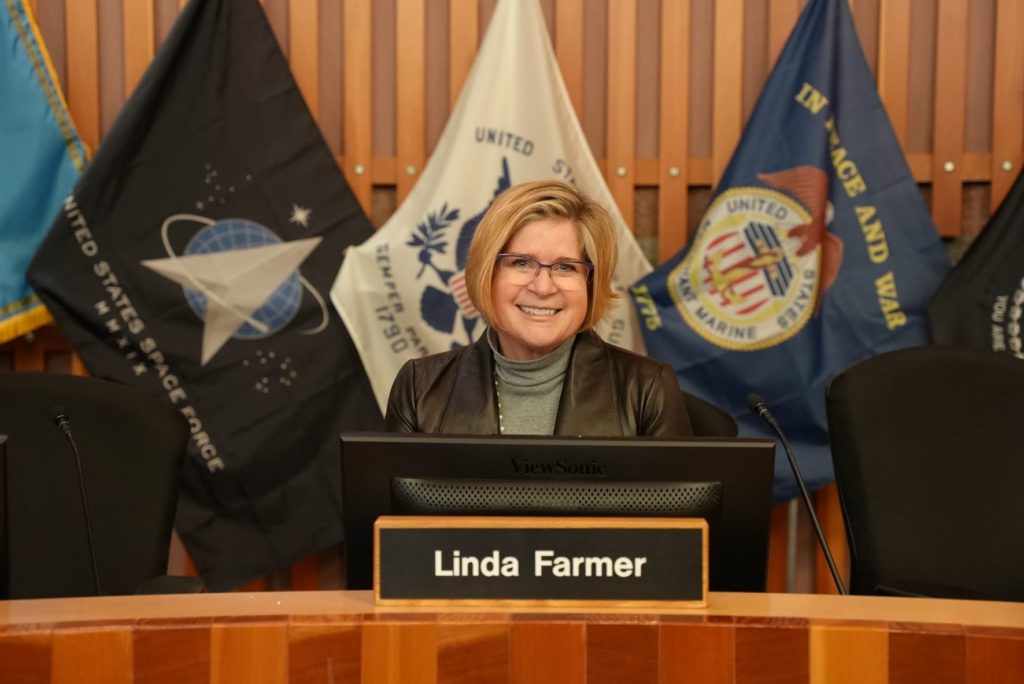 After three years with the Lakewood City Council, Council member Linda Farmer is leaving the city to lead the Pierce County Auditor's Office as the newly elected county auditor.
At its final meeting of the year, the Lakewood City Council took time to recognize Farmer and her contributions to the city during her elected term. After presenting Farmer with a plaque, members shared well wishes.
"You are professional, you are passionate, you are a people person," Mayor Jason Whalen said. "You know how to play well in the sandbox. We've really appreciated your work with us. It's been a pleasure to work with you, and it certainly has been a pleasure to serve with you."
---
Council Corner: Dec. 12, 2022 Study Session
After celebrating Council member Linda Farmer and enjoying some cake, Council returned to its study session agenda to review and discuss the following:
Non-Motorized Transportation Plan: Council reviewed the results of a survey conducted as part of the city's update to its Non-Motorized Transportation Plan. The survey was open from Oct. 3-28, 2022 and shared in three languages. It was available online, promoted on the city's website and social media channels. It was also sent directly to six regional bicycle and other recreation clues and presented at the city's Parks and Recreation Advisory Board meeting. A total of 205 responses were received.
See the full responses here, beginning on page 4.
Review of road project for Angle Lane/Elwood Road/87th Avenue & Hipkins Road: Council reviewed preliminary layout plans for two road construction projects planned for 2023. In 2022 the city received $746,000 in grant funding to build sidewalks and a shared use path between Steilacoom Boulevard SW and Hipkins Road SW. The project will start at 87th Avenue SW and Steilacoom Boulevard SW and continue south through Elwood Road SW to Angle Lane SW with a final connection to Hipkins Road SW.
Hear the discussion at the 56-minute mark.
Filling the City Council vacancy: With Council member Farmer departing Council before the end of her elected term, the Lakewood City Council will have a vacancy to fill. Council reviewed the appointment process and associated timeline at its meeting.
Council member Farmer's resignation become effective Dec. 28, 2022. From that date, the City Council has 90 days to appoint a candidate to fill the vacancy. The appointee will hold the position until the next general election, at which time the position is up for election.
The next general election is November 2023. The person elected at that election will serve the remainder of the unexpired term.
What's on deck: The Lakewood City Council has no more meetings planned for 2022. Its next meeting is a regular meeting, Tuesday, Jan. 3, 2023 at 7 p.m. Tentative agenda items include:
Proclamation declaring Jan. 17, 2023 as Dr. Martin Luther King Jr. Day of Service
Proclamation recognizing American mezzo-sporanoJ'Nai Bridges
Presentation of the 2023 Stormwater Outreach Calendar
Youth Council Report
Clover Park School District Report
Authorizing the award of a contract to Asphalt Patch Systems, Inc., in the amount of $100,000, for the 2022 Unit Price project
Ordinance related to the use of locally sourced compost materials
Reports by the City Manager: Review of 3rd Quarter (2022) Financial Report
How to attend: Attend in person at Lakewood City Hall, 6000 Main Street SW; Join via Zoom (or dial 253-215-8782 and enter meeting ID: 868 7263 2373), or watch live on the city's YouTube channel.
---
Seeking candidates to fill Council vacancy
The city of Lakewood is seeking applicants for the anticipated vacancy of City Council Position 6, held by Council member Linda Farmer. Farmer announced her resignation effective Dec. 28, 2022 to become the Pierce County Auditor.
Pursuant to state law (RCW 42.12.070) the City Council has 90 days from the vacancy date to appoint a qualified candidate to fill the position.
Position 6 is up for election in the 2023 General Election. The person elected by the public through the general election will assume office immediately after the election is certified.
Lakewood residents interested in filling this anticipated vacancy should submit a one-page letter of interest confirming their Lakewood residency, identifying why they are interested in serving the community in this capacity, and summarizing their qualifications. Candidates should also attach a resume to the letter of interest.
Documents must be received by the City Clerk no later than 5 p.m. Friday, Jan. 13, 2023. Email all documents to City Clerk Briana Schumacher at [email protected]. Or mail them to:
Attention: City Clerk
6000 Main Street SW
Lakewood, WA 98499
The Lakewood City Council's goal is to appoint the new member to the position no later than March 28, 2023.
The city of Lakewood is proud to be an Equal Opportunity Employer that encourages, supports, and celebrates respect, empowerment, diversity, and inclusion for all. We welcome your contributions.
---
Recognizing Pierce College's Michelle Johnson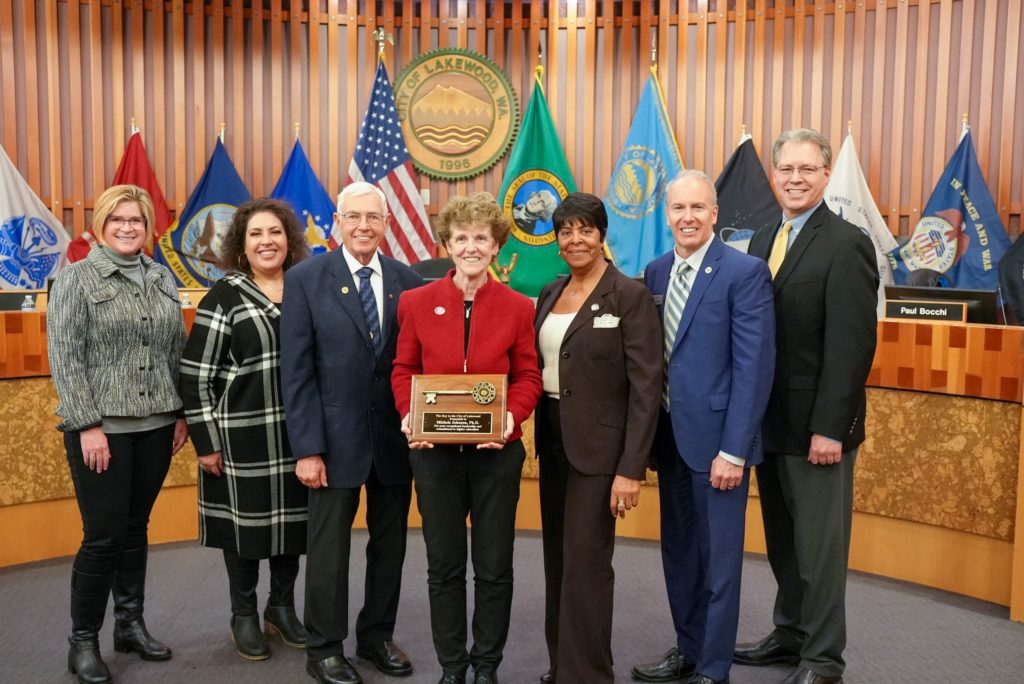 After 45 years of service to Pierce College that led to numerous awards, Michelle Johnson, Ph.D. was recognized by the Lakewood City Council at a recent meeting.
To show their respect and appreciation, Mayor Jason Whalen presented Johnson with a key to the city. He acknowledged and thanked her for her leadership and dedication to the Lakewood community and expressed Council's deepest gratitude and congratulations to Johnson on her retirement.
---
Lakewood employees give back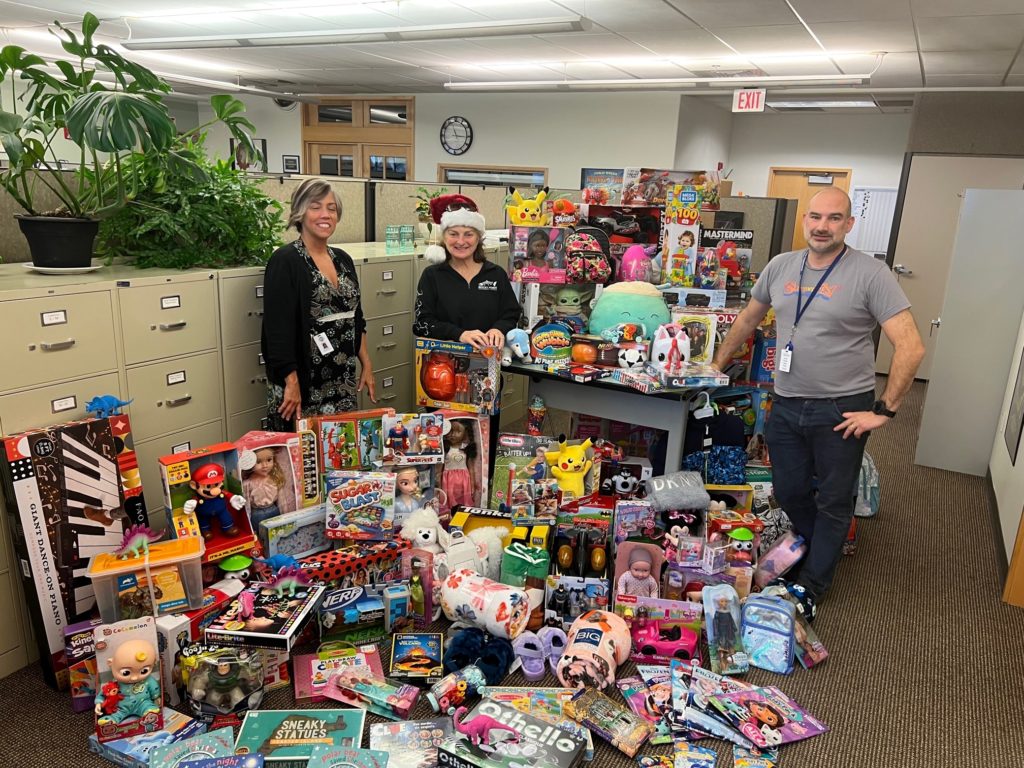 Ever year Lakewood's Public Works Engineering Department employees donate money to purchase toys for Lakewood children. This year's toy drive was another success!
With donations from employees and outside contractors that work with the city, staff raised $2,080. They took that money and waited for sales to buy more than $4,000 worth of toys and items to donate to the Tillicum Community Center.
The toys were delivered last week and will be given to Lakewood families in need this holiday season to help them place presents under the tree for their children.
---
ArtsFund Community Accelerator Grant Program
Funded by the Paul G. Allen Family Foundation, the Community Accelerator Grant program will provide unrestricted grants for cultural nonprofit organizations across Washington State in amounts of $2,500 to $25,000.
Funding will provide essential capital to Washington's cultural organizations, including fiscally sponsored and tribal organizations,whose primary mission is to produce or support arts and cultural activities. Organizations whose primary mission is to produce or support arts and cultural activities, and who have a minimum three-year average budget of $25,000 are eligible to apply. There is no budget cap.
The grant program opens Jan. 4 – 31, 2023 with distribution expected in first quarter 2023.
Learn more at a virtual information session Friday, Dec. 9, 2022, at 11 a.m.
---
#LoveLakewood Yoga at the Pavilion
Starting Dec. 29, 2022, and then the first Wednesday of every month, Kirtan chanting and harmonium will be offered by Makenzie Stewart Hizon as part of the 4:15 p.m. yoga class.
Whether you are a first timer to yoga or an experienced yogi, this event is meant for everyone. Our skilled instructor is ready adapt classes to meet every level.
To secure your spot, please sign up in advance through this site. Classes are only $5.
Class schedules have changed so make sure to check the website. Classes run during the week and on Saturdays.
Classes start promptly, so please arrive early to get settled. Doors open 20 minutes before classes start.
---
Access library services in Lakewood
From book talks for adults and tech help, to family story time for all ages, the Pierce County Library System offers pop-up libraries and other services to the community, despite the closure of its downtown library branch building. Some programs are at the Tillicum Community Center, while others are at Lakewood City Hall.  The Library System encourages people to visit nearby DuPont, Steilacoom, Tillicum and University Place libraries for access to books and programs.
---
Road project updates
Washington Boulevard
The installation of storm drainage equipment continues at Washington Boulevard and Vernon Avenue. The city's contractor is scheduled to work through the winter on this project.
Steilacoom Blvd, Weller to Custer
Crews continue to work on the wall and will take a break for the holidays. Additional work includes minor signal preparation work before suspending the project until the signal equipment arrives.