Happy Thanksgiving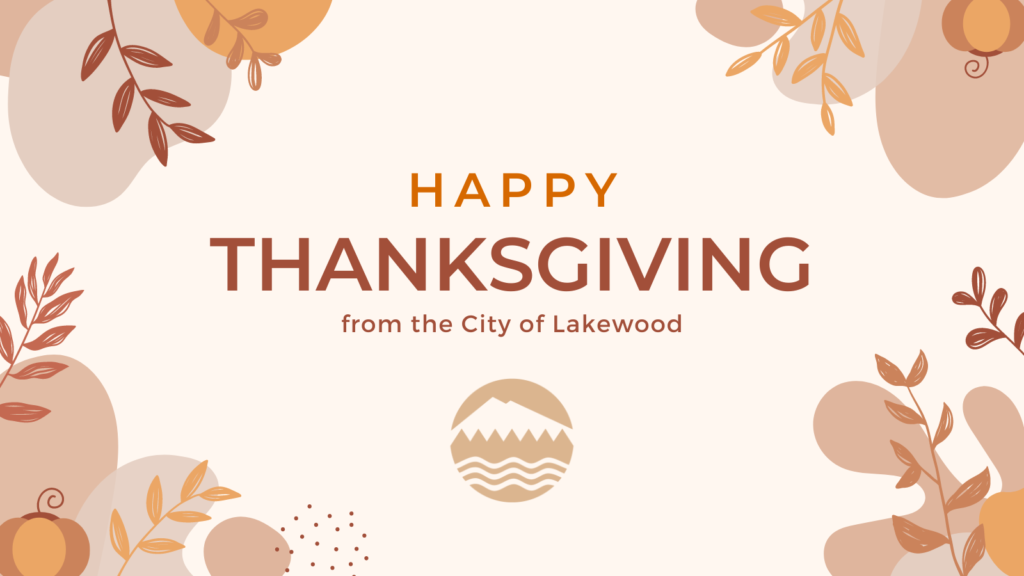 The city of Lakewood wishes all our neighbors, businesses, community partners and friends a Happy Thanksgiving! We are thankful and grateful for our community and proud to call Lakewood home!
Be safe, have a good day and enjoy the company of those around you.
Note: City operations are closed Thursday and Friday in observation of the Thanksgiving holiday. Regular operations resume Monday, Nov. 28 at 8:30 a.m.
---
Council Corner: 2023-2024 Biennial Budget Adopted
The Lakewood City Council adopted the 2023-2024 Biennial Budget at its meeting Monday.
The adopted budget does not include reductions in services, does not use one-time monies for ongoing programs and is balanced, meaning operating expenditures do not exceed anticipated revenues.
The review and adoption of the budget is one of the City Council's most important policy roles as a legislative body. The 2023-2024 Biennial Budget represents a continued commitment to sound fiscal management, effective service delivery and providing the highest quality of life to residents. The budget is focused on supporting the City Council goals and objectives, including:
Supporting human services, housing and homelessness resources
Ensuring a safe city
Economic development to attract and create jobs
Continued park improvements
Rebuilding roadway systems and adding sidewalks for pedestrian and bicycle access
Recognizing the value and importance of Joint Base Lewis-McChord and Camp Murray
Providing a wide range community events and youth programming
Find out more about the biennial budget.
Honoring Native American Heritage Month: The Lakewood City Council was honored to present a proclamation to the Nisqually Indian Tribe recognizing November as Native American Heritage Month. Tribal Chairman Willie Frank III and 5th Tribal Council Member Chay Squally were at the meeting to accept the proclamation.
The city is committed to strengthening its government-to-government relationship with the Tribe and continuing to build its partnership through projects like the one under development at Fort Steilacoom Park that celebrates and educates about the first inhabitants of the land, including telling the story of Chief Leschi. Read the proclamation.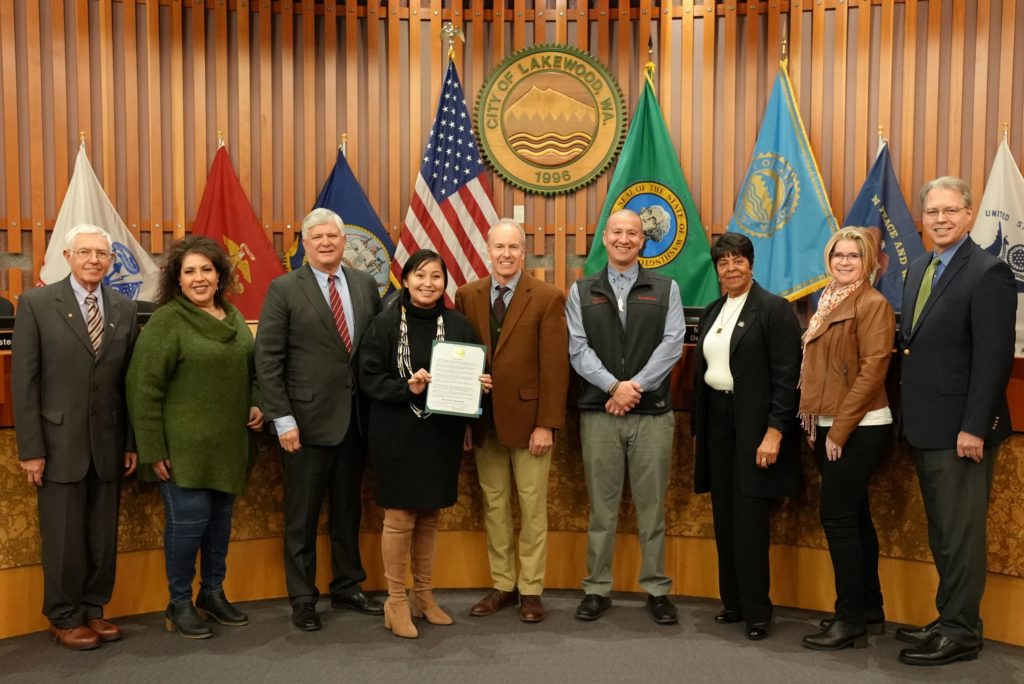 What's on deck: The Lakewood City Council will meet for a study session Nov. 28, 2022, at 7 p.m. and hold two additional special meetings next week. Council will meet Tuesday, Nov. 29 at 6 p.m. with state legislators to review the city's state legislative agenda. And Council will meet Thursday, Dec. 1 at 6 p.m. with Pierce County Councilmember Jani Hitchen to review the 2023 Pierce County Legislative Policy Manual.
Tentative Nov. 28 study session agenda items include:
Joint Youth Council meeting
Sound Transit Access Improvement Project update
Review of the revised Bristol Apartments multi-family tax exemption
Review of the American Rescue Plan Act (ARPA) request for proposals
Review of a Lakewood Library fiscal analysis
How to attend: Attend in person at Lakewood City Hall, 6000 Main Street SW; Join via Zoom (dial (253) 215-8782 and enter meeting ID: 868 7263 2373), or watch live on the city's YouTube channel.
---
LPD Fallen Officer Food & Blood Drive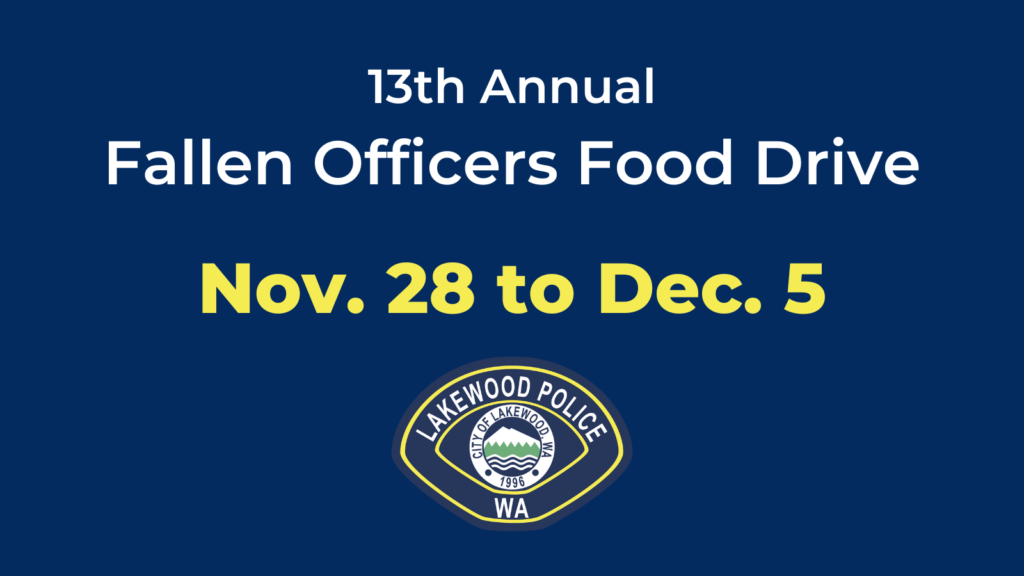 The 13th annual Fallen Officer Food Drive runs Nov. 28 to Dec. 5, 2022. Again this year the drive includes a blood drive, held on Nov. 29 and 30 at the police station.
This year's goal is to collect 15,000 pounds of food and raise $15,000 in monetary donations. All donations go to Emergency Food Network, which supports foodbanks across Pierce County.
People can donate nonperishable food items throughout the week by dropping them in bins stationed at five locations:
Lakewood Police Department, 9401 Lakewood Drive SW
Lakewood City Hall, 6000 Main Street SW
Classy Chassis, 7701 Custer Road SW
Classic Coffee, 4828 Bridgeport Way West
Blue Steele Coffee, 11401 Steele Street S
Those who want to donate in person can visit the Lakewood Police Department, 9401 Lakewood Drive SW, on Tuesday, Nov. 29 between 6 a.m. and 5:30 p.m. Look for volunteers waving signs in front of the station to help guide cars to the drop off area.
Want to give more? The two-day blood drive is Tuesday, Nov. 29, 8:30 a.m. to 3:30 p.m., and Wednesday Nov. 30, 8:30 a.m. to 2:30 p.m. Participants must register in advance using this online sign up.
---
Save the date: Meet the Police Chief Candidates
Want to meet the candidates vying to be the next Lakewood Police Chief? We're hosting an open house-style event for the candidates to introduce themselves and participate in a facilitated question and answer session. There will also be an opportunity for the public to mingle with the candidates. The event is Thursday, Dec. 8 from 6-7:30 p.m. inside one of the courtrooms at Lakewood City Hall, 6000 Main Street SW. Candidate names and biographies will be announced Monday, Dec. 5.
---
Join the city of Lakewood in celebrating seven local Latino artists whose artwork in currently on display in Lakewood City Hall.
Meet the artists at a reception Dec. 5, 2022 from 5-7 p.m. at Lakewood City Hall, 6000 Main Street SW. The artist will share their work and talk with guests. Light refreshments will be served. The artwork is on display in the City Hall foyer and front hall, as well as in the Council office through the end of this year. The public is invited to visit City Hall during operating hours, 8:30 a.m. to 5 p.m. to view the pieces.
---
Celebrate the holidays with us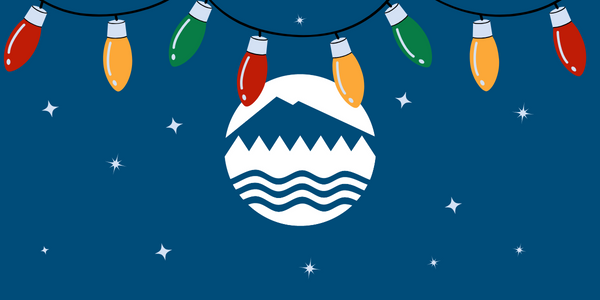 Lakewood's annual Holiday Parade of Lights and Christmas Tree Lighting ceremony return to Lakewood Towne Center Saturday, Dec. 10.
Festivities kickoff at 4 p.m. in front of Lakewood City Hall, 6000 Main St SW. There will be roaming entertainment, holiday singers, food trucks, and a chance to snap a selfie with Santa.
Get there early to line the parade route. The parade leaves from Park Lodge Elementary at approximately 4:30 p.m. and heads down Gravelly Lake Drive to Main Street in Lakewood Towne Center. The parade will end at the Christmas tree in front of City Hall. The tree lighting countdown starts at the conclusion of the parade.
Want to be in the parade? We're accepting applications until Monday, Nov. 28. Sign up your business, organization, youth group or team and gain great visibility in front of the roughly 7,000 people that line the route specifically to see the floats and displays.
Awards will be given for "Most Original", "Most Spirited", and "Best Overall Appearance".
Fill out at a parade application today.
---
ArtsFund Community Accelerator Grant Program
Funded by the Paul G. Allen Family Foundation, the Community Accelerator Grant program will provide unrestricted grantsfor cultural nonprofit organizations across Washington State in amounts of $2,500 to $25,000.
Funding will provide essential capital to Washington's cultural organizations, including fiscally sponsored and tribal organizations,whose primary mission is to produce or support arts and cultural activities. Organizations whose primary mission is to produce or support arts and cultural activities, and who have a minimum three-year average budget of $25,000 are eligible to apply. There is no budget cap.
The grant program opens Jan. 4 – 31, 2023 with distribution expected in first quarter 2023.
Learn more at a virtual information session Friday, Dec. 9, 2022, at 11 a.m.
---
#LoveLakewood Yoga at the Pavilion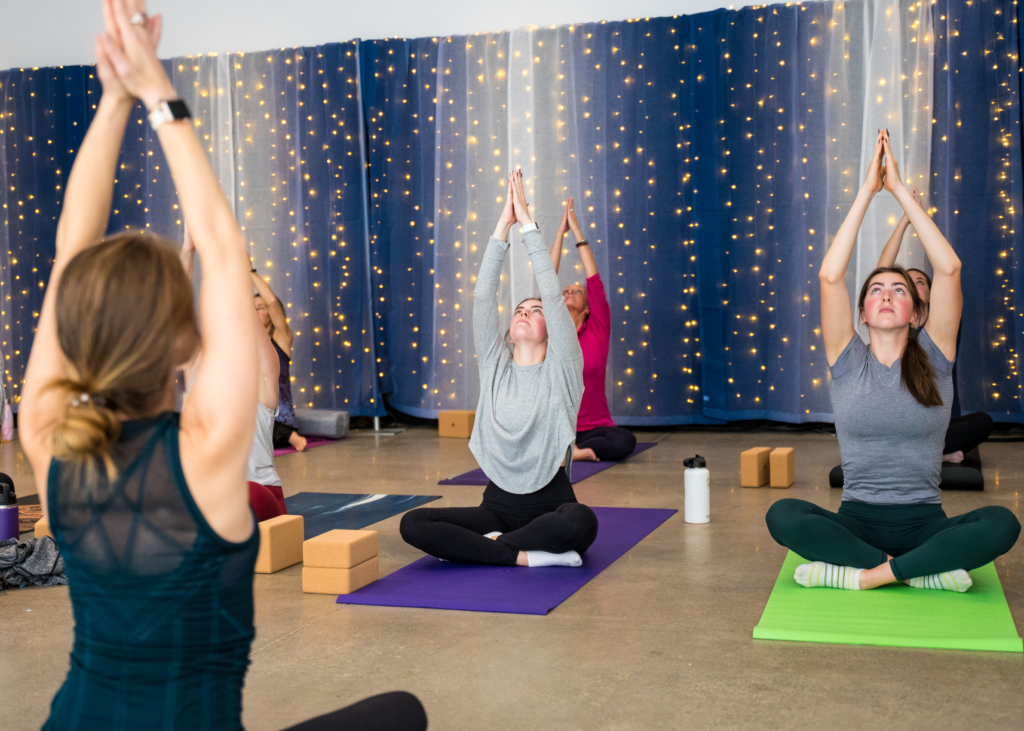 Whether you are a first-timer to yoga or an experienced yogi, this event is meant for everyone. Our skilled instructor is ready adapt classes to meet every level. The first 100 participants to sign up who are new to yoga will receive a free #LoveLakewood t-shirt.
To secure your spot, please sign up in advance through this site. Classes are only $5.
Classes run Monday through Thursday from 4:15 to 5:15 p.m. and Saturdays, 10-11 a.m. We're also offering a second class Mondays, 5:30-6:30 p.m. through December.
Classes start promptly, so please arrive early to get settled. Doors open 20 minutes before classes start.
Initial class schedule:
Mondays: 4:15-5:15 p.m. Gentle Yoga, 5:30-6:30 p.m. Vinyasa, all levels (Monday Vinyasa class offered on a trial basis)
Tuesdays: 4:15-5:15 p.m. Vinyasa, all levels
Wednesdays: 4:15-5:15 p.m. Yin Yang
Thursdays: 4:15-5:15 p.m. Gentle Yoga
Saturdays: 10-11 a.m. Vinyasa, all levels
---
Now accepting applications for 'City Days' at the McGavick Conference Center
The city of Lakewood is now accepting applications for the use of a 2023 City Day at the McGavick Conference Center. Please read the policy and application materials for more information. Applications are due no later than Wednesday, Nov. 30, 2022 and applicants will be notified as to the approval or denial of the application by Friday, Dec. 16, 2022.
Complete applications can be emailed directly to City Clerk Briana Schumacher (preferred) or delivered via mail to Lakewood City Hall, Attn: City Clerk, 6000 Main Street SW Lakewood, WA 98499.
If you have any questions regarding the application or approval process, please contact City Clerk Briana Schumacher at 253-983-7705 or [email protected].
---
Access library services in Lakewood
From book talks for adults and tech help, to family story time for all ages, the Pierce County Library System offers pop-up libraries and other services to the community, despite the closure of its downtown library branch building. Some programs are at the Tillicum Community Center, while others are at Lakewood City Hall.  The Library System encourages people to visit nearby DuPont, Steilacoom, Tillicum and University Place libraries for access to books and programs.
---
Road project updates
JBLM-North Access Improvement
Despite the heavy rains this week, the city's contractor was able to get the top lift of asphalt along Edgewood Avenue and the western portion of Washington Boulevard done. They were also able to place the base lift of asphalt along Washington Boulevard between Edgewood and Vernon avenues. Next week crews will be out doing driveway paving, landscape restoration, permanent signing, and street light installation. That work is expected to occur Monday through Wednesday (Nov. 28-30). Once done, this will complete the third stage of the five-stage project. Currently the contractor is ahead of schedule.
One Road Opens, Next Section Closes
With this work finishing on Wednesday, the contractor plans to open North Gate Road, Edgewood Avenue, and Washington Boulevard west of Edgewood Avenue to all traffic Thursday, Dec. 1. This same day, the next section of the project will close so work can begin.
The closure affects Vernon Avenue from just north of Kenwood Drive to just north of Washington Boulevard, along with Washington Boulevard just east of Vernon Avenue to just west of Lake City Boulevard. (See map). The road will remain closed while the contractor works on this section. Construction is expected to continue through the winter, as the work being done is not entirely weather-dependent.
Steilacoom Blvd, Weller to Custer
The contractor is prepping for the retaining wall to be installed the week after Thanksgiving. Installation of items like fencing and mailboxes will be done once the sidewalks are complete. Once that is done the project will suspend until the new signals arrive.
---
Upcoming city events
Dec. 5, 2022, 5-7 p.m.: [email protected] City Hall artist reception to meet and view artwork from seven local artists at Lakewood City Hall, 6000 Main Street SW. Light refreshments provided.
Dec. 8, 2022, 6-7:30 p.m.: Meet the Lakewood Police Chief Candidates, Lakewood City Hall, 6000 Main Street SW.
Dec. 10, 4 p.m.: Lakewood Holiday Parade of Lights & Christmas Tree Lighting, downtown Lakewood and Lakewood City Hall, 6000 Main Street SW.