New Year, New You kick off success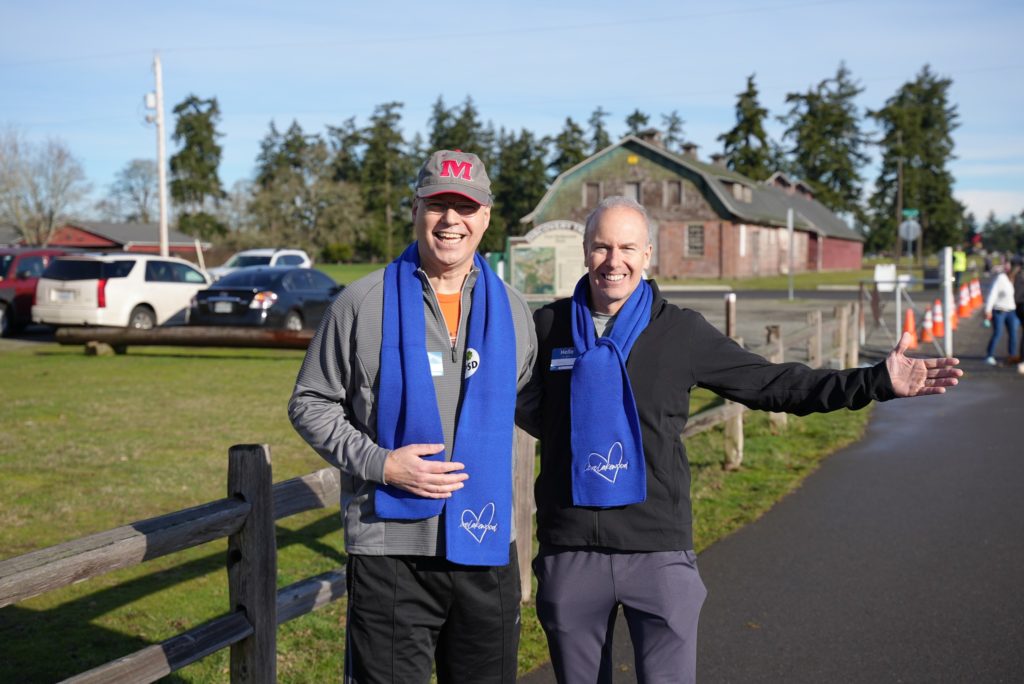 Last weekend was our New Year, New You event at Fort Steilacoom Park. With a focus on setting good intentions in 2023, we brought together community to celebrate active lifestyles with a gentle 1.5-mile trip around Waughop Lake, a new neighbor raffle to encourage meeting new people, samplings of our #LoveLakewood yoga and meditation series, live music, food trucks/vendors and s'mores roasted over the propane fire pit.
Luck was on our side and we enjoyed blue skies and sunshine for the day. We extend extra gratitude to our partners at Clover Park School District who helped advertise this event to new families in the district. It was a treat to see so many families and young children come out, meet each other and enjoy our beautiful Fort Steilacoom Park.
We also want to thank our sponsors: Virginia Mason Franciscan Health, Amazon and Showcase Magazine and have Twin Star Credit Union to thank for the costume contest prizes. Lakewood's own Original House of Donuts surprised everyone with free donuts and additional sugary goodness for our costume contest winners.
Thank you everyone who joined us and get ready….we hope to host another one of these community welcome events again soon.
Check out photos from the event on our Lakewood Facebook Page. While you're there, follow us to stay up to date on what's happening in the city!
---
Save the date: Chief Leschi Honor Walk
The Nisqually Tribe will lead a Chief Leschi Memorial Walk in Lakewood Friday, Jan. 27 in honor of Leschi's birthday. The gathering begins at 10:30 a.m. at the parking lot of the Oakbrook Plaza on Steilacoom Boulevard near Bridges Lane where a stone marker rests.
There will be a short addressing of those assembled and then the group, including four to six horses from the Nisqually Tribe's Medicine River Horse Ranch, will walk about 1.2 miles to Fort Steilacoom Park.
The public is invited to attend to hear the story of Leschi from the Nisqually Tribe as they share and teach about his life and desire to protect his people and his exoneration in 2004 from the charges of murder that resulted in his hanging.
---
Hidden Heroes
The 2023 Hidden Heroes campaign is underway and is part of our Dr. Martin Luther King Jr. recognition and celebration of February as Black History Month.
Each week we will email a newsletter that highlights local, national and international Black and African American leaders and their accomplishments.
If you would like to receive this weekly email, which will run until Feb. 27, 2023, please sign up here.
---
Recognizing those who serve
The Lakewood City Council celebrated members of the Lakewood Police Department this week for outstanding efforts in their field. Recognition included life-saving awards, commendations from the Police Chief, Medals of Meritorious Service, and Medals of Valor.
The recognition came as part of the council's Jan. 17, 2023 regular meeting.
Police Chief Mike Zaro presented the awards, sharing the details of each incident and the critical steps the officers took to protect their community. Following distribution, the law enforcement officers joined Council at the dais for a group photo and Mayor Jason Whalen expressed Council's support of their work and the extra lengths they take every day to keep our residents safe.
Read more about the officers and what they did to be recognized.
---
Council Corner: Jan. 17, 2023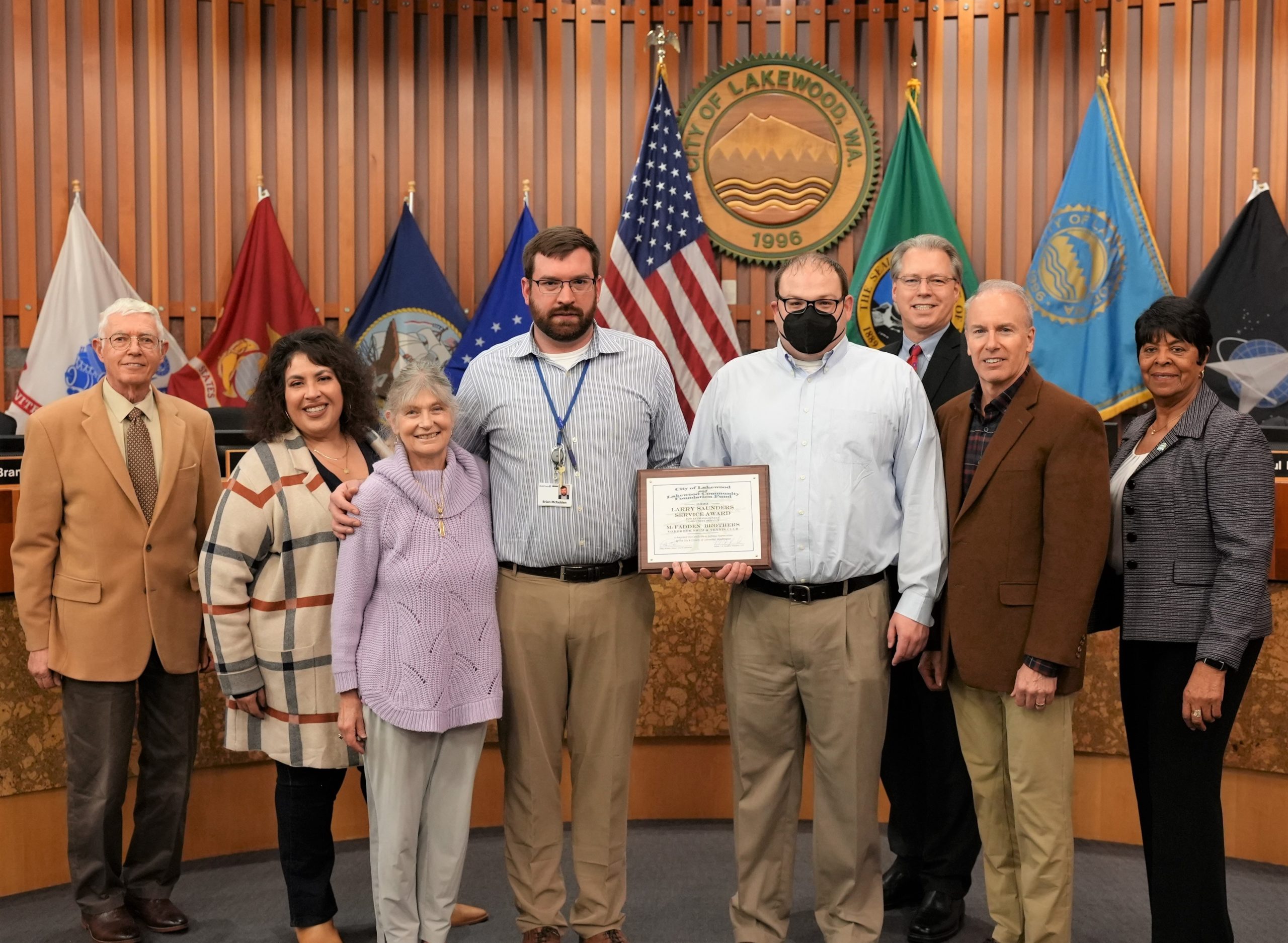 The Lakewood Community Foundation Fund, in partnership with city of Lakewood, was pleased to announce this year's Larry Saunders Service Award recipients at the Lakewood City Council Jan. 17 regular meeting.
The award, which recognized work done in 2022, was given to Jonathan and Brian McFadden, brothers who distinguished themselves through more than 20 years of service critical to sustaining operation of the Oakbrook Swim & Tennis Club in Lakewood's Oakbrook community.
Working together, the volunteer commitment of Jonathan and Brian exemplifies the community spirit of the Larry Saunders Service Award, established to honor Lakewood's first Police Chief Larry Saunders.
Daffodil Princesses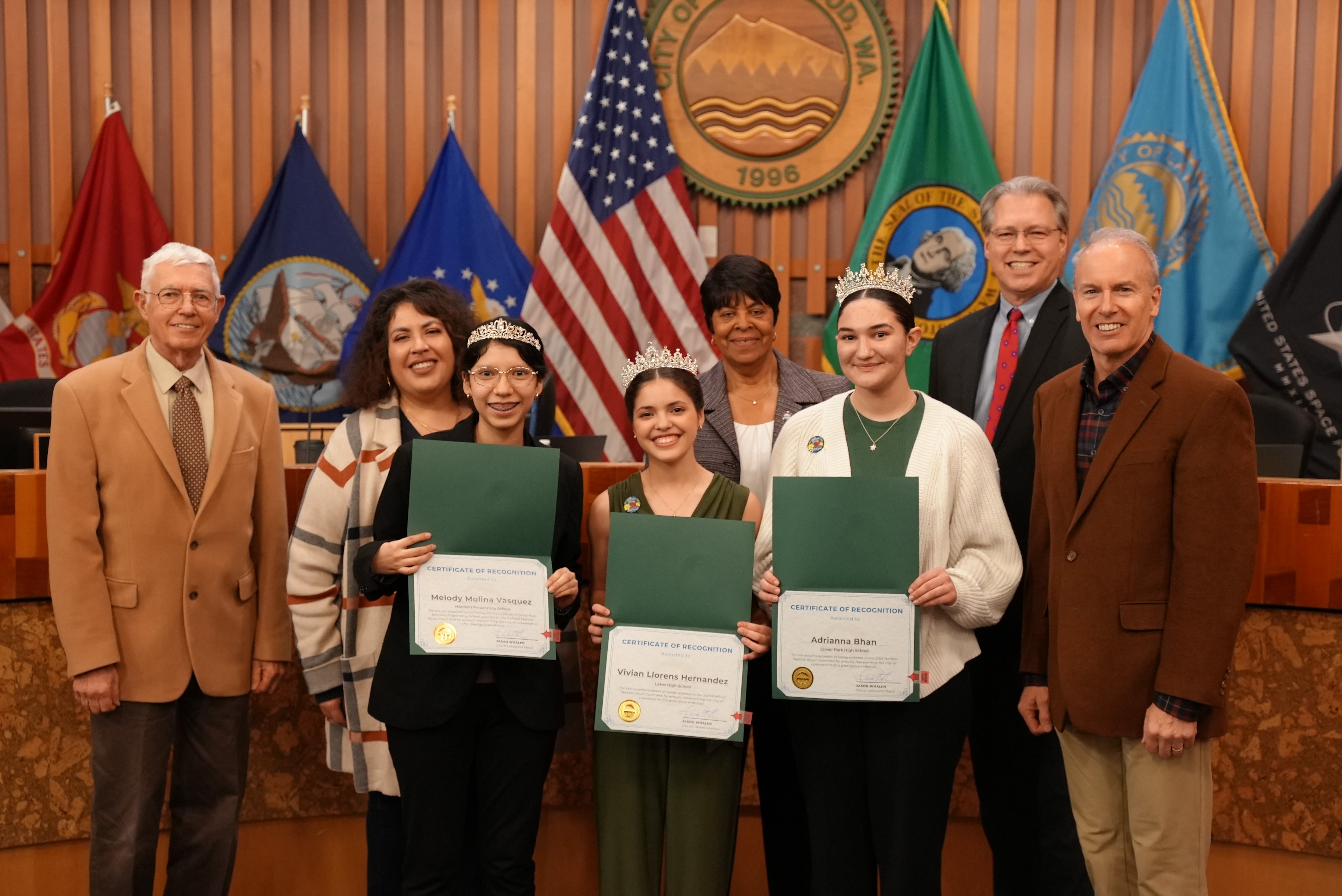 Council recognized three young women recently selected to represent the Clover Park School District and ultimately the city of Lakewood on the 2023 Daffodil Festival Royal Court.
Adrianna Bhan, Clover Park High School, Melody Molina Vasquez, Harrison Preparatory School, and Vivian Llorens Hernandez, Lakes High School, accepted certificates from Council at the meeting.
The young women were celebrated for their accomplishment of selection to represent Lakewood on the regional court.
National Slavery and Human Trafficking Prevention Month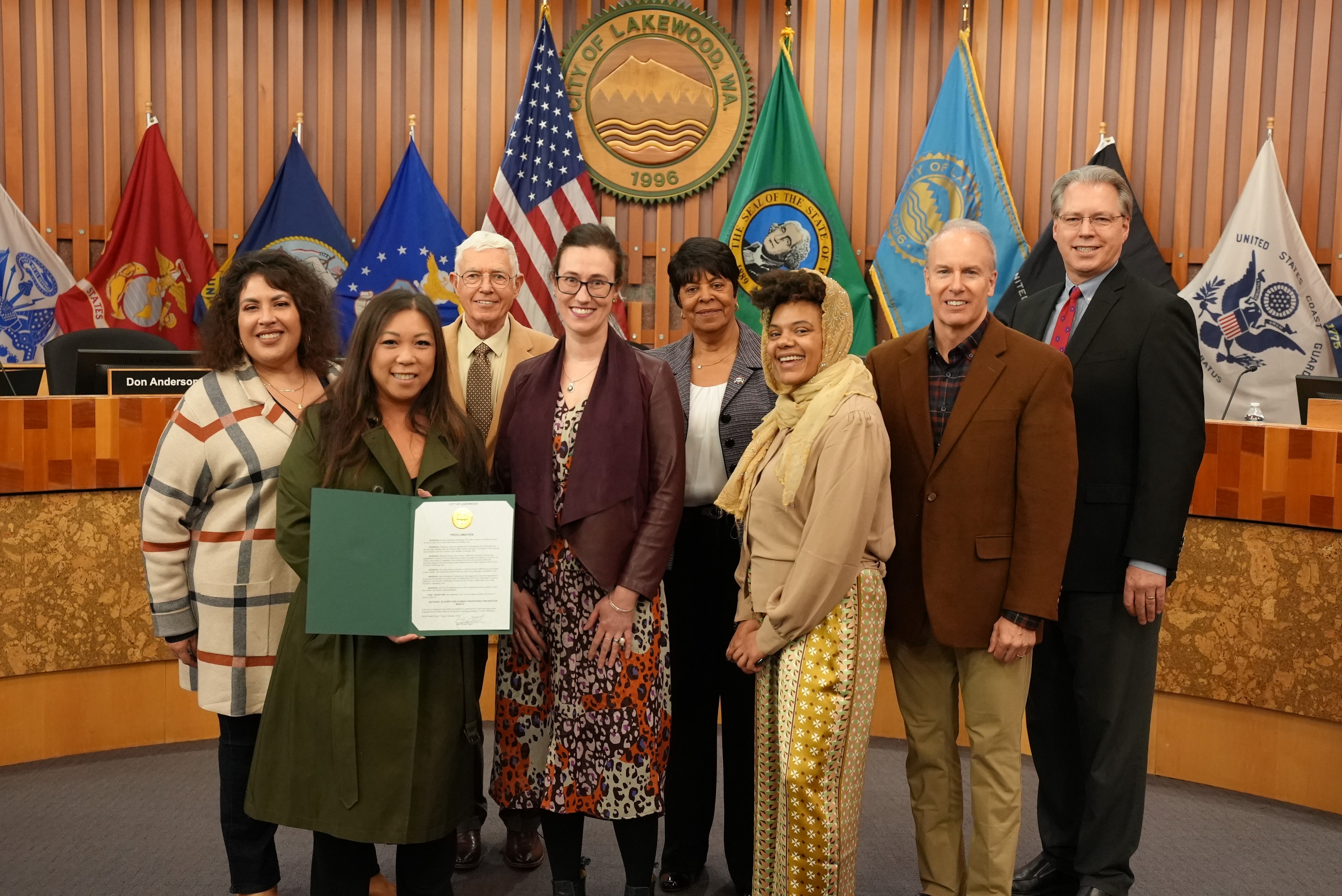 Council recognized January as National Slavery and Human Trafficking Prevention Month with a proclamation that calls attention to the impacts of this global issue not only to the victims, but also their families and the communities where it occurs.
Council also recognized members of the Lakewood Police Department (see above) before moving into the legislative side of its agenda. Council approved Resolution 2023-01, which outlines the work plan and public engagement plan for the 2024 Comprehensive Plan Periodic Review process and held a discussion about proceeding with appointment of the vacant City Council Position 6.
Watch the meeting.
What's on Deck: The Lakewood City Council will meet Monday, Jan. 23, 2023 at 7 p.m. for a study session in Council Chambers at Lakewood City Hall, 6000 Main Street SW.
Agenda items include:
Western State Hospital Facility Master Plan update
Review interlocal agreement with Pierce College to establish a collegiate baseball field at Fort Steilacoom Park
Review an ordinance related to the protection and preservation of public spaces
Review process for filing vacancy on the City Council (Position 6)
How to attend: Attend in person at Lakewood City Hall, 6000 Main Street SW; Join via Zoom (or dial 253-215-8782 and enter meeting ID: 868 7263 2373), or watch live on the city's YouTube channel.