See you at SummerFEST
It's finally here! The South Sound's not-to-be-missed summer celebration kicks off tomorrow at 11 a.m. at Fort Steilacoom Park!
This free festival is the city's largest event of the year and offers something fun for everyone.
Catch live music all day from the Main Stage. This year's musical lineup has everything from classic rock and country to Americana.
Stroll the classic car show and get your fill of festival food and sweet treats from our Food Truck row. Enjoy performances from around the world on the Lakewood Sister Cities International Festival Stage at the Pavilion. Bring the kids to be wowed by circus acts from the Wenatchee Youth Circus, or death-defying stunts from Freestyle Motocross riders.
Plan your day by checking out a full schedule of events.
---
SummerFEST Parking/Shuttles
Parking is always free at SummerFEST. We anticipate large crowds again this year. To help reduce congestion and limit time waiting in line to park, people are encouraged to carpool and visit throughout the day.
Less busy times include: 11 a.m., 3 p.m. and after 6 p.m.
Drivers can access the park from the main entrance off 87th Avenue SW, or from one of the many temporary entrances that will be open off Elwood Drive SW. To reduce backups onto Steilacoom Drive, visitors should use other roads to access the park. This includes Hipkins, North Way, Elwood, Nixon, Lenox/Dalton, Haviland and 92nd Street SW.
Off-site parking is available at Pierce College in Lot D. Shuttles will run every 20 minutes to and from Fort Steilacoom Park. The shuttle will stop on Steilacoom Boulevard at the pedestrian entrance at Angle Lane.
Handicap parking is available in the paved lot directly next to the playground at Fort Steilacoom Park. Access the lot by entering through one of the entrances and follow the road to the playground. Please have your placard displayed as you enter the park.
Visitors are reminded to please drive respectfully and slowly through the residential neighborhoods that border the park.
---
Council Corner: July 10, 2023 meeting recap
The Lakewood City Council met Monday for a study session. Agenda items reviewed included:
Living Access Support Alliance (LASA) Gravelly Lake Commons Project Update
Joint Lodging Tax Advisory Committee meeting
Lakewood Housing Needs Assessment
Flock Safety Security Camera Presentation
The Lakewood City Council meets Monday, July 17, 2023 for regular meeting at 7 p.m. Tentative agenda items include:
Proclamation declaring August 1, 2023 as National Night Out
Presentation from Wagon West Mobile Home Park
Authorizing the execution of an agreement with KPG Promas for design services for the Wadsworth, Silcox & Boat Street Sewer Extension project
Authorizing the execution of an interagency agreement with the state Department of Ecology for the Pollution Prevention Assistance Partnership
Authorizing the execution a professional services agreement with Flock Safety
Authorizing the execution of an agreement for the Union Avenue SW Sidewalk project
Appointing Ross Drangsholt, Mark Herr, Shawn C. Hill, Kris Kaufmann, and Linda Smith to serve on the Independent Salary Commission
Reports by the City Manager: Review of 2nd Quarter (2023) Police Report
How to attend: Attend in person at Lakewood City Hall, 6000 Main Street SW; Join via Zoom (or dial 253-215-8782 and enter meeting ID: 868 7263 2373), or watch live on the city's YouTube channel.
---
Now accepting 2024 Comp Plan Amendments
The City of Lakewood invites interested parties to identify proposed amendments to the city's Comprehensive Plan and its associated zoning maps. The Lakewood Planning Commission and then City Council will review and confirm the list of amendments to be considered over the course of the year, including privately initiated amendments. This list is known as the "Annual Comprehensive Plan Docket."
Amendment applications must be submitted by July 31, 2023. Learn more here.
---
JBLM Airshow is this weekend
The JBLM Airshow & Warrior Expo is July 15-16, 2023 at McChord Field. The airshow is free and open to the public, and features the U.S. Air Force Thunderbirds. This year's theme is "Warriors Wanted: Explore Your Destiny."
The base expects a large crowd both days of the event. Lakewood residents should expect increased traffic in neighborhoods around the base and the off-site shuttle areas. Planning to attend? Find important information online at:
Up-to-date info during the Airshow, visit
---
Road closures planned for JBLM Airshow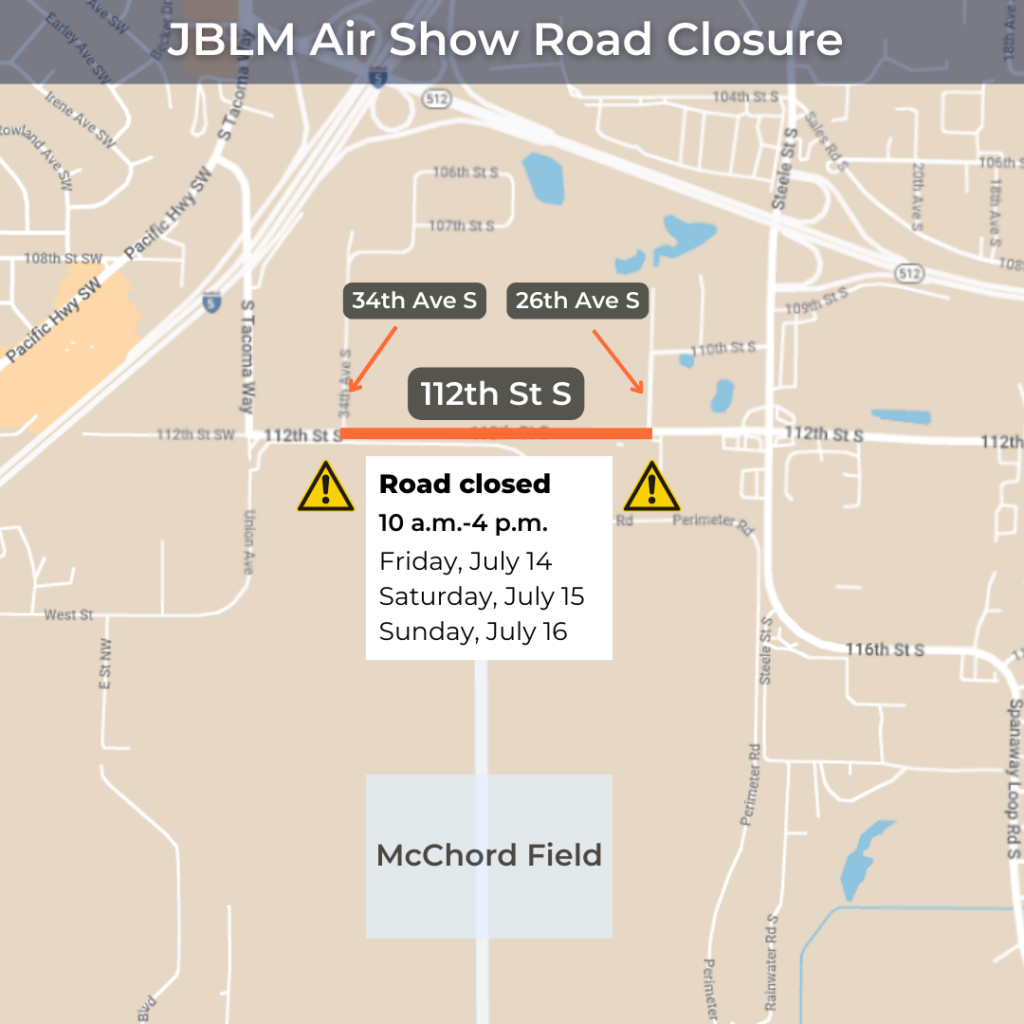 Road closure alert: 112th Street South bordering McChord Field will be closed between 34th Ave S and 26th Ave S for the JBLM Airshow.
The closures are a required safety protocol for the U.S. Air Force Thunderbirds to fly. The road will close 9 a.m. to 5 p.m. Friday, July 14, Saturday, July 15 and Sunday, July 16. The Thunderbirds will practice Friday and perform Saturday and Sunday. Drivers who use this section of road will need to find alternate routes.
Drivers in the area should expect low flying aircraft and remember to keep their eyes on the road – not the air – as military planes perform for the two-day event.
---
Work for the city of Lakewood
We're hiring! Looking to change careers? Looking for a new job? Ready to re-enter the job market?
Join the city of Lakewood! From maintenance workers, Information and Technology analysts, to financial analysts and police officers, we have a variety of positions open. Lakewood offers a competitive benefits package. We are part of the state retirement system (PERS). And the city is a beautiful place to work.
Find a current list of open positions online.