Mayor Whalen's Community Coffeehouse
Come meet new Lakewood Police Chief Patrick D. Smith at Mayor Whalen's Community Coffeehouse event, Thursday, June 15, 2023 at 6 p.m.

Chief Smith joined the city in March 2023. Previously he served as Police Chief in Birmingham, Alabama and before that was a longtime member of the Los Angeles Police Department, serving in various command capacities over nearly 30 years.

All are invited to attend this meet and greet with Chief Smith. This is an opportunity to talk with the Chief, hear his vision for the Lakewood Police Department and engage in conversation with him and Mayor Whalen.

The event is at The Pavilion at Fort Steilacoom Park, 9107 Angle Lane. The Pavilion is the peach-colored building with the outdoor stage located near the barns. The meeting will be held inside the climate-controlled building. Parking is available directly next to the building.
---
Lakewood Farmers Market opening day a success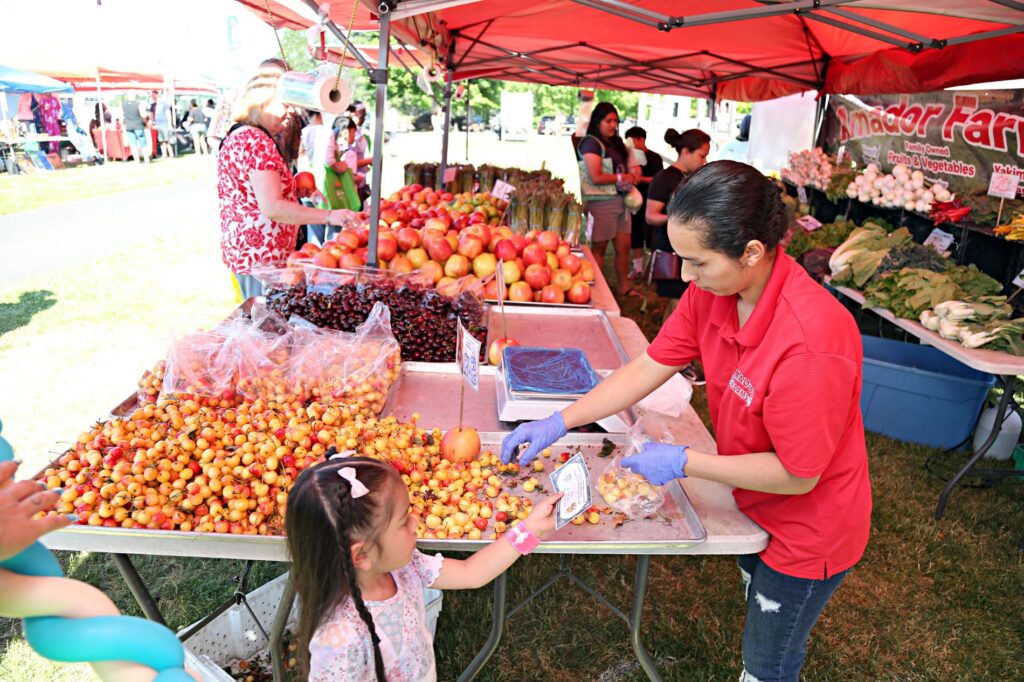 Did you visit Fort Steilacoom Park for the Lakewood Farmers Market opening day? We had so much fun dancing to live music, sampling the amazing food from the 20+ food trucks/vendors, playing lawn games, shopping the 70+ vendors, and best of all, seeing the smiling faces of all our neighbors!
We hope you'll make the Lakewood Farmers Market part of your weekly routine. Vendors will be at Fort Steilacoom Park every Tuesday from 2-7 p.m. until Sept. 19. See a full list of vendors online. See photos from opening day on the city's Facebook page.
---
Saturday Street Festival was fun for all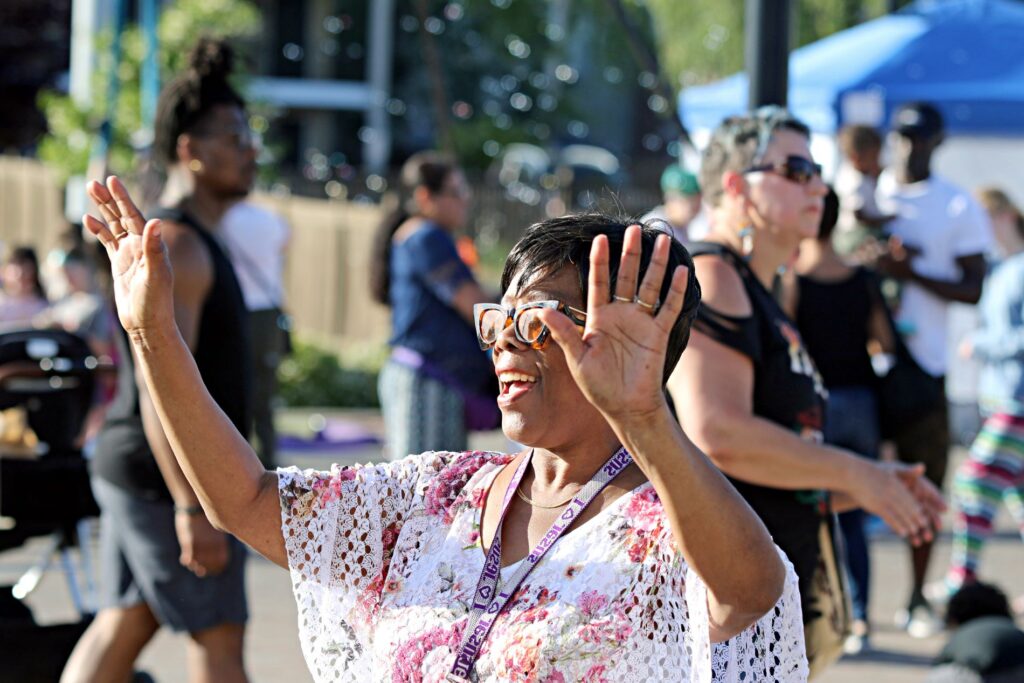 We were dancing in the streets June 3, and so were many of you! We had a wonderful turn out at our first Street Festival of the season. If you joined us, thank you for being there! It was fantastic to see so many smiling faces and families, friends and neighbors enjoying the music, sunshine and of course dancing!
If you couldn't make it, don't worry! Our next Saturday Street Festival is Aug. 12, 2023. We'll again be on Motor Ave. from 4-8 p.m. dancing, eating food truck treats, playing games and visiting with all of you!
View photos of our event on our Facebook page.
---
Dolly Parton Imagination Library comes to Lakewood
The Rotary Club of Lakewood is spearheading an effort to increase and support childhood literacy in Lakewood children by bringing the Dolly Parton Imagination Library to Lakewood. The goal is to enroll 4,000 Lakewood students in the program. Once enrolled, children from birth to 5 years will receive age-appropriate, high-quality books each month, regardless of socio-economic status.
To help with this endeavor, the Rotary Club held an inaugural wine and beer festival fundraiser. The event brought in $28,700. This initial fundraising effort will combine with $77,426 the Lakewood City Council dedicated to the project. The funds from the city come from its American Rescue Plan Act (ARPA) allocation. The city allocation will be used over a five-year period. The club also received a 50% match from the state's Office of Superintendent of Public Instruction.
Have a child, or know a child, who wants free books every month? Enroll them now online.
---
Lakewood recognized for its financial reporting
The Government Finance Officers Association (GFOA) once again recognized and awarded the city's Annual Comprehensive Financial Report (ACFR) and Popular Annual Financial Report (PAFR) for the fiscal year ended Dec. 31, 2021, with its prestigious Certificate of Achievement for Excellence in Financial Reporting. 
This certificate of achievement is the highest form of recognition in governmental accounting and financial reporting, and its attainment represents a significant accomplishment by the city. This includes the work of the City Council and its commitment to transparent fiscal management. Recognition also goes to Deputy City Manager and Chief Financial Officer Tho Kraus for her outstanding leadership and incredible financial acumen.
---
Save the date: Asia Pacific Cultural Center Polynesian Luau
Tickets are on sale now for the Asia Pacific Cultural Center's Polynesian Luau, happening Aug. 26 from 3-6 p.m.
The event features cultural music and dances from the islands of Fiji, Tahiti, Tonga, Hawaii, New Zealand, Samoa and Guam.
The luau is the center's only fundraiser for the year. Tickets are $100 per person, or $850 for an 8-person table. Children ages 4-11 are $12.50/child. Learn more, or purchase tickets online.
---
Council Corner: June 5, 2023 meeting recap
Proclamations. The Lakewood City Council issued two proclamations Monday at its regular meeting. The first recognizes June 19, 2023 as Juneteenth in the City of Lakewood and calls on all residents to become more aware of the significance of this celebration in history and of the heritage of African Americans in our nation and city. The second proclamation recognizes June 2023 as Pride Month in the city. The proclamation encourages residents to recognize the valuable contributions and achievements of the LGBTQ+ community, to reflect on this community's ongoing struggle for equality and to reaffirm commitment against discrimination and injustice in our city.
Youth Council recognition. Members of the 2022-2023 Lakewood Youth Council were recognized for their commitment over the school year to volunteers on the city's youth-led committee. Mayor Jason Whalen presented each member with a certificate and thanked them for their involvement in city government and giving back to the community they live in.
Council action. Through adoption of its consent agenda, the Lakewood City Council acted on the following:
Accepted a $5,000 sponsorship from Amazon for the city's Summer Nights at the Pavilion concert series.
Authorized $2,500 in American Rescue Plan Act (ARPA) funding for the 9th & 10th Cavalry Buffalo Soldiers Museum 2023 Labor Day Festival.
Authorized an agreement for the 2023 Waughop Lake Alum Treatment project.
Authorized an agreement for the Opioid Abatement Council (OAC) formation for Pierce County.
Authorized agreements with Western State Hospital for community partnerships and police protection.
Approved the continued investigation and evaluation of the Clover Creek Floodplain.
Appointed Dean Burke to serve on the Lodging Tax Advisory Committee
Watch the meeting
The Lakewood City Council meets Monday, June 12 for a study session at 7 p.m. Tentative agenda items include:
Review of 1st Quarter (2023) Police Report
Introduction of 2023 Comprehensive Plan Amendments
2024 Comprehensive Plan Periodic Review Update: Climate Change & Critical Areas Ordinance
Review Six-Year (2023-2028) Transportation Improvement Program
How to attend: Attend in person at Lakewood City Hall, 6000 Main Street SW; Join via Zoom (or dial 253-215-8782 and enter meeting ID: 868 7263 2373), or watch live on the city's YouTube channel.
---
What is that strange van doing?
In the coming weeks Lakewood residents may notice a van with camera equipment driving throughout the city. The van is cruising up and down the city's streets to gather data and information about the status of the pavement and its condition.
The information will be used by the city's Public Works Engineering Department as it manages the city's long-term pavement maintenance program. If you encounter the truck, please give it plenty of space and be patient. The vehicle will drive the speed limit, and may make multiple passes across roads to gather data.
---
Youth Council: Now accepting applications
Do you know a Lakewood student who is interested in civics? Or someone who wants to learn more about government, how it works and how to get more involved in their community?
Tell them to apply for the Lakewood Youth Council! The Lakewood City Council is accepting applications for appointment to this youth advisory board for the 2023-24 school year.
Qualifications for becoming a Youth Council member are any combination equivalent to:
Entering high school student in good academic standing, including a good attendance record, past leadership experience, and/or involvement in school or community organizations.
Attend a school in Lakewood or reside in Lakewood.
Find the application online and learn more about the Youth Council. Applications are due by June 17, 2023 at 5 p.m.
Questions? Contact City Clerk Briana Schumacher at [email protected] or 253-983-7705.
---
Take our survey, win a gift card
The City of Lakewood is seeking community perspectives on housing and climate change. This information will be used to update the city's Comprehensive Plan in 2024, an important document that sets a 20-year vision for the City.
Will you share your thoughts by completing the short survey? It includes a chance to win a $50 gift card. The survey closes Sunday, June 11.
---
Lakewood to begin review of state housing laws
As part of the 2023 Comprehensive Plan amendment cycle, the city of Lakewood is responding to recent changes in state law around housing. New laws require the addition of emergency housing, emergency shelter, permanent supportive housing, and transitional housing in cities across the state.
This change requires the addition of nearly 600 units to Lakewood in the coming years.
The Lakewood City Council will begin its review of the proposed changes at its June 12 study session. The meeting begins at 7 p.m. in Council Chambers at Lakewood City Hall, 6000 Main Street SW.
A public hearing is tentatively scheduled for June 20 at 7 p.m. at Council's regular meeting. Public comments may be sent in advance or offered live in person or through Zoom during the meeting.
For more information, email Tiffany Speir, Long Range & Strategic Planning manager, at [email protected].
---
Work for the city of Lakewood
We're hiring! Looking to change careers? Looking for a new job? Ready to re-enter the job market?
Join the city of Lakewood! From maintenance workers, Information and Technology analysts, to financial analysts and police officers, we have a variety of positions open. Lakewood offers a competitive benefits package. We are part of the state retirement system (PERS). And the city is a beautiful place to work.
Find a current list of open positions online.
---
Road project updates
Washington Boulevard
The city's contractor made good progress on pouring concrete this week. Water main testing continued and crews began connecting to the existing water main and to homes. Storm drainage work begins next week between 83rd Avenue and Interlaaken Drive. Grading work will begin between Lake City Boulevard and 83rd Avenue.
Paving returns next week. The top lift will be done between Vernon and Alameda avenues and the north and south approaches to Alameda. The base lift will be done between Lake City Boulevard and 83rd Avenue.
We know this has been a lengthy project that has disrupted the area and we appreciate everyone's patience as the work is done.
Steilacoom Boulevard
The city's contractor installed the mast arms of the new signals this week. The new signals will be turned on and ready for everyday use at the end of June. Once operational the old signals will be removed. The city's contractor will then clean up remaining items on site to complete the job.
As work continues, drivers should use alternate routes when possible, or plan for additional drive times.
Elwood Drive/Angle Lane
This week the city's contractor continued to work on grading the roadway. Curbs installation is scheduled for the week of June 12. Sidewalks will be installed the week of June 19. All utility work is now complete.
The contractor remains on schedule. The roads will reopen by July 15 for SummerFEST.
As part of this work a temporary entrance to Fort Steilacoom Park was built off Elwood Drive. Cars must access the new entrance from Hipkins/North Way/Elwood. There is no access from 87th Avenue/Dresden Lane.
We apologize for the inconvenience. We appreciate the public's patience during this temporary detour while we make the roads leading into the park safer for pedestrians and drivers.