Two legislative town halls Saturday
This legislative session the Lakewood City Council and police leadership are voicing support for legislation that offers a commonsense approach to policies that protect lives and property and do not erode trust in government.
We support bipartisan leadership to pass legislation that stops increased criminal activity we're seeing not only in Lakewood, but across our state. We support changes that allow law enforcement to pursue someone if there is reasonable suspicion. We support a requirement for ongoing emergency vehicle operations training, which benefits our officers and the public.
Do you have an opinion about legislation in Olympia? Let your voice be heard. Two in person town halls are planned for this Saturday with our legislative district leaders.
Join Sen. Steve Conway and Rep. Sharlett Mena THIS Saturdya, at 10 a.m. for a legislative update and group discussion around topics that concern you at the Local 31 Firefighter's Hall, 1109 S 50th St. in Tacoma.
Join Reps. Mari Leavitt and Dan Bronoske also THIS Saturday at Clover Park Technical College in the Rotunda of Building 3 from 11 a.m. to 12:30 p.m. Our very own Deputy Mayor Mary Moss and DuPont Mayor Ron Frederick will moderate this Town Hall.
---
Welcome Lakewood's newest council member
Lakewood native Trestin Lauricella was selected by the Lakewood City Council to fill the Position 6 vacancy. He will hold the position until the November general election. That is when voters will decide who will assume the office for a new term. The position was vacated when Linda Farmer was elected Pierce County Auditor, requiring her to leave the position.
"We are pleased to welcome Trestin to the City Council," said Lakewood Mayor Jason Whalen. "While there is much work to be done, we look forward to his voice and participation in furthering the policy goals and objectives established by the Council. Members were impressed with his passion to serve Lakewood, as well as his professional background, expertise, and skills that he brings to the role."
---
Council Corner: March 13, 2023
The Lakewood City Council spent its March 13, 2023 study session reviewing two key pieces of legislation aimed at improving public safety in Lakewood.
The first ordinance would prohibit the use of controlled substances in public spaces. As proposed the legislation's intent is to reduce the open use of drugs experienced in the city as a result of changes to state law in 2021. It is also meant to reduce violent and property crimes, increase public safety and allow an opportunity for court intervention and treatment for those using illegal drugs.
Council is expected to take action on the proposed ordinance at its March 20 regular meeting.
The second piece of legislation is aimed at protecting areas of the city that aren't meant to have people living in temporary structures like tents or similar make-shift shelters. These areas do not have infrastructure to accommodate solid waste and or hygienic needs. The result of these living conditions is significant, negative impact on the land.
The City has tools to enforce the rights of private property owners but needs additional tools for protecting public property. Beyond the need to protect public property for public use, the ordinance identifies for protection critical areas such as waterways. The city's effort to protect these areas over the years is undermined by the impact of ongoing occupation of the property.
Council is expected to take action on the proposed ordinance at its March 20 regular meeting.
Following review of both these ordinances Council receive an update on the 2024 Periodic Review process related to housing.
Watch the meeting.
What's on deck: The Lakewood City Council will meet Monday, March 20 at 7 p.m. for a regular meeting. At the start of the meeting newly appointed member Trestin Lauricella will be sworn in to the Position 6 seat. Tentative agenda items include:
Swearing-In Ceremony
Proclamation recognizing March 29, 2023 as National Vietnam War Veterans Day
Proclamation recognizing Scott McKay for Making a Difference in the City of Lakewood
Ordinance approving the request to vacate 113th Street SW, west of Kendrick Street SW
Ordinance amending Lakewood Municipal Code Chapter 9.06 related to the Use of Controlled Substances
Ordinance creating Lakewood Municipal Code Chapter 9.15 related to the Occupation of Public Property
Ordinance authorizing the acquisition of real property under threat of condemnation or by condemnation for road purposes
Reports by the City Manager: Review of Clover Creek Floodplain
How to attend: Attend in person at Lakewood City Hall, 6000 Main Street SW; Join via Zoom (or dial 253-215-8782 and enter meeting ID: 868 7263 2373), or watch live on the city's YouTube channel.
---
You're invited: Gateway Arcs Ribbon Cutting
Join us to cut the ribbon and celebrate the city of Lakewood's newest public art installation designed by artist John Fleming. Read the 112 stories woven into the Gateway Arcs written by members of our community. Meet the artist. Light refreshments will be served.
What: Gateway Arcs ribbon cutting
When: Saturday, April 1, 10-11 a.m.
Where: Corner of Motor Avenue and Gravelly Lake Drive
More: CityofLakewood.Us/Art
---
Historic H-Barn Restoration Project
From Partners for Parks: One of Lakewood's most historic buildings, the H-Barn at Fort Steilacoom Park, is preparing to undergo a major restoration designed to benefit the entire Lakewood community and beyond.
Partners for Parks, a nonprofit focused on enhancing the quality of life for Lakewood residents, is launching a $7.5 million fundraising effort. The nonprofit is passionate about parks and will be leading a $3.5 million private sector fundraising effort that will make possible a $4 million public investment from the city of Lakewood. Multiple fundraising strategies will be used to encourage private financial support from individuals, foundations, organizations and businesses in a major gift campaign carried out in two phases through 2023 and 2024 and concluding in the spring of 2025.
A former milking barn, the restored H-Barn will allow visitors to experience the facility as it once was, while also providing an accessible and much-needed gathering space for the community. New uses could include everything from private events like weddings and reunions to public events like art shows, senior activities, educational field trips and a farmers market.
---
Register now for Kids Fishing Event
Registration is now open for the city of Lakewood's annual Kids Fishing Event. This event allows children 5 to 14 years to fish off the shoreline of American Lake.
Cost is just $5 per participant. Children get to keep their pole and their catch. All necessary fishing supplies are provided.
This year's event is Saturday, May 13. Note the location change: The event will be held on the shoreline of Harry Todd Park. Sessions are 45 minutes and run every hour on the hour from 8 to 11 a.m.
Space is limited to sign up today: https://tinyurl.com/LakewoodFish
---
EFN Hunger Walk
The Hunger Walk is an annual opportunity for the community to support Emergency Food Network's mission of providing food to our neighbors in need "so that no person goes hungry."
The 2023 Hunger Walk will take place May 6 at Fort Steilacoom Park. Virtual registration is also available.
---
What's happening at Springbrook Park?
Have you been to Springbrook Park recently? Chances are if you have, you've seen a lot of dirt flying. The city's contractor began work earlier this month on a series of improvements that will transform the park into a community crown jewel. This roughly $1.7 million project is funded through a Department of Commerce grant and city monies. Construction is expected to be completed this year.
Along with cleaning up 660 linear feet of shoreline along Clover Creek the park will see the addition of:
Walking paths and viewpoints
Picnic and open space areas
A dog park
Improved basketball court
Relocation and expansion of the existing community garden
A pump track
---
Work for the city of Lakewood
We're hiring! Looking to change careers? Looking for a new job? Ready to re-enter the job market?
Join the city of Lakewood! We have a variety of job positions open. Lakewood offers a competitive benefits package. We are part of the state retirement system (PERS). And the city is a beautiful place to work.
Available positions include openings in our maintenance division, Information Technology and police department.
Find a current list of open positions online.
---
14th annual Cops vs. Teachers is April 28
Kiwanis of Clover Park and Lakes High Skills USA Club invite the community to the 14th Annual Cops vs. Teachers Charity Basketball game.
The game is Friday, April 28 from 5:30 to 9 p.m. at Lakes High School in the gym. Tip-off is 6:30 p.m. Cheer on Lakewood PD and law enforcement from partner agencies and Clover Park School District teachers and administrators as they go head-to-head in this friendly competition.
Concessions sales and donations for this year's event support 11-year-old Janine Hope Dungca and her family. A silent auction with over 60 raffle baskets donated by local schools and community businesses will also be held to help raise money.
If you are interested in donating a gift basket, please contact Baron Coleman at 253-583-5550 or email [email protected].
---
Road project updates
Washington Boulevard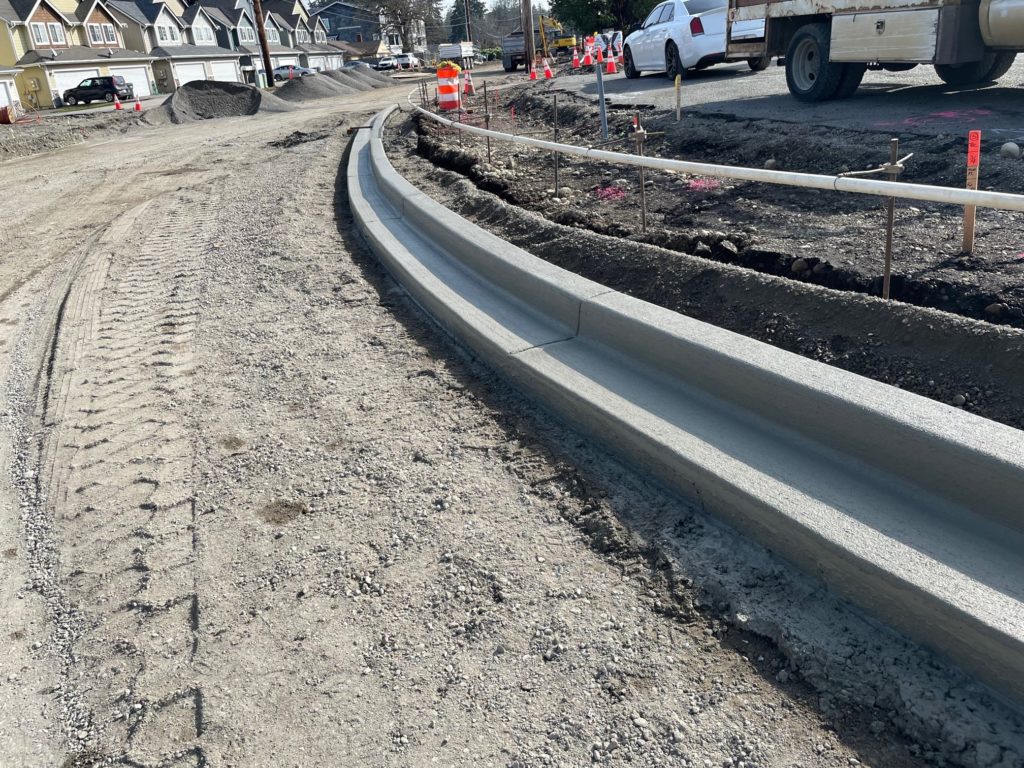 Friday the city's contractor took advantage of the spring-like weather to pour the curb and gutter. This work will continue Monday on Vernon Avenue and Washington Boulevard. The road is being graded with gravel – making its appearance resemble a real road. The water service crew continues to make service connections in the area.
We anticipate large concrete pours over the next four to six weeks. We remain on target for paving to occur at the end of April.