Memorial Day 2023
Monday is Memorial Day. On this day we honor the service men and women who gave their lives protecting our country.
We also honor their families, whose lives are forever changed. Thank you to all who serve our country. We appreciate you.
Please note: Lakewood City Hall and most city operations are closed Monday in observation of the holiday. Regular operations resume Tuesday, May 31 at 8:30 a.m.
---
We're dancin' in the streets
Our first Saturday Street Festival of the season is almost here! We'll be Dancing in the Streets Saturday June 3 from 4-8 p.m. at the plaza on Motor Ave. (6114 Motor Avenue).
Bring the family, meet up with friends and get ready for an evening of fun. There will be a live DJ, food trucks, kids activities and games, roaming entertainment, vendor booths and more.
---
Lakewood Farmers Market Opening Day is June 6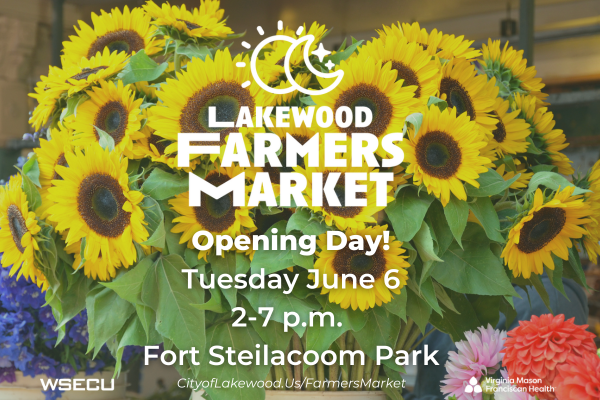 Apples, asparagus, bok choy, bouquets, cherries, chocolates, decorations, desserts, eggplants, elephant ears, food trucks, free parking…the Lakewood Farmers Market has it all!
Opening day is Tuesday, June 6, 2023 at Fort Steilacoom Park with activities for the whole family.
Listen to live music from Maurese Itson Jazz from 2-4 p.m., and In Cameo Band from 4:30-6:30 p.m. Get your face painted, have the kids make a potato print painting, play lawn games, and don't forget to swing by the city of Lakewood booth to pick up your Lakewood Farmers Market SWAG: A free Lakewood Farmers Market tote, slap bracelets, stickers and more.
If you see a 6-foot-7-inch man with a giant club roaming the market, don't worry, that's just Wotan the Fairy Smasher. Blow him a couple of kisses or sprinkle fairy dust on him and he'll run away.
Visit Fort Steilacoom Park every Tuesday from 2 to 7 p.m. and shop more than 70 vendor and food booths. See a full list of vendors online.
---
More change comes to Fort Steilacoom Park entrance
Due to the road improvement work going on around the entrance to Fort Steilacoom Park, the city had to build a temporary entrance to the park.
The entrance will be altered again on May 30, 2023.
Visitors to Fort Steilacoom Park will now need to take Hipkins Road to North Way and then Elwood Drive to enter Fort Steilacoom Park from a temporary entrance off Elwood Drive.
The change is necessary for the city's contractor to reconstruct access to the ballfield parking lot in the park and connect the curbs and sidewalks to the existing park entrance for a new roundabout that will be built at the intersection of 87th/Dresden/Elwood.
Detour signs will be placed in the area to help direct traffic. Drivers are encouraged to drive slow, obey signs and pay attention to road changes.
We know many people visit Fort Steilacoom Park and this work disrupts people's routines. We appreciate the public's patience during this temporary detour while we make the roads leading into the park safer for pedestrians and drivers.
---
Youth Council: Now accepting applications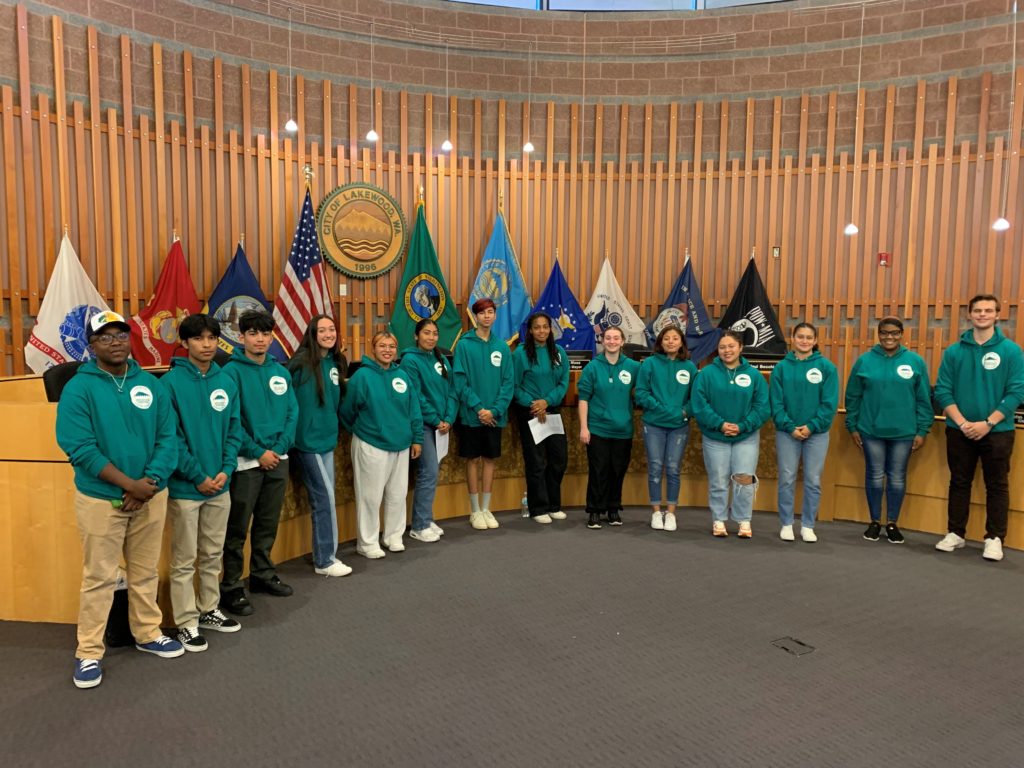 Do you know a Lakewood student who is interested in civics? Or someone who wants to learn more about government, how it works and how to get more involved in their community?
Tell them to apply for the Lakewood Youth Council! The Lakewood City Council is accepting applications for appointment to this youth advisory board for the 2023-24 school year.
Qualifications for becoming a Youth Council member are any combination equivalent to:
Entering high school student in good academic standing, including a good attendance record, past leadership experience, and/or involvement in school or community organizations.
Attend a school in Lakewood or reside in Lakewood.
Find the application online and learn more about the Youth Council. Applications are due by June 17, 2023 at 5 p.m.
Questions? Contact City Clerk Briana Schumacher at [email protected] or 253-983-7705.
---
Take our survey, win a gift card
The City of Lakewood is seeking community perspectives on housing and climate change. This information will be used to update the city's Comprehensive Plan in 2024, an important document that sets a 20-year vision for the City.
Will you share your thoughts by completing the short survey? It includes a chance to win a $50 gift card. The survey closes Sunday, June 11.
---
Council Corner: May 22, 2023 meeting recap
State legislative recap. The Lakewood City Council received a recap of the state 2023 Legislative session from Shelly Helder of Gordon Thomas Honeywell government relations. This included a look at the city's legislative priorities, as well as review of key public safety items before state leaders. Overall, the city's legislative asks were supported by the 28th and 29th district legislators, resulting in funding for key projects. This included funding for the city's partnership with the Nisqually Indian Tribe to add interpretive signage and historical markers to the Nisqually Loop Trail in Fort Steilacoom Park. Legislators also supported the city's ask to fund LASA's affordable housing project in Lakewood known as Gravelly Lake Commons, and again supported funding the Lakewood Police Department's partnership with Western State Hospital to provide law enforcement support.
Urban Forestry. Students from the UW Evans School of Public Policy and Governance presented a framework to establish an urban forestry plan within the city. Establishment of this program aligns with recent updates to the city's comprehensive plan around climate change and updates to the city's code around tree protections. The report provides a comprehensive guide for the development and maintenance of an urban forestry program, with the aim of ensuring that it continues to serve the community's needs for generations to come.
Joint meeting. The Parks and Recreation Advisory Board held a joint meeting with Council to review its 2022 accomplishments and its 2023 work plan items.
Clover Creek floodplain. Public Works Engineeering Director Paul Bucich reviewed alternatives for the Clover Creek Floodplain area, which spans from Springbrook across Interstate 5 toward Clover Park High School. Four options previously presented to Council include:
Do nothing.
Enhance the stream corridor to better pass the flows.
Construct a Levee/Floodwall along I-5.
Construct a Levee/Floodwall along the stream corridor between Bridgeport Way and the Railroad boundaries upstream.
Watch the meeting
The Lakewood City Council's next meeting is a regular meeting Monday, June 5 at 7 p.m. Tentative agenda items include:
Proclamation recognizing Juneteenth National Freedom Day
Proclamation recognizing the month of June as LGBTQ+ Pride month
Youth Council Report and recognition
Clover Park School District report
Accepting a $5,000 sponsorship from Amazon for the city's Summer Nights at the Pavilion concert series.
Authorizing $2,500 in American Rescue Plan Act (ARPA) funding for the 9th & 10th Cavalry Buffalo Soldiers Museum 2023 Labor Day Festival.
Authorizing an agreement for the 2023 Waughop Lake Alum Treatment project.
Authorizing an agreement for the Opioid Abatement Council (OAC) formation for Pierce County.
Authorizing agreements with Western State Hospital for community partnerships and police protection.
Approving the continued investigation and evaluation of the Clover Creek Floodplain.
Appointing Dean Burke to serve on the Lodging Tax Advisory Committee.
How to attend: Attend in person at Lakewood City Hall, 6000 Main Street SW; Join via Zoom (or dial 253-215-8782 and enter meeting ID: 868 7263 2373), or watch live on the city's YouTube channel.
---
Lakewood to begin review of state housing laws
As part of the 2023 Comprehensive Plan amendment cycle, the city of Lakewood is responding to recent changes in state law around housing. New laws require the addition of emergency housing, emergency shelter, permanent supportive housing, and transitional housing in cities across the state.
This change requires the addition of nearly 600 units to Lakewood in the coming years.
The Lakewood City Council will begin its review of the proposed changes at its June 12 study session. The meeting begins at 7 p.m. in Council Chambers at Lakewood City Hall, 6000 Main Street SW.
A public hearing is tentatively scheduled for July 3 at 7 p.m. at Council's regular meeting. Public comments may be sent in advance or offered live in person or through Zoom during the meeting.
The Lakewood Planning Commission will review this at its May 31 meeting. Details of what is proposed can be found on page 12 of the commission agenda packet.
The planning commission discussed these changes at its March 15, April 5, 19 and May 3 and 17 meetings. Find the recordings on the city's YouTube channel.
For more information, email Tiffany Speir, Long Range & Strategic Planning manager, at [email protected].
---
TPU offers assistance with utility bills
For those experiencing financial strain or who are on a limited income, Tacoma Public Utilities offers several ways to help you manage your utility accounts, including discounts and credits.
Enhancements to TPU's Bill Credit Assistance Plan now offer higher automatic credits to help pay your power and water bills if you meet assistance eligibility requirements. For more information about the program and how to apply, visit MyTPU.org/Assistance.
---
Work for the city of Lakewood
We're hiring! Looking to change careers? Looking for a new job? Ready to re-enter the job market?
Join the city of Lakewood! From maintenance workers, Information and Technology analysts, to financial analysts and police officers, we have a variety of positions open. Lakewood offers a competitive benefits package. We are part of the state retirement system (PERS). And the city is a beautiful place to work.
Find a current list of open positions online.
---
Road project updates
Washington Boulevard
Curbs and sidewalks were poured this week on Washington Boulevard between Vernon and Alameda avenues. The city's contractor responsible for grading the road was preparing for sidewalk work between Alameda Avenue and Lake City Boulevard. Installation of new storm drainage piping and infrastructure is now complete between Lake City Boulevard and 83rd Street SW. Work started on water main installation between Lake City Boulevard and 83rd Street SW.
The road remains closed to through traffic during this work. Residents who live along the closure are granted local access. Drivers can use Veterans Drive, Vernon Avenue and other outlets to get around the closure.
We know this has been a lengthy project that has disrupted the area and we appreciate everyone's patience as the work is done.
Steilacoom Boulevard
Lane closures remain in place at 88th Street SW and Steilacoom Boulevard SW as the city's contractor continues streetlight and signal installation work.
Drivers are encouraged to find alternate routes, as delays are expected due to the reduced traffic flow.
Work was paused on this project during the winter season because of supply chain delays. Electrical work begins first, followed by the setting of the new signal poles. The estimated time is six weeks for this work to be complete.
Elwood Drive/Angle Lane
Work started May 15 on this project with the closure of 87th Avenue SW, a portion of Dresden Lane SW and Elwood Drive SW.
Preliminary work included the removal of 36 trees from the right-of-way. The city took additional time to survey the trees, saving those that may have otherwise come down previously. Once work is complete, 62 Garry Oaks will be planted throughout the project area to return tree cover and increase the overall tree canopy.
With the trees removed, work began this week on preliminary grading and electrical work within the new roundabout area. The new water main is now installed. Testing of the new main will begin this weekend.
As part of this work a temporary new entrance to Fort Steilacoom Park was built directly south of Steilacoom Boulevard off 87th Avenue. This entrance will be moved again on May 30.
Detour signs will be placed in the area to help direct traffic.
We apologize for the inconvenience. We appreciate the public's patience during this temporary detour while we make the roads leading into the park safer for pedestrians and drivers.
This project will add sidewalks to the southwest side of Angle Lane, and the west side of Elwood Drive. The chicanes are being removed and roundabouts are being built at the North Way and Hipkins intersection and the Elwood/Dresden/87th intersection.
Construction is anticipated to last until early spring of 2024. During construction, the road will be open to single lane of one-way traffic.