Road closures coming to Fort Steilacoom Park entrance, neighboring streets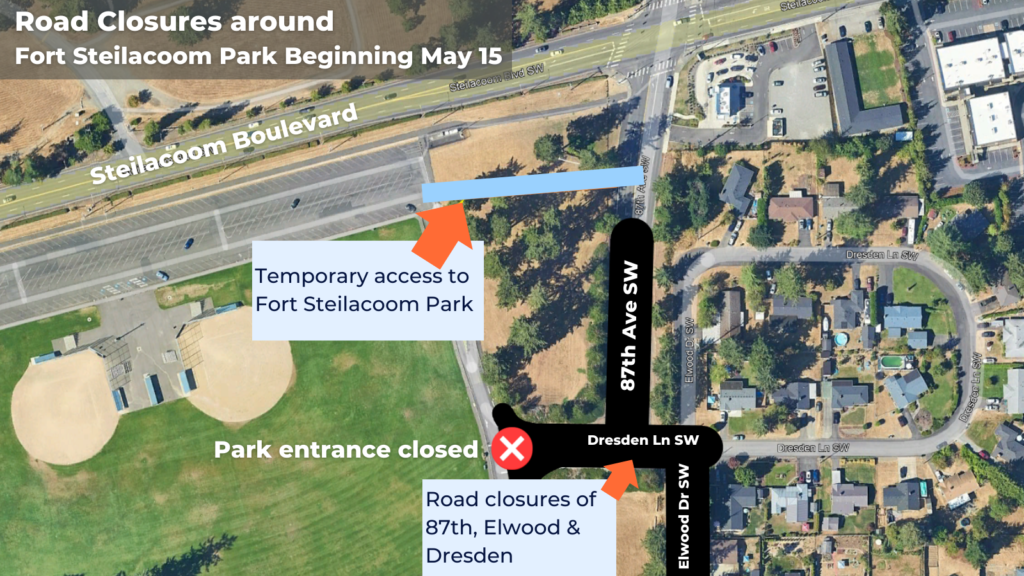 On May 15 the city will close the 87th Avenue, Dresden Lane and Elwood Drive all near the entrance to Fort Steilacoom Park. A new, temporary entrance to the park will be built. This entrance will allow access from 87th Avenue directly south of Steilacoom Boulevard.
The road closures will remain in place until mid-July. The roads will reopen for SummerFEST July 15.
The closure is part of approved road improvements to Angle Lane and Elwood Drive. This project will add sidewalks on the southwest side of Angle Lane and a trail on the west side of Elwood.
In addition, the city is building and installing a new water main under 87th to Dresden as part of the project.
---
May 2023 Business Showcase: Crane's Creations 2.0
The Lakewood City Council named Crane's Creations 2.0 as its May 2023 Business Showcase. Watch the video to learn more about this longtime Lakewood business.
---
EFN Hunger Walk is Saturday
The annual Emergency Food Network Hunger Walk is Saturday at Fort Steilacoom Park.
This event is an opportunity for the community to support EFN's mission of providing food to our neighbors in need "so that no person goes hungry."
At its regular meeting May 1, the Lakewood City Council issued a proclamation declaring May Hunger Awareness Month. Council encouraged residents to support EFN and attend Saturday's event.
---
Council Corner: May 1, 2023
The first meeting of May kicked off with six proclamation readings and recognition of Crane's Creations 2.0 as the May 2023 Lakewood Business Showcase.
National Asian American Native Hawaiian-Pacific Islander Heritage Month: The first proclamation read recognized May 2023 as National Asian America, Native Hawaiian-Pacific Islander Heritage Month. In its proclamation the Lakewood City Council recognized the history of Asian, Hawaiian and Pacific Islander immigrants and descendants in our city and celebrated the various cultures that contribute to the tapestry of our city making it one of the most diverse in the state. Read the proclamation.
Hunger Awareness Month: The Lakewood City Council presented Emergency Food Network with a proclamation recognizing May 2023 as Hunger Awareness Month. Now more than ever people need food banks and food donations to provide healthy food choices to their families, due to rising food costs. EFN will host a Hunger Walk May 6 at Fort Steilacoom Park. Residents are encouraged to participate, and consider donations or volunteer to support EFN which supplies food to food banks across Pierce County. Read the proclamation.
May 7-13, 2023 is Drinking Water Week: Lakewood Water District accepted a proclamation declaring May 7-13, 2023 as Water Week in Lakewood. The proclamation calls attention to the vital role clean drinking water plays in our society and the importance of reliable, safe infrastructure to deliver that clean water to our homes and businesses. Read the proclamation.
May 12, 2023 is Childcare Provider Appreciation Day: The Lakewood City Council recognized May 12, 2023 as Childcare Provider Appreciation Day. Childcare providers offer a vital service to working families: a safe, healthy place for children to grow, play and learn. Without this, our economy would suffer because working parents would not be able to fulfill their job duties unless they have a safe place for their young children to go. Read the proclamation.
55th Anniversary of the Fair Housing Act: The Fair Housing Act was enacted into law in 1968. This year marks the 55th anniversary of that piece of legislation that recognized no American should lose their right to purchase or rent housing of their choice because of their race, skin color, religion, sex, handicap, familial status, national origin, sexual orientation or gender identity. Read the proclamation.
May is Building Safety Month: The community depends on the role safety plays in our homes, buildings and infrastructure, both in everyday life and during a disaster. Building Safety Month calls attention to the important role experts in the building industry play in keeping our community safe, including building inspectors, building officials, development professionals, plumbers, electricians and more. Read the proclamation.
Business Showcase: Crane's Creations 2.0 is the May 2023 Lakewood Business Showcase. This Lakewood business specialized in floral creations for more than 50 years. Crane's Creations 2.0 is the new iteration of this Lakewood treasure. Owners David and Charlene Olson purchased the business three years ago. Read more.
Council action: At its meeting Council acted on the following items:
Adopted the 2022 Transportation Benefit District Annual Report.
Adopted the Fiscal Year 2023 Community Development Block Grant (CDBG) Annual Action Plan.
Approved American Rescue Plan Act funding to support the Dolly Parton Imagination Library. Initiated and supported by the Rotary Club of Lakewood, this program has the potential to reach up to 6,000 Lakewood children and provide them with free books.
Updated and authorized new uses for the city's American Rescue Plan Act funds.
Held a public hearing on the 2023 Carry Forward Budget Adjustment.
Watch the meeting.
What's on Deck: The Lakewood City Council May 8 study session is canceled. The next meeting is May 15, 7 p.m. Tentative agenda items include:
Police Chief Commissioning Ceremony.
Proclamation declaring May 15-21, 2023 as National Police Week.
Proclamation declaring May 21-27, 2023 as National Public Works Week.
Authorizing the execution of a construction contract for Fort Steilacoom Park Athletic Field Improvements.
Ordinance adopting the 2023 Carry Forward Budget Adjustment.
Ordinance amending Chapter 9.06 of Lakewood Municipal Code relating to Controlled Substances.
Approving an intergovernmental transfer agreement between Pierce County and the city of Lakewood related to the transfer of Old Settler's Cemetery property.
Reports by the City Manager: Partners for Parks Presentation; and review of the Opioid Abatement Council (OAC) Formation for Pierce County.
How to attend: Attend in person at Lakewood City Hall, 6000 Main Street SW; Join via Zoom (or dial 253-215-8782 and enter meeting ID: 868 7263 2373), or watch live on the city's YouTube channel.
---
Sign up for Kids Fishing Event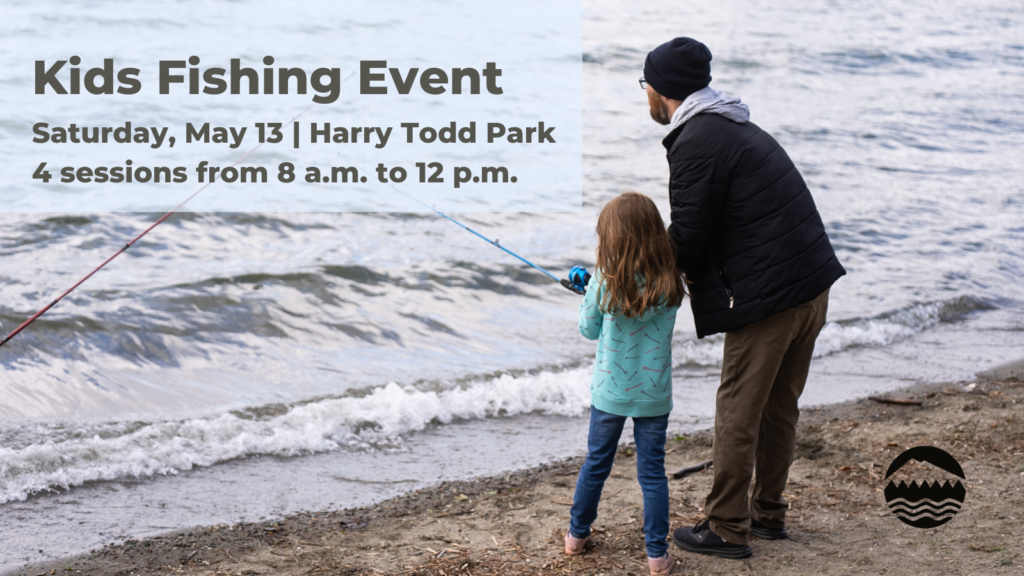 The annual Lakewood Kids Fishing Event is only a few weeks away! Have you signed up yet?
We still have a few spots available at the 8, 9 and 10 a.m. sessions. Our 11 a.m. slot is almost full.
Join us Saturday, May 13 for this event that lets children 5 to 14 years fish from the shoreline of American Lake. And with a freshly stocked lake, we're pretty sure they won't have to wait long for a bite!
Cost is just $5 per participant. Children keep their pole and their catch. All necessary fishing supplies are provided.
This year's event is at Harry Todd Park. Sessions are 45 minutes and run every hour on the hour from 8 to 11 a.m.
Spots are filling up quickly so make sure to sign up today: https://tinyurl.com/LakewoodFish
---
Help keep invasive species out of our parks
We are looking to establish a team of volunteers to lead habitat restoration efforts in the city. This includes removing invasive plants like blackberries, scotch broom and other non-native species from our parks.
If you are interested in learning more, or helping lead these efforts, please email our Parks, Recreation and Community Services department at [email protected]. Or call 253-983-7887.
We also encourage people to sign up for upcoming Pierce Conservation District classes. These classes will help prepare volunteers for the work we'd like to see done in Lakewood.
Once we have leaders identified, we'll share additional details about planned work parties and how people can get involved.
Pierce Conservation District courses
Learn more about the district's Habitat Stewards program at a three-part series training in May.The dates are:
May 17, online 5:30-7 p.m.
May 20, in the field 9 a.m.-12 p.m.
May 24, online 5:30-7 p.m.
Sign up here: https://zfrmz.com/34irvZeADzveIiNI756P
There are limited spots available, so register quickly! If the May training fills up, you'll be put on a waitlist for future trainings.
---
Lakewood Police Department Citizens Academy
The Lakewood Citizens Academy is an annual event hosted by the Lakewood Police Department. Held at the police station, this is an opportunity for residents to learn about police operations first-hand from Lakewood officers, detectives and command staff.
Weekly topics offer snapshots of what police learn as part of their training to become sworn officers. This includes patrol responsibilities, criminal investigations, child abuse cases, K9 officers, the city's Behavioral Health Contact Team, use of force and how the court system works in Lakewood and Pierce County.
The 2023 Academy runs Thursdays, 6:30 to 9 p.m. from June 8 to July 27, 2023.
---
West Pierce Fire & Rescue Youth Academy
West Pierce Fire & Rescue's Youth Academy is June 17-18 this year for students who want to see what a career in the fire service is all about.
This is a great way for students ages 14-18 to experience what it's like to be a firefighter. This two-day academy offers students the opportunity to learn about various disciplines within the fire service, while gaining hands-on experience.
There is no cost to attend and all equipment is supplied. Visit the West Pierce Fire & Rescue website for more details or to apply.
---
Calling all vendors!
Are you a local vendor? Do you have experience selling at Farmers Markets? A few spots remain for processors, crafters or famers at our Lakewood Farmers Market, which kicks off June 6 and runs every Tuesday, 2-7 p.m. at Fort Steilacoom Park.
Interested? Email Recreation Coordinator Sally Martinez. To be considered you must include the following in your email?
Business name
List of products
1 or 2 photos of your product
Where you vend
Website or social media
SummerFEST vendor application now open. Want to get your business in front of thousands of people this summer? We are now accepting applications for vendors interested in attending SummerFEST. Happening this year on July 15 at Fort Steilacoom Park, this is can't miss event for the whole family. Find the application online. Applications are due May 31, 2023.
---
Join our Independent Salary Commission
Want your voice to be heard? There are five positions open on the Lakewood Independent Salary Commission, which decides the salaries for the Mayor and City Council.
For more information on what the commission does or requirements to volunteer, visit the commission website.
Interested in getting more involved in the city? Check out our boards and commissions website to find volunteer opportunities.
---
Work for the city of Lakewood
We're hiring! Looking to change careers? Looking for a new job? Ready to re-enter the job market?
Join the city of Lakewood! From maintenance workers, Information and Technology analysts, to assistant city attorneys and police officers, we have a variety of positions open. Lakewood offers a competitive benefits package. We are part of the state retirement system (PERS). And the city is a beautiful place to work.
Find a current list of open positions online.
---
Road project updates
Washington Boulevard
Work on the final section of Washington Boulevard began Monday. This included the closure of the road between Lake City Boulevard and Interlaaken Drive. The pavement on this stretch of road is now gone.
The water main was connected at Lake City Boulevard. Work is underway to update the storm drainage infrastructure between Lake City Boulevard and 83rd Avenue. The concrete curb and gutter was installed between Vernon Avenue and Alameda Avenue and grading work began this week between Alameda and Lake City Boulevard.
The unpaved section of road between Vernon Avenue and Lake City Boulevard will remain closed to through traffic until end of summer when it will be paved.
In the coming weeks construction crews will install new storm water drainage systems, curbs, gutters, sidewalks, two more roundabouts, street lighting and pave the roadway once all other work is complete. The road will remain closed to through traffic during this work. Residents who live along the closure will be granted local access.
Drivers can use Veterans Drive, Vernon Avenue and other outlets to get around the closure.
We know this has been a lengthy project that has disrupted the area and we appreciate everyone's patience as the work is done. We're in the final stretch and are excited to see the finished product once the work is complete.
Steilacoom Boulevard
Work will resume May 15 on Steilacoom Boulevard where sidewalks were recently installed. The city's contractor had to pause work during the winter season and because of supply chain delays for the new signals that will be installed.
Electrical work will begin first, followed by the setting of the new signal poles. The estimated time is six weeks for this work to be complete.