Supporting manufacturing in Lakewood
Mayor Jason Whalen welcomed the first-ever Manufacturing Day Expo to Lakewood this week. He was joined by City Manager John Caulfield and Economic Development Director Becky Newton at the event.
Held at Clover Park Technical College, the four-hour event called attention to new frontiers in manufacturing. This includes automation, robotics, instrumentation and process control, and supply chain logistics equipment. Leaders in the industry were there to showcase their companies and connect with students and those looking for a career in manufacturing.
---
Welcoming Governor Jay Inslee to Lakewood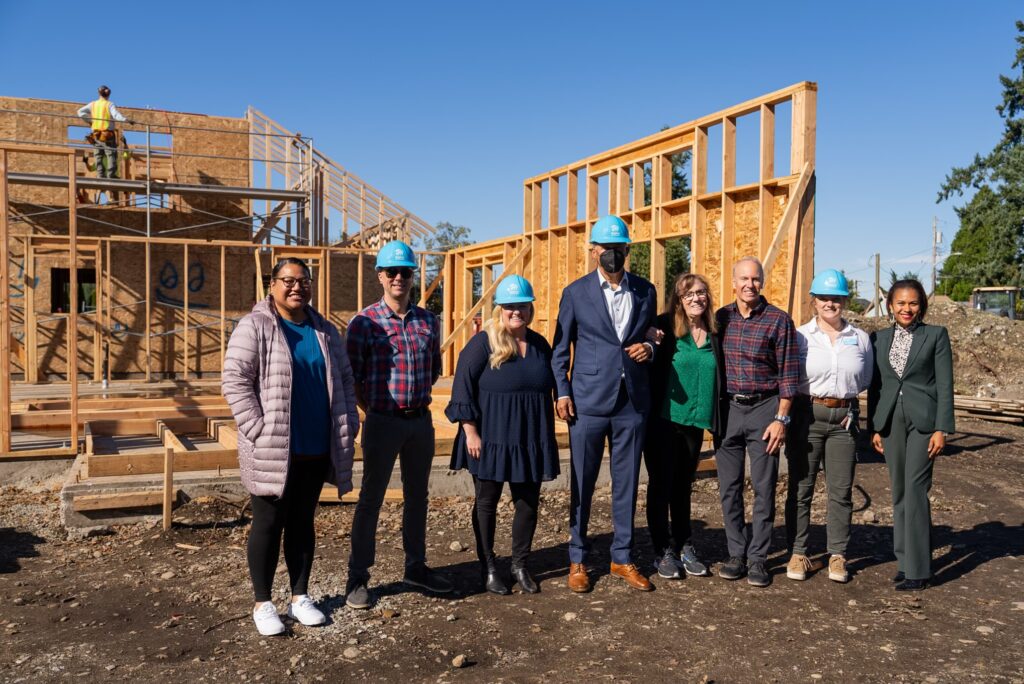 Gov. Jay Inslee was in Lakewood this week visiting a construction site in Tillicum. Mayor Jason Whalen was there to join the Governor and celebrate the work being done by Tacoma/Pierce County Habitat for Humanity.
Inslee was here as part of a tour of Pierce County. His stops included visiting places focused on creating affordable housing with energy efficiency at the forefront. Specific to Lakewood, Habitat is building 12 homes to join the roughly 50 homes already built in the neighborhood. The new construction uses energy efficient materials, which will help those who live in the homes save money.
The City of Lakewood has a long-standing partnership with Habitat to see affordable, energy-efficient homes built in our community.
---
Truck & Tractor Day is next week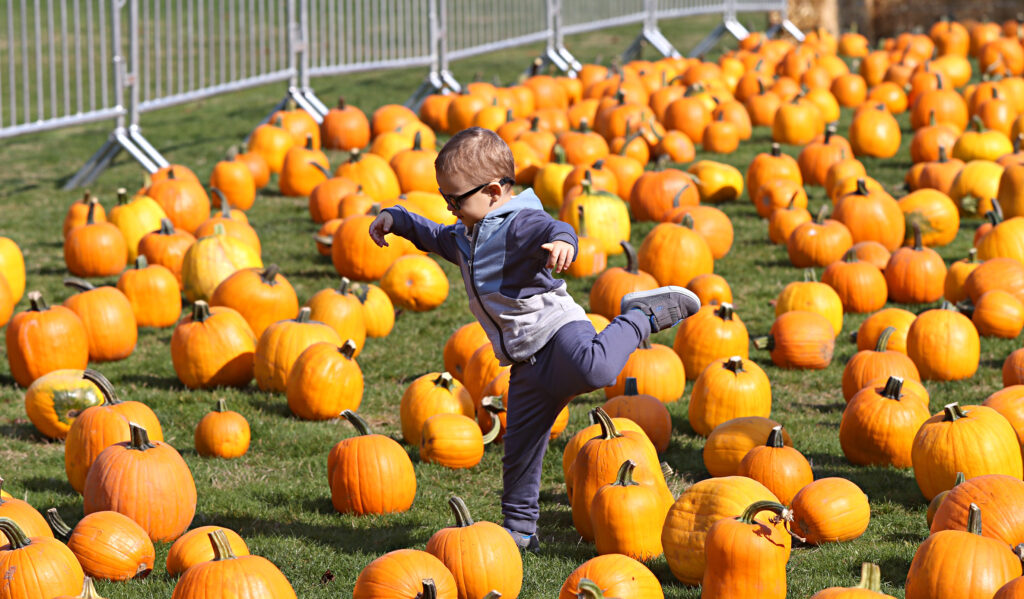 Fall is just around the corner. And so is our favorite fall family event: Truck & Tractor Day! Head to Fort Steilacoom Park Saturday, Oct. 14 from 12-3 p.m. and let the kids climb on big rigs, ride around the park in the hay wagon and enjoy free activities. We'll have a pumpkin patch, food vendors, free hardhats, free child activities, a giant slingshot and more. (Pumpkins may be limited to one per family; hard hats available while supplies last).
---
Council Corner: Oct. 2, 2023 recap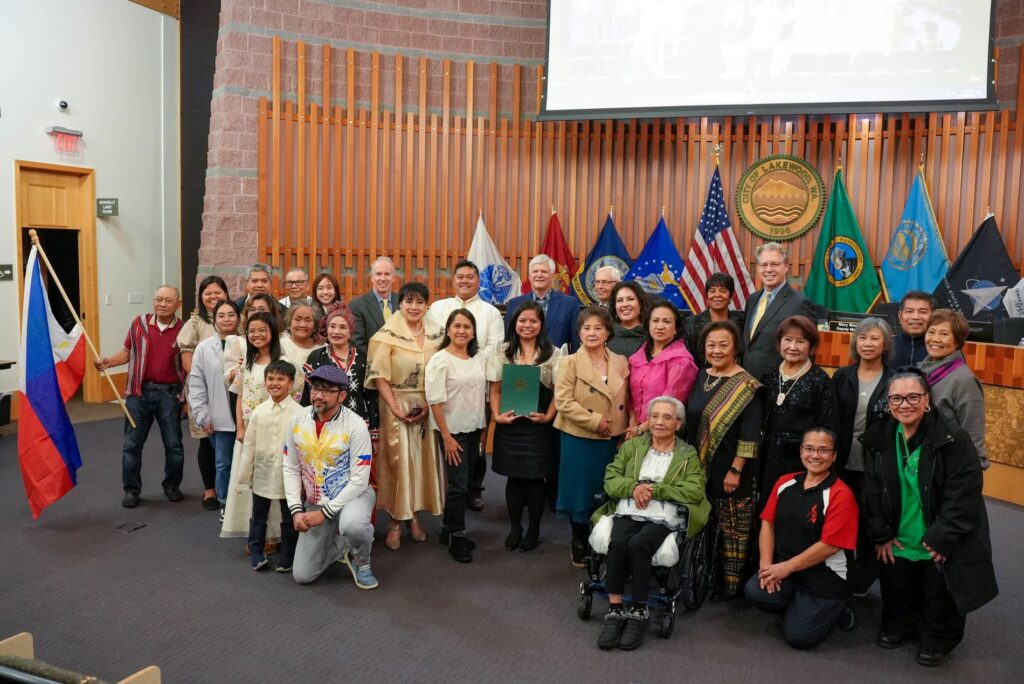 The Lakewood City Council started its regular meeting with a celebration of Filipino American History. Two young singers performed the Filipino National Anthem before Council issued a proclamation recognizing the month.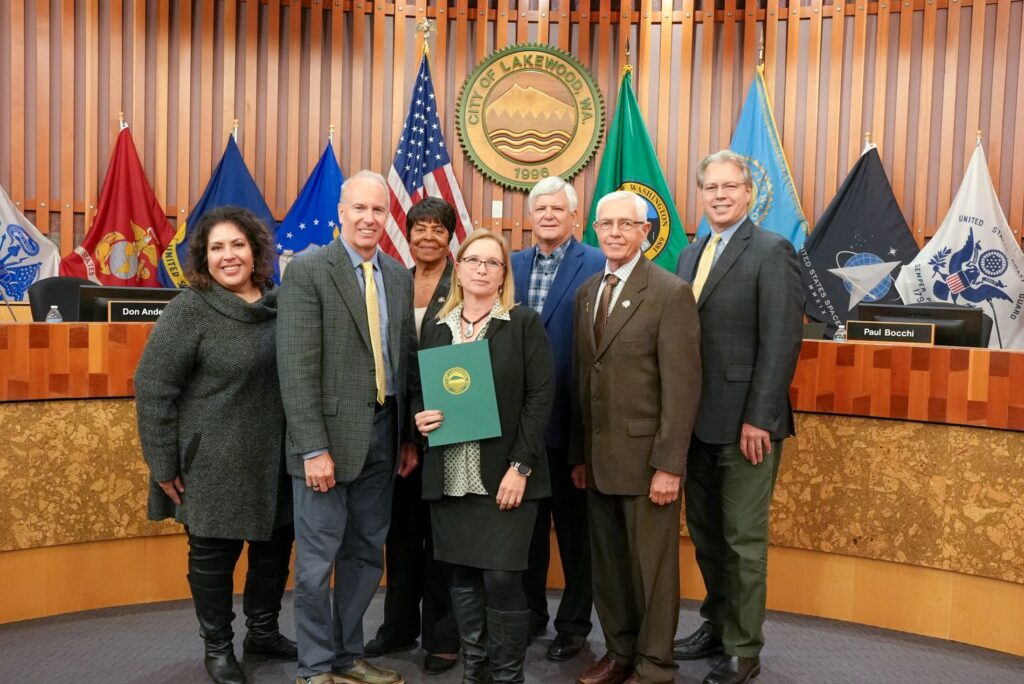 Council issued a second proclamation declaring October as Domestic Violence Awareness Month. The City of Lakewood remains committed to a collaborative effort between law enforcement and prosecution to provide support and advocacy for domestic violence victims and their families.
Action items. The Lakewood City Council took action on the following items:
Authorized execution of an amendment to the interagency agreement with the Washington State Department of Enterprise Services for the Lakewood City Hall Phase I Energy Upgrades.
Ratified a proclamation terminating the civil emergency proclaimed on August 16, 2023 related to the wildfire at Fort Steilacoom Park.
Appointed Youth Councilmembers Alli Laska, Alexis Lynn, Katherine Kaiser and Launa Nieto-Johnson to serve on the Lakewood's Promise Advisory Board for the 2023-2024 school year.
2024 Property Tax Levy. Under state law the city is authorized to increase its property tax annually either by 1% or by the Implicit Price Deflator (IPD) value, depending on whichever is the lesser amount. Looking at the most recent data, the IPD amount is 3.670%. That means the city will take the 1% increase allowed under state law for 2024. A public hearing date is set for Nov. 6, 2023 on this proposed property tax collection.
Watch the meeting.
What's on Deck: The Lakewood City Council meets Monday, Oct. 9, 2023 for a study session at 6 p.m. (Note the special time). The meeting will serve as the City Council's legislative retreat. Council will review its Legislative agenda for the coming year.
How to attend: Attend in person at Lakewood City Hall, 6000 Main Street SW; Join via Zoom (or dial 253-215-8782 and enter meeting ID: 868 7263 2373), or watch live on the city's YouTube channel.
---
Police Chief's Corner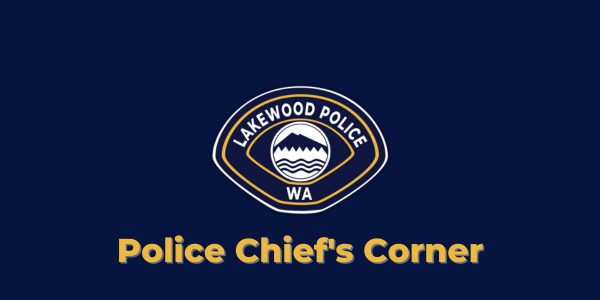 Lakewood Police Chief Patrick D. Smith wants Lakewood residents to know how the department is working for them. Each week he shares a summary that includes a look at total calls for service for the prior week and the types of crimes reported and responded to by police.
The intent of the summary is to share a snapshot of how the department works each week to keep the community safe. To see quarterly statistical analysis, visit the Lakewood Police Department crime statistics page on the city website.
Weekly Summary, Sept. 26-Oct. 3, 2023
Calls for Service: 1,042
Arrests: 37
Violent Crime: 23
Property Crime: 78
Traffic Stops: 172
Collisions (reportable): 20
---
Join the Lakewood Planning Commission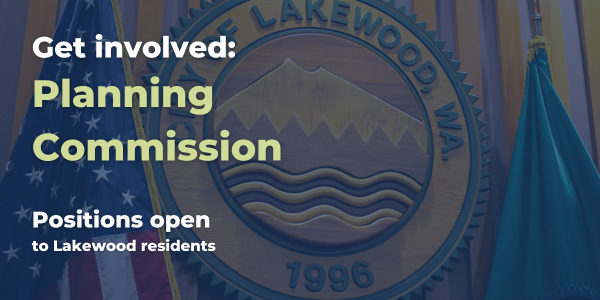 Interested in getting involved in city government? There are four vacancies on the Lakewood Planning Commission. Applications are now available for consideration for this all-volunteer commission.
If appointed, the term begins Dec. 16, 2023 and is for five years. The roles and responsibilities of the position are described in the Notice of Vacancy.
Interested? Submit your application by 5 p.m. Nov. 10, 2023. Find the application online.
---
Be in our holiday parade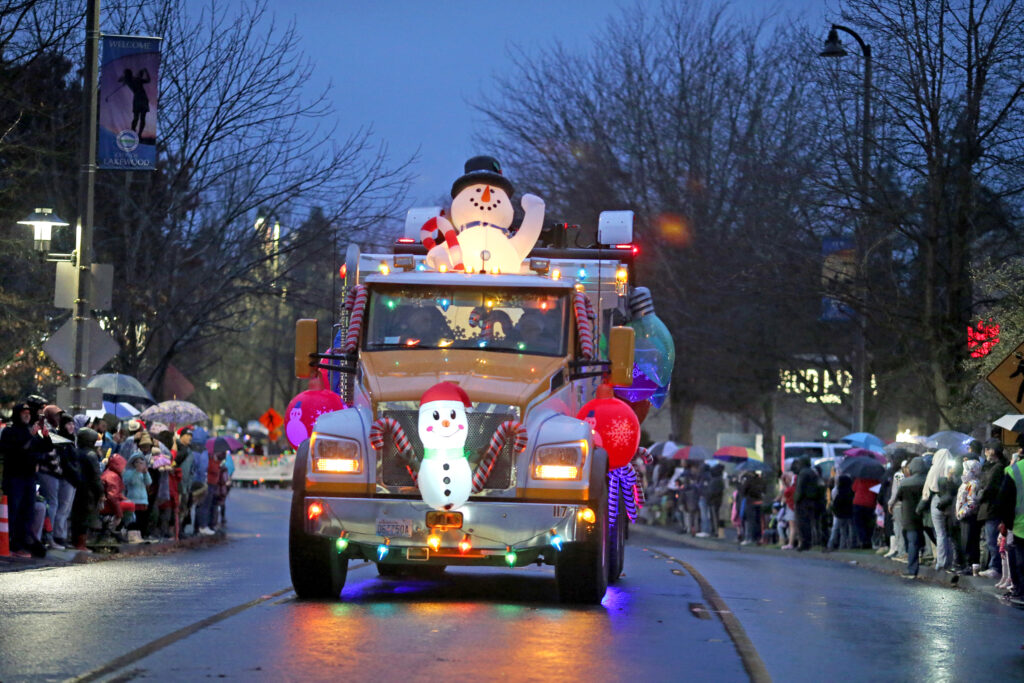 Interested in getting your product or goods in front of Lakewood residents?
The application period is also open for anyone interested in participating in our annual holiday celebration. The Holiday Parade of Lights & Christmas Tree Lighting is Dec. 9, 2023 from 4:30-5:30 p.m.
This success of this event relies on community participation. Individuals, groups, businesses, nonprofits, organizations, cub scouts, sports teams, school groups – everyone is invited to join the parade! Find more details in the parade entry application.
---
Volunteer opportunity: South Sound Wildlife
The South Sound Wildlife restoration event is this Saturday from 9 a.m. to 1 p.m. Head to the 90-acre site located on Phillips Road to lend a hand. In partnership with the Clover Park Rotary Club, the all-volunteer crew will tackle its first prairie restoration planting. Work includes removing tarps on the site and planting native grasses and flowers that once covered the area. For more information or to get involved, contact Alan Billingsley ([email protected]) Rotary Project coordinator.
---
Thriving Together Resource Event
The Pierce County Community Navigator team and the City of Lakewood are hosting a FREE Pierce County Thriving Together Small Business Resource event on Oct. 18, 2023 from 8:30 a.m. to 12:30 p.m. at the McGavick Conference Center at Clover Park Technical College, 4500 Steilacoom Boulevard SW.
This event will offer small business owners and entrepreneurs the opportunity to connect with Pierce County non-profit organizations, government agencies, and community lenders that offer small business support programs and services. Register here.
---
Sound Transit news
Sound Transit South Sound survey
Sound Transit launched a survey to solicit public input on the Sounder South Strategic Plan, created in early 2020, which prioritized longer trains to provide more capacity during peak commute periods. The public is being asked whether they prefer new trips, such as on weekends, evenings or midday, rather than longer trains. Survey participants will be entered for a chance to win two tickets to the Nov. 12 Seahawks game versus the Commanders, a $100 gift card (five available) or Sound Transit swag bags (10 available). Take the survey.
Lakewood Station access improvements
The public is asked to help prioritize potential improvements for people walking, biking and rolling to Lakewood Station, which provides Sounder train and express bus service. View the online open house to comment and find more information on the types of improvements planned. The open house closes Oct. 12. Information presented reflects comments heard from the public late last year. Highlights include:
Other improvements for walking, cycling and rolling
---
Are you a military spouse? Take this survey
The Department of Defense is funding a study of barriers to military spouse employment in Washington to understand ways that the military, local and state governments, and community partners can better support military spouses and families. They want to hear about your experiences with work in Washington – whether you're currently employed, looking for work, or not employed. Take the 5-minute survey today to help other military spouses and for a chance to win one of several gift cards, up to $200!
www.surveymonkey.com/r/milspouses
If you're a military member, please share this information with your spouse!
---
Upcoming community events
Lakewold Gardens: October events
Visit Lakewold Gardens on the weekends in October for activities for all ages. Stop by on Halloween for a Trick-or-Treat scavenger hunt from 6-7:30 p.m.
Starting Oct. 20 Lakewold Gardens kicks off its All Hallows' Eve: Eerie Enchantments: Poe's Garden of Shadows. This event runs Friday-Sunday, Oct. 20 to Oct. 29, from 6-9 p.m. Tickets are $20 General; $16 Students, Seniors and Military; $10 for 5-17 years (5 and under free).Learn more.
Then visit the garden on Tuesday, Oct. 31 for a special trick-or-treat scavenger hunt. Kids can search for 10 menacing ravens hidden around the gardens. Find a raven, get a treat. Admission is free, but donations are appreciated. Learn more.
Centerforce Auction is Oct. 27
Don your spookiest or most fun Halloween costume and support a great cause at the same time as Centerforce hosts All Hallows Eve: A Just Like You mixer and auction, presented by KeyBank,on Friday, Oct. 27.
Wine and beer will be available, along with hors d'oeuvres, while visitors browse the silent auction and dance to the DJ spinning tunes. Grab a bottle of wine from the wine pull or try a chance at winning two tickets for travel valid on Alaska Airlines. Tickets are $45 each for the 21-and-older event at Lakewood Elks Lodge #2388, 6313 75th St. W, Lakewood. Doors open at 5 p.m. Costumes are welcome but not required. Purchase tickets.
---
Do you 'know when to go' in an emergency?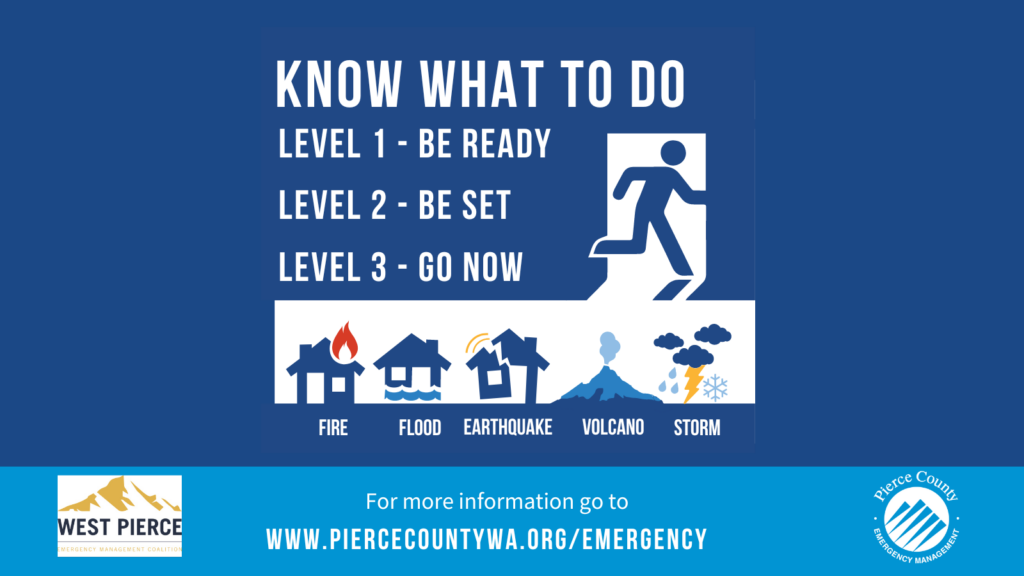 With recent wildfires and corresponding smoke inundating our region on people's minds, the four Western Washington counties of King, Pierce, Snohomish and Thurston are joining forces, along with partners, to launch a regional "Ready, Set, Go!" evacuation campaign.
Learn the evacuation levels and read more.
---
Sign up for Lakewood Alert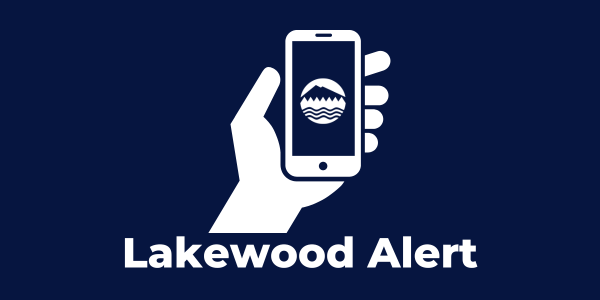 The City of Lakewood uses an alert service: Lakewood Alert to notify residents of important information.
If there is an emergency in the city that requires public notification, we will use this alert system to send out information related to the emergency. An example of when we recently used this is the Aug. 16 fire in Fort Steilacoom Park. In partnership with West Pierce Fire & Rescue and our West Pierce Emergency Management Coalition, we used the system to notify people of voluntary evacuation orders.
Subscribers can sign up to receive text and email alerts. People can also sign up for important non-emergency updates including information about road impacts from large events in the city or information about special events.
Find out more and sign up today.
---
Work for the city of Lakewood
We're hiring! Looking to change careers? Looking for a new job? Ready to re-enter the job market?
Join the city of Lakewood! We have a variety of positions open across multiple departments. Lakewood offers a competitive benefits package. We are part of the state retirement system (PERS). And the city is a beautiful place to work.
Find a current list of open positions online.
---
Road project updates
Washington Boulevard
The city's contractor is still working on curbing, sidewalks, driveways, and grading the roadway. This work will continue for the next few weeks to prepare for the first layer of asphalt. The asphalt work is scheduled for Nov. 8-9. The date could change based on unforeseen circumstances.
Angle Lane/Elwood Drive
The contractor is still waiting for replacement lights on the Elwood Trail, but all the other lights are working. The replacement lights will be installed once they arrive. The installation of the lights were derailed by theft of materials.
Union Ave: Orchard to Spruce Street
The first pour of concrete curbing happened Thursday this week. This work will continue into next week. Crews will pour curbs, sidewalks and driveways. Access will remain open to all businesses and residences along Union Avenue while this work is done. Asphalt work is scheduled for Oct. 16-18. Once that work begins people may experience delays through the area due to the amount of trucks and the type of work being performed. Despite the single-lane closure businesses located within this section of roadway are open. Please show support by continuing to shop/purchase items from these businesses during construction. This project will add curbs, sidewalks and street lighting on the side of Union Avenue closest to Interstate 5. It will be a quick project, taking no more than 6-7 weeks to complete.