Lakewood City Council Corner: Sept. 6, 2022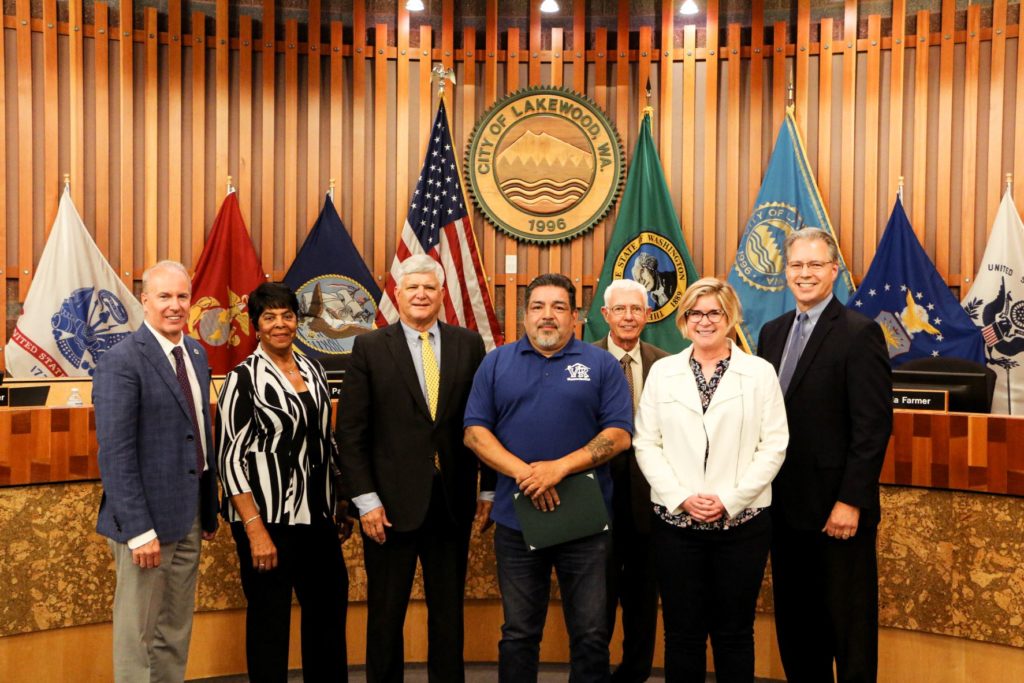 To start its meeting Sept. 6, 2022 Council presented two proclamations: One to West Pierce Fire & Rescue and Lakewood Police recognizing Sept. 11, 2022 as Patriot Day of Remembrance and the other to Jose Gonzales with Veteran Roofers recognizing Sept. 15-Oct. 15, 2022 as Hispanic Heritage Month in Lakewood.
After that, much of the meeting was dedicated to hearing from the public about proposed changes to the city's tree preservation code.
A total of 118 comments were received. Of those, nine were written, 77 were emailed, and 32 people spoke at the hearing. Following testimony, Mayor Jason Whalen closed the public hearing.
Council will continue its review of the proposed changes at its Sept. 12, 2022 study session. Comments received at the public hearing will be taken into consideration. Council is expected to act on the proposed changes to code before the end of the year.
Other action: Council adopted Ordinance 773, vacating the westerly 36 feet of 88th Ave Ct SW west of the intersection with Wadsworth St SW.
Watch the meeting: City Council Meeting of September 6, 2022
What's on deck: Council will hold a study session Sept. 12, 2022 at 7 p.m. Tentative agenda items include:
Presentation from the Pierce County Library System Executive Director
Review of 2nd Quarter (2022) Financial Report
Review of Tree Preservation Code Update
Review of American Rescue Plan Act (ARPA) Request for Proposals (RFPs)
How to attend: Attend in person at Lakewood City Hall, 6000 Main Street SW; Join via Zoom (or dial (253) 215- 8782 and enter meeting ID: 868 7263 2373), or watch live on the city's YouTube channel.
---
Lakewood PD Chief search: Online survey and virtual forums
Want to help with the search for Lakewood's next police chief? We have upcoming opportunities for you to weigh in.
Two virtual meetings are planned for people to share their ideas about what qualities a future Lakewood Police Chief should hold. Please register in advance.
The meetings will be led by a representative from Public Sector Search & Consulting, Inc., the firm hired to conduct the national search. They offer an opportunity for people to get involved in the process in a casual setting.
The public is also invited to take a short survey to share thoughts about the qualifications and leadership qualities wanted in a new police chief. The survey allows people to identify public safety priorities they hope to see a new chief embrace.
Take the survey. The survey closes Oct. 21, 2022.
The survey is anonymous and the answers will be used by the firm to help identify well-qualified candidates for consideration.
---
9/11 Remembrance event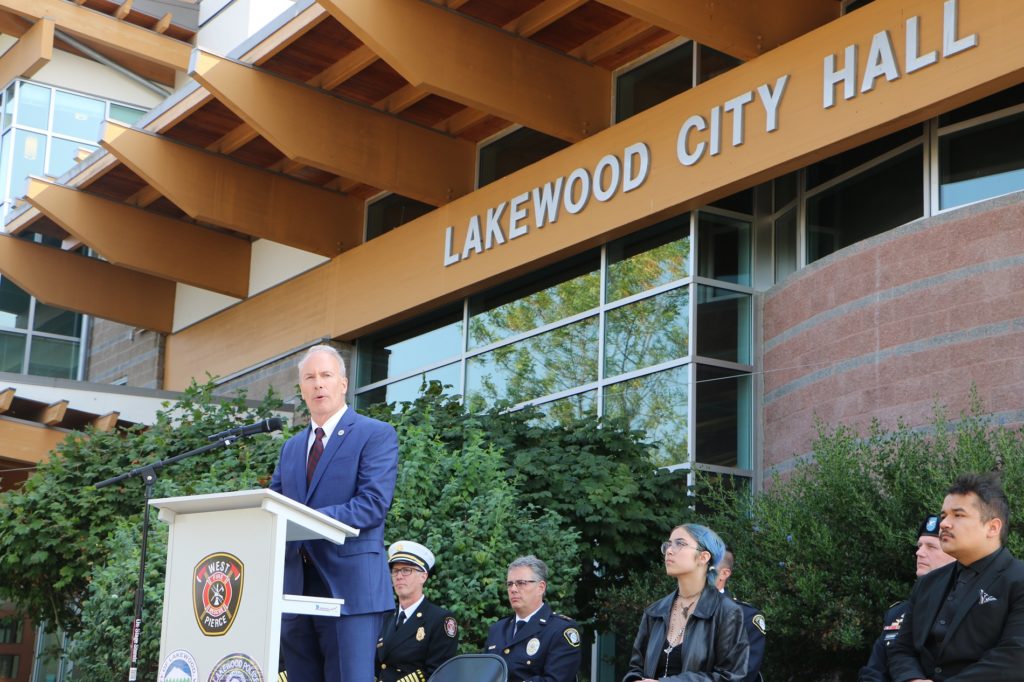 Friday we gathered alongside West Pierce Fire & Rescue to honor the 21st anniversary of Sept. 11, 2001 with a public ceremony to remember the 2,977 victims lost. Those victims included 343 firefighters, 60 police officers and 55 military personnel.
Were you unable to attend? West Pierce Fire & Rescue is hosting a second remembrance ceremony Sunday, Sept. 11, 2022 at 9 a.m. at its Station 31 in University Place. The event is open to the public.
---
Save the date: Fiesta De La Familia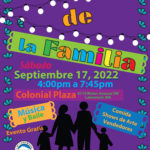 Our last Saturday Street Festival of the season is Saturday, Sept. 17, 2022 from 4-7:45 p.m. at Colonial Plaza, 6114 Motor Avenue SW.
The theme is "Fiesta de la Famila" and the event is a celebration of Hispanic culture. Enjoy food, a beer garden, live entertainment, an art show, and hands on crafts. We'll have roaming entertainers and sand artist Rene Julio in action.
Kids will enjoy balloon making, face painting and a special visit from Alama of "Alma's Way" a PBS Kids cartoon series, courtesy of our event sponsor KBTC Public Television.
Find the full event line up online.
---
Fall Lakewood Connections now in mailboxes
The Fall 2022 Lakewood Connections was delivered to mailboxes across the city this week. Check out the latest edition of the city's magazine to find out what's been happening in the city.
The Fall Connections includes:
An update from the Lakewood City Council on its efforts to address climate change through amendments to the city's planning documents and policy updates.
A look at what's to come when the city updates its Comprehensive Plan in 2024, and an update on progress made on tree preservation.
A recap of SummerFEST 2022 and the Lakewood Farmers Market with photos from this year's events.
Transportation updates taking a look at what was completed and what work is yet to come.
Highlights of upcoming parks projects, including the replacement of swings at Fort Steilacoom Park thanks to an $11,000 donation from The Rotary Club of Lakewood, and a pilot program with the Nisqually Indian Tribe that will add history and cultural recognition to the park.
A list of upcoming events.
---
Lakewood Farmers Market: Two Days Remain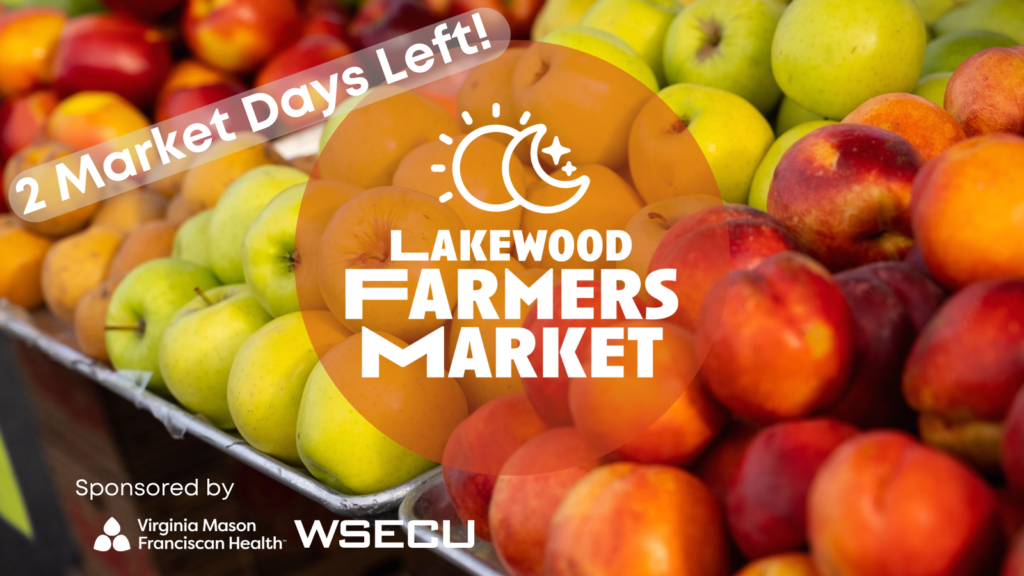 Join us for our last two Lakewood Farmers Markets of the 2022 season!
We'll be at Fort Steilacoom Park Tuesday, Sept. 13 and Tuesday, Sept. 20 from 2 to 6:30 p.m. You can't miss the vendor booths lining the paved path near the playground and soccer fields. Fort Steilacoom Park is located at 8714 87th Avenue SW.
---
Join our Community Services Advisory Board
Want to get involved with the city of Lakewood? The city's Community Services Advisory Board is accepting applications to fill up to five vacancies.
This board advises the Lakewood City Council on items related to Human Services and the Community Development Block Grant (CDBG) and HOME Investment Partnership Act (HOME) programs. Members are appointed by the Mayor and confirmed by the City Council.
Read more about qualifications and advisory board duties.
---
Wanted: Entries for Holiday Parade of Lights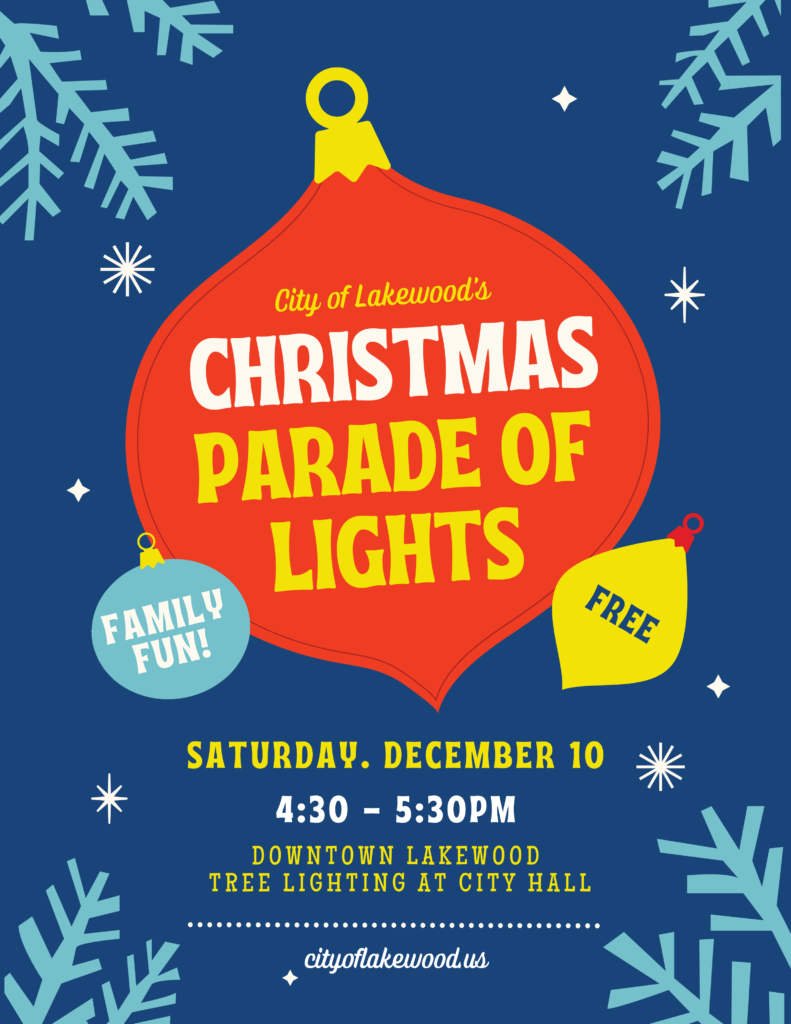 Lakewood's annual Holiday Parade of Lights and annual Christmas Tree Lighting ceremony return to Lakewood Towne Center this December and we want you to join the parade!
We are accepting applications now for those who want to be part of the fun. Sign up your business, organization, youth group or team and gain great visibility in front of the roughly 7,000 people that line the route specifically to see the floats and displays as they make their way to Lakewood City Hall.
Awards will be given for floats/displays in the categories of "Most Original", "Most Spirited", "Best Overall Appearance".
This year's event is Saturday, Dec. 10 from 4:30 to 5:30 p.m. The parade ends at Lakewood City Hall in time for the countdown to light the city Christmas Tree. Interested? Fill out at a parade application today.
---
Road project updates
JBLM-North Access Improvement

Phase 1: Installation of the light pole at the intersection of Gravelly Lake Drive/Washington Boulevard/ occurred this week. The transformer was energized Sept. 7 and the lights at the intersection and along Washington will be lit as soon as PSE can plug the meter into the service cabinet (anticipated by Sept. 12 at latest).

Phase 2: Pavement installation begins Sept. 12 and Sept. 19, 2022 on North Gate Road and Edgewood Avenue. The contractor continues to work to get the new drainage completed to start the water main and other underground infrastructure. Once utilities are complete, they will grade and pour the concrete roundabout and curbing, and pave sections currently graveled between North Gate/Nottingham and Washington/Vernon. Paving is expected as early as the end of the month.

Phillips Road: Cluster mailboxes were delivered and will be installed soon.
Steilacoom Blvd, Weller to Custer: Construction begins Sept. 12, 2022. This project will construct curb and sidewalk on the south side of Steilacoom Boulevard between Weller and Phillips roads, then build curbs and sidewalk along both sides of 88th Street between Steilacoom Boulevard and Custer Road.
Pacific Highway/South Tacoma Way from 108th to SR 512 Overlay: Work should wrap next week on the grinding, paving and repair. Striping will follow.
2022 Chip Seal: Work was expected to conclude end of the day Friday, with striping work still to come once the surface settles.
---
Upcoming city events
While summer is winding down, we are squeezing every last drop of sunshine out of it! Make sure to mark your calendar for these upcoming events:
Sept. 13, 2-6:30 p.m.: Lakewood Farmers Market at Fort Steilacoom Park.
Sept. 17, 4-7:45 p.m.: Saturday Street Festivals on Motor Ave. The final street festival of the season is themed "Fiesta de la Familia" and celebrates Hispanic culture with live entertainment, food and more.
Sept. 20, 2-6:30 p.m.: Last day of the 2022 Lakewood Farmers Market season at Fort Steilacoom Park.