Help Grave Concerns maintain Pioneer Cemetery
Join Grave Concerns Saturday, Oct. 22, 2022, from 9 a.m. to 12 p.m. to help place 39 grave markers at Pioneer Cemetery in Fort Steilacoom Park. All members of the community are invited to help.
For 20 years the nonprofit Grave Concerns has brought dignity to patients who died while living at Western State Hospital between 1871 and 1950. There are 3,200 graves located in the Pioneer Cemetery within the boundaries of Fort Steilacoom Park. Patient graves were originally marked with a small numbered concrete block as the only form of identification. Grave Concerns is replacing the numbered markers with a granite gravestone containing the name, and birth and death dates of each individual. About 1,800 grave markers have been installed to-date.
Volunteers are encouraged to wear gardening gloves and to bring small gardening tools. To learn more email [email protected], or find the group on Facebook: @Grave Concerns.
---
Congratulations Tacoma Trophy
Tacoma Trophy has reason to celebrate. The U.S. Chamber of Commerce named the longtime Lakewood business as one of eight recipients of its Dream Big Small Business Achievement Awards.
The family-owned business won the Veteran-Owned Business Achievement Award.
The winners were announced this week at the Dream Big Awards Ceremony, which is part of the national chamber's longstanding commitment to supporting small business. Every year this event celebrates and honors the small businesses that fuel our economy.
Tacoma Trophy was up against 3,000 businesses from across the country, then 27 finalists and ultimately the winner.
Congratulations to owners DJ and Judi on this much-deserved recognition and thank you for all you do for our community.
---
How do you get around Lakewood?
This is your last week to weigh in on how you use the city's sidewalks and bike lanes to get around.
The city of Lakewood is updating its non-motorized transportation plan to reflect the improvements made over the last 10 years and to provide direction on how to expand its walking and rolling network.
We want to hear from you. How do you use the system and what non-motorized improvements are most important? The survey should take less than 5 minutes to complete. Thank you for your time and input!
---
Lakewood Council Corner: Oct. 17, 2022, regular meeting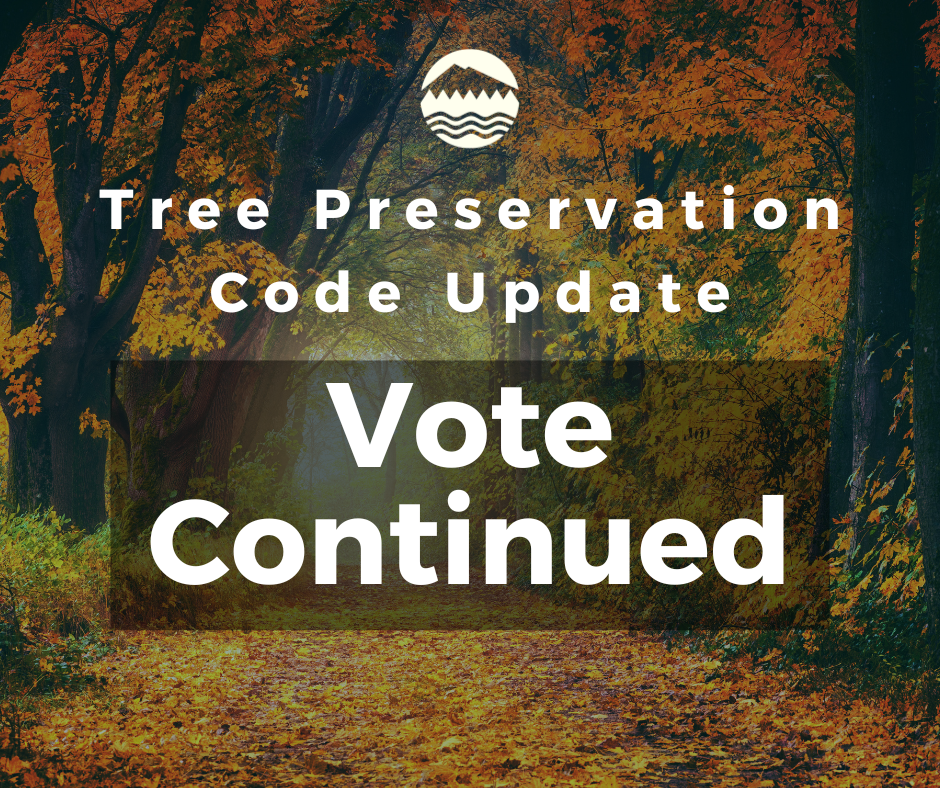 The Lakewood City Council continued action on proposed updates to the city's existing tree preservation code at its Oct. 17, 2022 regular meeting. The decision to continue the vote to Council's Nov. 7, 2022 regular meeting was done to give staff more time to make minor "clean up" changes Council requested to the proposed legislation.
Climate change work plan: Council adopted Ordinance 776, a three-year work plan on how to address climate change through the city. With its adoption, Council approved 15 items to tackle first through the program. Highlights of the work plan include establishment of an urban forestry program, setting a goal to reduce greenhouse emissions in the city, develop a regional approach to address climate change at the local and state level and establishing a framework for electric vehicle charging stations. Work outlined that is already occurring includes updates to the city's tree preservation code, updates to the non-motorized transportation plan, and advocating for improvements to the Interstate 5 corridor through the Nisqually Delta at the state and federal levels.
Clover Creek Floodplain: Council received an update on work the city is doing to address concerns of severe flooding along Clover Creek. Previously, federal flood maps did not adequately represent the impact on the Springbrook neighborhood and Interstate 5. The city is working with engineers to determine potential solutions.
Options include:
Do nothing
Construct a levee/floodwall along Interstate 5
Construct a levee/floodwall along the stream corridor between Bridgeport Way and the railroad boundaries upstream
Enhance the stream corridor to better pass the flows
A public presentation is scheduled for Nov. 10, 2022 in Council Chambers at Lakewood City Hall. At this meeting city staff will present the studies done and alternatives proposed, including cost estimates. This will return to the City Council for review and final consideration in early 2023.
Prosecution Services update: The City Council heard from Assistant City Attorney Samantha Johnson who gave an update on the legal department's criminal services and prosecution services. The City Prosecutor reviews and prosecutes criminal misdemeanor cases for the cities of Lakewood and DuPont and Town of Steilacoom. Highlights for 2022 include:
Eight jury trials to-date
Implementation of processes for compliance with SB 5612, Victim's Right Act, increasing services and communication with survivors of domestic violence
Development of a process to establish contact with non-domestic violence victims and witnesses to ensure successful prosecution of the case
No case backlogs within the criminal division
What's on deck: The Lakewood City Council will hold a study session Oct. 24, 2022 at 7 p.m. Tentative agenda items include:
Review of 3rd Quarter (2022) Police Report
Review of 2023 Property Tax Levy
Review of Year-End (2022) Budget Adjustment
Six-Year (2022-2028) Financial Forecast
Naming of Motor Avenue Plaza to CommUNITY Plaza
How to attend: Attend in person at Lakewood City Hall, 6000 Main Street SW; Join via Zoom (or dial (253) 215-8782 and enter meeting ID: 868 7263 2373), or watch live on the city's YouTube channel.
---
Final Lakewood Library Buildings committee meeting
At its final meeting Oct. 26, 2022 the advisory committee tasked with recommending library building options in Lakewood will review highlights from its Oct. 4 meeting with a facilitator from BERK Consulting. The conversation will then shift to a discussion of the committee's values for quality library service in Lakewood, such as location and accessibility, sized for services important to the community, ability to offer contemporary library services, and flexibility to adapt space for future services.
Visit the website for more information, including relevant documents and contextual information.
Public comment will be received at the meeting. Email comments to [email protected], or comment during the meeting.
Meeting details: Lakewood Library Buildings Advisory Committee Meeting
Time: Wednesday, October 26, 10 a.m.-12:30 p.m.
Join via Zoom: https://us06web.zoom.us/j/88097445054

Meeting ID: 880 9744 5054
To Join by Telephone: Dial +1 253 215 8782 and enter the meeting ID.

Join in person: Pierce County Library Administrative Center (3005 112th St. E., Tacoma, WA).
---
Clean Energy grants available from Commerce
Roughly $9.7 million is available for allocation from the Clean Energy Fund Building Electrification program. Funding is available for eligible building owners, and tenants with owner approval, in Washington to deploy and demonstrate building electrification strategies and technology to help achieve the state's emission reduction goals for the building sector.
Building Electrification grants will support statewide clean energy strategies that align with the 2021 State Energy Strategy.
Who can apply?
For-profit companies
Non-profit organizations
State, local, and federally recognized tribal governments, including K-12 public school districts and housing authorities
Individual owners of commercial and multifamily residential buildings and tenants with owner approval
Retail electric utilities
Applications are due Jan. 9, 2023, by 4 p.m.
Read more about the grant focus and priorities and how to apply.
---
Lakewood Fall Cleanup is Nov. 5-6
The Lakewood Fall Community Cleanup is Saturday and Sunday, Nov. 5 and 6 from 8 a.m. to 2 p.m. (last vehicle admitted at 1:45 p.m.)
Bring trash, junk and recyclables to the Lakewood Transfer Station, 3869 94th Street SW. This event is for Lakewood residents only; a utility bill or ID is required to show proof of residence. Participants should be prepared to back up a steep ramp, unload all items yourself, bag all loose items and wear proper footwear.
Additional rules:
5 minute time limit to unload items
No box vans or vehicles taller than 7 feet
Trailers over 4-feet by 8-feet prohibited
Unsafe vehicles may be cited
View a list of accepted and non-accepted items.
---
Save the date: Dr. Claudia Thomas Community Service Award Gala
Lakewood Multicultural Coalition announced this week it will hold its Dr. Claudia Thomas Community Service Award Gala on March 3, 2023.
When she became Lakewood Mayor, Thomas made history as the first African American mayor in the state. With a 42-year career in public education, Thomas spent her time in office focused on helping youth reach their goals and potential by creating Lakewood's Promise. This group is still active.
The March 3, 2023 gala will honor Thomas' contribution to the Lakewood community by recognizing individuals who strive to continue her spirit of serving others. Please save the date to join LMCC for this very special night of exciting festivities!
For more information visit the LMCC website, or its Facebook page for event updates.
---
Access library services in Lakewood
From book talks for adults and tech help, to family story time for all ages, the Pierce County Library System offers pop-up libraries and other services to the community, despite the closure of its downtown library branch building. Some programs are at the Tillicum Community Center, while others are at Lakewood City Hall. The Library System encourages people to visit nearby DuPont, Steilacoom, Tillicum and University Place libraries for access to books and programs.

Visit lakewoodlib.pcls.us for up-to-date info on services and locations. Sign up to receive Lakewood and Tillicum building updates.
---
Wanted: Entries for Holiday Parade of Lights
Lakewood's annual Holiday Parade of Lights and annual Christmas Tree Lighting ceremony return to Lakewood Towne Center this December and we need you to join the parade!
We are accepting applications now for those who want to be part of the fun. Sign up your business, organization, youth group or team and gain great visibility in front of the roughly 7,000 people that line the route specifically to see the floats and displays as they make their way to Lakewood City Hall.
Awards will be given for floats/displays in the categories of "Most Original", "Most Spirited", and "Best Overall Appearance".
This year's event is Saturday, Dec. 10 from 4:30 to 5:30 p.m. The parade ends at Lakewood City Hall in time for the countdown to light the city Christmas tree.
Interested? Fill out at a parade application today.
---
Road work updates
JBLM-North Access Improvement

Phase 1: Once all utility poles are removed the city's contractor will pour the final sidewalk panels south of Nyanza Road.
Phase 2: Concrete was poured this week and that work is expected to continue next week, weather permitting. The electrical subcontractor is installing streetlight foundations and the landscaping subcontractor is preparing the landscape for irrigation installation.

Steilacoom Blvd, Weller to Custer: Work continues to pour the remaining sidewalk panels, weather permitting. Sidewalk construction will stop on this project for the winter. This is due to a delay in when new signals will be available, which is the result of a number of factors outside the city and contractor's control. During this down time the contractor is expected to continue working on the wall installation on the south side of Steilacoom Boulevard between Phillips and Weller roads so the project is ready when the poles are delivered.
---
Upcoming city events
Ready to begin fall cleaning? Our free community cleanup is planned for the first weekend in November.
Nov. 5-6, 8 a.m. – 2 p.m.: Lakewood Fall Community Cleanup at Lakewood Transfer Station, 3869 94th Street SW.
Dec. 10, 4:30-5:30 p.m.: Lakewood Holiday Parade of Lights & Christmas Tree Lighting, downtown Lakewood and Lakewood City Hall, 6000 Main Street SW. Learn more.