The first 100 people to register for the walk receive a free Love Lakewood hat or scarf!
Register Here!
Saturday, Jan. 14, 2023, 10:00am – 2:30pm
Pavilion at Fort Steilacoom Park
9107 Angle Ln SW, Lakewood, WA 98498

---
Costume Contest!
Dress up and enter our costume contest.
It is for all ages and includes dogs!
Get cash prizes – sponsored by Twin Star Credit Union.
Meet at 12:15pm at the City of Lakewood booth.
Meet someone new and win a free hat or beanie or other great prizes!
---
Join us Saturday, Jan. 14, 2023, 10 a.m. – 2:30 p.m. at Fort Steilacoom Park
For this kick-off event we'll offer:
Free yoga classes and Meditation at the heated pavilion:

Sold Out

10:00am -10:40am Gentle (all levels)

Sold Out

11:00am Yoga
11:00am-1:00pm 1.5 mile gentle welcome walk

Sold Out

12:15pm – 1:00pm Vinyasa

Sold Out

1:15pm – 2:00pm Yin Yang, Kirtan chanting and harmonium
2:15pm – 2:30pm Mini meditation, Kirtan chanting and harmonium

Free 1.5-mile Welcome Walk: Meet at Shelter 1 at Fort Steilacoom Park at 11 a.m.
Kirtan chanting and harmonium offered by Makenzie Stewart Hizon
Sample all of these events for free. Connect with community around fire pits, make s'mores, and enjoy food trucks and fun swag from our community partners. New to the community? Meet your neighbors. Already established in the South Sound? Come experience the power of a welcoming community! Scared to try yoga? This is your chance to sit on your mat, relax and realize you never want to turn back! We are here to support first-timers and make it a rewarding experience.
---
Sponsored By
---
Food Trucks
Enjoy Tin Hut BBQ, Gigos Jamaican Food, Beanwater Coffee cart, Pizza, Kettle Corn, Sugar and Spoons frozen cookie dough, Hot chocolate and Free s'mores around fire pits. There will be music, covered eating areas, vendors and a raffle.
---
Class Descriptions
Vinyasa is a modern style of yoga that connects body to breath in a moving meditation. It combines a series of asanas (physical positions) that target mindfulness through flow, balance, twists and inversions. This is an all-levels class that can be individualized to each person.
Gentle yoga slows down the asana(position) flows of vinyasa and gives each person a chance to feel out vinyasa poses with a variation that caters to the needs of beginners, injuries and those that like a calmer practice. It connects body to breath through a moving meditation and can also be leveled up for those looking for more of a challenge.
Yin yoga is a slow restorative-like style of yoga that focuses on holding stretches that heal joints and ligaments. A typical pose can be held for 5-10 minutes and in one session an average of 12 poses are moved into. Yin relaxes the parasympathetic nervous system through twists, folds, and gentle inversions.

Yin Yang heats up the body for the first half of class through a series of flows and then cools the body down with restorative deep stretching. It is a well-balanced class of sun and moon energy that is a great way to reset stress hormones and release endorphins.
---
Welcome Walks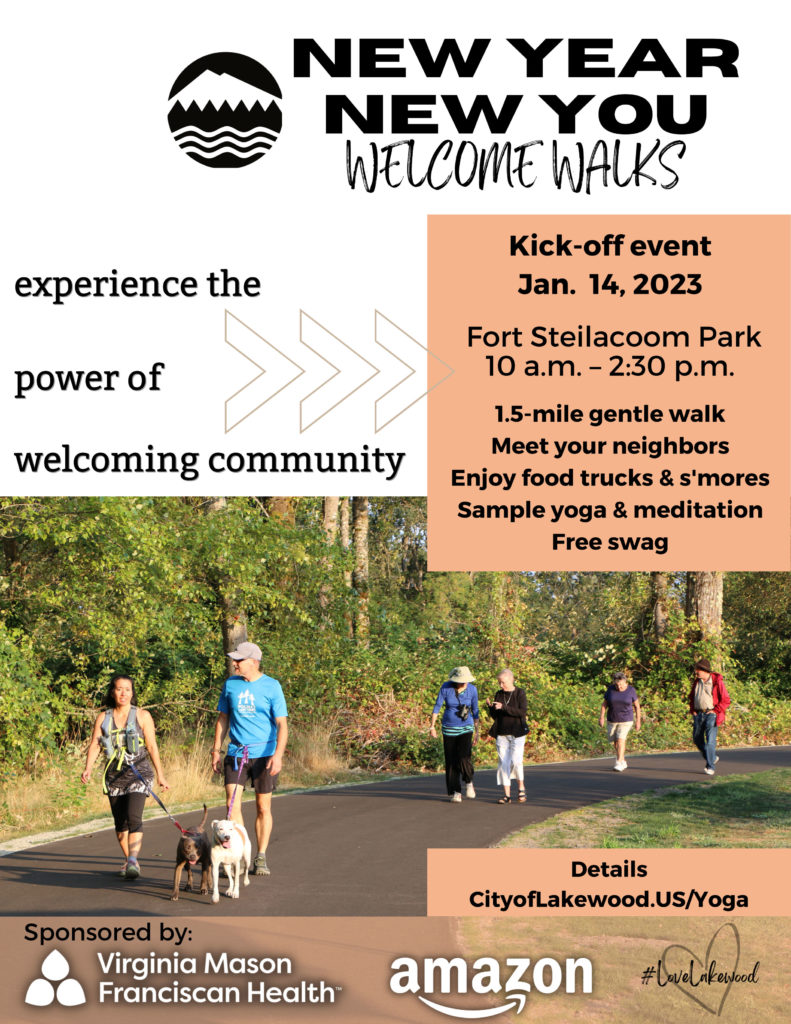 ---
Meet Your Yoga Instructor
Namaste, my name is Patrea Fernandez and my passion is to teach others and myself how to be our most holistic selves through yoga, meditation and ayurvedic teachings. I integrate meditation and education into my vinyasa and yin yoga classes. I also love adding self-massage that taps into our subtle bodies and parasympathetic nervous system. I have practiced yoga for the past 10 years and finally combined my 15-year career as a high school teacher with my yoga passion in 2022 to be certified through the Yoga Alliance with a 200-hour certification.
---
Contact
Sally Martinez
253-983-7758