April 24, 2023
The road improvement project on Washington Boulevard remains ahead of schedule. The city's contractor expects to remove the road closures of Vernon Avenue and Washington Boulevard between its intersection with Edgewood Drive and Vernon Avenue on the evening of Wednesday, April 26.
The four-way stop at Kenwood Drive will be replaced with a two-way stop intersection. The Vernon Avenue intersection will return to how it was before the road construction. Once the road closures are removed, the primary route through Lake City will be Gravelly Lake Drive, Veterans Drive, and Vernon Avenue as shown on the map below.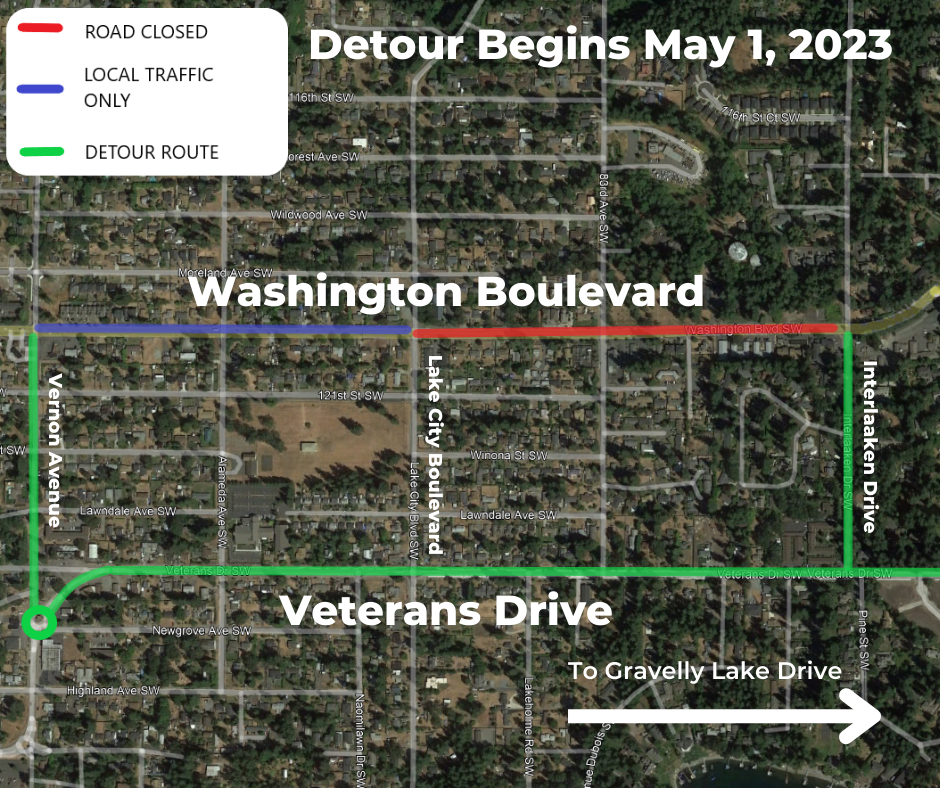 Beginning the early hours of Monday, May 1, the city's contractor will close Washington Boulevard between Lake City Boulevard and Interlaaken Drive. This section will remain closed while work is completed to upgrade this section of roadway similar to what was done on the other two sections. This includes adding new stormwater infrastructure, streetlights, sidewalks, curbs and gutters and other safety improvement elements. This is the final section of road to be rebuilt in this project.
Local access remains for residents who live along the closed stretch of road.
The city appreciates the publics' patience as this final closure takes place and these important improvements are built.