Jan. 20, 2023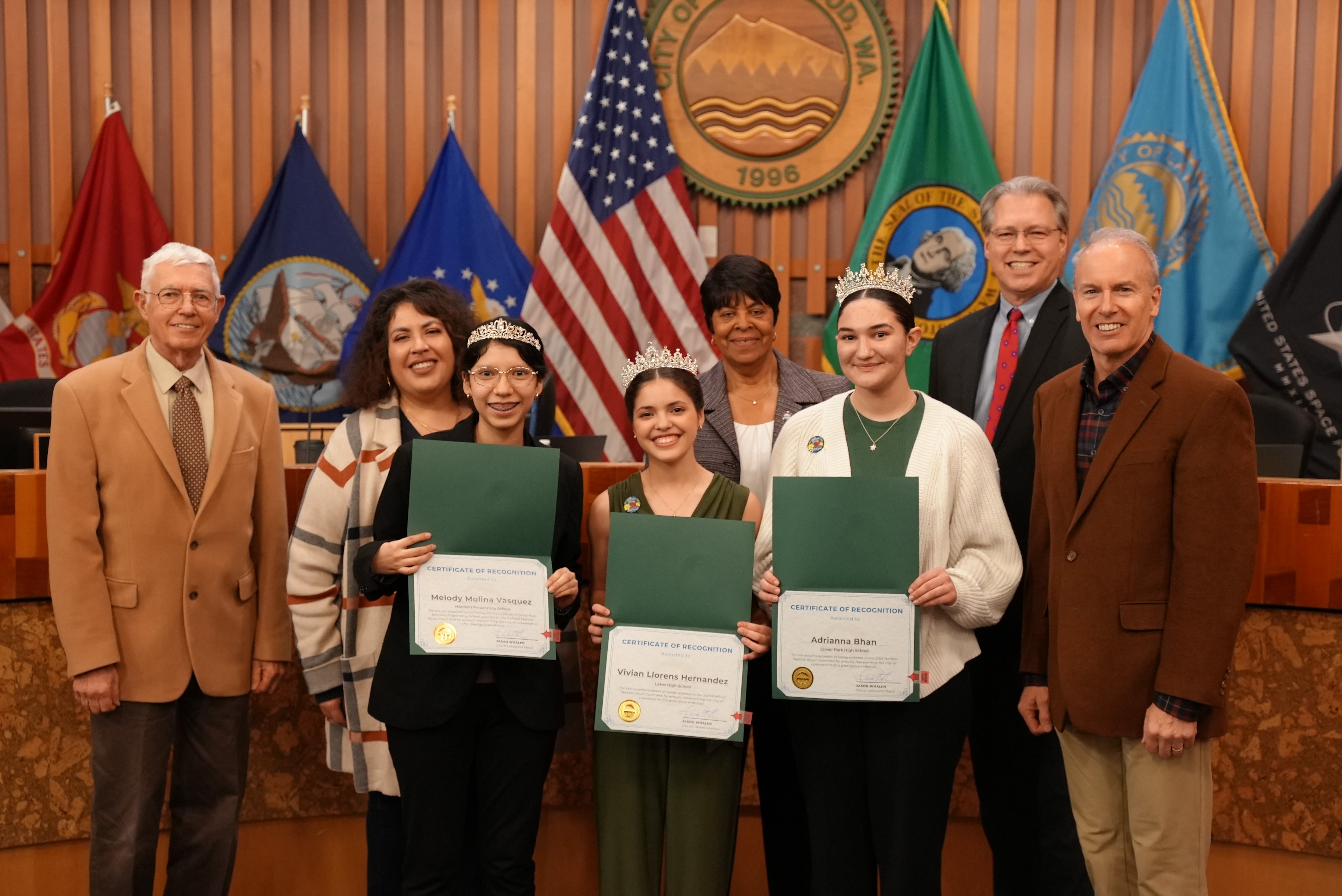 Three Lakewood youth were recently selected to represent the Clover Park School District, and ultimately Lakewood, on the 2023 Daffodil Festival Royal Court.
At its Jan. 17, 2023 regular meeting the Lakewood City Council recognized the young women, congratulating them on the accomplishment that comes with it the responsibility of not only representing the city on this regional court, but also becoming an official ambassador of Pierce County.
Adrianna Bhan, Clover Park High School, Melody Molina Vasquez, Harrison Preparatory School, and Vivian Llorens Hernandez, Lakes High School, are Lakewood's representatives on the court.
Learn more about Lakewood's princesses:
Adrianna Bhan: Princess Adrianna is the proud representative of Clover Park High School. She is the varsity captain of the wrestling team and plays volleyball and competes in track and field.
She is a member of the Lakewood Youth Council, treasure for theater, S2S, and a MESA member. Adrianna is also a running start student and will graduate with her degree in writing studies this spring.
After graduation, she will attend a four-year university to earn a degree in journalism.
Whether coaching Jiu Jitsu or volunteering at Truck and Tractor day, Adrianna has explored her passions through interactive opportunities. Before living in Lakewood she lived in a small southern Georgia city for five years. It was the small town with little to do that led her to the world of literature, where Adrianna found true solace. As an avid reader, she read 32 books in 2022 and hopes to hit 50 this year!
Melody Molina Vasquez: Princess Melody is proud to be the first Daffodil Princess to represent Harrison Preparatory School. As the school's first Princess she knows she can create a good foundation and open the door to success for the future princesses of Harrison Prep.
After graduation, Melody wants to attend either Pacific Lutheran University or Washington State University to study nursing. Her goal is to become a pediatric nurse. Melody is also passionate about the arts, and she is part of Harrison Prep's drama club as both an actress and a techie for multiple productions.
Melody is also a member of the advanced Chamber Choir and the environmental group called 'Green Team'.
Melody is proud of her Hispanic heritage and values her family. She hopes to make her parents proud and to be a good role model for her three younger sisters.
Vivian Llorens Hernandez: Princess Vivian proudly represents Lakes High School on the Daffodil Court.
Vivian was born in Puerto Rico. When she was 2, her father joined the military. She traveled the world ever since and has visited 13 countries and 19 states. She has a goal to visit all 50 United States.
Vivian is a member of the National Honor Society and participates in both the Archery and Raiders team for her school's JOTC program. Vivian also attends Pierce College where she is pursuing an associate's degree in art. In the fall, she plans to attend Western Governors University to earn a bachelor's in Business Administration with a focus on Human Resources. In her free time, Vivian enjoys painting, reading, and volunteering for her community. She also enjoys hikes with her family and exploring nature.