To: Mayor and members of the City Council
From: John J. Caulfield, City Manager
Lakewood 2020 Spring Clean Up Postponed
The city's Spring Clean Up planned for May 2-3, 2020 is postponed until a future date yet to be determined.
The city postponed the event to safeguard the health and safety of its residents in light of Gov. Jay Inslee's Stay Home, Stay Healthy order.
The city is following the guidance of public health officials and directives from the governor around gradually lifting and rolling back restrictions. As changes are announced the city will review its operations and policies and make a decision on how to proceed using all the information available at the time.
At the forefront of every decision is a priority on public safety and the safety of city employees.
Throughout the stay home order city employees have remained committed to providing essential services to keep the city functioning. That commitment will continue as the city and its employees adapt to a new "normal" and respond appropriately.
---
City of Lakewood wants to hear from businesses
As we pass the one-month mark since Gov. Jay Inslee's Stay Home, Stay Health proclamation took effect, the city of Lakewood's Economic Development Department wants to hear from businesses in our community to understand how they have been impacted.
Business owners are asked to complete this short survey to help the city better understand how COVID-19 has affected your operations.
The survey will take less than four minutes. Take the survey now.
There is a wealth of information out there for businesses impacted by COVID-19 and the city knows it can be daunting to keep track of what opportunities are available, what funding sources are tapped out and where to turn for assistance. An updated list of resources is at cityoflakewood.us/covid19.
Lakewood's Economic Development team is also available to help. Contact Economic Development Manager Becky Newton at [email protected] or by calling 253-254-1204.
---
Commerce provides $9 million in rent, energy assistance
From the Department of Commerce: The Department of Commerce last week provided up to $1,000 in rental assistance and up to $500 in energy assistance for households that qualify for the federal Low-Income Home Energy Assistance Program (LIHEAP). The crisis funding will be distributed through Commerce's statewide network of community action agencies, and is expected to serve an estimated 5,000 eligible households.
There are two community action agencies in Pierce County responsible for distributing the money: Pierce County Human Services and the Metropolitan Development Council. Distributions will be on a first-come, first-served basis, as long as the Governor's "Stay Home, Stay Healthy" order is in place. Of the $9 million available, 15 percent is available for rental assistance. Tenants who are behind in their rent and meet the other qualifications for crisis benefits must apply to their local community action agency. If approved, the rental assistance payment will be made directly to the landlord.
Similarly, those unable to pay their energy bills must apply through their local community action agency. When approved, the benefit is paid to the utility that serves the qualifying household.
---
University of Washington COVID-19 Mobility Survey
The University of Washington is looking for the public to take part in a survey that looks at how the lives of Washingtonians have changed as a result of COVID-19.
This includes asking how people's travel and shopping habits have changed, how people are completing their work, whether people have been laid off, and how they are managing the stay home directive.
Results from the survey will provide information on how to potentially reduce traffic congestion in the region and air pollution after the threat of COVID-19 is gone. Findings will also be added to other data and analysis used to help shape regional transportation plans.
---
Canceled: Ray Evans Memorial Fishing Event
The city made the difficult decision to cancel this year's Ray Evans Memorial Fishing Event, planned for May 18, due to current public health guidelines that prohibit public gatherings.
Even with the expected gradual rollback of restrictions that will slowly be announced in the coming weeks, after review it was determined the city would not be able to offer the event in a way that adheres to health guidelines around social distancing and making sure people do not come into close contact with people outside their household.
We appreciate the public's understanding and look forward to next spring when we hope to be able to hold this event again.
---
City Council May 4 virtual meeting preview
At its May 4 virtual regular meeting the Lakewood City Council will decide how to distribute $350,611 in grant money awarded by the Department of Housing and Urban Development through its Community Development Block Grant (CDBG) program as part of the federal CARES Act.
The public is invited to comment on the use of this money. Participation in public comments and public testimony on public hearings is only being accepted via email at this time. Comments should be sent to City Clerk Briana Schumacher at [email protected].
Comments received up to one hour before the regular meeting will be provided to City Council electronically. Comments received after that deadline will be provided to the City Council after the meeting. The meeting begins at 7 p.m.
The money is specifically for assistance related to COVID-19 impacts in one of all three of the following categories:
Public Services;
Housing;
Economic development.
The Lakewood City Council is investigating using the entire grant amount for emergency economic development assistance for small businesses in Lakewood. The assistance would either be a cash award or a no-interest loan of up to $10,000.
Whichever option the council chooses, special attention will be given to assure the program is available to all qualifying Lakewood businesses. The goal is to design a program that keeps administrative costs low, simplifies the application process and provides the financial award as quick as possible.
Due to the stay home order, the Lakewood City Council is holding its meetings virtually so that the city can continue to conduct necessary business. Under the order in-person attendance by members of the public is NOT permitted at this time.
Residents can virtually attend City Council meetings by watching them live on the city's YouTube channel starting at 7 p.m.
Those who do not have access to YouTube can call in by telephone via Zoom: Dial +1 (253) 215- 8782 and enter participant ID: 151-082-920.
City Council meeting agenda and materials can be found here.
---
Congrats Clover Park School District
This week the Clover Park School District announced three of its schools made this year's U.S. News & World Report high school rankings. Earning a place on this list shows CPSD's schools are among the best in the area at providing opportunities for Lakewood students to prepare for future success.
The three schools are:
Harrison Preparatory School: Harrison Prep is the top ranked school in Pierce County, the 13th ranked high school in the state and 850th in the nation.

Lakes High School: Lakes is the 9th ranked school in Pierce County and 111th in the state.
Clover Park High School: Clover Park is ranked 22nd in Pierce County and 247th in the state.
---
Road work continues on Onyx Drive, Steilacoom Boulevard
The city's contractors working on road improvement projects on Onyx Drive and Steilacoom Boulevard continue with their work, which could impact travel for those accessing essential services.
Both road improvement projects are allowed under Gov. Jay Inslee's Stay Home, Stay Healthy order.
Steilacoom Boulevard
All of the curbing was poured on both sides of the road this week, along with the pedestrian ramps at the corners. Lakewood police assisted with traffic control on Thursday while the contractor installed conduit at the Steilacoom Boulevard/88th Street intersection.
On Tuesday, May 5, the contractor will begin patching 88th Street SW. This will be done to fill in the gap between the edges of the old road and the new curb. As a result, the daytime road closure at 88th Street between its intersection with Steilacoom Boulevard and Custer Road will again be in place and only local traffic and deliveries will have access between 8 a.m. and 4 p.m.
By Thursday, May 7 the contractor is expected to be at the intersection of Phillips Road and Steilacoom Boulevard installing conduits. A Lakewood police will be at the intersection controlling traffic, which could result in slight delays.
This project will complete storm drainage improvements and add curbs. A future project will widen Steilacoom Blvd./88th St. between Weller Rd. and Custer Rd. for the eventual inclusion of bike facilities and 5-foot wide concrete sidewalks, street lighting, a traffic signal upgrade, along with bridge modifications to Chambers Creek Bridge and pavement rehabilitation and overlay.
Onyx Drive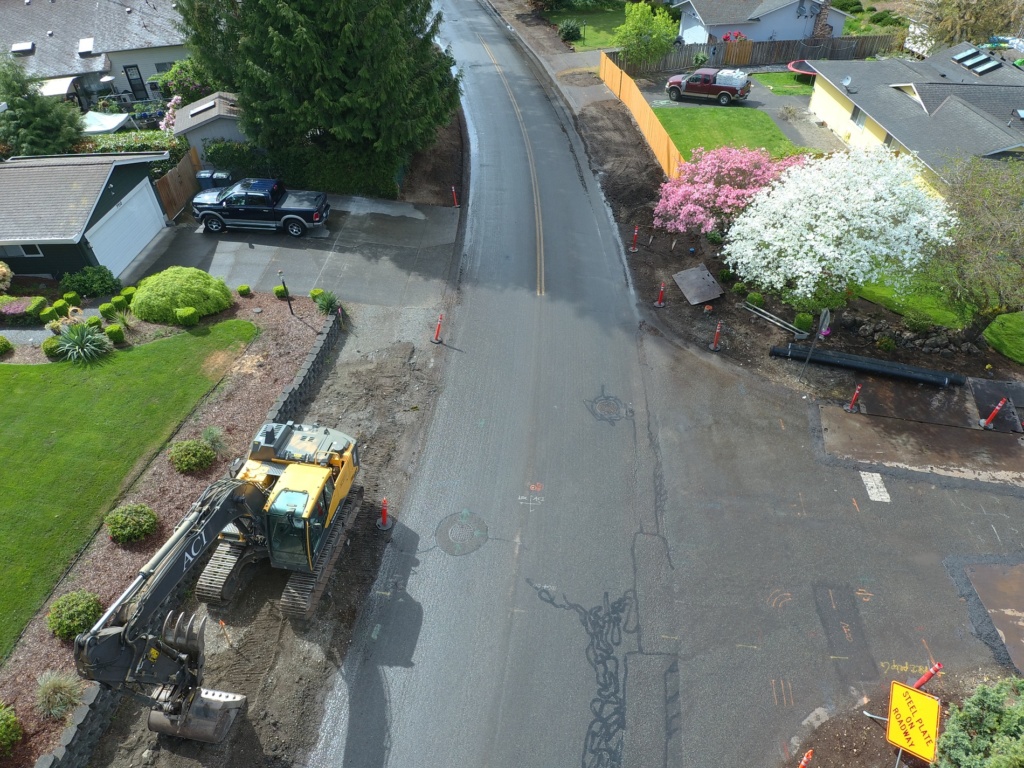 Tree removal continued this week along Onyx Drive to prepare the public right-of-way for the addition of sidewalks, street lighting and other improvements. Trees and shrubs were removed between Garnet Lane and Phillips Road, and were previously removed west of 87th Avenue.
This week the contractor also installed storm drainage from 95th to 97th streets. Similar work will continue next week along the Garnet Lane to Phillips Road section of the project, with storm drainage installation continuing from 87th Street to 95th streets.
Read more about the Onyx Drive project on the project website.
---
Give Big May 5 & 6: Emergency Food Network
GIveBig2020 is an annual day of giving where the community can join together and make a difference in the lives of our neighbors in need.
Due to the coronavirus pandemic, the event has been extended to two days this year: May 5 and 6.
The Emergency Food Network is accepting donations now, which will be processed on May 5 and 6, for those who want to help.
One in seven people and one in five children in Pierce County are food insecure, according to EFN. This number is increasing rapidly due to the COVID-19 pandemic and EFN's work to address this heightened need is only beginning.
Each year EFN provides 14 million pounds of food to food pantries and meal sites ensuring the community receives the nutritious food they need to stay healthy.
A donation will help ensure this continues, as well as meets the growing needs of our community. According to EFN, $1 equals five meals for those in need.
This year, the Simply Organic Giving Fund is matching the first 25,000 meals donated through GiveBig, which means your contribution will go even farther.
---
Lakewood parks are open, with limitations
On April 21, 2020 parks within the city of Lakewood reopened to the public, with limits.
Park trails and open space areas in all of Lakewood's 14 parks, as well as the dog park at Fort Steilacoom Park, are now open from 7 a.m. to sunset.
Restrooms, playgrounds, picnic shelters, sport courts, sport fields and skate parks remain closed. Group gatherings are not allowed.
Parking lots at Harry Todd Park, American Lake Park, Wards Lake Park and Springbrook Park also remain closed to vehicles, however walk in access is allowed.
The parking lot for the boat ramp at American Lake Park is open for boat trailers. Ramp users are limited to one boat on the dock at a time. The city anticipates an increase in people using the ramp with the reopening of fishing May 5, and requests users to please abide by the one boat rule to help limit the spread of COVID-19.
The front gate and parking lots at Fort Steilacoom Park are open to allow cars to park in an effort to limit the impact on the surrounding neighborhoods. Please be aware of social distancing when parking in these areas.
Park visitors should remain six feet or more from people not within their household. If social distancing cannot be achieved, visitors should find a different park with less people. Visitors are encouraged to wear face coverings as recommended by the Centers for Disease Control and Prevention, and bring hand sanitizer as public restrooms are closed.
Read more Dos and Don'ts for visiting the city's parks.
---
Pierce County Council expands assistance to small businesses
Pierce County small businesses who have experienced significant economic injury as a direct result of the COVID-19 pandemic may apply for a loan through Pierce County's Emergency Small Business Relief Loan Program if they meet specific criteria. The Pierce County Council expanded this loan program on April 21, 2020 to include employers with up to 20 employees for businesses located anywhere in Pierce County, including incorporated cities. Read more.
---
Notice of Vacancy: Planning Commission
The city of Lakewood is accepting applications to fill one vacancy on its Planning Commission. The vacancy will fill an unexpired term through December 15, 2021. Applications can be found here or by contacting the City Clerk at 253-983-7705.
---
Upcoming meeting cancellations
A number of upcoming city advisory board and commission meetings are canceled due to the need for social distancing and for the public to stay home. They include:
Lakewood Arts Commission May 4 meeting.
American Lake – Lake Management District No. 1 Advisory Committee May 7 meeting.
Civil Service Commission May 7 meeting.
---
Census 2020: There's still time
We want to step up our community response rate to the 2020 census, and we can only do that with your help!
The 2020 census is easier than ever to complete. It only takes a few minutes to submit your response online at my2020census.gov. Be prepared to complete the census in one sitting, as the system does not allow you to save your progress. See the questions the Census will ask.
It just takes a few minutes to bring great benefits to our community.
If you haven't completed your household's form this month the Census Bureau will start contacting people and will continue through July to be sure everyone is counted.
Once you've submitted your form, spread the word to friends and neighbors and encourage them to complete their response too.
---
Join the Pierce County Library System Board of Trustees
Looking for an opportunity to give back to the Pierce County community and help lead valued services for 614,000 children and adults? Apply to be a Board of Trustee with the Pierce County Library System.
"If you are an engaged leader, seeking a community-focused way to give back and be a significant part of your community, you are an ideal candidate for the Library's Board of Trustees," said Library Executive Director Georgia Lomax. "The successful applicant will help shape and guide library service throughout unincorporated Pierce County and 15 cities and towns annexed to the Library System."
The Board of Trustees oversee the Library System's commitment to thoughtfully invest the public's funds in highly valued library services‒services the public selected as their top priorities.
Trustees' responsibilities include:
Advocating for library services.
Setting goals and charting courses.
Approving budgets.
Adopting policies.
Planning for future directions.
Trustees must live in the Library's service area. Trustees are non-paid positions and are appointed to a five-year term, with an opportunity to serve up to two consecutive terms.
Learn more. Applications must be received by Friday, May 15, 2020.
---
Lakewood scenes for your next Zoom conference call
Conducting a lot of video conference calls lately? We have some great virtual backgrounds for you to try for your next Zoom meeting!
Download our Lakewood themed background today.
TO ADD TO ZOOM
Download and save one or all of the images below. Open your Zoom account, and under the settings menu look for the option "Virtual Backgrounds".
Click "Add Image" then select the image you want.
For system requirements and troubleshooting, read more from Zoom here.
---
How to help or get help
Looking for ways to help your community during this time? Or are you looking for assistance?
Pierce County created a website with information about how to donate to area food banks, including Emergency Food Network based in Lakewood, and a fund set up specifically to assist the human services needs facing our community in light of COVID-19 impacts.
There are also resources for individuals and businesses looking for more information about available financing and public assistance options.
---
Veterans Brick Update
Did you purchase a brick to be engraved on the Veterans Memorial located outside Lakewood City Hall in Lakewood Towne Center?
We hope to see the bricks engraved this summer, dependent on weather and the status of any stay home orders around COVID-19.
Thank you to everyone who purchased a brick for your patience while volunteers continued with the brick sales to be able to engrave them all at one time.
Volunteers were able to sell 153 of the 242 bricks remaining at the memorial. They are grateful for the community's support of veterans and proud to see this memorial that was dedicated in 2003 by a citizen-led committee come closer to completion.
---
Join a community advisory board
Do you like to give back to the community? Are you looking to get better connected to Lakewood? Have some free time you want to fill? Consider joining one of the city's community advisory boards. Board members often have experience or expertise they can lend, can meet on a monthly basis and can commit to serving a full term, or longer.
Boards with openings:
Landmarks and Heritage Advisory Board: 2 vacancies. Open until filled.
Lodging Tax Advisory Board: 4 vacancies. Deadline: April 30, 2020.
Planning Commission: 1 vacancy (unexpired term through Dec. 15, 2021). Open until filled.
Board and commission descriptions, meeting schedule and application form can be found online.
---
Stay up to date with MyLakewood311
Did you know Lakewood has its own free mobile app? All you need to know about the city is at your fingertips. Updates on road projects and detours around the city and other city announcements can be found under the "Public Announcements" header.
Contact the city using the "submit a new request" button and select from the appropriate category. The app allows you to track city staff's response to your request and follow it through the process.
Please only submit one request per item – submitting multiple requests for the same item slows the review process. Note: This app is not monitored 24/7. If you are reporting an emergency that needs immediate assistance please call 911.
Download it now in the iTunes App Store or on Google Play.
---
Upcoming Council Meetings
Under the current stay home order, residents can virtually attend City Council meetings by watching them live on the city's YouTube channel.
Those who do not have access to YouTube can call in to listen by telephone via Zoom: Dial +1(253) 215- 8782 and enter participant ID: 151082920.
Participation in public comments and public testimony on public hearings will only be accepted via email at this time. Comments should be sent to City Clerk, Briana Schumacher at [email protected]. Comments received up to one hour before the meeting will be provided to the City Council electronically. Comments received after that deadline will be provided to the City Council after the meeting.
May 4, 2020 Regular Meeting
Approving the 2019 Transportation Benefit District (TBD) Annual Report
This is the date set for a public hearing on the 2020 Carry Forward Budget Adjustment
Resolution adopting the First Amendment to the Fiscal Year 2019 (July 1, 2019 – June 30, 2020) Annual Action Plan and amendment to the Community Development Block Grant and HOME Investment Partnership Act Citizen Participation Plan
Reports by the City Manager – Connections Magazine Update
Reports by the City Manager – Review of Parks, Recreation and Community Services Recovery Plan
May 11, 2020 Study Session
Review of Six-Year (2021-2026) Transportation Improvement Program
Review of 1st Quarter Police Report
Review of Small Wireless Facility Franchise Agreement with New Cingular Wireless, LLC (AT&T) (tentative)
Lakewood Landing Update