H-Barn restoration project gets big boost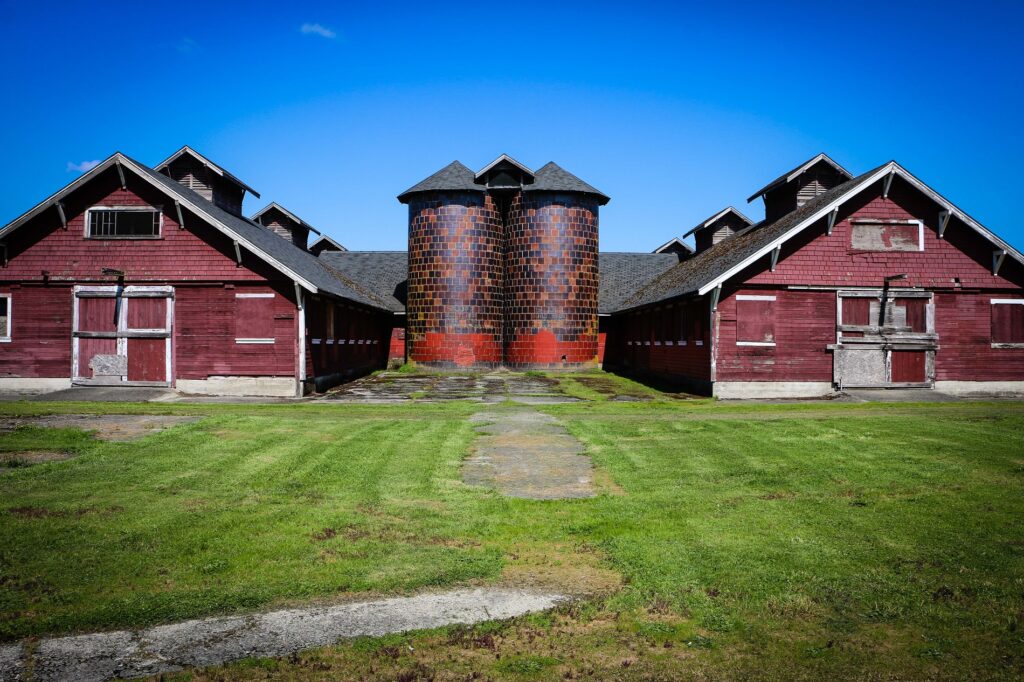 Partners for Parks announced this week it received a $1 million project grant from the Names Family Foundation in support of its H-Barn restoration project at Fort Steilacoom Park.
The H-Barn Project is an innovative public-private partnership between the city of Lakewood and Partners for Parks, a 501c3 nonprofit organization committed to improving Lakewood area parks. This public-private partnership seeks to raise a total of $7.5 million by 2025. Partners for Parks is leading a $3.5 million fundraising effort within the private sector that will, in turn, support a $4 million public investment from the city of Lakewood.
This project will foster the historic preservation and restoration of an iconic 120-year-old city landmark known as the H-Barn, due to its unique design. The H-Barn restoration project will also create a multi-functional facility for public and private use by the community, including interior and exterior spaces that will provide educational and recreational experiences for all visitors.
---
Spring cleanup at South Sound Wildlife Area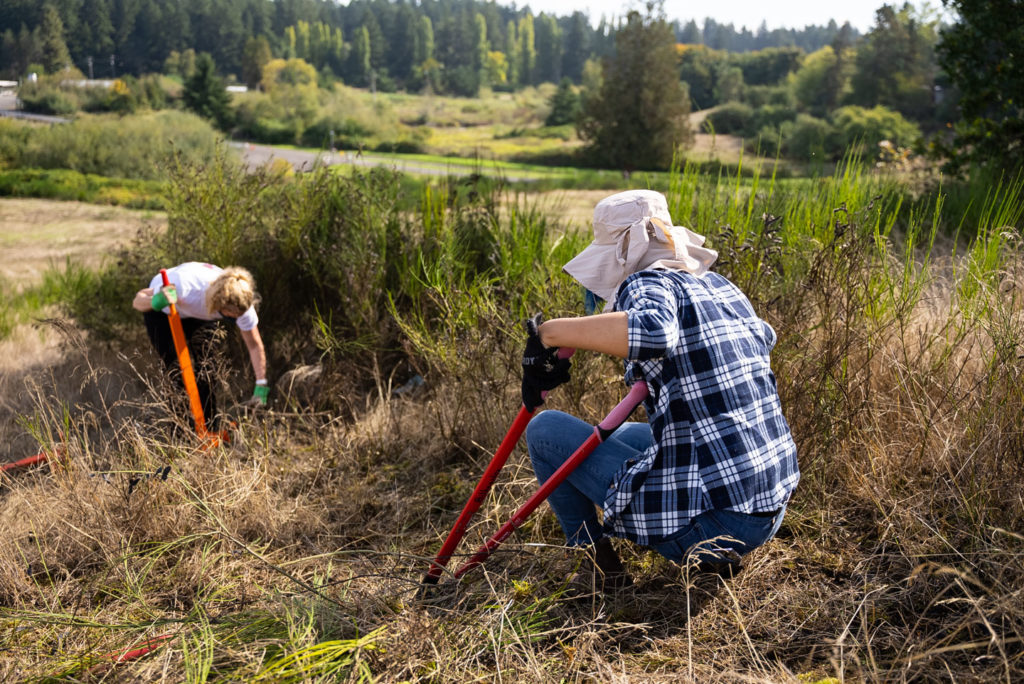 Saturday the Clover Park Rotary will be joined by other Lakewood service clubs at the South Sound Wildlife area for a Spring Cleanup day. People will be there 9 a.m. to 1 p.m. Volunteers are encouraged to join.
Located on Phillips Road just across from Hudtloff Middle School, the 100-acre area is open to the public for hiking, bird watching, dog walking and other uses consistent with a wildlife preserve. And it is located here in the heart of Lakewood.
Help keep it clean. Join community members Saturday to pick up garbage, remove invasive plants, weed the indigenous plant educational area and install landscaping blocks around the parking area. There is something to do for all ages, so bring the entire family.
For more information, contact Alan Billingsley at [email protected]
---
Arlington Project opening ceremony is May 24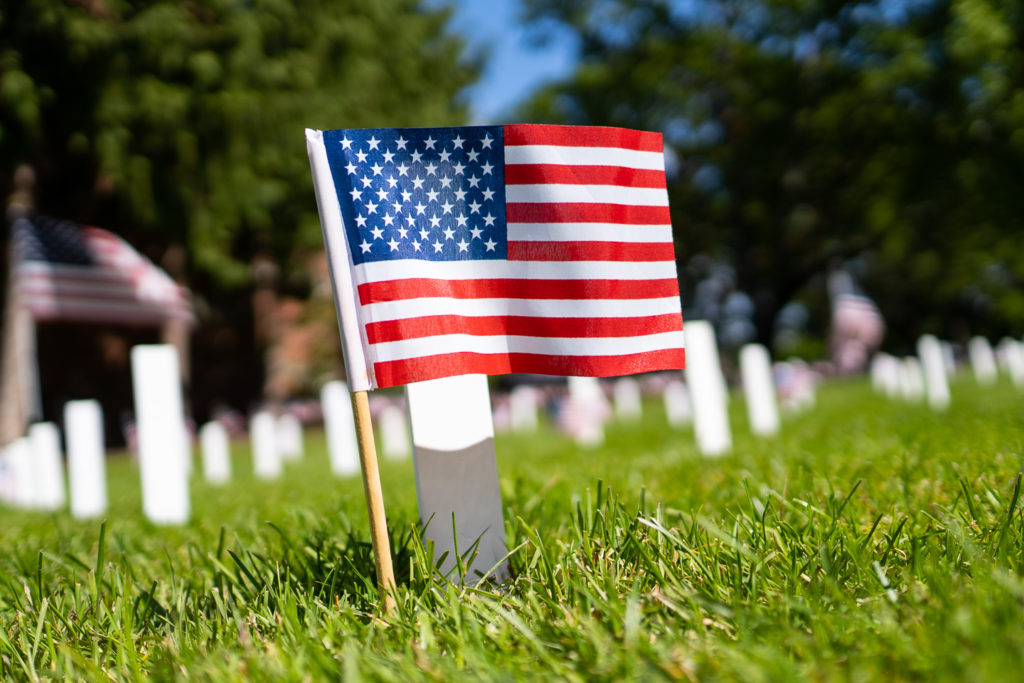 Clover Park High School's Arlington Project will be constructed on the school's front lawn this year, and the school will host an opening ceremony event on Wednesday, May 24, at 4 p.m.
The display includes individually-named markers for the nearly 7,000 fallen soldiers from the wars in Iraq and Afghanistan. Students will begin construction on May 22. It will remain on display through Memorial Day.
The outdoor, in-person opening ceremony features the following guest speakers: Lieutenant Colonel David J. Stalker, CPSD Deputy Superintendent Brian Laubach and CPHS principal Rene McCord.
The Rainier Brass Quintet, a contingent of America's First Corps Band, will play music before and after the event. They will also perform with the CPHS band during the event.
---
Removing trees near Fort Steilacoom Park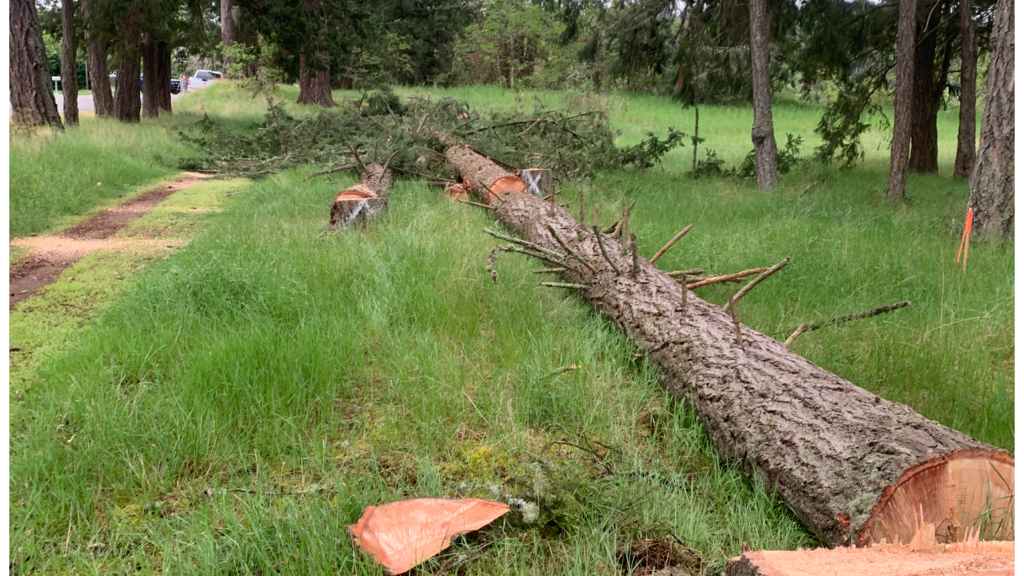 This week work began on a road improvement project near Fort Steilacoom Park. As we prepared to add sidewalks and make other road upgrades on Elwood Drive parallel to the park, we knew we'd need to remove a number of trees from the right-of-way.
We took extra steps to review those slated for removal, and saved many that in previous years probably would have been cut. We also found a nursery that had 62 young Garry Oak trees that we purchased and will plant along this road project this fall.
In total 36 trees will be removed from the right-of-way. They range in species from Cottonwood and Madrona to Maple, Fir and two Oaks. We know the valuable role trees play in our community and it's never easy to see them come down. But we are confident when this project is finished, and the new trees take root, the road safety improvements and new tree canopy will be valuable assets to this neighborhood.
---
Council Corner: May 15, 2023 meeting recap
Protecting the Public. For the second time in two months, the Lakewood City Council adopted an ordinance focused on increasing public safety. The latest ordinance approved unanimously May 15, amended city code to allow law enforcement to arrest people who knowingly possess controlled substances and charge them with a gross misdemeanor.
"The legislature adjourned last month without an adequate solution to protect the community against drug use and possession. Due to the uncertainty at the state level, we knew we needed to do something for our residents," said Lakewood Mayor Jason Whalen. "We passed this legislation to protect our residents and provide our law enforcement the tools they need to keep our community safe."
The day after Council took action, state legislators convened for a one-day special session to address a drug possession law set to expire by July 1, 2023. Ultimately legislators agreed to a new law that permanently fixes the state's drug possession law that was previously ruled unconstitutional by the state supreme court. With its action Tuesday, the Legislature made intentional drug possession and public use of small amounts of illegal drugs a modified gross misdemeanor. The modification reduced total jail time from up to 364 days as outlined in state law, to up to 180 days for the first two offenses and up to a year after that.
In light of the action taken May 16, Lakewood is reviewing its ordinances to determine if the new state law supersedes local authority.
Police Chief sworn in. Lakewood Police Chief Patrick D. Smith was officially sworn in at Council's meeting. Smith joined the department in March. He recently completed required state law enforcement training, allowing him to officially be sworn in as a law enforcement officer in Washington state.
Proclamations. Council issued two proclamations Monday. The first recognized May 15-21, 2023 as National Police Week. Council thanked the members of the Lakewood Police Department for their commitment to serving the city and expressed continued support for their work. The second proclamation recognized May 21-27, 2023 as Nation Public Works Week. Council thanked the city's Public Works Engineering Department for its work sheparding major road improvement projects from start to finish in the city and the work of employees to keep the city's infrastructure safe.
Council action. Council took action on the following items:
Authorized a contract to make ballfield improvements at Fort Steilacoom Park, including for the new Pierce College home field complex.
Adopted the 2023 carry forward budget adjustment.
Adopted the ordinance on controlled substances.
Approved transfer of the Old Settler's Cemetery property from Pierce County to city ownership.
City Manager rerports. Representatives from Partners for Parks were at the meeting to share the announcement of their $1 million grant award. They also requested Council consider a naming policy that would help the nonprofit facilitate future fundraising efforts to restore the H-Barn by awarding naming rights to donors as part of the rehabilitation project. Council also heard from the city attorney about the formation of an Opioid Abatement Council for Pierce County.
Watch the meeting
The Lakewood City Council will meet for a study session May 22 at 7 p.m. Tentative agenda items include:
State Legislative Session Report
Urban Forestry Implementation Plan
Joint Parks and Recreation Advisory Board meeting
Review of Clover Creek Floodplain Alternatives
How to attend: Attend in person at Lakewood City Hall, 6000 Main Street SW; Join via Zoom (or dial 253-215-8782 and enter meeting ID: 868 7263 2373), or watch live on the city's YouTube channel.
---
Lakewood to begin review of state housing laws
As part of the 2023 Comprehensive Plan amendment cycle, the city of Lakewood is responding to recent changes in state law around housing. New laws require the addition of emergency housing, emergency shelter, permanent supportive housing, and transitional housing in cities across the state.
This change requires the addition of more than 600 units to Lakewood in the coming years.
The Lakewood City Council will begin its review of the proposed changes at its June 12 study session. The meeting begins at 7 p.m. in Council Chambers at Lakewood City Hall, 6000 Main Street SW.
A public hearing is tentatively scheduled for July 3 at 7 p.m. at Council's regular meeting. Public comments may be sent in advance or offered live in person or through Zoom during the meeting.
The Lakewood Planning Commission will review this at its May 31 meeting. Details of what is proposed can be found on page 12 of the commission agenda packet.
The planning commission discussed these changes at its March 15, April 5, 19 and May 3 and 17 meetings. Find the recordings on the city's YouTube channel.
For more information, email Tiffany Speir, Long Range & Strategic Planning manager, at [email protected].
---
TPU offers assistance with utility bills
For those experiencing financial strain or who are on a limited income, Tacoma Public Utilities offers several ways to help you manage your utility accounts, including discounts and credits.
Enhancements to TPU's Bill Credit Assistance Plan now offer higher automatic credits to help pay your power and water bills if you meet assistance eligibility requirements. For more information about the program and how to apply, visit MyTPU.org/Assistance.
---
Sound Transit set to consider adding trips in South Sound
Sound Transit is embarking on an update of its Sounder South Strategic Plan. As part of this effort, the agency will consider whether potential additional trips should be prioritized over longer train rides.
This will include looking at whether to add new mid-day trips, evening trips or weekend trips. Any changes to frequency requires approval and negotiation with BNSF Railway, which owns most of the tracks the Sounder uses.
Learn more about Sound Transit's plans.
---
West Pierce Fire & Rescue has ballot item in Aug. 1 special election
On May 2, 2023, the West Pierce Fire & Rescue Board of Fire Commissioners voted to place a measure on the Aug. 1 ballot to replace the existing four-year maintenance and operations levy, which expires at the end of this year. The request is for $16.9 million dollars annually. If approved, this amount will be collected each year, starting in 2024 and going through 2027. This is not a new tax, but a replacement of a maintenance and operations levy the community has supported for nearly 50 years. This funding represents approximately 25% of the fire district's operating budget.
---
Work for the city of Lakewood
We're hiring! Looking to change careers? Looking for a new job? Ready to re-enter the job market?
Join the city of Lakewood! From maintenance workers, Information and Technology analysts, to financial analysts and police officers, we have a variety of positions open. Lakewood offers a competitive benefits package. We are part of the state retirement system (PERS). And the city is a beautiful place to work.
Find a current list of open positions online.
---
Road project updates
Washington Boulevard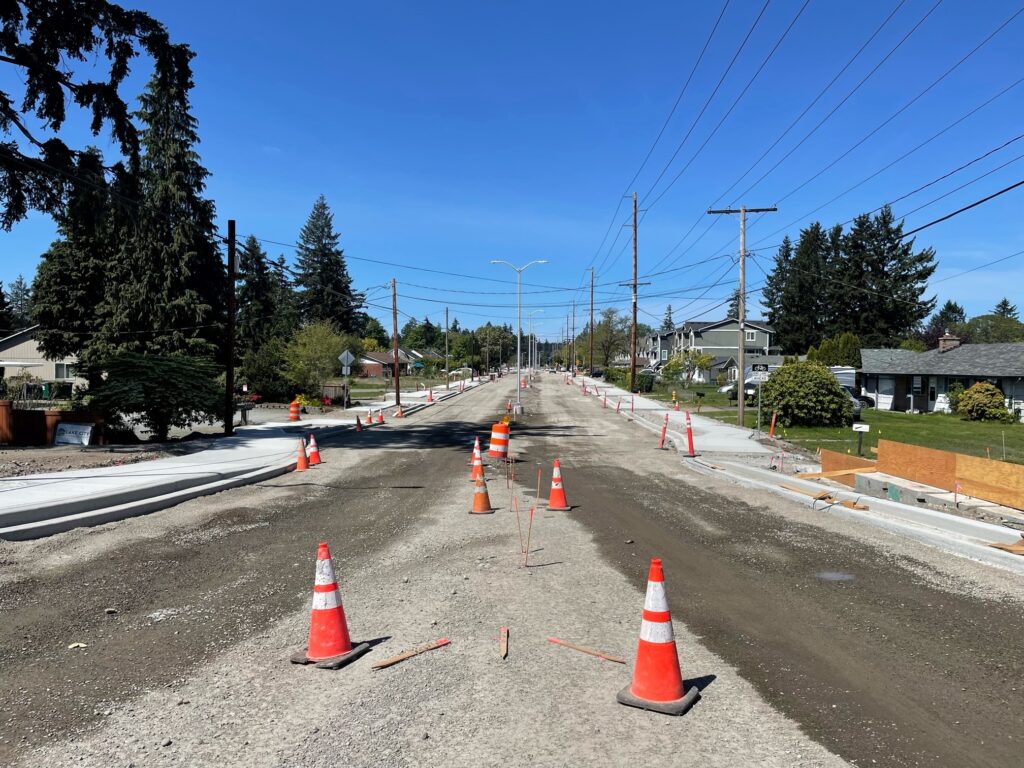 Curb and gutter were poured Friday on Washington Bouelvard between Alameda and Lake City Boulevard. Next week the city's contractor is expected to finish pouring the roundabout at Alameda.
In the coming weeks construction crews will continue with installation of new storm water drainage systems, curbs, gutters, sidewalks, two more roundabouts, street lighting and pave the roadway once all other work is complete. The road will remain closed to through traffic during this work. Residents who live along the closure are granted local access.
Drivers can use Veterans Drive, Vernon Avenue and other outlets to get around the closure.
We know this has been a lengthy project that has disrupted the area and we appreciate everyone's patience as the work is done.
Steilacoom Boulevard
Lane closures remain in place at 88th Street SW and Steilacoom Boulevard SW as the city's contractor continues streetlight and signal installation work.
Drivers are encouraged to find alternate routes, as delays are expected due to the reduced traffic flow.
Work was paused on this project during the winter season because of supply chain delays. Electrical work begins first, followed by the setting of the new signal poles. The estimated time is six weeks for this work to be complete.
Elwood Drive/Angle Lane
Work started May 15 on this project with the closure of 87th Avenue SW, a portion of Dresden Lane SW and Elwood Drive SW. As part of this work a temporary new entrance to Fort Steilacoom Park was built directly south of Steilacoom Boulevard off 87th Avenue.
The city's contractor removed trees from the right-of-way the first half of the week, and removed the asphalt road on Elwood, Dresden and 87th the latter half of the week. Work also began on installing a new water main.
This project will add sidewalks to the southwest side of Angle Lane, and the west side of Elwood Drive. The chicanes are being removed and roundabouts are being built at the North Way and Hipkins intersection and the Elwood/Dresden/87th intersection.
Construction is anticipated to last until early spring of 2024. During construction, the road will be open to single lane of one-way traffic.