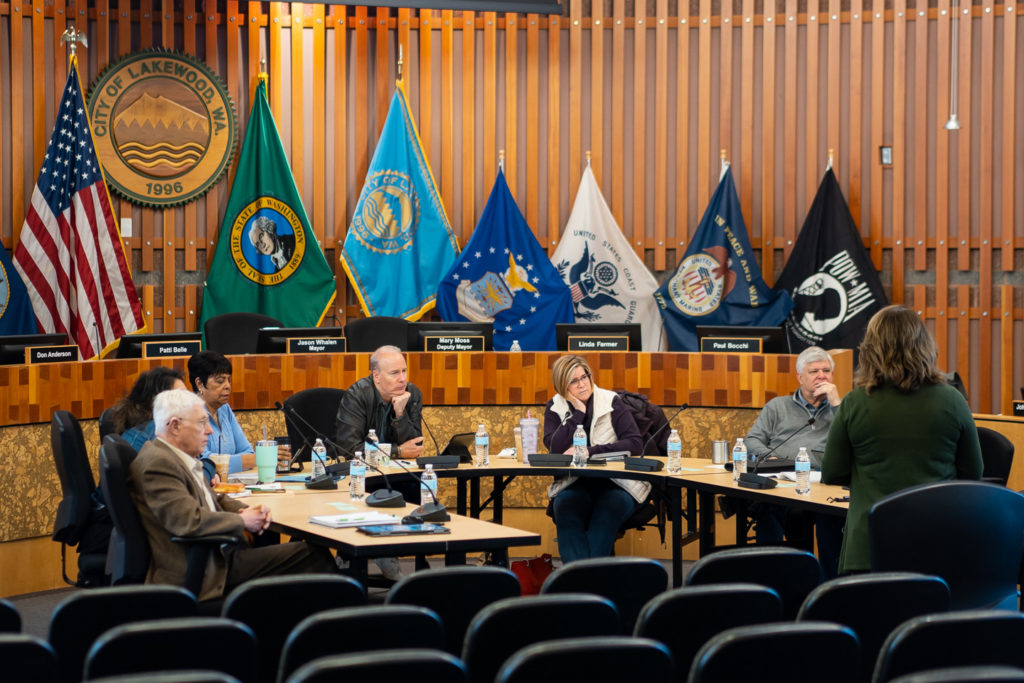 City Council gathered for a retreat focused on the topic of homelessness. The meeting began with a presentation by Long Range & Strategic Planning Manager Tiffany Speir, who reviewed socioeconomic factors contributing to increased homelessness. Lakewood's 2021 Housing Report revealed local vulnerabilities: more residents rent than the county average, and Lakewood's vacancy rate is well below the county average. 9,793 people in Lakewood (16.6% of the population) live in poverty; 32% of that population is seniors 65 or older.
Pierce County performs an annual Point-In-Time count to survey unsheltered individuals. Lakewood's homeless population has held fairly steady since 2016. Results from the 2022 count will be released soon. Clover Park School District also surveys students and families – homeless families commonly "double up" or "couch surf", or move to a hotel or motel. Evictions, family crises, and job loss are common factors as identified by the district. Pierce County Human Services data from the week of Feb. 28 to March 6 showed 207 people new to homelessness checked in for services; 132 of these individuals returned to homelessness, and just 13 found permanent housing.
Police Chief Mike Zaro provided an update on LPD's Behavioral Health Contact Team (BHCT). The team visits residents with mental illness to mediate conflicts, and connects local homeless to shelter and services. BHCT has helped 3,869 people since 2015 (553 per year). Zaro mentioned that "every person has their own unique trauma" – the BHCT's role has been to identify each contact's unique circumstances and introduce them to relevant services. A recent success has been the placement of 12 serially homeless individuals into permanent shelter at Aspen Court.
Housing Program Manager Jeff Gumm reviewed various rental safety and home repair programs that ensure livable conditions for low-income residents.
Pierce County Human Services Director Heather Moss discussed the Community First Village "tiny house village" program based on a successful program in Austin, TX. The model is unique for its private sector investment, and its focused intent to establish a sense of community and shelter for chronically homeless individuals. Challenges include a requirement for nearly 15 acres of land, ample volunteer support, and fundraising. Moss presented additional programs deployed elsewhere in the nation for consideration, such as housing vouchers.
Tacoma Rescue Mission (TRM) Executive Director Duke Paulson reviewed his agency's activities – TRM sheltered 2,784 individuals for 140,122 bed nights and served 215,568 meals in 2021. 286 individuals advanced to permanent housing after staying with TRM. TRM recently opened a women's shelter and plans to continue to expand capacity. Paulson discussed some auxiliary issues related to homelessness such as encampments around service centers and rejection of shelter.
ECO Northwest Senior Economist Andrew Dyke reviewed the 2022 Pierce County Homeless Services Assessment. The assessment audits regional homelessness programming, and considers funding sources and indirect costs of homelessness. ECO research estimates that as many as 54% of homeless households have children, and that housing market factors, behavioral health issues, and substance use disorder can contribute to homelessness. High rents also correlate – a $100 increase in rent caused a 9% increase in homelessness. Dyke recommended vouchers & subsidies, improved analytics, expanded shelter infrastructure, management of unsanctioned encampments, softened "benefit cliffs", and improved caseworker conditions.
To conclude the meeting, City Council gathered to brainstorm solutions and debrief. At a later retreat or study session, City Council will return to the topic to consider and prioritize recommended actions.
Upcoming Meetings:
March 21, 2022 Regular Meeting