The last year has been full of twists for Lakewood and for its businesses. This month, we checked in with Olympic Moving & Storage and Manic Meatballs to see how they were responding to contemporary challenges.
Growth, Growth, Growth.
"Growth" is the word of the year for Lakewood. The local economy is surging back from the pandemic now that full capacity has been restored.
Commercial and industrial permit valuation is shattering records for a second consecutive year in Lakewood. Total permit valuation through Q2 2021 was $88,923,591, more than double last year's unprecedented activity. This astonishing rate of activity is a sign of great things ahead for the local economy.
Olympic Moving & Storage has witnessed Lakewood's industrial growth first-hand. They are among the oldest tenants in the Woodbrook Industrial Park with 8+ years of operation in the area.
"We've seen tremendous growth around us, especially in the last two years," said Jeff, the company's general manager.
Manic Meatballs opened in Tillicum in December – right in the middle of the pandemic. All things considered, owner Carrie Stalder feels that her business is off to a roaring start.
"We're here and we have lines, which is fantastic. We've survived, and we're really on a roll. Our team has tripled already, and we're just a few weeks away from having a food truck."
376 new businesses have opened in Lakewood in 2021 so far, including 207 home-based businesses (see list below).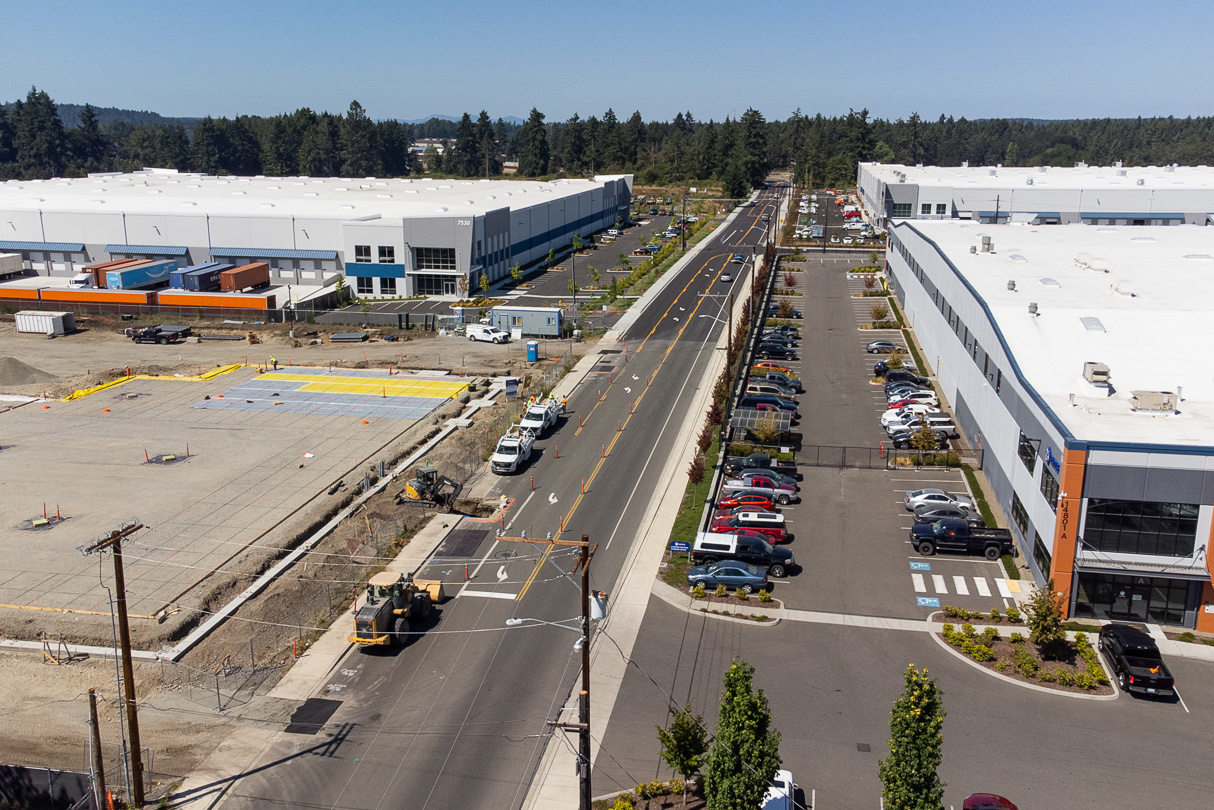 Labor Market Woes
"We're hiring" might be the national economy's motto this year, and Lakewood firms have also experienced the labor crunch. As business has sprung back to life, attracting labor to meet demand has been difficult.
Olympic Moving & Storage typically has double their current staff at this time of year. The national shipping industry is scrambling to get more drivers on the road to get goods and services moving. One potential solution might be a reduced age requirement, allowing drivers as young as 18 acquire a CDL and begin to operate trucks.
One issue caused by the current minimum age of 21 is that young adults are selecting and starting their careers between the ages of 18-21. The transportation industry loses out on potential drivers as they enter career paths that are immediately accessible.
Over at Manic Meatballs, Carrie reports that labor shortages have not yet affected her business. On the contrary, her employees have recruited friends. Treating employees right and building camaraderie are important business fundamentals, but have become even more important now during such a competitive labor market.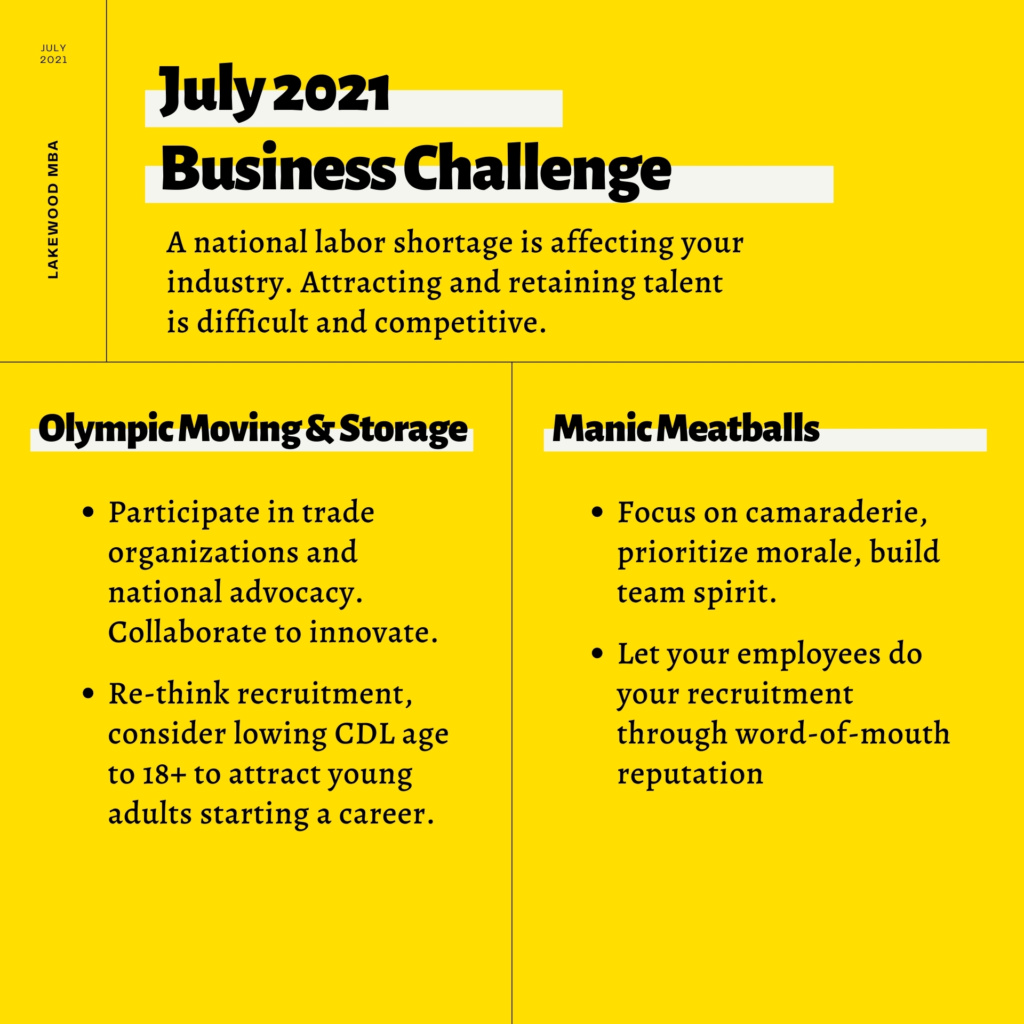 New Introductions
The following list is a sample of the 350+ new businesses that have opened in Lakewood in 2021.
Aceituno's Mexican Food, 15116 Union Ave SW
Advanced Family Care Medicine, 9104 South Tacoma Way
Aftermath Services, crime scene clean up, 10029 South Tacoma Way
American Oncology Partners, 11311 Bridgeport Way SW
American Steel Fitness Manufacturing, 3901 100th Street SW
Angels Academy Childcare, 9103 Bridgeport Way SW
Auto Chlor, new 25,100 SF two-tenant warehouse, 9520 Front Street S
BBQ Olive Chicken, 8722 South Tacoma Way
BBQ Pete's, 6111 Lakewood Towne Center Blvd. SW
Blue Fish Japanese, 8720 South Tacoma Way
Blue Pearl Veterinarian Hospital, 2510 84th Street South, Suite 30D
Bon Bon Bakery, 9122 South Tacoma Way
Breakroom Pizza & Billiards, 2510 84th St SW
Cascade Nurse Practitioners, 5409 100th Street SW
Celeste Quince Dream House, retail dress shop, 8302 South Tacoma Way
Comfort Inn & Suites, 12704 Pacific Highway SW
Dignity Autism Center, 4606 108th Street SW
Ding Tea, 9104 South Tacoma Way
England Industrial, 9121 39th Ave SW
Extreme Excellence Dispatching & Logistics, 10828 Gravelly Lake Drive SW
EZ Gadget Repair, 9205 South Tacoma Way
Foothills Family Property Management, 3612 100th Street SW
Gray's Healthcare Employment, 3815 100th Street SW
Haus Pro, Lakewood Industrial Park
IPT Logistics, 205,030 sq ft shell, 7530 150th Street SW
 Kyoto Japanese, 8722 South Tacoma Way
Lakewood Hot Yoga, 5605 100th Street SW
Longley Computers, 7304 Lakewood Drive SW
Manic Meatballs, 14815 Union Ave SW
Mattress By Appointment, furniture manufacturer, 9810 40th Ave SW
Phoenix Rising Wellness Center, 11008 Gravelly Lake Drive SW
Rule Garage, vehicle repair and restoration shop, 3886 Steilacoom Blvd SW
Schultz Equipment & Turf, outdoor power equipment, 10029 South Tacoma Way
Starlite Distribution Center, 245,987 sq ft warehouse, 3451 84th Street S
Sugar Faced Sweets, bakery, 11122 Gravelly Lake Drive SW
Sunstate Equipment, 8909 South Tacoma Way
Tactical Rehabilitation, full service durable medical equipment company, 15110 Union Ave SW
Warrior Society USA Manufacturing, 12829 Pacific Highway SW
Westcare Clinic, 9701 South Tacoma Way
Woodspring Suites, 11329 Pacific Highway SW