The City of Lakewood's Long-Range Planning and Special Projects division creates and updates Lakewood's Comprehensive Plan. They also handle development regulations as mandated by the state through the Growth Management Act, the Shoreline Management Act, the State Environmental Policy Act, or as directed by the Lakewood City Council.
Tiffany Speir
Long-Range & Special Projects Manager
6000 Main St SW
Lakewood, WA 98499
(253) 983-7702
Email: TSpeir
To email Tiffany Speir add her email handle before @cityoflakewood.us
Phones & Email:
Monday to Friday: 8:30 a.m. to 5:00 p.m.
---
About Long-Range Planning
The Long-Range Planning Division:
Provides support to the Planning Commission and the City Council for decisions or recommendations on various plans, policies, and development regulations;
Develops and maintains the Comprehensive Plan, along with various plans and standards for community development, preservation, and disaster recovery;
Facilitates the City's participation in regional planning by working with the Puget Sound Regional Council (PSRC), the Pierce County Regional Council (PCRC), and the Pierce County Growth Management Coordination Committee (GMCC);
Encourages economic development, environmental protection, affordable housing for all income levels, and efficient transportation, and coordination with other local governments;
Performs review of potential land annexations;
Works with the Pierce County Continuum of Care and reviews Pierce County Human Services contracts.
The City of Lakewood Comprehensive Plan guides the City's overall strategy for growth and development over the next 20 years. It sets the goals and policies for items such as land use, economic development, housing, transportation, and the environment.
---
Announcements
On November 15, 2023, Lakewood held an Open House about Lakewood's coming housing changes required by state law. You can watch the presentation here. See more information here.
The state laws that passed in Spring 2023 regarding allowing more ADUs and housing units on residential lots will be part of Lakewood's 2024 Comprehensive Plan Periodic Review. These changes to what you can develop on your property will not go into effect in Lakewood until December 31, 2024 at the earliest. To keep track of how these new development options are being reviewed by Lakewood, please go to the 2024 Comprehensive Plan Review page.
---

Following a study session on June 12 and a public hearing on June 20, the City Council took action on the 2023 Comprehensive Plan amendment Package on July 3. Amendments include: adopting the citywide tree canopy goal of 40% by 2050; allowing emergency and other special needs housing where the City allows hotels and motels ("Option D" in proposed Ordinance 789); rezoning parcels near the Downtown and at the Lakewood Racquet Club, adding the Western State Hospital Master Plan to the Comprehensive Plan, and more.
You can view the full language for each amendment here. You can watch the City Council meeting here.
Lakewood has begun work on a state law-required update of the City's Comprehensive Plan and Development Regulations known as the Growth Management Act (GMA) Periodic Review. This update is required to be completed by December 31, 2024. The purpose of the review is to ensure that the Comprehensive Plan is internally consistent and also complies with state law and regional planning policies.

The Periodic Update Cycle is a lengthy process that will take over 2 years to complete. Public involvement is essential to the success of this effort. Click here for more information about the 2024 Periodic Review.
The Lakewood Planning Commission will be holding a public hearing for the 2023 Annual Development Regulation Amendment Package on September 20, 2023 at 6:30 pm. Public testimony for Public Hearings will be accepted via mail, email or live during the meeting either in person or via ZOOM. Written comments should be sent to Karen Devereaux, Planning Commission Clerk, at 6000 Main Street SW Lakewood, WA 98499 or [email protected]. Written comments received before noon on September 20 will be provided to the Commission electronically that day.

You can view the meeting packet with the full language of each proposed amendment here. A brief description of the amendments is included below:

Amendment 1. Permit standalone truck/trailer parking as a use type in the IBP, I1 and I2 spaces for general industrial and warehouses.

Amendment 2. Permit electric fencing in C1, C2, C3, and TOC zone classifications.

Amendment 3. Define "Unusual Use" and clarify that the Unusual Use Permit is for uses not similar to other uses or accessory uses within the municipal code.

Amendment 4. Correct inconsistencies between Title 17 and 18A and acknowledge binding site plan amendments, plat alterations, and short plat amendments in the list of permit types, review authorities, and timeframes.

Amendment 5. Move sign permit administration-related regulations with the other administration-related regulations in 18A and remove from the sign regulations in 18A.100 to avoid code inconsistencies.

Amendment 6. Update appeal timeframes for SEPA and land use decisions for internal consistency and consistency with State laws.

Amendment 7. Clarify that uses with a flex space building must be permitted in the applicable zone classification.

Amendment 8. Remove redundancy in mobile / manufactured home land use table and update permitted locations to current zone classifications.

Amendment 9. Update MR2 lot size standards to clarify lot size and reorganize interior setbacks for readability.

Amendment 10. Update Air Installation Compatible Use Zone (AICUZ) section for consistency with adopted Air Corridor 1 (AC1) and Air Corridor 2 (AC2) land use designations and zone classifications.

Amendment 11. Expanding Land Use Zones Allowing Child Care Facilities.

Amendment 12. Prohibit use of Accessory Dwelling Units as Short-Term Rentals.

For further information, please contact Tiffany Speir, Long Range & Strategic Planning Manager, City of Lakewood, at [email protected].
---
Subarea Plans
Lakewood's Downtown Subarea Plan includes the Towne Center, Colonial, and East Commercial Districts. The study area is over 300 acres. The Downtown Subarea Plan will build up past planning efforts and describe a vision, land use, design, gathering places, and action strategies for Lakewood's central business district or "Downtown".
The Lakewood Station District Subarea Plan includes the Lakewood Sounder Station and the surrounding area. As the City plans for an additional 11,500 residents by 2030, new housing in the area near Lakewood Station will help meet this growth target as well as:

Provide additional affordable housing for current and future residents
Add businesses and employment opportunities
Maximize access to transit and use of the Sounder Station
Improve safety for pedestrians and bicyclists
Prevent the displacement of current residents when redevelopment occurs
Complement planning in the Downtown area
The Tillicum Neighborhood Plan (TNP) was adopted as a City Subarea Plan in 2009. The plan includes the six key planning initiatives from Lakewood's Vision for Tillicum document. In 2011, . In 2022, the City adopted an Addendum to the TNP that explains what has been done since 2011 to make the Plan's vision a reality.
Map of Lakewood's Subarea Plans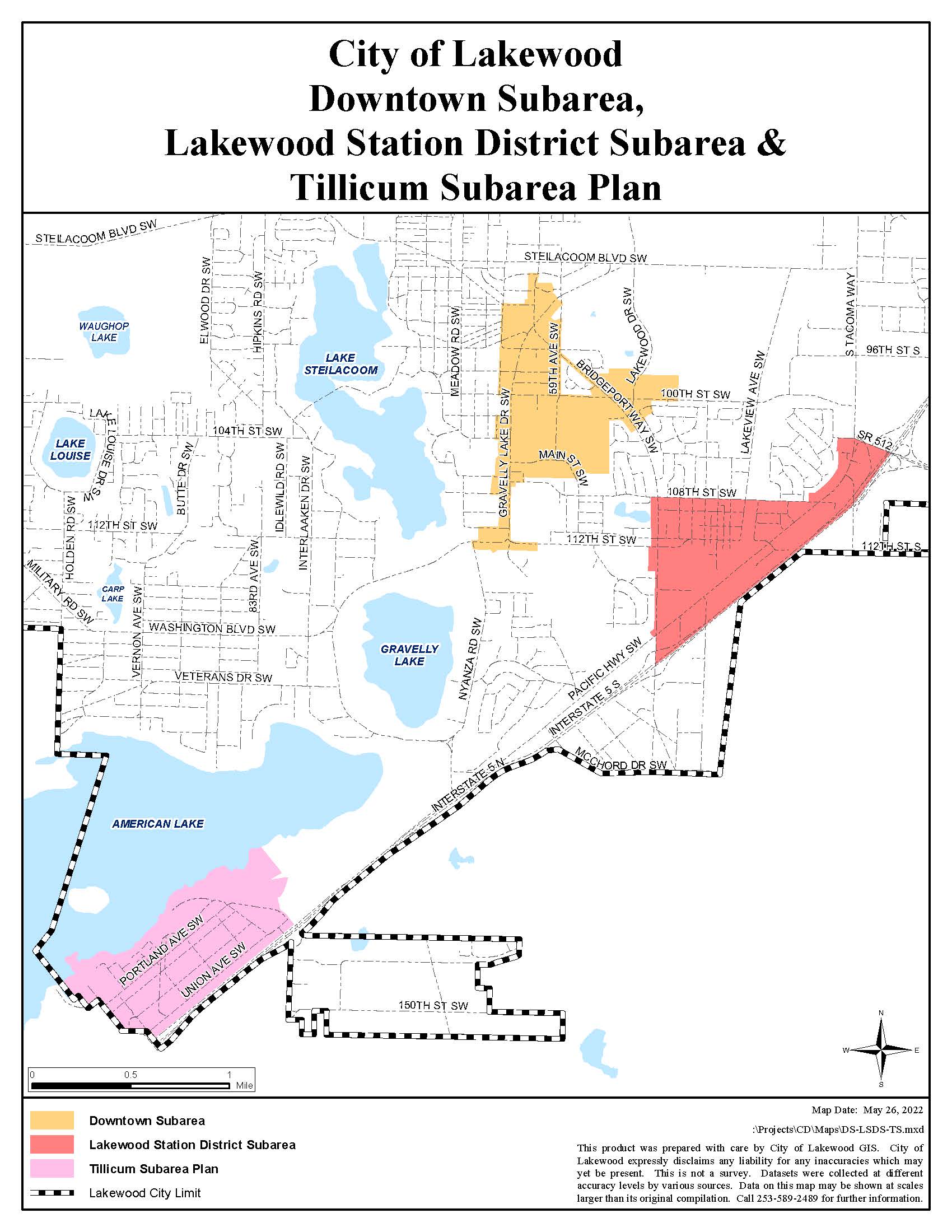 ---
Documents & Resources
Interested in Lakewood development? Follow these useful links to learn about ordinances, planning policies, zoning, and other information that guides development in Lakewood. Visit the Planning & Zoning Maps, Ordinances, and Documents page for more information.
Lakewood Planning Documents
Comprehensive Plan Amendment Application Forms:
Regional Planning Documents
State Law Governing Land Use Planning