The City of Lakewood's Long-Range Planning and Special Projects division creates and updates Lakewood's Comprehensive Plan. They also handle development regulations as mandated by the state through the Growth Management Act, the Shoreline Management Act, the State Environmental Policy Act, or as directed by the Lakewood City Council.
Tiffany Speir
Long-Range & Special Projects Manager
6000 Main St SW
Lakewood, WA 98499
(253) 983-7702
Email: TSpeir
To email Tiffany Speir add her email handle before @cityoflakewood.us
Phones & Email:
Monday to Friday: 8:30 a.m. to 5:00 p.m.
---
About Long-Range Planning
The Long-Range Planning Division:
Provides support to the Planning Commission and the City Council for decisions or recommendations on various plans, policies, and development regulations;
Develops and maintains the Comprehensive Plan, along with various plans and standards for community development, preservation, and disaster recovery;
Facilitates the City's participation in regional planning by working with the Puget Sound Regional Council (PSRC), the Pierce County Regional Council (PCRC), and the Pierce County Growth Management Coordination Committee (GMCC);
Encourages economic development, environmental protection, affordable housing for all income levels, and efficient transportation, and coordination with other local governments;
Performs review of potential land annexations;
Works with the Pierce County Continuum of Care and reviews Pierce County Human Services contracts.
The City of Lakewood Comprehensive Plan guides the City's overall strategy for growth and development over the next 20 years. It sets the goals and policies for items such as land use, economic development, housing, transportation, and the environment.
---
Announcements
On December 5, 2022, the Lakewood City Council approved a list of nine amendments for review in the 2023 Comprehensive Plan Amendment Cycle. You can view the full language discussed for each amendment here. The City will review each amendment and the Planning Commission will hold a public hearing on the amendment package in the spring of 2023.

2023 MAP AND TEXT AMENDMENT APPLICATIONS

2023-01 Request to add a tree canopy goal of 40% by 2050 to the Comprehensive Plan as Policy LU-60.4.

2023-02 Request to:

– redesignate/rezone parcels numbered 0219024020, -4021, and -4022 from Multifamily (MF)/Multifamily 3 (MF3) to Downtown/Central Business District (CBD); and

– redesignate/rezone parcel numbered 6720100160, -170, -180, -191, -200 and 0219024024 from Multifamily (MF)/Multifamily 1 (MF1) to Downtown/Central Business District (CBD.)

2023-03 Request to redesignate/rezone parcel(s) 0219111038, -1040, and 3097000312 (5820 112th St. SW) from Mixed Residential (MR)/Mixed Residential 1 (MR1) to Open Space & Recreation (OSR)/Open Space & Recreation 2 (OSR2).

2023-04 Request to:

– redesignate/rezone parcel(s) 5130001640 (5516 Fairlawn Dr. SW) and -1650 (5520 Fairlawn Dr. SW) from Residential (R)/Residential 4 (R4) to Neighborhood Business District (NBD)/Neighborhood Commercial 2 (NC2); and

– redesignate/rezone parcel(s) 5130001660 (8966 Gravelly Lake Dr. SW), and -1671 (8956 Gravelly Lake Dr. SW) from Arterial Corridor (ARC)/Arterial Residential-Commercial (ARC) to Neighborhood Business District (NBD)/Neighborhood Commercial 2 (NC2.)

2023-05 Allow permanent supportive housing (PSH) and transitional housing (TH) within the City's Commercial 1, 2, and 3 zones.

2023-06 Amend Policy LU-5.3 to reflect changes in allowed types of funding for financial and relocation assistance for people displaced as a result of construction and development projects.

2023-07 Request to redesignate/rezone Parcel 8880900340 from Residential/Residential 3 (R3) to Open Space & Recreation (OSR)/Open Space & Recreation 1 (OSR 1) for expansion of Wards Lake Park.

2023-08 Update of Comprehensive Plan text regarding Western State Hospital to reflect adoption of new Master Plan (continued from the 2021 Comprehensive Plan amendment cycle.)

2023-09 Remove language from LU-2.25 requiring that a property owner occupy either the primary or secondary unit.
Lakewood has begun work on a state law-required update of the City's Comprehensive Plan and Development Regulations known as the Growth Management Act (GMA) Periodic Review. This update is required to be completed by December 31, 2024. The purpose of the review is to ensure that the Comprehensive Plan is internally consistent and also complies with state law and regional planning policies.

The Periodic Update Cycle is a lengthy process that will take over 2 years to complete. Public involvement is essential to the success of this effort. Click here for more information about the 2024 Periodic Review.
---
Subarea Plans
Lakewood's Downtown Subarea Plan includes the Towne Center, Colonial, and East Commercial Districts. The study area is over 300 acres. The Downtown Subarea Plan will build up past planning efforts and describe a vision, land use, design, gathering places, and action strategies for Lakewood's central business district or "Downtown".
The Lakewood Station District Subarea Plan includes the Lakewood Sounder Station and the surrounding area. As the City plans for an additional 11,500 residents by 2030, new housing in the area near Lakewood Station will help meet this growth target as well as:

Provide additional affordable housing for current and future residents
Add businesses and employment opportunities
Maximize access to transit and use of the Sounder Station
Improve safety for pedestrians and bicyclists
Prevent the displacement of current residents when redevelopment occurs
Complement planning in the Downtown area
The Tillicum Neighborhood Plan (TNP) was adopted as a City Subarea Plan in 2009. The plan includes the six key planning initiatives from Lakewood's Vision for Tillicum document. In 2011, . In 2022, the City adopted an Addendum to the TNP that explains what has been done since 2011 to make the Plan's vision a reality.
Map of Lakewood's Subarea Plans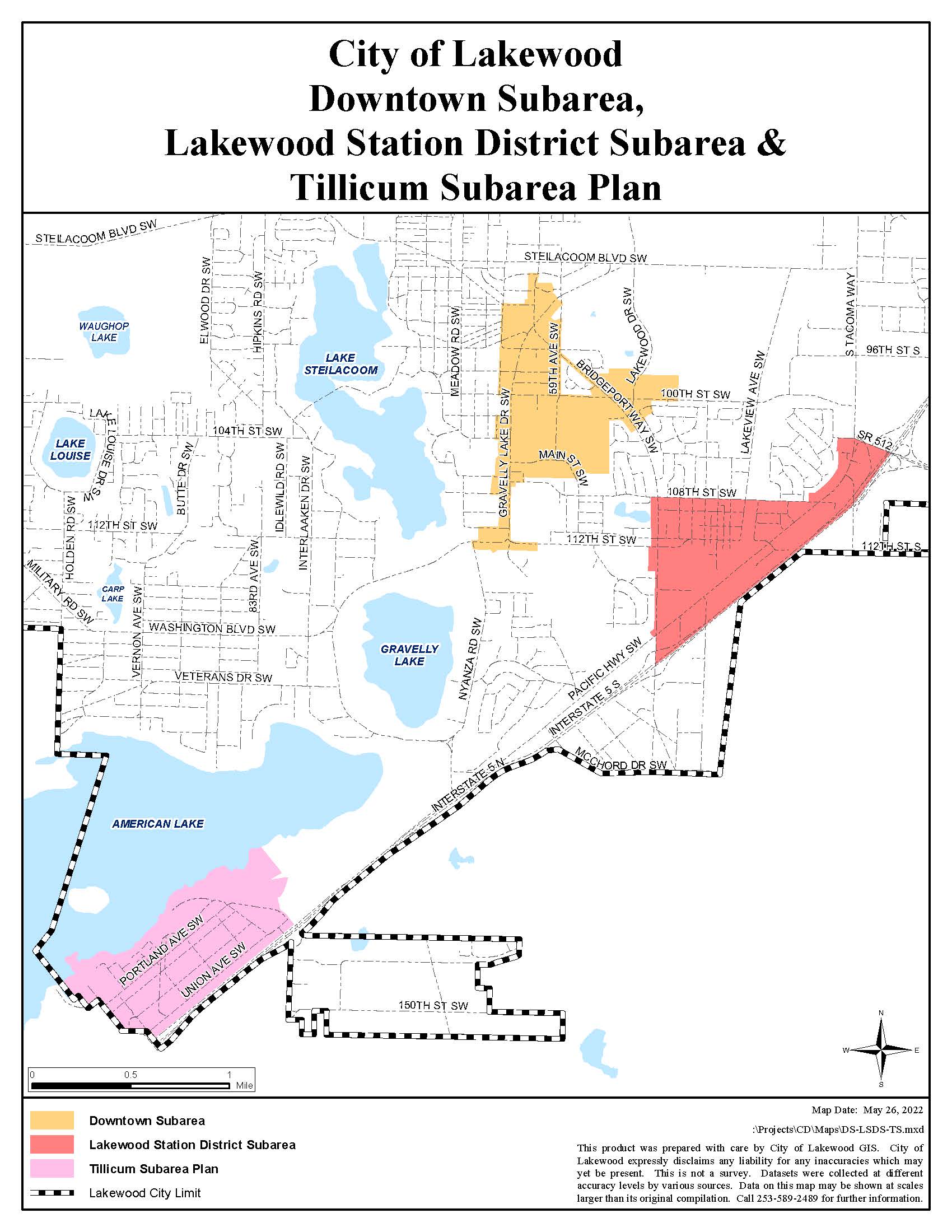 ---
Documents & Resources
Interested in Lakewood development? Follow these useful links to learn about ordinances, planning policies, zoning, and other information that guides development in Lakewood. Visit the Planning & Zoning Maps, Ordinances, and Documents page for more information.
Lakewood Planning Documents
Comprehensive Plan Amendment Application Forms:
Regional Planning Documents
State Law Governing Land Use Planning