Pierce County Sheriff's Deputy Dom Calata was shot during a SWAT operation on Tuesday, March 15, 2022. He died on Wednesday, March 16, 2022.
Sergeant Rich Scaniffe was also shot during the incident. He is now home from the hospital, but faces a long journey towards recovery.
The public may support these deputies, their families, and their communities in several ways:
Memorial Service & Procession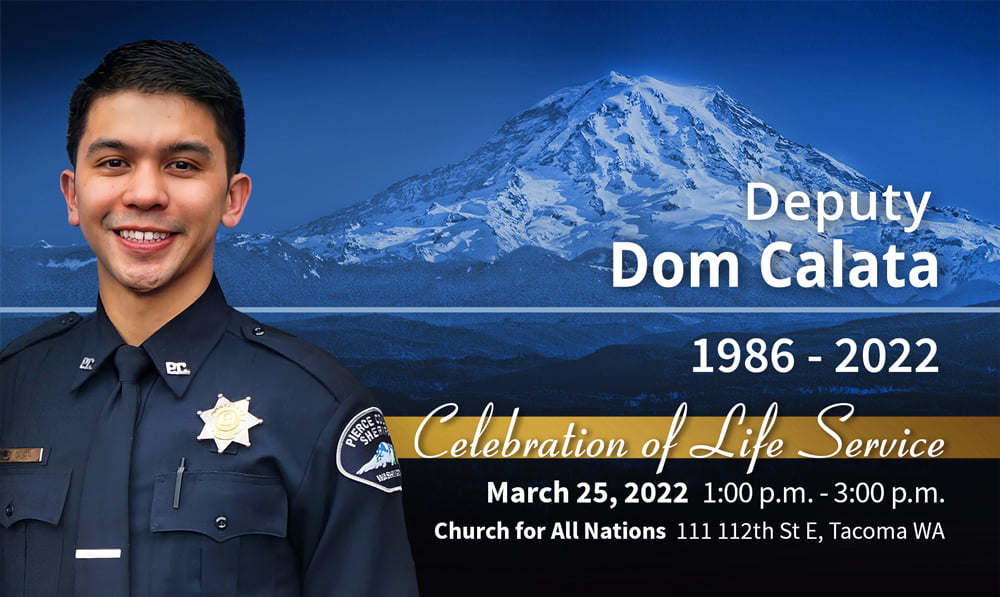 The Celebration of Life for Deputy Dom Calata will be held on Friday, March 25 at 1:00 p.m. at the Church for all Nations at 111 112th St E, Tacoma WA 98444.
While the service is open to the public, space will be very limited. Family, friends, and first responders will be prioritized. The general public may visit the satellite location at the Champions Centre at 1819 E 72nd St, Tacoma WA 98404.
The procession will begin on Friday, March 25 at 10:30 a.m. at the Washington State Fairgrounds, and is expected to arrive at the Church for All Nations by 12:30 p.m. The public is encouraged to line the route of the procession to show their support.
Vehicles will begin west on 9th Avenue SW
Turn left on Fairview Drive
Fairview Drive becomes 9th Street SW
Turn right on 39th Ave SW
39th Ave SW turns into 112th St E
Arrive at 111 112th St E (Church For All Nations)
Deputy Calata's body was moved to the Pierce County Medical Examiner's Office in a private procession on Monday, March 21.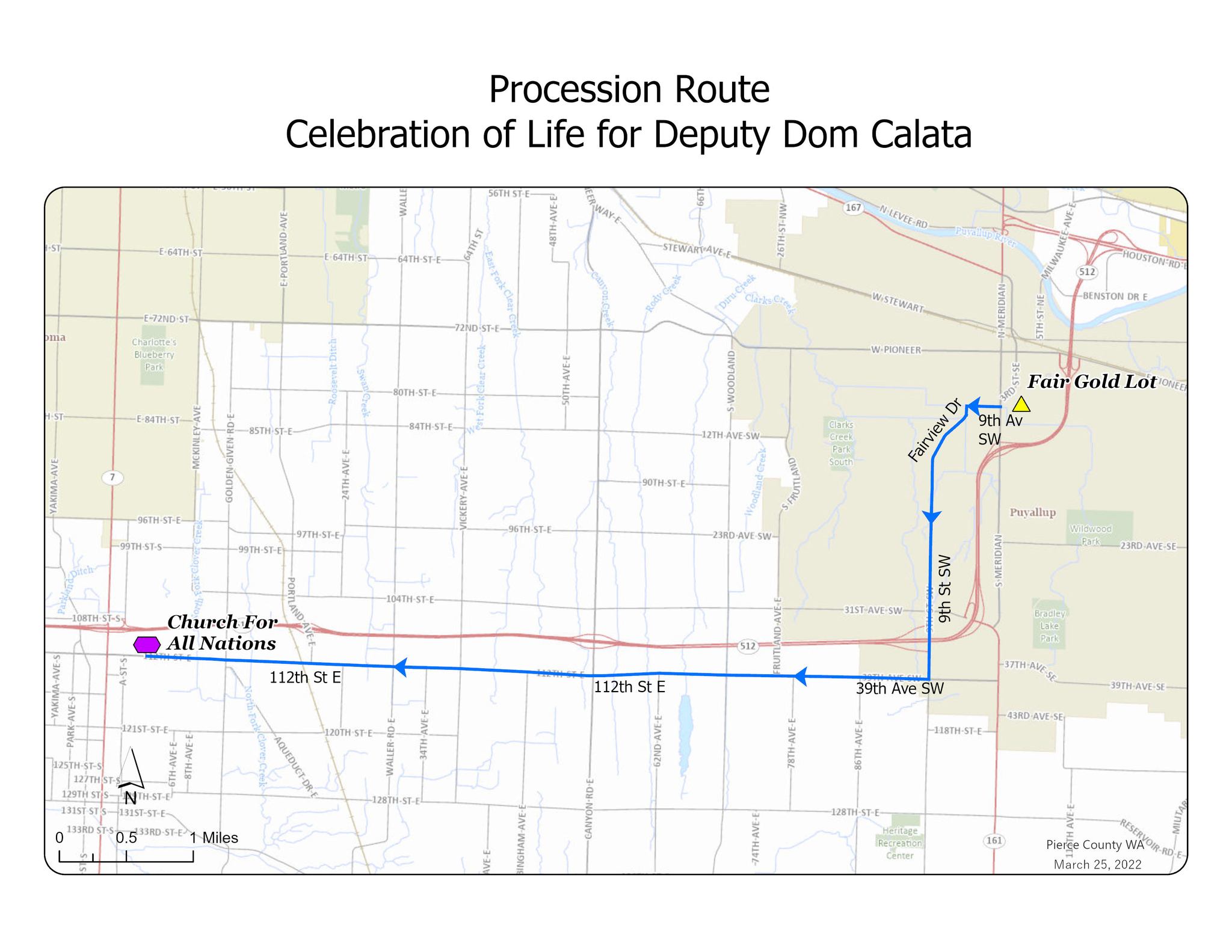 Blood Drive
Deputy Calata was an organ donor – his final act was to help save others' lives. Honor his memory by donating blood during the Deputy Dom Calata Memorial Blood Drive until April 23.
Visit any Bloodworks Northwest location and use donor code "DOM" or mention Deputy Calata's name so that participation can be tracked.
The American Red Cross warns that our blood supply is critical – your donation is very important to save people.
Calata Legacy Fund
A legacy fund has been established in memory of Deputy Dom Calata. This is the official legacy fund and is created in partnership with Tacoma-Pierce County Crime Stoppers. 100% of all funds will go directly to Deputy Calata's wife and young son.
Scaniffe Support Fund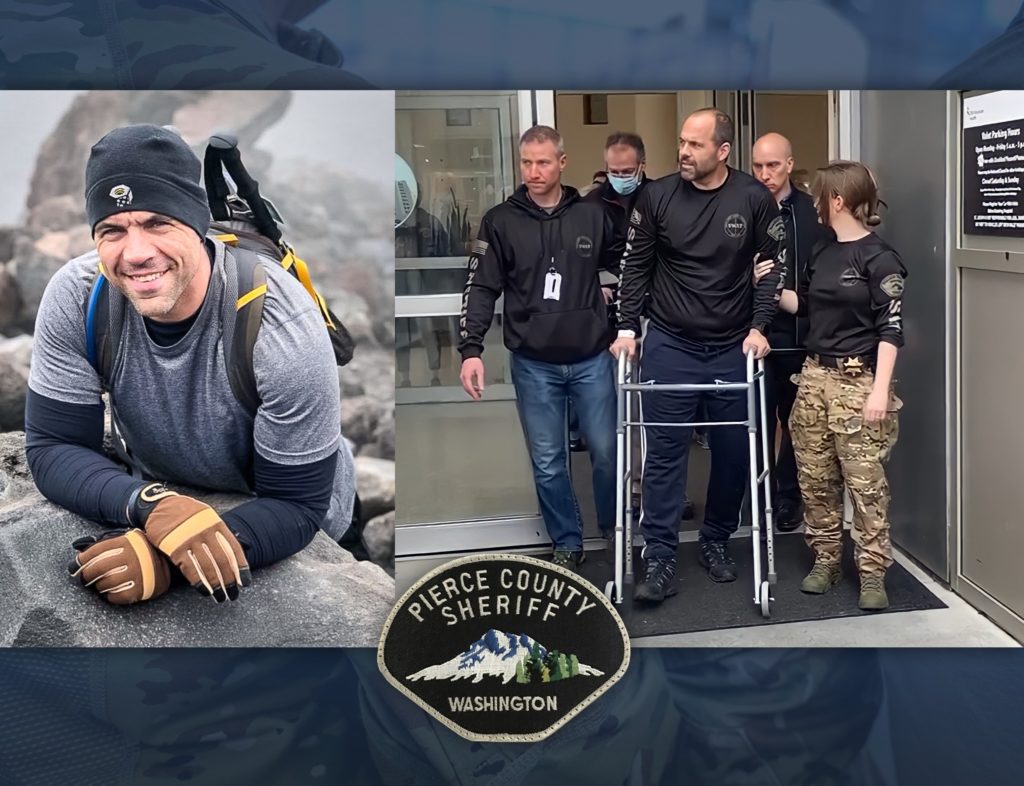 A support fund has been established for Sergeant Rich Scaniffe, who suffered a life-threatening injury in the line of duty. Sergeant Scaniffe is facing a long journey toward recovery which will require a great deal of support. Donations can be made online or by visiting any TAPCO Credit Union Branch. 100% of all funds received will go directly to Sergeant Scaniffe and his family.