May 25, 2023
Apples, asparagus, bok choy, bouquets, cherries, chocolates, decorations, desserts, eggplants, elephant ears, food trucks, free parking…the Lakewood Farmers Market has it all!
Opening day is Tuesday, June 6, 2023 at Fort Steilacoom Park with activities for the whole family.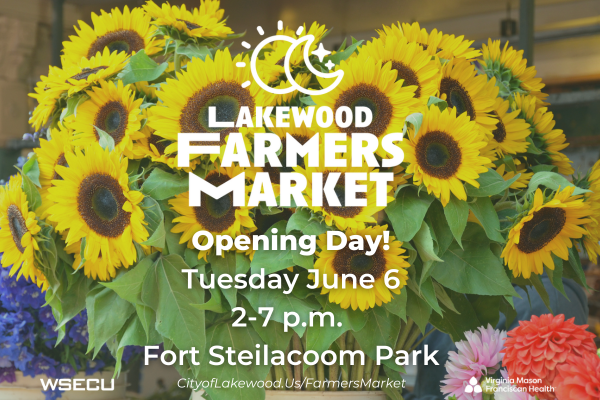 Listen to live music from MaureseItsonJazz from 2-4 p.m., and InCameoBand from 4:30-6:30 p.m. Get your face painted, have the kids make a potato print painting, play lawn games, and don't forget to swing by the city of Lakewood booth to pick up your Lakewood Farmers Market SWAG: A free Lakewood Farmers Market tote, slap bracelets, stickers and more.
If you see a 6-foot-7-inch man with a giant club roaming the market, don't worry, that's just WotantheFairySmasher. Blow him a couple of kisses or sprinkle fairy dust on him and he'll run away.
Visit Fort Steilacoom Park every Tuesday from 2 to 7 p.m. and shop more than 70 vendor and food booths.
AmadorFarms, BrothersFarms and Doug McDonald Farms will sell the day's harvest, straight from the field. Hayton Farms and Sidhu Farms will have seasonal berries fresh from the vine. Find hand-cut flower bouquets made on the spot by Dao Lee Garden and Hmong Seattle Garden. And Robbins Honey Farm is back with fresh, local-made honey.
Find one-of-a-kind gifts, handmade by local artists including jewelry, pottery, African art, and more.
Taste gourmet sauces and oils, then choose which you'll bring home to complement the fresh produce you just purchased. And don't forget to check out the local wines, spirits and mead vendors who have the perfect beverage accompaniment for any meal.
Want someone else to do the cooking? Choose from 21 food trucks and booths showcasing a variety of culinary delights from main meals to dessert.
Visit the Lakewood Farmers Market, on opening day, and every Tuesday from 2-7 p.m. until Sept. 19. The Lakewood Farmers Market accepts SNAP/EBT benefits. Find a full vendor list online at CityofLakewood.Us/FarmersMarket.