Fort Steilacoom Park fire
Roughly 20 acres burned Wednesday in Fort Steilacoom Park along its southwest boundary in a brushfire. The fire burned in the natural area up the hill from Waughop Lake. Many walking trails pass through this area.
The trail around the lake and the walking trails were closed while West Pierce Fire & Rescue investigated. They reopened Friday, once West Pierce concluded its work on site. Fire officials will announce the results of their investigation once complete.
There were no injuries immediately reported from the fire. A couple of firefighters who responded experienced heat-related illness due to the extreme outside temperature.
Lakewood City Manager John Caulfield issued a proclamation of emergency Wednesday night. Issuance of the proclamation authorizes city officials to take "necessary extraordinary measures" that may be required to respond to the fire and "protect life and property." The proclamation allows the City to access state and federal resources or other financial assistance as necessary.
The City, along with Lakewood Police and West Pierce Fire & Rescue alerted residents to evacuate if they were within a half-mile radius of the fire. Multiple reverse 9-1-1 calls and door-to-door notifications were made to alert impacted residents. The evacuations were voluntary and were lifted around 5 p.m.
To sign up for Lakewood Alert notifications, visit our Lakewood Alert page. You can also sign up for alerts for University Place and Steilacoom through West Pierce's Emergency Alert page. These alerts are used in addition to social media platforms and news media interviews during incidents of the magnitude like we saw this week. Please consider following the City, Lakewood Police and West Pierce on social media and signing up for alerts to make sure you are as updated as possible.
---
Stage 2 Burn Ban in effect in Lakewood and parts of Pierce County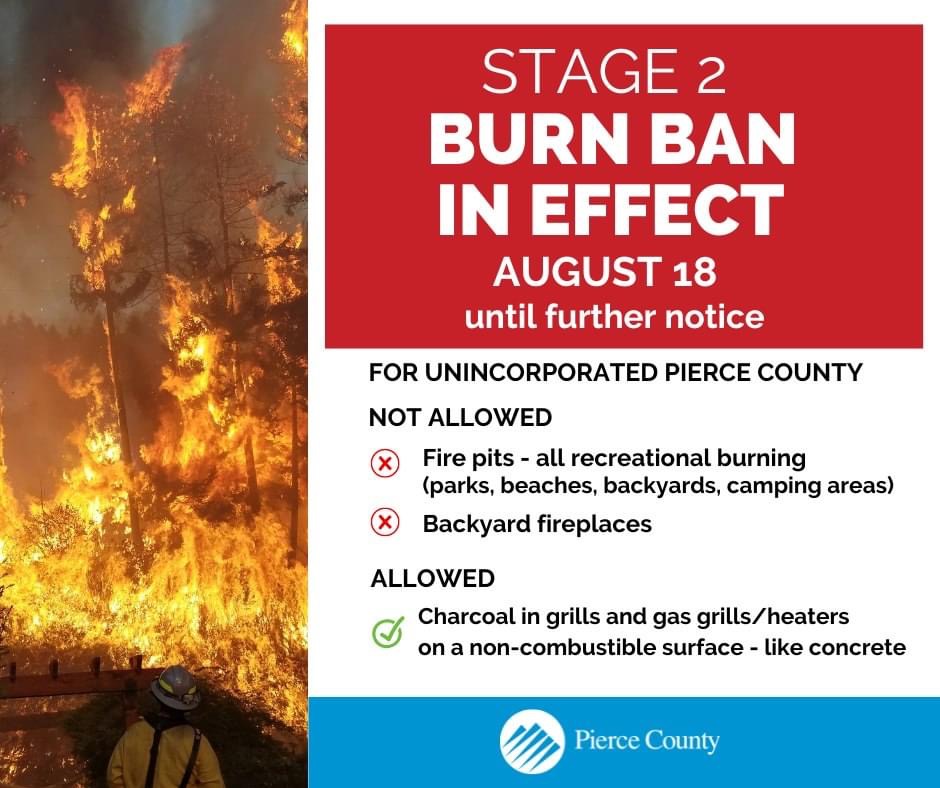 A Stage 2 Burn Ban is in effect for the City of Lakewood. This means the following are not allowed:
Fire pits: all recreational burning, including backyard fire pits and backyard fireplaces.
Allowed:
Charcoal in grills and gas grills/heaters on a non-combustible surface, like concrete.
The same restrictions are in place in University Place, Steilacoom and unincorporated Pierce County due to the extremely dry conditions.
---
Farmers Market, Summer concerts continue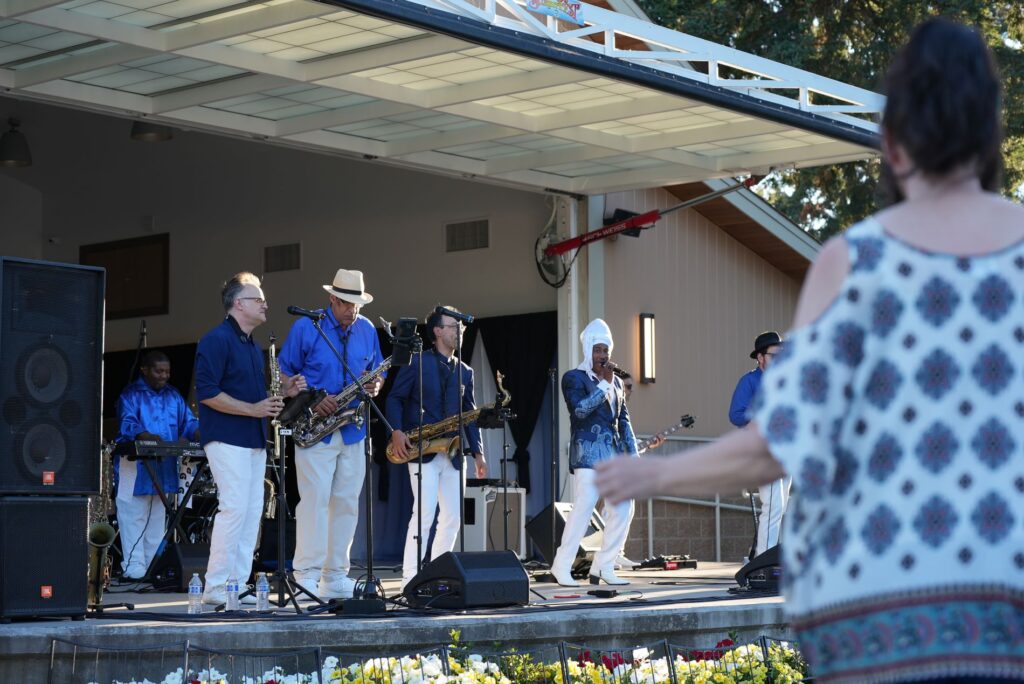 We have one more month of the Lakewood Farmers Market at Fort Steilacoom Park. If you haven't stopped by, make sure you do before Sept. 19.
Find one-of-a-kind items, fresh produce from local farms, handcrafted sauces, bakery goods, wines, beer and more. The market runs every Tuesday from 2-7 p.m.
There are only two more Summer Nights at the Pavilion free concert performances left. This week's heat wave didn't stop our most die-hard concert goers from dancing to the old school funk and R&B of Copastetic.
Next week head to The Pavilion at Fort Steilacoom Park to find your spot on the lawn before Jokers Run takes the stage at 6:30 p.m. You won't want to miss this country band.
Check out photos from our summer concerts on our Facebook event page.
---
Council Corner: Aug. 14, 2023 study session
The Lakewood City Council's study session included a review of the following:
Abatement Program Update
Review funding allocation of $1 Million in HOME funds and $1.175 Million in HOME-ARP in support of Living Support Access Alliance (LASA) Gravelly Lake Commons 25-unit affordable housing development.
2024 Comprehensive Plan Periodic Review Update: Land Use
Watch the meeting.
What's on Deck: The Lakewood City Council meets Aug. 21, 2023 at 7 p.m. for a regular meeting. Tentative agenda items include:
Authorizing an agreement with the Washington State Healthcare Authority for Lakewood's CHOICE
Authorizing an agreement with Tacoma Pierce County Habitat for Humanity, in the amount of $159,000, for the American Lake Townhomes Sewer Extension project
Reappointing James Hairston to serve on the Public Safety Advisory Committee through Aug. 6, 2026
Resolution approving funding allocation of $1 Million in HOME funds and $1.175 Million in HOME-ARP in support of Living Support Access Alliance (LASA) Gravelly Lake Commons 25-unit affordable housing development
Authorizing use of $74,855 of "1406" funds for rental assistance to Lakewood Clients served by Metropolitan Development Council (MDC)
Ratification and certification of the Proclamation of Emergency executed by the City Manager on Aug. 16, 2023
Reports by the City Manager: Review of City Hall Redesign Study
How to attend: Attend in person at Lakewood City Hall, 6000 Main Street SW; Join via Zoom (or dial 253-215-8782 and enter meeting ID: 868 7263 2373), or watch live on the city's YouTube channel.
---
Police Chief's Corner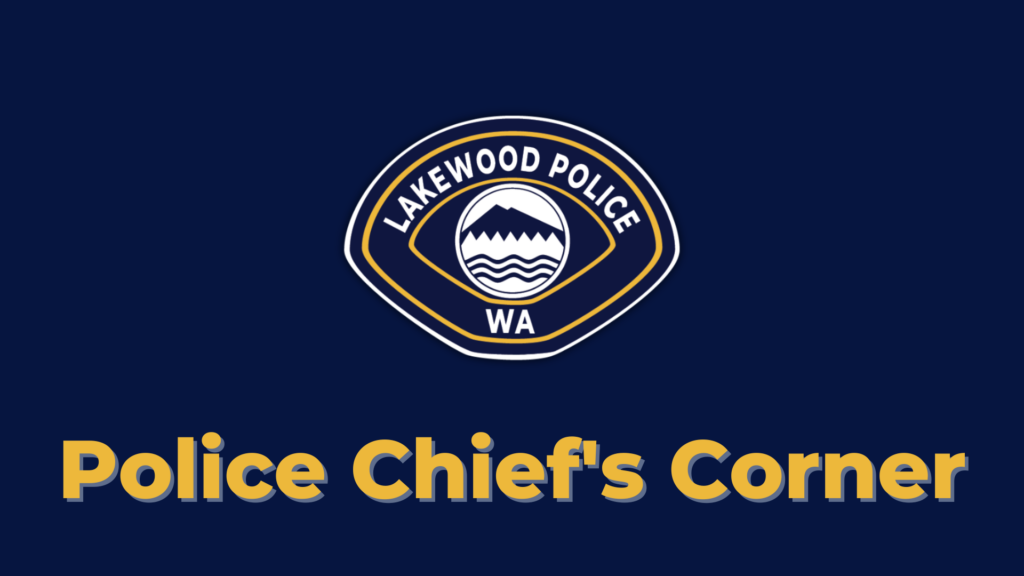 Lakewood Police Chief Patrick D. Smith wants Lakewood residents to know how the department is working for them. Each week he shares statistics that include a weekly look at total calls for service and the types of crimes reported and responded to by police.
The intent of the summary is to share a snapshot of how the department works keep the community safe.
Weekly Summary, Aug. 8-15, 2023
Calls for Service: 1,040
Arrests: 66
Violent Crime: 50
Property Crime: 115
Traffic Stops: 75
Collisions (reportable): 24
---
Work for the city of Lakewood
We're hiring! Looking to change careers? Looking for a new job? Ready to re-enter the job market?
Join the city of Lakewood! We have a variety of positions open across multiple departments.
Lakewood offers a competitive benefits package. We are part of the state retirement system (PERS). And the city is a beautiful place to work.
Find a current list of open positions online.
---
Road project updates
Steilacoom Blvd. Weller to 88th
Final items are being completed and the project should be finished in the next two to three weeks.
112th Street Sidewalks
Project is complete minus the installation of streetlights. The equipment is expected to arrive this fall with installation occurring in November.
Washington Boulevard
The contractor graded for curbs this week. Next week the curb will be poured for the last two roundabouts. The outside curbs will be poured next Friday.
Angle Lane/Elwood Drive
This project is largely complete. The remaining items include striping, minor landscaping and installation of street lighting. These items should be complete in the next two to three weeks.
New project: Union Ave: Orchard to Spruce Street
The City's contractor will be on site Sept. 5 and begin construction that week. This project will construct curbs, sidewalks and street lighting on the side of Union Avenue closet to Interstate 5. It will be a quick project, taking no more than 6-7 weeks to complete.