Juneteenth is Monday
Monday is June 19, also known as Emancipation Day. In 2021 it became a state and federally recognized holiday.
Juneteenth celebrates the end of slavery. On June 19, 1865 – two years after the Civil War ended – slaves in Texas learned the war was over and that President Abraham Lincoln signed the Emancipation Proclamation. At its June 5, 2023 regular meeting the Lakewood City Council read a proclamation celebrating Juneteenth and encouraging residents to learn more about the day and participate in area events to celebrate.
To learn more about Juneteenth, visit the National Museum of African American History and Culture's website.
Note: City Hall will be closed Monday in observation of the holiday. Operations resume Tuesday and regular times. The Lakewood City Council meeting will be Tuesday at 7 p.m.
---
Lakewood Community Drum Circle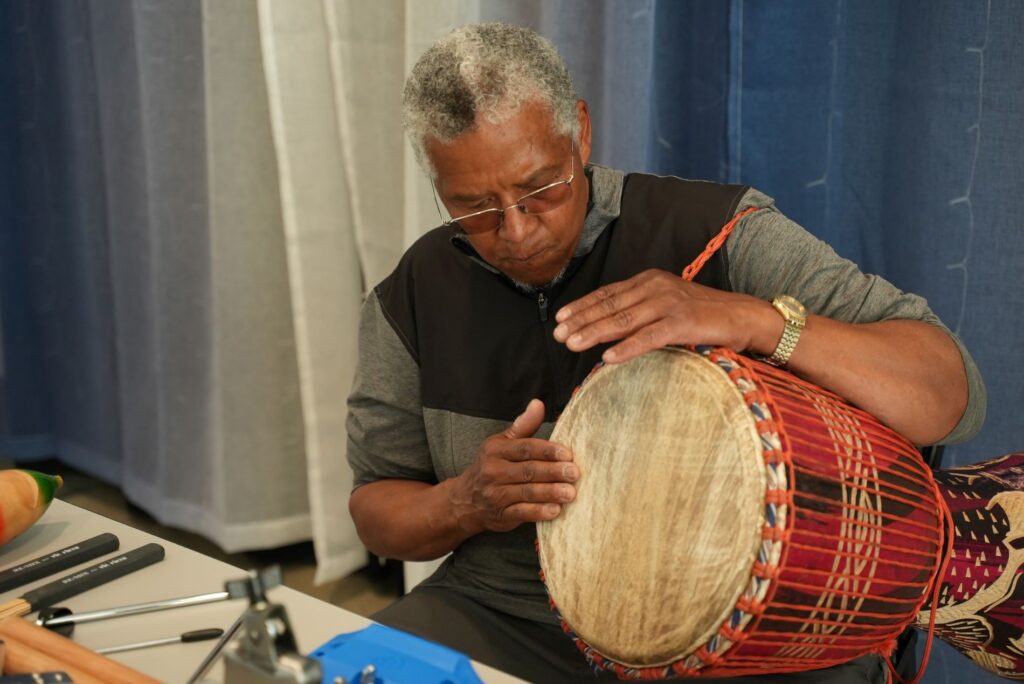 Join the Lakewood Arts Commission for a first-of-its-kind event in Lakewood: A Community Drum Circle.
This interactive event is meant for people of all ages and abilities. Have a drum? Bring it! Need a drum? There will be some available. Don't feel like playing? That's OK too, come enjoy the beat.
Check out this fun event Tuesday, June 20 from 6:30 to 8 p.m. at The Pavilion at Fort Steilacoom Park.
Make sure you swing by the Lakewood Farmers market first to do your shopping and grab dinner from one of the 20+ food vendors. Then head over to the grass in front of the pavilion stage to find your spot.
---
Council Corner: June 12, 2023 meeting recap
At its study session Monday the Lakewood City Council reviewed the following items:
First quarter police report. Lakewood Police Chief Patrick D. Smith reported on the first quarter police statistics. Calls for service increased 3.6% in the first three months of 2023 compared to the final three months of 2022. Year-to-date calls for police increased 7.5%. Arrests increased 10.5% compared to the first quarter of 2022. View the report.
Review of 6-Year Transportation Improvement Program. The Lakewood City Council reviewed the amended Six-Year Comprehensive Transportation Improvement Program document.
Introduction of 2023 Comprehensive Plan Amendments. The Lakewood City Council reviewed the Planning Commission recommendation for proposed amendments to the city's comprehensive plan. Council will hold a public hearing on the proposed amendments at its June 20 regular meeting.
2024 Comprehensive Plan Periodic Review Update: Climate Change & Critical Areas Ordinance. As part of the state-required periodic review of the city's comprehensive plan, the Lakewood City Council looked at recent policies it adopted around climate change and critical area protections.
The Lakewood City Council meets Tuesday, June 20 for a regular meeting at 7 p.m. (Note the different meeting day). Tentative agenda items include:
Authorizing an amendment to the agreement with Town of Steilacoom for court services
Authorizing an amendment to the agreement with City of DuPont for court services
Appointing City Council members Trestin Lauricella to serve as representative and Mike Brandstetter as alternate on the Pierce County Opioid Abatement Council (OAC)
Public Hearing: Six-Year (2024-2029) Transportation Improvement Program
Public Hearing: 2023 Comprehensive Plan Amendments
Adoption of an ordinance authorizing the acquisition of real property under threat of condemnation or by condemnation for park and/or road purposes and authorizing payment
Adoption of an ordinance amending Chapter 9.06 of the Lakewood Municipal Code relating to Controlled Substances.
Reports by the City Manager: 1st Quarter (2023) Financial Report
How to attend: Attend in person at Lakewood City Hall, 6000 Main Street SW; Join via Zoom (or dial 253-215-8782 and enter meeting ID: 868 7263 2373), or watch live on the city's YouTube channel.
---
Master Gardeners at work
Two of the three Master Gardeners who help coordinate with the City of Lakewood at the Lakewood Community Garden will be at First Baptist Church Saturday at 10 a.m. to present about year round gardening. The church is located at 5400 112th St SW. All are welcome.
---
State of West Pierce Fire & Rescue
West Pierce Fire & Rescue Chief Jim Sharp will share the "State of the Fire District" at upcoming community events. The public is invited and encouraged to attend to learn more about West Pierce. Upcoming meetings include:
Wednesday, June 21 at 5:30 p.m.
WPFR Station 20
10928 Pacific Highway SW, Lakewood
Monday, July 24 at 7 p.m.
Lakewood City Council meeting
6000 Main Street
---
Lakewood Police visit Idlewild Elementary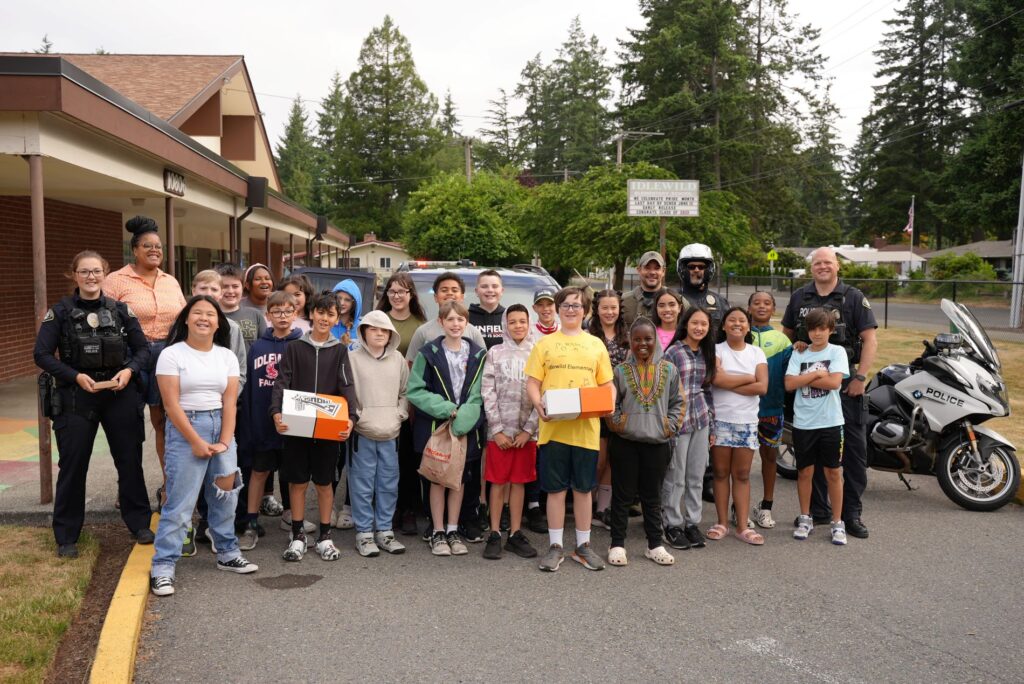 On the last day of school for Clover Park School District students, member of the Lakewood Police Department visited a 5th grade class at Idlewild Elementary School.
Students were able to talk with officers, climb in their police vehicles, wear SWAT gear and event sit on a Lakewood Police Department motorcycle. At the end they were treated to donuts from Original House of Donuts purchased by Lt. Pete Johnson.
Not a bad way to end the 2022-23 school year!
---
FairyFest at Lakewold Gardens
Lakewold Gardens is once again hosting FairyFest, a magical weekend of fairy-themed events for the entire family, June 23-25, 2023.
Visitors can explore the gardens while participating in a variety of enchanting activities including art projects, live music and dance performances, a fairy house contest, free play and games in the gardens, storytelling, and more.
FairyFest runs 10 a.m. to 5 p.m. Friday-Sunday. Admission is $20 for adults, $16 for students, seniors and military, and $10 for youth ages 5-17 (free for children under 5). For more information about FairyFest and other programs and events at Lakewold Gardens, visit lakewoldgardens.org.
---
Road closures planned for JBLM Airshow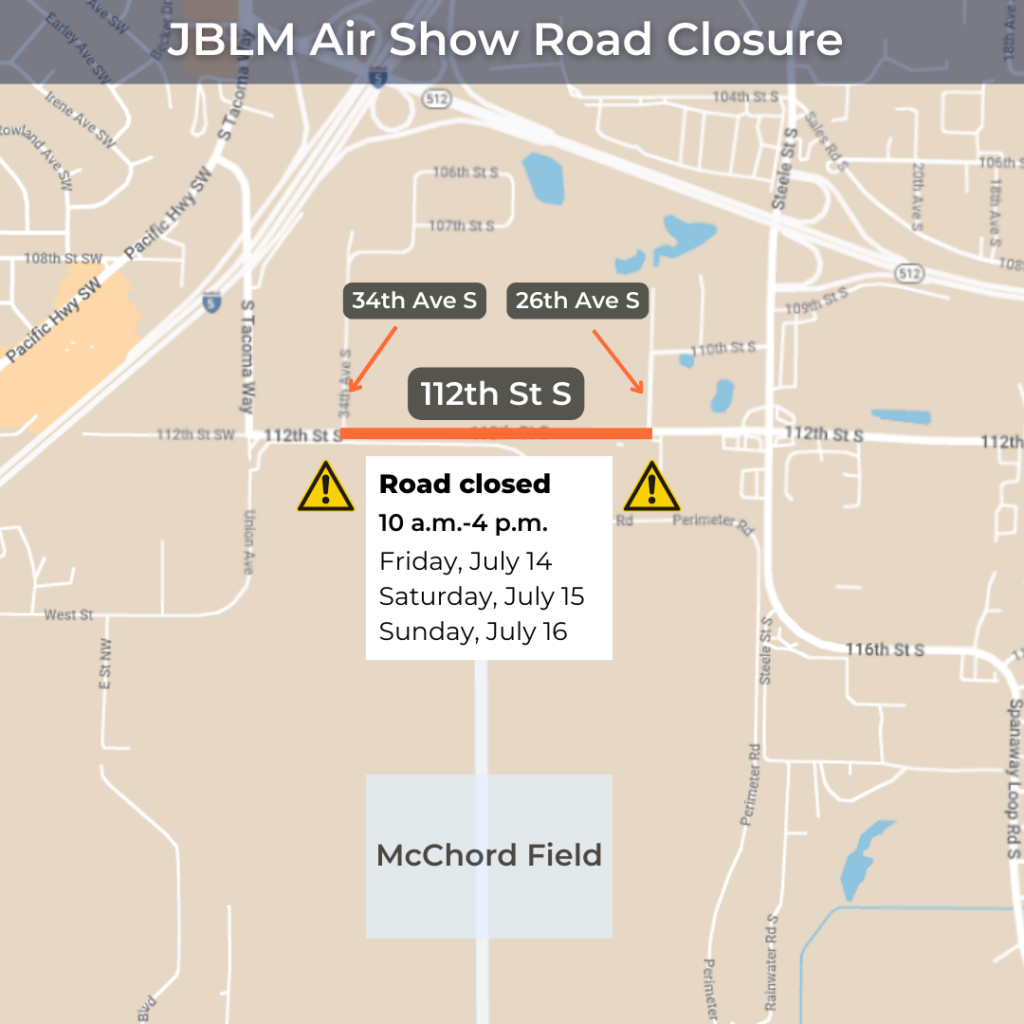 Road closure alert: 112th Street South bordering McChord Field will be closed between 34th Ave S and 26th Ave S for three days in July leading up to and during the JBLM Airshow.
The closures are a required safety protocol for the Army's Thunderbirds to fiy. The road will close 10 a.m. to 4 p.m. Friday, July 14, Saturday, July 15 and Sunday, July 16. The Thunderbirds will practice Friday and perform Saturday and Sunday. Drivers who use this section of road will need to find alternate routes.
Drivers in the area should expect low flying aircraft and remember to keep their eyes on the road – not the air – as military planes perform for the two-day event.
---
Independent Salary Commission
The City of Lakewood is still in need of people to fill the remaining vacancies on its Independent Salary Commission.
The commission meets to determine the salaries of the Lakewood Mayor and City Council members. The term is for one salary review. The board is composed of five members.
Interested? Contact Lakewood City Clerk Briana Schumacher by email or call 253-983-7705. Find the application online.
---
Work for the city of Lakewood
We're hiring! Looking to change careers? Looking for a new job? Ready to re-enter the job market?
Join the city of Lakewood! From maintenance workers, Information and Technology analysts, to financial analysts and police officers, we have a variety of positions open. Lakewood offers a competitive benefits package. We are part of the state retirement system (PERS). And the city is a beautiful place to work.
Find a current list of open positions online.
---
Road project updates
Washington Boulevard
The city's contractor paved Washington Blvd. between Vernon Ave. and Lake City Blvd. this week. The installation of storm drainage facilities between 83rd Street and Interlaaken Drive also began. This work is expected to continue into next week before it's complete.
Striping work could begin as early as next week on roads already done and open. If weather cooperates – the ground must be completely dry for the material to adhere – the work will be done at night between 8 p.m. at 6 a.m. Expect road impacts while this is done. Affected roads include North Gate Road from Nottingham to Edgewood, Edgewood from North Gate Road to Washington and Washington from Edgewood to Vernon.
We know this has been a lengthy project that has disrupted the area and we appreciate everyone's patience as the work is done.
Steilacoom Boulevard
The new signal poles are installed and work continues to prepare them to turn on. The city's contractor expects to have them ready to go by June 27 and 28. As we near these dates expect traffic impacts while the signals are turned on and the old poles removed.
As work continues, drivers should use alternate routes when possible, or plan for additional drive times.
Elwood Drive/Angle Lane
The city's contractor continues to make good progress on this road project. This week all curbs were poured for the new roundabout at 87th/Dresden/Elwood at the entrance to Fort Steilacoom Park. Next week sidewalks are expected to be installed.
The contractor remains on schedule. The roads will reopen by July 15 for SummerFEST.
As part of this work a temporary entrance to Fort Steilacoom Park was built off Elwood Drive. Cars must access the new entrance from Hipkins/North Way/Elwood. There is no access from 87th Avenue/Dresden Lane.
We apologize for the inconvenience. We appreciate the public's patience during this temporary detour while we make the roads leading into the park safer for pedestrians and drivers.