Spring Community Cleanup dates set
The city's spring community cleanup is two weeks away. Bring your unwanted items to the Lakewood Transfer Station Saturday and Sunday, April 15 and 16 between 8 a.m. and 1:45 p.m. for free.
The city partners with refuse provider LeMay to offer this service free to Lakewood residents. Proof of Lakewood residency required for admittance. The Lakewood Transfer Station is located at 3869 94th Street SW.
Smaller items must be bagged and cannot be loose. Larger items like furniture do not need to be bagged. Hazardous materials like paint or other chemicals will not be accepted. Neiter will larger-scale construction debris.
Find a complete list of what will and will not be accepted.
---
Parks Appreciation Day
Join you neighbors to help cleanup Lakewood's parks and get them ready for the busy spring and summer season. Our annual Parks Appreciation Day is Saturday, April 22 from 9 a.m. to 12 p.m.
Volunteers are needed to help clean up park areas, removing noxious weeds, spreading wood chips and assisting with overall maintenance. Park sites needing work this year include:
Edgewater Park
Fort Steilacoom Park
Harry Todd Park
Kiwanis Park
Lakewood Community Garden
Let us know you're coming: Sign up online.
---
Council Corner: March 27, 2023
At its last study session for the month of March the Lakewood City Council met with the city's Planning Commission for a joint meeting. The purpose was to review the commission's work plan and upcoming schedule of important items before the city that will ultimetly come before Council.
Non-motorized Transportation Plan: The Council then received on a update on the non-motorized transportation plan, which outlines how the city can continue to build pedestrian and non-motorized pathways. The goal is to make connections across the city for walkers, cyclists and others who want to access parks, open space, shopping and neighborhoods without a vehicle. Learn more.
CDBG 2023 Action Plan: Council reviewed the Community Development Block Grant (CDBG) Fiscal Year 2023 annual action plan. The plan proposes use of these federal monies for the coming fiscal year. Learn more (starting on page 85).
Rental Housing Safety Program update: The city launched its Rental Housing Safety Program five years ago. At its study session Council received up update on how the program did in 2022, as well as a look at the overall success of the program since its inception. In 2022, the majority of properties inspected per the safety program failed the initial inspection. When it came time for re-inspection, the majority passed. These properties are now safe for tenants to live in. The most common areas of failure were non-working smoke and carbon dioxide detectors, failed water heaters, and electrical and plumbing issues. Learn more (starting on page 145).
Watch the meeting.
What's on deck: The Lakewood City Council meets Monday, April 3 at 7 p.m. for a regular meeting. Tentative agenda items include:
Proclamation recognizing LASA Executive Director Janne Hutchins
Proclamation declaring April 22, 2023 as Parks Appreciation Day
Youth Council and Clover Park School District reports
Authorizing the execution of an interlocal agreement with Pierce County for fingerprint and firearm examination services
Authorizing the execution of an agreement with Doolittle Construction, in the amount of $366,273.50, for the 2023 Chip Seal program
Authorizing Avasek as an Information Technology (IT) Managed Services Provider
Approving the purchase of Crowdstrike security systems and services
Approving the purchase of a storage system for the disaster recovery site
How to attend: Attend in person at Lakewood City Hall, 6000 Main Street SW; Join via Zoom (or dial 253-215-8782 and enter meeting ID: 868 7263 2373), or watch live on the city's YouTube channel.
---
Join our Independent Salary Commission
Want your voice to be heard? There are five positions open on the Lakewood Independent Salary Commission, which decides the salaries for the Mayor and City Council.
For more information on what the commission does or requirements to volunteer, visit the commission website.
Interested in getting more involved in the city? Check out our boards and commissions website to find volunteer opportunities.
---
Register now for Kids Fishing Event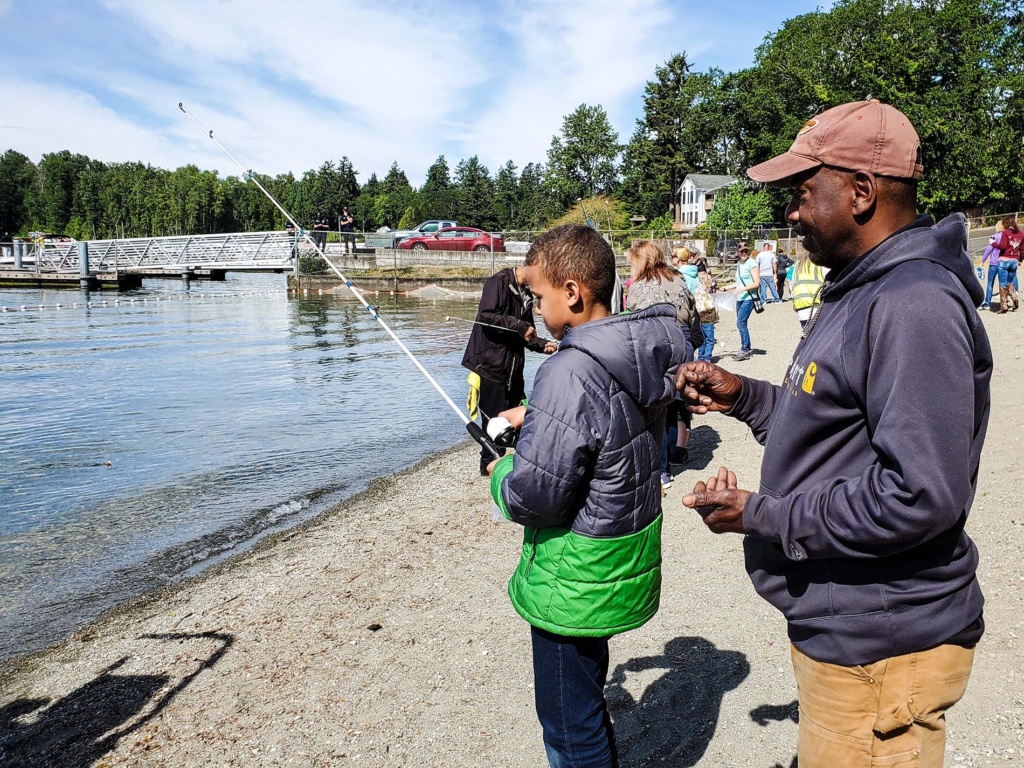 Registration is now open for the city of Lakewood's annual Kids Fishing Event. This event allows children 5 to 14 years to fish off the shoreline of American Lake.
Cost is just $5 per participant. Children get to keep their pole and their catch. All necessary fishing supplies are provided.
This year's event is Saturday, May 13. Note the location change: The event will be held on the shoreline of Harry Todd Park. Sessions are 45 minutes and run every hour on the hour from 8 to 11 a.m.
Space is limited. Sign up today: https://tinyurl.com/LakewoodFish
---
Emergency Food Network Hunger Walk
The Hunger Walk is an annual opportunity for the community to support Emergency Food Network's mission of providing food to our neighbors in need "so that no person goes hungry."
The 2023 Hunger Walk will take place May 6 at Fort Steilacoom Park. Virtual registration is available.
---
Work for the city of Lakewood
We're hiring! Looking to change careers? Looking for a new job? Ready to re-enter the job market?
Join the city of Lakewood! We have a variety of job positions open. Lakewood offers a competitive benefits package. We are part of the state retirement system (PERS). And the city is a beautiful place to work.
Available positions include openings in our maintenance division, Information Technology and police department.
Find a current list of open positions online.
---
Road project updates
Washington Boulevard
Approximately 70% of the storm drainage work is complete for the stretch of Washington Boulevard between Alameda Drive and Lake City Boulevard. This work is anticipated to finish by April 5.
The grading crew continues to prepare for sidewalk installation and paving. The concrete crew was out this week to pour more curb and gutter for the outside curb and splitter islands. This work will continue until April 10 in the area of Vernon Avenue and Washington Boulevard.