Who's ready to fish?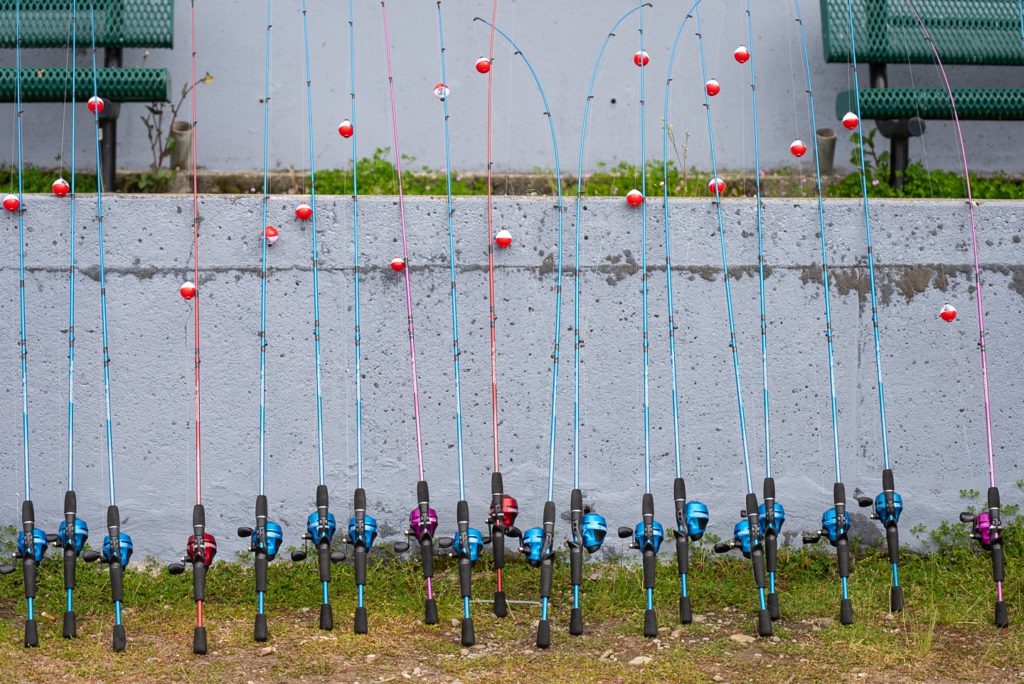 The lake is stocked, the poles are rigged – all we need is you!
Thanks to everyone who signed up for our Kids Fishing event. All time slots are full.
We can't wait to see your smiling faces on the shores of American Lake for this family friendly event. The first session begins at 8 a.m.; the last session beings at 11 a.m.
Come to Harry Todd Park Saturday for your session, check in and get your fishing pole. Volunteers will be there to help, if needed. Once you catch your fish, bring it to the fish cleaning table and they'll help get your fish ready to go.
See you Saturday at Harry Todd Park.
---
Summer heat on its way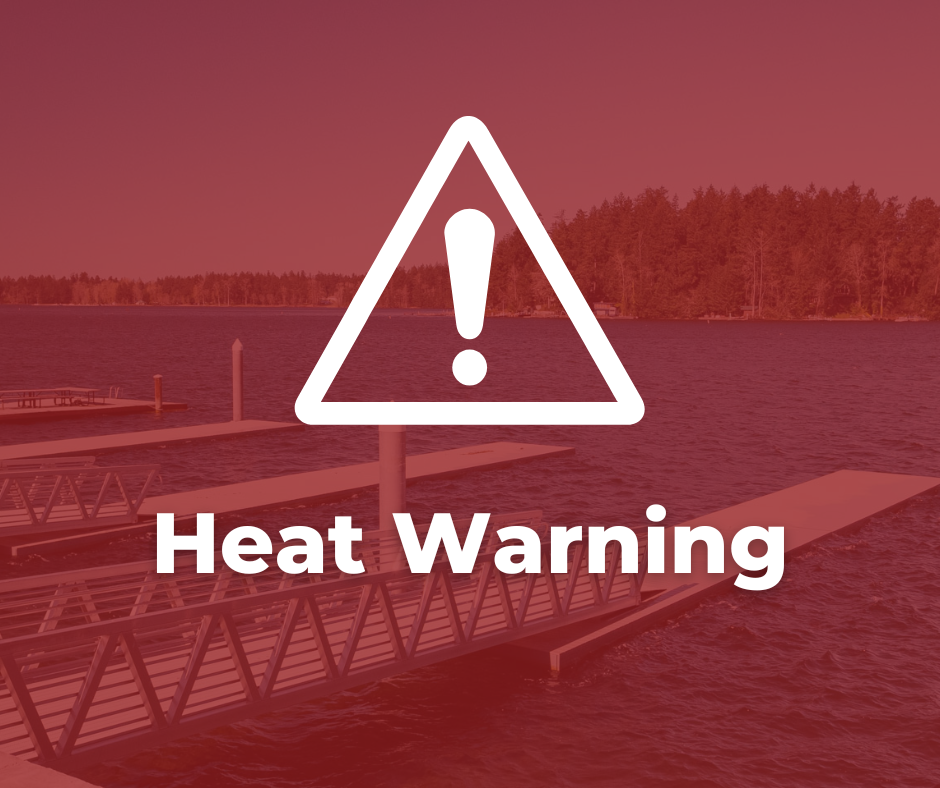 After a rather chilly, wet April we'll fast forwarded into summer this weekend with rising temperatures expected to near 90 degrees. In response to the forecasted high heat, the National Weather Service issued an Excessive Heat Advisory for Pierce County. It takes effect Saturday afternoon and runs through Monday evening. Hot conditions with temperatures in the mid-80s to low 90s are expected. This will pose a "moderate, to localized major", risk of heat-related illness for some individuals.
Follow these useful tips from our partners at West Pierce Fire & Rescue for how to stay cool when the outside temperatures rise.
---
Road closure coming to Fort Steilacoom Park entrance, neighboring streets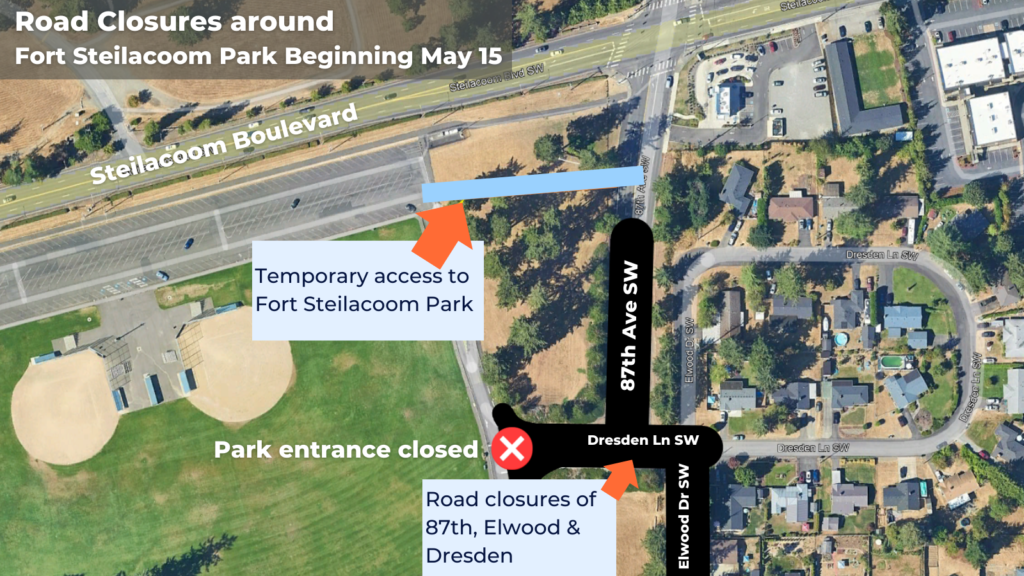 Monday the city will close the 87th Avenue, Dresden Lane and Elwood Drive all near the entrance to Fort Steilacoom Park. A new, temporary entrance to the park will be built. This entrance will allow access from 87th Avenue directly south of Steilacoom Boulevard.
The road closures will remain in place until mid-July. The roads will reopen for SummerFEST July 15.
The closure is part of approved road improvements to Angle Lane and Elwood Drive. This project will add sidewalks on the southwest side of Angle Lane and a trail on the west side of Elwood.
In addition, the city is building and installing a new water main under 87th to Dresden as part of the project.
---
Council Corner: What's on Deck
The Lakewood City Council will meet for a regular meeting May 15 at 7 p.m. Tentative agenda items include:
Police Chief Commissioning Ceremony.
Proclamation declaring May 15-21, 2023 as National Police Week.
Proclamation declaring May 21-27, 2023 as National Public Works Week.
Authorizing the execution of a construction contract for Fort Steilacoom Park Athletic Field Improvements.
Ordinance adopting the 2023 Carry Forward Budget Adjustment.
Ordinance amending Chapter 9.06 of Lakewood Municipal Code relating to Controlled Substances.
Approving an intergovernmental transfer agreement between Pierce County and the city of Lakewood related to the transfer of Old Settler's Cemetery property.
Reports by the City Manager: Partners for Parks Presentation; and review of the Opioid Abatement Council (OAC) Formation for Pierce County.
How to attend: Attend in person at Lakewood City Hall, 6000 Main Street SW; Join via Zoom (or dial 253-215-8782 and enter meeting ID: 868 7263 2373), or watch live on the city's YouTube channel.
---
Walking Fort Steilacoom Park with Nisqually Tribe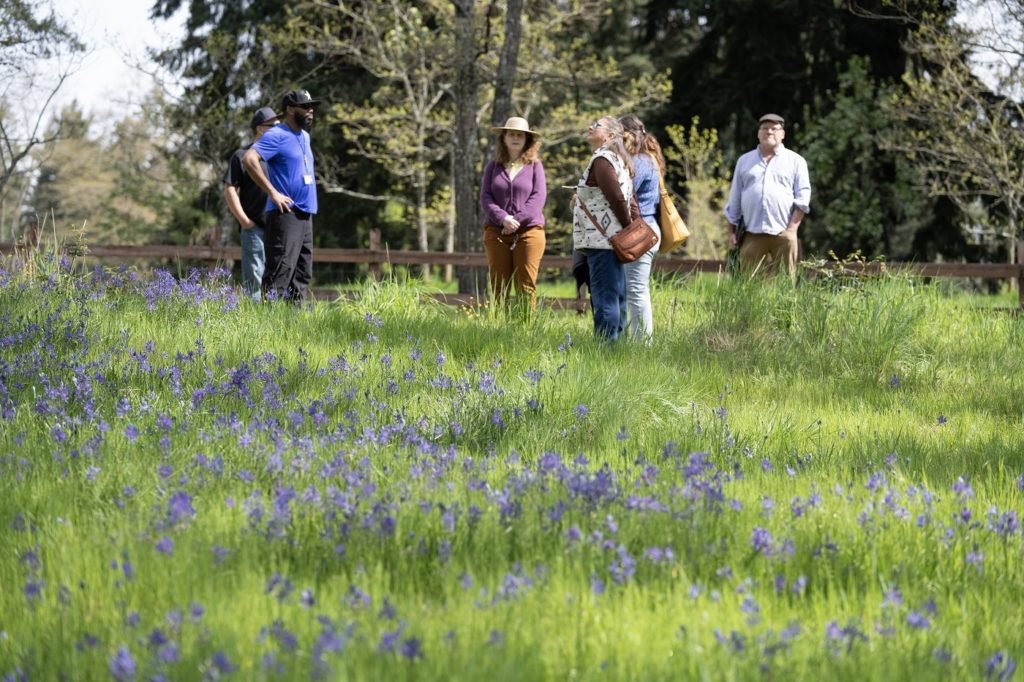 The city of Lakewood's Parks and Recreation Department hosted members of the Nisqually Tribe at Fort Steilacoom Park this week. The visit was part of a joint effort between the city and the tribe to add interpretive messaging and signs to the park to share tribal history with park visitors. Work continues on these efforts, which recently received funding from the state legislature.
A highlight of the walk around the 1.7-mile Nisqually Loop trail in the park was the blooming camas. For thousands of years, camas has been a valuable plant food source for tribal communities. It holds a place of significance for the tribe, similar to the importance of salmon, and is used for celebrations.
---
Sound Transit set to consider adding trips in South Sound
In a recent blog post Sound Transit announced it is embarking on an update of its Sounder South Strategic Plan. As part of this effort, the agency will consider whether potential additional trips should be prioritized over longer train rides.
This will include looking at whether to add new mid-day trips, evening trips or weekend trips. Any changes to frequency requires approval and negotiation with BNSF Railway, which owns most of the tracks the Sounder uses.
Learn more about Sound Transit's plans.
---
West Pierce Fire & Rescue to put Replacement Maintenance & Operations Levy on Aug. 1 Ballot
On May 2, 2023, the West Pierce Fire & Rescue Board of Fire Commissioners voted to place a measure on the Aug. 1 ballot to replace the existing four-year maintenance and operations levy, which expires at the end of this year.
The request is for $16.9 million dollars annually. If approved, this amount will be collected each year, starting in 2024 and going through 2027. This is not a new tax, but a replacement of a maintenance and operations levy the community has supported for nearly 50 years. This funding represents approximately 25% of the fire district's operating budget.
---
Off-leash dog park closure planned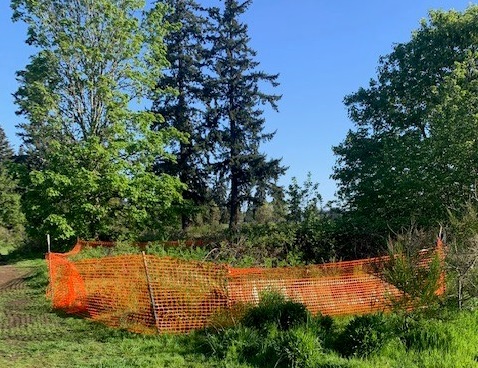 The Fort Steilacoom Park off-leash dog park will close Wednesday and Thursday (May 17-18) for the city's operations and maintenance crews to perform annual maintenance.
This includes mowing the 22-acre site, spraying noxious weeds and preparing it for the upcoming dry summer season to reduce fire hazard risks.
Part of the noxious weeds that will be sprayed include poison hemlock, which is an invasive species in the region. The city roped off the area where the hemlock grows to reduce animal interaction. The city has received no reports of any animals or humans getting sick from contact with this plant.
We appreciate the public's patience while we close the park for this annual upkeep, and encourage residents to use the many trails at Fort Steilacoom Park or visit our other parks with your dog on leash while this work is done.
---
West Pierce Fire & Rescue Youth Academy
The deadline to apply for the West Pierce Fire & Rescue's Youth Academy is Monday, May 15.
This year's academy will be held June 17-18 for students who want to see what a career in the fire service is all about.
This is a great way for students ages 14-18 to experience what it's like to be a firefighter. This two-day academy offers students the opportunity to learn about various disciplines within the fire service, while gaining hands-on experience.
There is no cost to attend and all equipment is supplied. Visit the West Pierce Fire & Rescue website for more details or to apply.
---
Join our Independent Salary Commission
Want your voice to be heard? There are five positions open on the Lakewood Independent Salary Commission, which decides the salaries for the Mayor and City Council.
For more information on what the commission does or requirements to volunteer, visit the commission website.
Interested in getting more involved in the city? Check out our boards and commissions website to find volunteer opportunities.
---
Work for the city of Lakewood
We're hiring! Looking to change careers? Looking for a new job? Ready to re-enter the job market?
Join the city of Lakewood! From maintenance workers, Information and Technology analysts, to financial analysts and police officers, we have a variety of positions open. Lakewood offers a competitive benefits package. We are part of the state retirement system (PERS). And the city is a beautiful place to work.
Find a current list of open positions online.
---
Road project updates
Washington Boulevard
The majority of the sidewalk between Vernon Avenue and Alameda Avenue is poured. Grading work continued this week between Alameda and Lake City Boulevard.
Utility crews are installing new phone lines at the intersection of Lake City Boulevard and Washington Boulevard and new storm drainage is being installed on Washington Boulevard between Lake City Boulevard and 83rd Avenue.
In the coming weeks construction crews will continue with installation of new storm water drainage systems, curbs, gutters, sidewalks, two more roundabouts, street lighting and pave the roadway once all other work is complete. The road will remain closed to through traffic during this work. Residents who live along the closure are granted local access.
Drivers can use Veterans Drive, Vernon Avenue and other outlets to get around the closure.
We know this has been a lengthy project that has disrupted the area and we appreciate everyone's patience as the work is done.
Steilacoom Boulevard
Daily lane closures begin Monday at 88th Street SW and Steilacoom Boulevard SW as the city's contractor begins streetlight and signal installation work. The lane closures are expected to last three weeks.
Drivers are encouraged to find alternate routes, as delays are expected due to the reduced traffic flow.
Work was paused on this project during the winter season because of supply chain delays. Electrical work begins first, followed by the setting of the new signal poles. The estimated time is six weeks for this work to be complete.