Thank you, veterans
Today is Veterans Day and the city of Lakewood extends its heartfelt thanks and gratitude to all veterans who served our country and sacrificed for our freedom.
At its meeting this week the Lakewood City Council honored our local veterans with the reading of a proclamation and a small ceremony that included the Lakes High School Choir and Clover Park High School JROTC.
---
Council Corner: Tree protections adopted
The Lakewood City Council took unanimous action Monday adopting an ordinance that protects some of the city's oldest and most significant trees. With its action Council:  
Stepped up protections for significant trees, including priority Oregon White Oak and woodlands, and establishment of a Heritage Tree Program.
Directed the establishment of an Urban Forestry Program.
Established incentives to encourage tree preservation across the city.
Required tree removal permits for properties 10,000 square feet or larger (previously properties smaller than 17,000 square feet were exempt).
In 2023, Council will add a goal to the city's Comprehensive Plan to increase overall tree canopy to 40% by 2050. Read More.
At its meeting Council also adopted a resolution making the Oregon White Oak (Garry Oak) the official tree of Lakewood. The resolution signifies the Council's support of the Oregon White Oak and its tie to Lakewood, where its species has adapted to the climate and geography, making it a prominent tree throughout the city. The Garry Oak joins the Camellia, which is the official city flower, as notable flora in Lakewood.
Council also showcased a piece of art on loan from local artist Susan Russell Hall. "The Magic Tree" depicts a Garry Oak, enhanced by pops of color.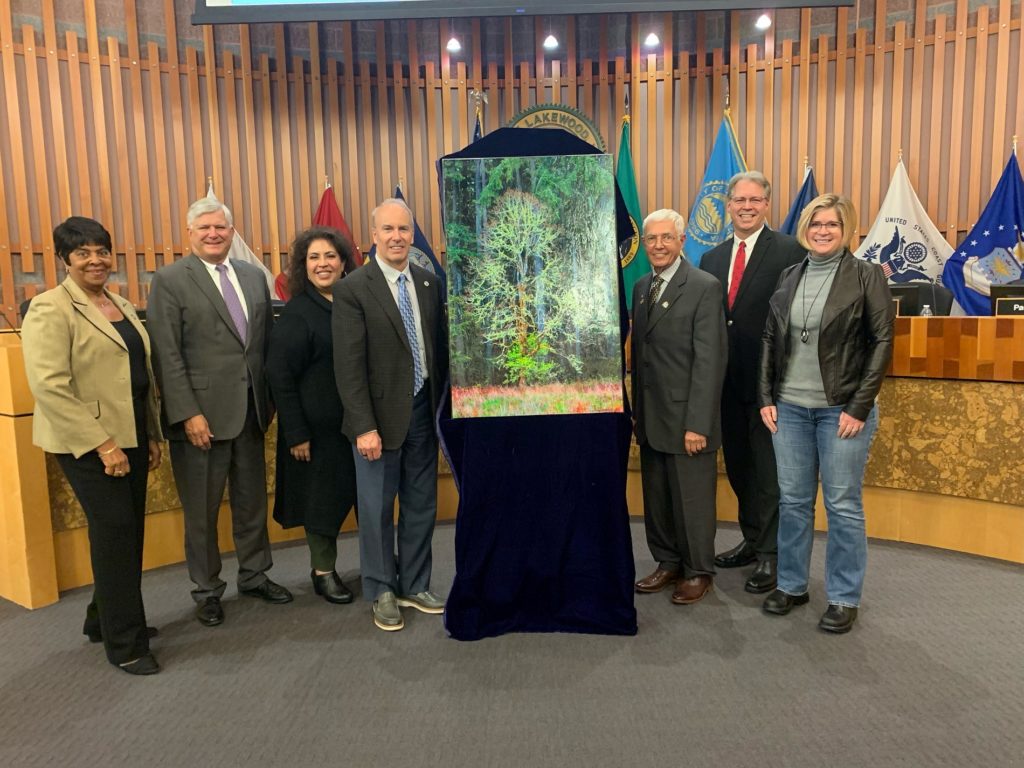 What's on Deck: The Lakewood City Council will meet Monday, Nov. 14, 2022 at 7 p.m. for a study session. Agenda items include:
Joint Community Services Advisory Board meeting
Review of 2023 Human Services funding recommendations
Review agreement with BERK Consulting for the 2024 Comprehensive Plan Periodic Review
Review of 2023 Lodging Tax funding recommendations
Review of 2023 Fee Schedule amendments
Review of 2022 Accounts Receivable write-off's
Review of Proposed 2023-2024 Biennial Budget
How to attend: Attend in person at Lakewood City Hall, 6000 Main Street SW; Join via Zoom (dial (253) 215-8782 and enter meeting ID: 868 7263 2373), or watch live on the city's YouTube channel.
---
Joint meeting with Pierce County Library System
The Lakewood City Council will hold a special meeting Nov. 17 at 6 p.m. with the Pierce County Library System Board of Trustees. The purpose of the meeting is to hear recommendations from a 12-member volunteer advisory committee about what to do with the library system's two Lakewood branch library buildings.
The committee reviewed reports and information related to both buildings to help it make its recommendations. Currently the library system's Wildaire Road library branch is closed. The Tillicum library branch remains open. Ultimately the library's Board of Trustees will determine how to proceed.
The public can attend the meeting in person in Council Chambers at Lakewood City Hall, 6000 Main Street SW, or virtually through Zoom. Dial 253-215-8782 and use meeting ID 868 7263 2373 to join by phone. The meeting will also be streamed live on the city's YouTube channel.
---
Boy Scout Troop 53 visits Council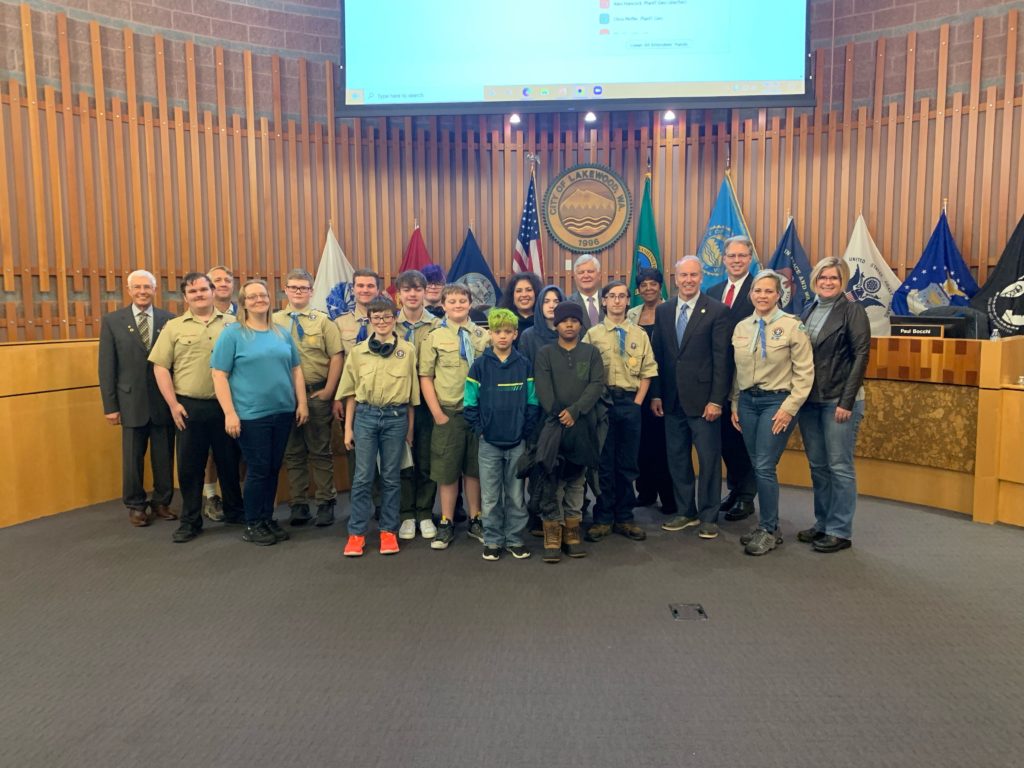 At its meeting Monday the Lakewood City Council was honored to be joined by Boy Scout Troop 53. Members of this troop were in the audience to earn their Merit Badge for civics and to see how local government operates. This troop is one of the oldest and longest-standing troops in Lakewood, dating back to well before cityhood.
Thank you, Troop 53, for your attendance at the meeting and learning about local government!
---
New program: #LoveLakewood Yoga at the Pavilion
Live your best life! The city of Lakewood is excited to announce a new program it is piloting at the Pavilion at Fort Steilacoom Park.
Starting Monday, Nov. 14, 2022 we will offer $5 yoga inside our beautiful Pavilion. Whether you are a first-timer to yoga or an experienced yogi, this event is meant for everyone. Our skilled instructor is ready adapt classes to meet every level.
Classes run Monday through Thursday from 4:15 to 5:15 p.m. and Saturdays, 10-11 a.m. We're also offering a second class Mondays, 5:30-6:30 p.m. that will run through the end of this year.
The first 100 people to be a "first time yogi" will get a free #LoveLakewood t-shirt.
Initial class schedule:
Mondays: 4:15-5:15 p.m. Gentle Yoga, 5:30-6:30 p.m. Vinyasa, all levels (Monday Vinyasa class offered on a trial basis until end of the year)
Tuesdays: 4:15-5:15 p.m. Vinyasa, all levels
Wednesdays: 4:15-5:15 p.m. Yin Yang
Thursdays: 4:15-5:15 p.m. Gentle Yoga
Saturdays: 10-11 a.m. Vinyasa, all levels
Find out more, including a link to pre-register online.
---
Holiday Parade of Light entries due by Nov. 28
Lakewood's annual Holiday Parade of Lights and annual Christmas Tree Lighting ceremony return to Lakewood Towne Center this December, and we need you to join the parade!
We are accepting applications now for those who want to be part of the fun. Sign up your business, organization, youth group or team and gain great visibility in front of the roughly 7,000 people that line the route specifically to see the floats and displays as they make their way to Lakewood City Hall.
Awards will be given for floats/displays in the categories of "Most Original", "Most Spirited", and "Best Overall Appearance". Applications are due by Nov. 28.
This year's event is Saturday, Dec. 10 from 4:30 to 5:30 p.m. The parade ends at Lakewood City Hall in time for the countdown to light the city Christmas tree.
Interested? Fill out at a parade application today.
---
Save the date: 7@CityHall artist reception
Join the city of Lakewood in celebrating seven local Latino artists whose artwork in currently on display in Lakewood City Hall.
We'll host an artist reception Dec. 5, 2022 from 5-7 p.m. The artist will join us to share their work and talk with guests. Light refreshments will be served. The artwork will be on display in the City Hall foyer and front hall, as well as in the Council office. The public is invited to visit City Hall during operating hours, 8:30 a.m. to 5 p.m. to view the pieces.
---
Now accepting applications for 'City Days' at the McGavick Conference Center
The city of Lakewood is accepting applications for the use of a 2023 City Day at the McGavick Conference Center. Please read the policy and application materials for more information. Applications are due no later than Wednesday, Nov. 30, 2022, and applicants will be notified as to the approval or denial of the application by Friday, Dec. 16, 2022.
Complete applications can be emailed directly to City Clerk Briana Schumacher (preferred) or delivered via mail to Lakewood City Hall, Attn: City Clerk, 6000 Main Street SW Lakewood, WA 98499.
If you have any questions regarding the application or approval process, please contact City Clerk Briana Schumacher at 253-983-7705 or [email protected].
---
Access library services in Lakewood
From book talks for adults and tech help, to family story time for all ages, the Pierce County Library System offers pop-up libraries and other services to the community, despite the closure of its downtown library branch building. Some programs are at the Tillicum Community Center, while others are at Lakewood City Hall. The Library System encourages people to visit nearby DuPont, Steilacoom, Tillicum and University Place libraries for access to books and programs.

Visit lakewoodlib.pcls.us for up-to-date info on services and locations. Sign up to receive Lakewood and Tillicum building updates.
---
Road project updates
JBLM-North Access Improvement
The city's contractor is still scheduled to pave Washington Boulevard between Edgewood and Vernon avenues Nov. 21-22, depending on weather (no heavy rains and temperatures above 35 degrees). If paving occurs as planned, the intersection of Washington Boulevard and Edgewood Avenue will open by end of day Nov. 22. Washington Boulevard will be open for the Thanksgiving holiday weekend. Following Thanksgiving, the intersection of Washington Boulevard and Vernon Avenue will close the morning of Nov. 28, 2022 and work on this intersection will begin.
Steilacoom Blvd, Weller to Custer
Work will begin next week to prepare for installation of the sound wall. Sidewalk construction will stop on this project for the winter. During this down time the contractor is expected to continue working on the wall installation on the south side of Steilacoom Boulevard between Phillips and Weller roads so the project is ready when the poles are delivered.
---
Upcoming city events
Nov. 14, 4:15 p.m.: Soft launch of theLove Lakewood Yoga at the Pavilion at Fort Steilacoom Park, 9107 Angle Lane SW.
Dec. 5, 2022, 5-7 p.m.: 7@Lakewood City Hall artist reception to meet and view artwork from seven local artists at Lakewood City Hall, 6000 Main Street SW. Light refreshments provided.
Dec. 10, 4:30-5:30 p.m.: Lakewood Holiday Parade of Lights & Christmas Tree Lighting, downtown Lakewood and Lakewood City Hall, 6000 Main Street SW.