Oct. 17, 2023
Lakewood Police Chief Patrick D. Smith recognized Lakewood police officers and administrative staff at the start of the Lakewood City Council meeting Monday, Oct. 16, 2023.
The recognition included Police Chief's Commendations, Medal of Meritorious Service, Distinguished Service Medal and Life Saving Award.
Police Chief's Commendation: Officer Stephen Moffitt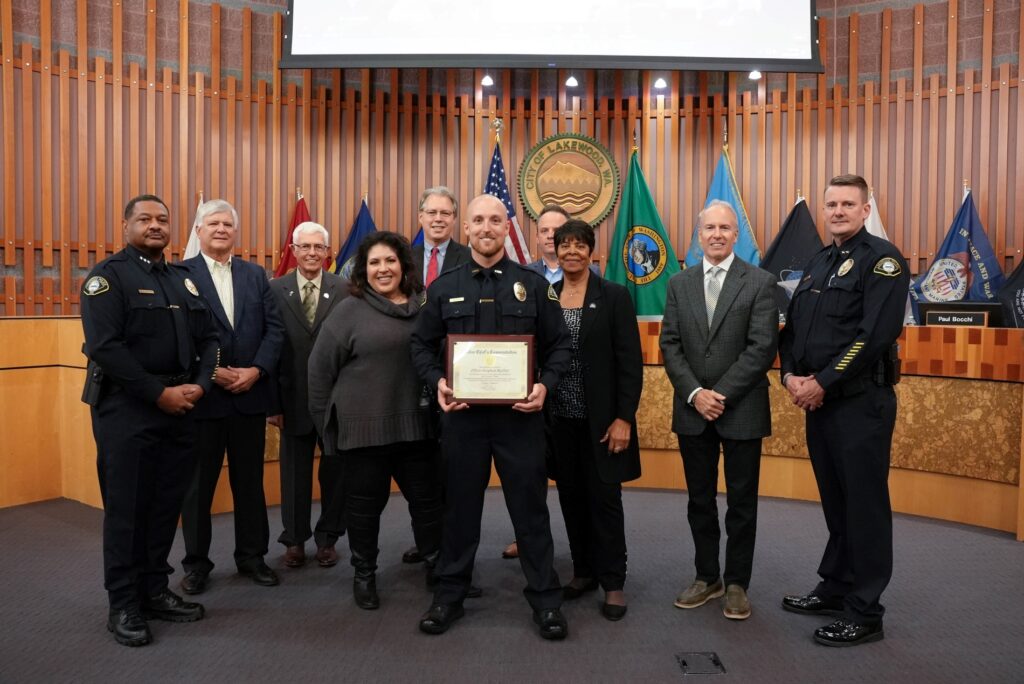 Officer Stephen Moffitt was recognized for his professional performance when making a traffic stop. The person stopped had a felony warrant. Moffitt arrested them for the warrant. As part of the arrest the felon gave him permission to search the car. The search uncovered:
15,000 fentanyl pills
Five pounds of methamphetamine
Two pounds of fentanyl powder
3/4 pounds of powder cocaine
Paraphernalia consistent with street-level distribution of narcotics.
Officer Moffitt's proactive police work led to the capture of a dangerous mid-level drug dealer. It resulted in the seizure of a large quantity of narcotics. These drugs would have likely ended up on the streets in Lakewood and surrounding Pierce County if Moffitt had not pulled over and arrested the felon.
For this, Officer Stephen Moffitt was awarded the Police Chief's Commendation.
---
Police Chief's Commendation: Administrative Technician Svea Pitts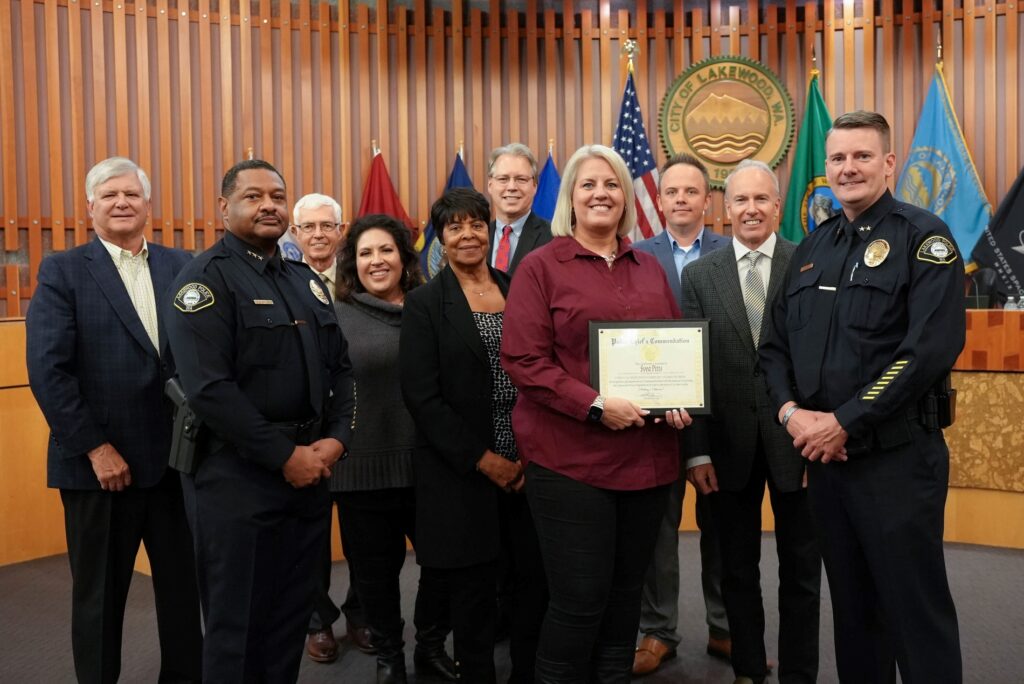 Svea Pitts is an integral member of the Lakewood Police Department's Professional Standards Section. She administratively manages all personnel moves, training requests, travel arrangements, as well as clerical support for internal and background investigations and administrative use of force and pursuit reviews. She maintains all official department files and assists with public disclosure requests, transcription, and other duties as assigned.
Pitts does an exemplary job balancing all of these tasks, often under tight deadlines. Many of are confidential and technical in nature. Pitts' willingness to set aside what she is doing to help another department member makes her an invaluable team member. Her work directly contributes to the overall effectiveness of the LPD team.
For her highly professional performance, Svea Pitts was awarded the Police Chief's Commendation.
---
Police Chief's Commendation: Sgt. Charles Porche, Officer Mike McGettigan, Officer Jeremy Vahle, Officer. Josh Northcutt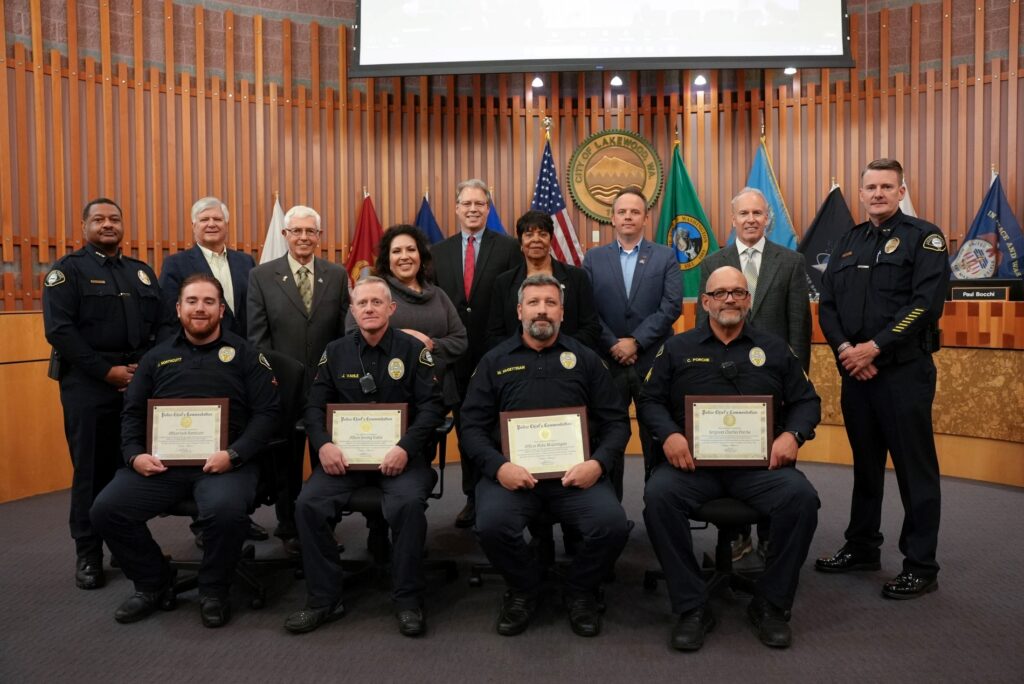 Serious injury and fatality collisions are some of the most complex and time consuming investigations an officer can participate in. These incidents are traumatic, involve long hours and can take years to resolve. In the past few months, the Traffic Unit has investigated two collisions with multiple fatalities.
In the first incident, two vehicles involved in a road rage incident speed across the city's residential streets at more than 70 miles per hour and hit another car. Three people were killed. Several others injured. Two people were charged with vehicular homicide.
The second incident left a woman and young child dead after a speeding cargo van hit a car carrying the woman and child and two other family members. The driver of the van, suspected to be under the influence of illegal narcotics, was arrested and charged with vehicular homicide.
Along with these tragedies in Lakewood, members of the Traffic Unit responded this year to assist partner cities with fatality and serious injury collisions. They also assist the Lakewood Criminal Investigations Unit and Pierce County Force Investigation Team with crime scene investigations.
For their highly professional performance, Sgt. Charles Porche, Officer Mike McGettigan, Officer Jeremy Vahle, and Officer Josh Northcutt were awarded the Police Chief's Commendation.
---
Medal of Meritorious Service: Code Enforcement Officer Bill Mathies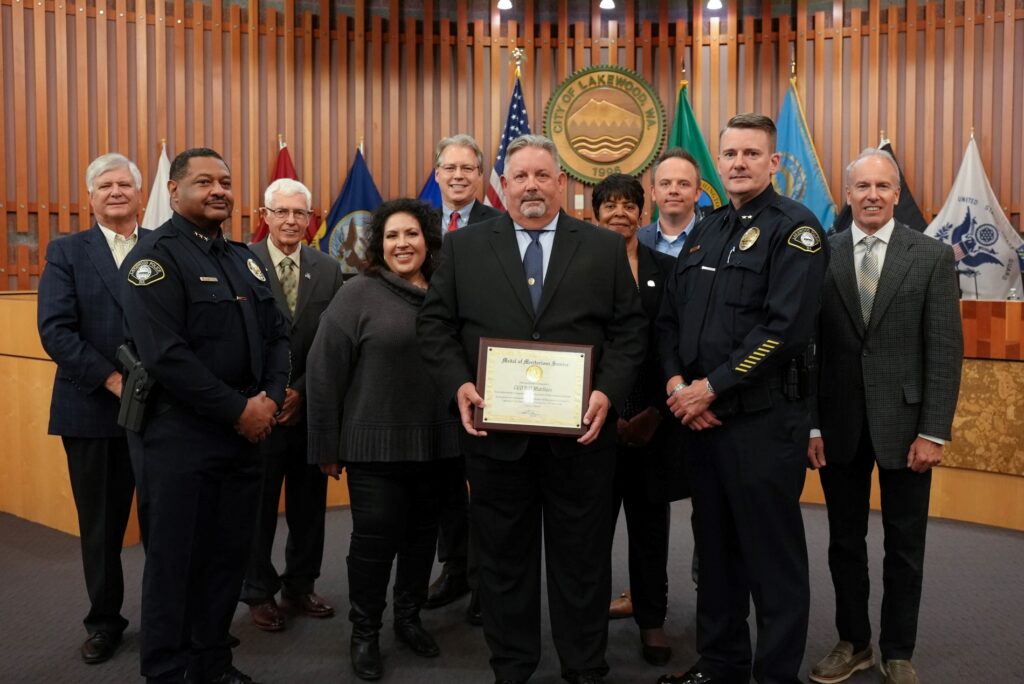 This spring an armed robbery/carjacking at gun point occurred in the City of Lakewood. Code Enforcement Officer Bill Mathies was on-duty nearby. The carjacking suspect vehicle drove past him, nearly hitting his city vehicle. Mathies was able to observe a partial plate and radio this information, along with direction of travel, to responding Lakewood police officers. Mathies, an unarmed employee, continued to provide location information and a clothing description of one of the suspects who fled from the vehicle on foot. Mathies was then able to point officers to the suspect vehicle. Officers eventually captured all suspects.
Mathies' calm tone on the radio, in conjunction with providing succinct, accurate information was instrumental in the apprehension of multiple suspects from this violent crime. During this tense encounter in the field, Mathies maintained great composure and performed exceptionally well, in a capacity outside his normal job duties.
For his exceptional performance above and beyond the call of duty, Code Enforcement Officer Bill Mathies was awarded the Medal of Meritorious Service.
---
Distinguished Service Medal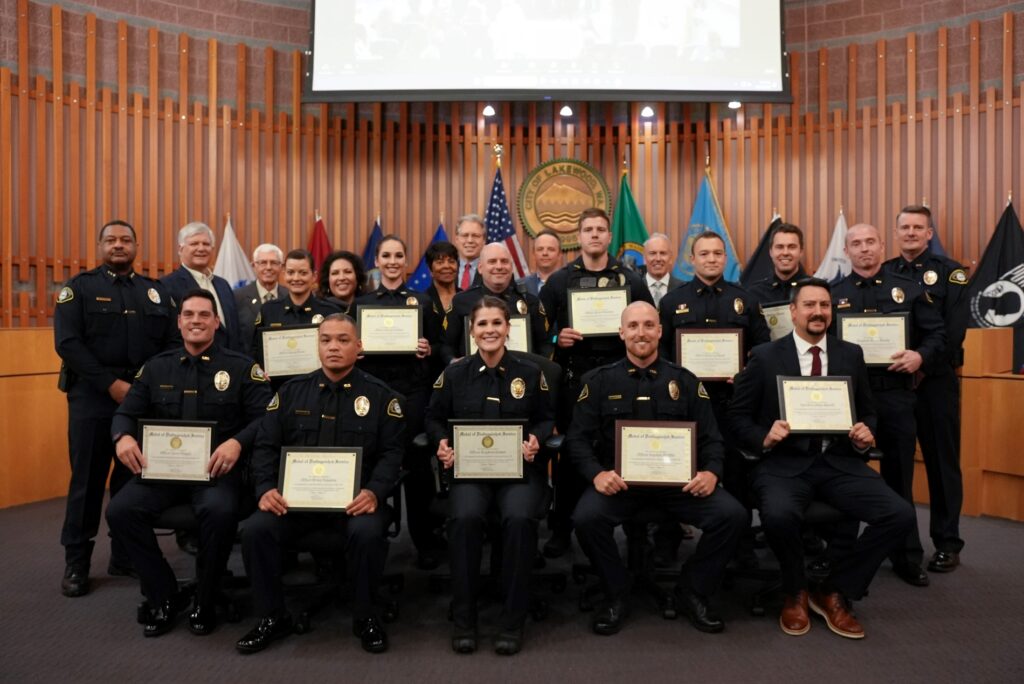 The following Lakewood police personnel were recognized with the distinguish service medal:
Sgt. Ryan Moody
Sgt. Ken Devaney
Det. Mike Merrill
Stephen Moffitt
Kaybree Eames
Brian Topasna
Jared Pingul
Kasey Bentz
Brian Luttrull
Natalie Zeiber
Jacob Veenker
Jeremy Keisler
Quinn Rawson
Anthony Bucat
Life Saving Award: Officer Jack Johnson
These officers received the respective Distinguished Service and Life Saving recognition for their response to an apartment building where shots were fired and an explosion was heard.
When the first officers arrived, they could still hear shots being fired as residents were fleeing the building. One of the residents was carrying an infant bleeding from a head wound. Officer Jack Johnson immediately began rendering aid to the infant.
Officers Pingul, Bentz and Moffitt formed a team and entered the building to confront the shooter. Officers Luttrull, Eames, Topasna and Sgt. Devaney arrived soon after and also entered the building. Officers Keisler, Zeiber, Veenker, Rawson, Bucat, and Investigator Merrill also formed teams and entered the building.
Once inside the building, officers noticed shell casings on the ground and the smell of gun fire but did not see a suspect. They systematically cleared the 20-unit apartment building looking for the suspect believed to be carrying an assault rifle.
This rapidly evolving scenario exposed the responding officers to danger and stress. The officers involved demonstrated bravery, teamwork and discipline while responding.
For their exceptional performance above and beyond the call of duty, involving significant risk to their life, they were awarded the Distinguished Service Medal.
For his actions rendering potentially life-saving medical aid, Officer Jack Johnson received the Lifesaving Award.