Lakewood small businesses have had to adapt, then adapt some more, as COVID-19 drags on. The latest challenge is the cost and availability of critical supplies as supply chain woes continue.
The supply chain slowdown is a global issue, but it still has acute effects on businesses here in Lakewood.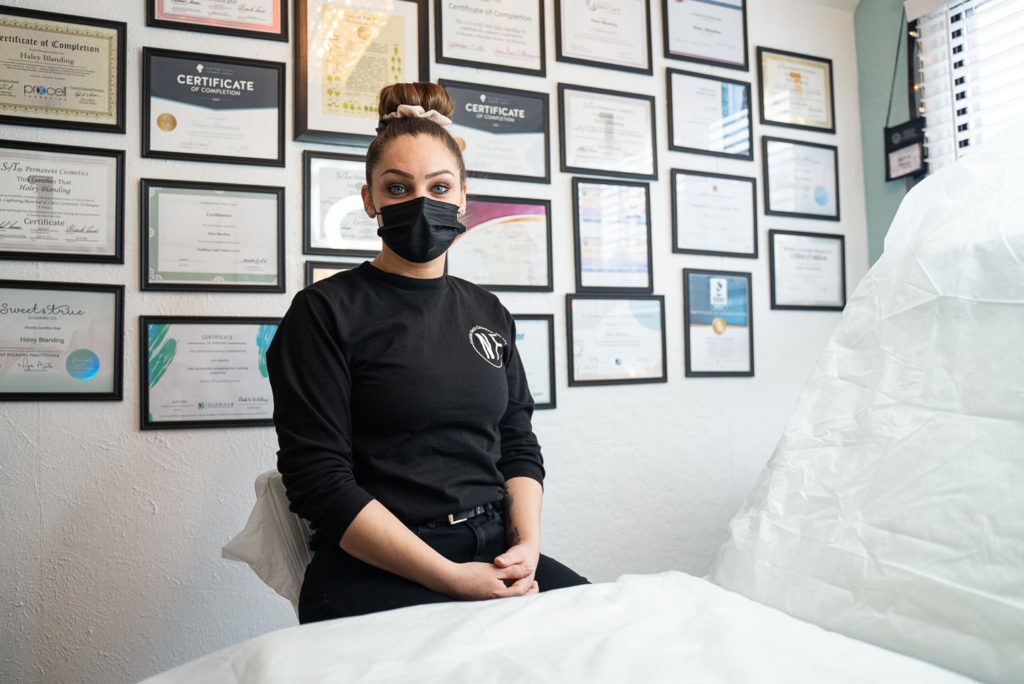 Haley Blanding owns Naked Face Cosmetic Spa, a business in the Clover Park Shops plaza along Gravelly Lake Drive. Her business offers a variety of cosmetic services and procedures for clients of all skin types, colors, and conditions.
"Our goal is to help clients achieve their goals and repair self-esteem. We're a team of women that wants to help others feel empowered through their skin."
Haley Blanding, Owner of Naked Face Cosmetic Spa LLC
Haley is a military veteran and a former MOS 13R Field Artillery Radio Operator. A service injury caused her to contemplate a career beyond the military, then a cosmetic procedure positively influenced her life and self-image.
"Basically, I had no eyebrows. I always wanted to do something about that, so I had them tattoed. It was such a positive experience – I didn't need makeup anymore and I felt so much more confident. I knew that I wanted to help others feel that way."
Haley wasted no time preparing for a new career, earning 50 certifications in the 3 years since. 35 of her certifications pertain to tattooing and removal, and 15 pertain to other aesthetic specialties.
Haley and six others share a small 350 square-foot office space with two patient rooms and a small lobby. The team offers 85 cosmetic services and continues to pile up new certifications in dermaplaning, microchanneling, radio frequency therapy, and other popular procedures.
Haley started the business just a year before the pandemic hit.
"Just when we were starting to turn a profit, the pandemic came in. We had to change a lot of things up and now we're finding that isolation gowns, gloves, and wipes are scarce or incredibly expensive."
Haley has also noted quality deficiencies in some important supplies. Sky-high demand has manufacturers working at breakneck pace; Haley has felt the need to more closely inspect her supplies to ensure quality.
What Supply Chain Issues are Other Lakewood Businesses Experiencing?
"Eggs. We can't find eggs! We offer sandwiches and other egg products at our coffee shop, and we've had to switch suppliers and really stay on top of our supply. On the car wash side, we've responded to shortages of protectants, sealants, silicones, and other products. We have good relationships with suppliers that have helped us find alternatives and keep working."
Corey Campbell, Owner of Classy Chassis
"Cups. We ran out of 24 oz. cups for a while and we keep having to hunt for more. For a while, we just had to make do and give customers smaller cups. That's just one way we've seen supply chain issues haunt us. It's something everyone is dealing with."
Carrie Stalder, Owner of Manic Meatballs