October 27, 2020
Last night, Police Chief Mike Zaro provided the Lakewood City Council with a Third Quarter Police Report. The whole report can be viewed here:
Materials presented by Chief Zaro can be found here.
Third quarter of 2020 showed continued declines across a number of the areas in which the Lakewood Police Department tracks crime, including declines in person crimes, society crimes and overall crime compared to previous years through the third quarter.
The City recorded an uptick in total crime in the 3rd quarter compared to the first two quarters of 2020.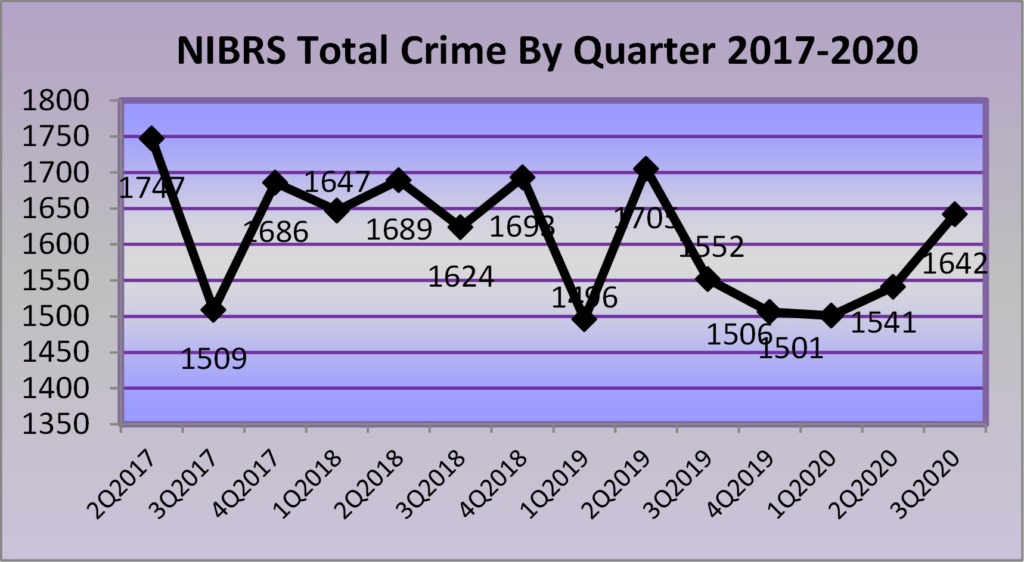 However, the total crime rate for the first three quarters of 2020 is still significantly lower than in past years. Through the first three quarters of 2020, the City had a total of 4684 crimes compared to 4753 in 2019 and 4960 in 2018 for the same period of time. This equates to decreases of 4% and 5.6%, respectively.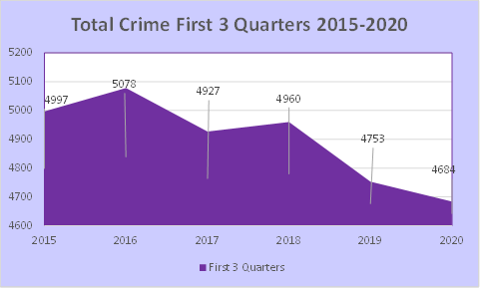 Chief Zaro outlined that the increase in total crime in the third quarter was in large part attributable to the spike in property crime which largely rose due to an increase in vehicle thefts and vandalism.
On the topic of vehicle thefts Chief Zaro noted that the Puget Sound Auto Theft Task Force arrested five individuals in the third quarter that accounted for at least 80 vehicle thefts along the I-5 and State Route 512 corridors during this period of time. One of the suspects arrested is likely responsible for over 250 vehicle thefts in the past 18 months in multiple jurisdictions.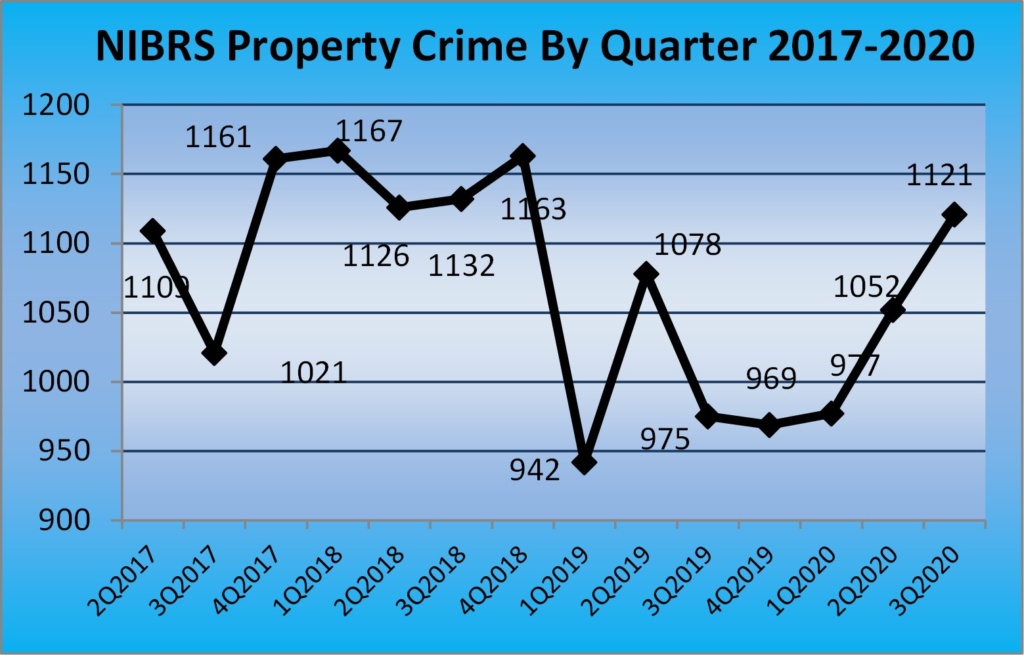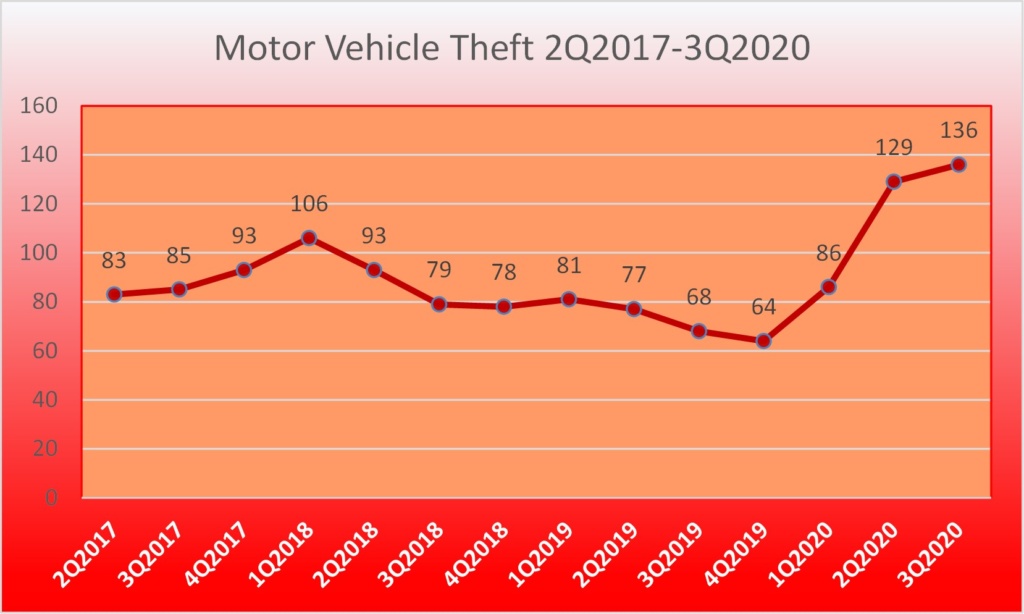 Chief Zaro also noted how COVID-19 restrictions on jail booking are likely helping to increase property crime rates in Lakewood. Currently, most individuals apprehended for property crimes are not booked into local jails due to COVID-19 restrictions.
In his report Chief Zaro highlighted the reduction in aggregated assault (-24%) and the decrease in persons crimes overall.
While crime statistics fluctuate due to varying factors, the long-term trend in Lakewood is that overall crime continues to be on the decline due in large part to the efforts of the Lakewood Police Department and the partnerships they've built with our community.
A tremendous amount of good police work is going on and it is reflected in some of the charts you are seeing and in the crime rates we are seeing. As we look historically, we certainly are going in the right direction."

Chief Mike Zaro on police work in Lakewood
---
In addition to providing this update, Chief Zaro also presented Police Chief Commendation Awards to several Lakewood Police Officers at this meeting.
Sargent Pete Johnson, Office Melody Wright, and Officer Jared Pingul received the Lifesaving Award for protecting a gunshot victim and rendering lifesaving medical attention to him this past June.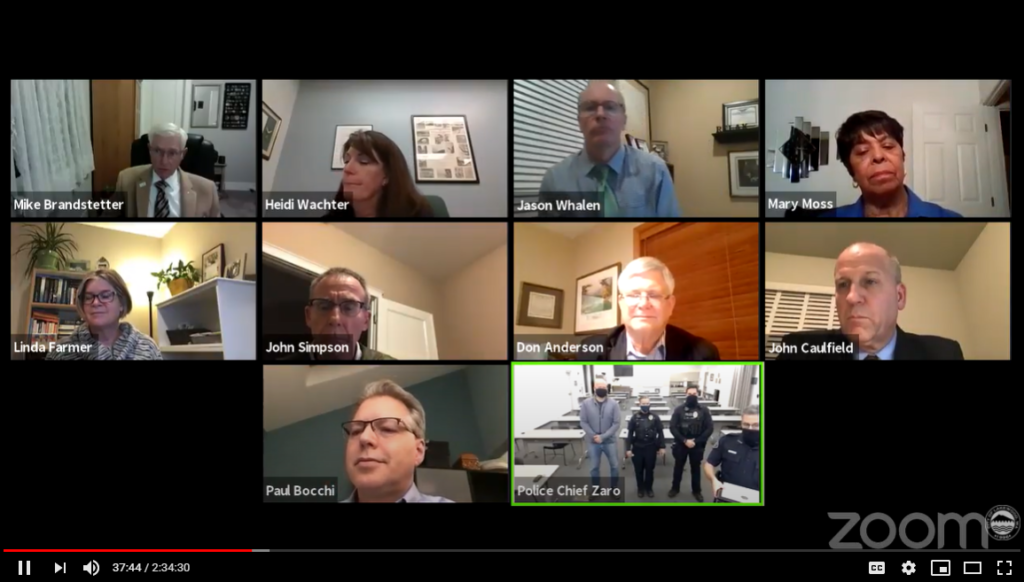 Officer Vince Sivankeo, Officer Jacob Veenker, and Reserve Officer Travis Smith received the Medal of Distinguished Service for responding to an apartment fire in Springbrook. While the fire raged on the officers got people to safety and coordinated additional resources to the location. Officer Sicvankeo received the Police Chief Commendation Award for supervising the prompt and heroic response incident.