To: Mayor, City Council
From: John J. Caulfield, City Manager
Work begins Monday on Lakewood's Veterans Drive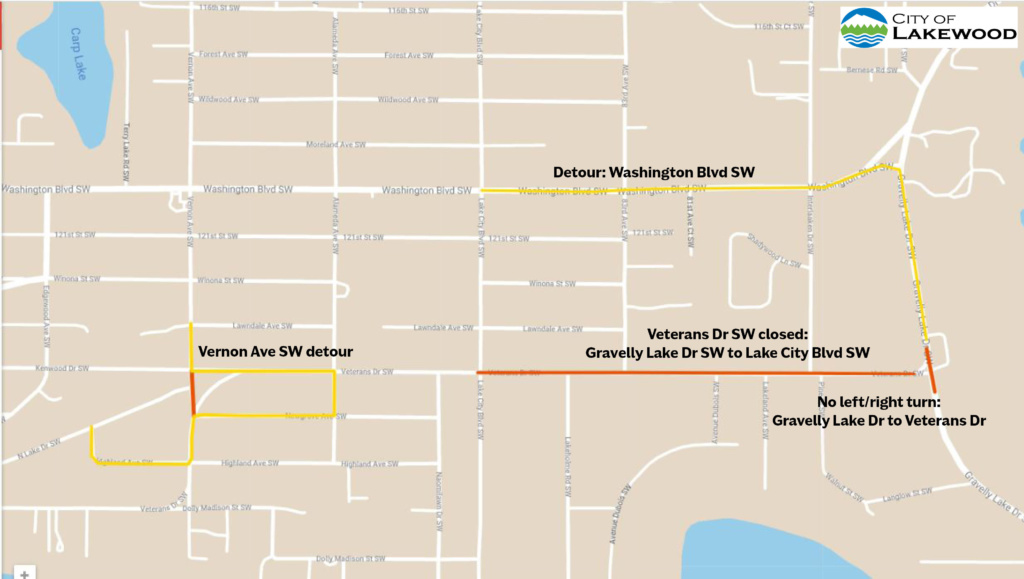 Work begins Monday, May 18, 2020 on Veterans Drive to prepare the roadway for planned improvements.
The city's contractor Miles Resources Inc. will spend Monday bringing in its equipment. By Tuesday crews will begin removing trees.
Roughly 13 trees that are 12 inches in diameter or larger will be removed from the public right-of-way, along with a few laurel hedges that encroach into the public right-of-way. The clearing areas were staked roughly three weeks ago adjacent to the properties that would be impacted. This was done so residents could see where the clearing would take place and help them prepare for the change.
While the trees are removed the contractor will use intermittent lane closures for public safety. Drivers should plan accordingly and give themselves extra time.
Once the trees and hedges are cleared the contractor will begin work on Veterans between its intersection with Gravelly Lake Drive and Lake City Boulevard. This will require road closures; only local access will be granted.
A marked detour will be in place to reroute vehicles. (See map).
Part of this project includes the removal of 30 ornamental trees from the American Lake Park parking lot area.
Through this project, the city will reconstruct the road and add curb, gutter, sidewalk, bike facilities, street lighting and storm drainage.
Contact project manager is Eric Swanstrom at 253-983-7751 with questions, or for more information.
Read more about the project on the Veterans Drive road improvements webpage.
---
Crime in Lakewood continues downward trend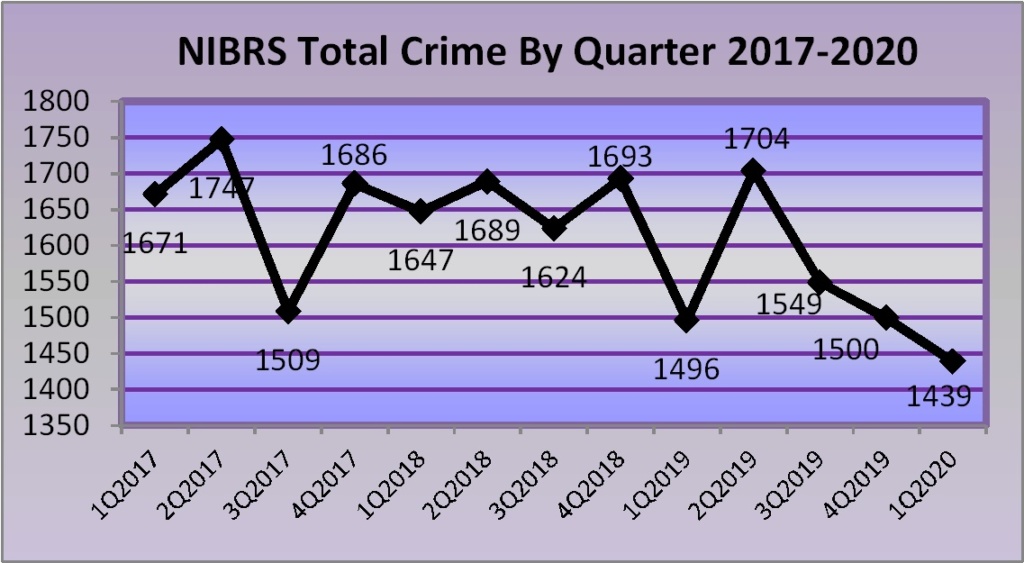 At the end of the first quarter of this year crime was down 3.8 percent. In 2019 the city's overall crime rate dropped just over 7 percent.
First quarter of 2020 showed continued declines across a number of the areas in which the Lakewood Police Department tracks crime, including declines in property crimes, person crimes and overall crime.
Specific to property crimes and the city's overall crime rate, each had boasted the lowest quarter recorded in five years.
Person crimes were down 10.6 percent from the first quarter in 2019, marking the second lowest first quarter recording the department has seen in three years.
---
Lakewood Landing: Opportunity for redevelopment
At its virtual study session May 11, 2020 the Lakewood City Council received an update from Economic Development Manager Becky Newton on the progress of Lakewood Landing, a redevelopment effort planned for Lakewood's Station District.
Located on Pacific Highway between its intersection with state Route 512 and Bridgeport Way SW, Lakewood Landing comprises 30 acres. The city's vision for this property is to create a mixed-use development, rich in amenities for residents, businesses and the surrounding neighborhoods.
A fiscal benefits analysis and market analysis show great potential for the site.
Currently the state Department of Transportation owns property within the developable area for its maintenance facility. The city and state reached an agreement to sell the property and relocate the facility elsewhere in the city.
With this key piece of property now available for redevelopment, the city is moving forward with recruiting a developer to bring its vision for this corridor to life. That includes creating a project that enhances the commercial district and contributes to the social, environmental and economic health of the community, setting the bar for new development in Lakewood.
---
Lakewood City Council thanks Lakewood Police
This week the Lakewood City Council formally marked its appreciation for the members of the Lakewood Police Department with a proclamation acknowledging their continued commitment to keeping our community safe. This was done in concert with National Police Week.
This year especially the council extends its thanks to the men and women of the department who are facing an additional risk due to COVID-19, which has dramatically impacted how they interact with the public and has presented new challenges never faced before.
More than 21,000 law enforcement officers across the country have been killed in the line of duty, including four members of the Lakewood Police Department in 2009.
The names of these dedicated public servants are engraved on the walls of the National Law Enforcement Officers Memorial in Washington, D.C., including our Lakewood Four: Sgt. Mark Renninger and officers Tina Griswold, Greg Richards and Ronald Owens.
Despite being unable to attend the monument in person this year due to COVID-19, members of the department will always remember the Lakewood Four and the ultimate sacrifice they gave.
The City Council publicly salutes the service of law enforcement officers in our community and in the communities across the nation and thanks them for their continued sacrifice to help keep us all safe.
---
Congrats Lakewood Youth Council member Joo Gyeong Kim
Lakewood Youth Council member Joo Gyeong Kim was recently selected by the Association of Washington Cities as one of six outstanding high school seniors to receive a $1,500 AWC Center for Quality Communities scholarship.
From AWC: Joo Gyeong Kim, has overcome many obstacles since her family immigrated to the U.S. from Korea to pursue better educational and academic opportunities. After facing many hardships, including racism and discrimination, she gradually gained confidence and realized her dream of student leadership when she was elected ASB Senior Class President.
Joo Gyeong's own challenges inspired her to form a college prep support group at school, to help other disadvantaged students pursue their educational and career goals. Joo Gyeong serves as a member of the Lakewood City Youth Council and played a key role in planning the second annual Lakewood Youth Empowerment Summit. Joo Gyeong's career goals include working in the nonprofit arena to help low-income students pursue higher education and working in policy development to improve college affordability.
These scholarships are funded by donations made by city and community members during last year's AWC's Quality Communities Luncheon. Thank you to all who donated and to the 45 cities that nominated students. Learn more about the winners.
---
Lakewood Senior Activity Center Cardio Dance online
Even though the Lakewood Senior Activity Center remains closed due to Gov. Jay Inslee's Stay Home, Stay Healthy proclamation, center staff want members to know they are thinking of them.
In an effort to help stay connected the center is posting three of its exercise classes online for people to use to help stay healthy while at home.
The first class is Cardio Dance with Fay. It is shared on the city's YouTube Channel and can be done from the comfort of your home. Remember to take breaks as you need them and have plenty of water nearby.
We can't wait until we can open the center up again and see all your smiling faces, but until then we hope everyone is staying active and connecting with friends and loved ones remotely.
---
City Council May 18 virtual meeting preview
At its May 18 virtual regular meeting the Lakewood City Council is scheduled to adopt a number of contracts for upcoming work including:
$2.2 million to Quigg Bros. Inc. for the Harry Todd Waterfront Renovation project.
$1.1 million to Tucci and Sons, Inc. for the Fort Steilacoom Park Angle Lane South project.
$281,029 to Doolittle Construction, LLC for the 2020 Chip Seal program.
$207,866 to Asphalt Patch Systems, Inc. for the 2020 Roadway Patching project.
$237,690 to Transportation Systems, Inc. for the 2019 CDBG Streetlight project.
Two public hearings are also planned:
FY 2020 CDBG Annual Action Plan and Five-Year Consolidated Action Plan; and
A Small Cell Wireless Franchise Agreement with New Cingular Wireless (ATT&T).
To comment on the public hearing, people can email City Clerk Briana Schumacher at [email protected]. Emails received up to one hour before the meeting will be provided to the City Council electronically. Comments received after that deadline will be provided to the City Council after the meeting.
At the meeting the council is also set to adopt the 2020 Park Legacy Plan, which will serve as the planning document for the city's parks over the next six years.
The council will also ultimately decide on how to disburse federal CARES Act monies to local businesses impacted by COVID-19.
Due to the stay home order, the Lakewood City Council is holding its meetings virtually so that the city can continue to conduct necessary business. Under the order in-person attendance by members of the public is NOT permitted at this time.
Residents can virtually attend City Council meetings by watching them live on the city's YouTube channel starting at 7 p.m.: https://www.youtube.com/user/cityoflakewoodwa
Those who do not have access to YouTube can call in by telephone via Zoom: Dial +1 (253) 215- 8782 and enter participant ID: 151-082-920.
City Council meeting agenda and materials can be found here.
---
Planning Commission meets virtually May 20
At its May 20 meeting the Lakewood Planning Commission will hold two public hearings, one on potential amendments to the Downtown Subarea Plan, Planned Action Ordinance and Hybrid Form-Based Code (codified at LMC Title 18B) and a second hearing on the annual development regulation amendments. (View the annual development regulation amendments.)
Public testimony for public hearings are currently only being accepted via mail or email at this time.  Email is strongly encouraged. Comments should be sent to Karen Devereaux, Commission Clerk, at [email protected]. Comments received up to six hours before the meeting will be provided to the Planning Commission electronically. Comments received after that deadline will be provided to the commission after the meeting. 
The commission continues to hold its regularly scheduled meetings to ensure essential city functions continue. Due to the extension of the Stay Home, Stay Healthy order the commission will continue to operate in a virtual setting.
Residents can virtually attend Planning Commission meetings by watching them on the city's YouTube channel.
Those who do not have access to YouTube can call in to listen by telephone via Zoom: Dial +1(253) 215- 8782 and enter participant ID: 886-9816-3817.
For further information, contact Tiffany Speir, Long Range & Strategic Planning Manager (253) 983-7702; [email protected].
---
Transportation updates
The city's contractors working on road improvement projects on Onyx Drive and Steilacoom Boulevard continue with their work, which could impact travel for those accessing essential services.
Both road improvement projects are allowed under Gov. Jay Inslee's Stay Home, Stay Healthy order.
Steilacoom Boulevard
This week the crew prepared the road for curb installation around Phillips Road and down the hill toward Edgewater Drive. Traffic was impacted as this work required single lane closures of Steilacoom Boulevard at the intersection with Phillips Road.
Backups are likely to continue as the lane closures will remain in place for the next week to week and a half to complete the curb installation and to install new pipes between Weller and Phillips roads. The contractor hopes to complete the remainder of its concrete work by the end of next week, weather permitting.
This project completes storm drainage improvements and add curbs. A future project will widen Steilacoom Blvd./88th St. between Weller Rd. and Custer Rd. for the eventual inclusion of bike facilities and 5-foot wide concrete sidewalks, street lighting, a traffic signal upgrade, along with bridge modifications to Chambers Creek Bridge and pavement rehabilitation and overlay.
Onyx Drive
Active Construction will continue with storm installation and sidewalk subgrade preparation west of 87th Avenue, and will begin sidewalk subgrade preparation east of Garnet Lane next week.
Utility companies will continue to relocate infrastructure west of 87th Avenue. This work will take approximately three to four weeks and will require planned outages. The utilities will provide notification of the outages to customers.
Read more about the Onyx Drive project and see overhead shots of the project on the project website.
---
Notice of Vacancy: Planning Commission
The city of Lakewood is accepting applications to fill one vacancy on its Planning Commission. The vacancy will fill an unexpired term through December 15, 2021. Applications can be found here or by contacting the City Clerk at 253-983-7705.
---
Census 2020: Be counted
The Census Bureau resumed field operations in Washington this week. That means census workers resumed delivering invitations and questionnaires to households that did not receive them when all field operations were suspended in March as a result of COVID-19.
This operation will affect about 5 percent of the households in the state – primarily more rural areas and households with PO boxes that do not receive mail at a physical address.
This work does not require any interaction with the public – census workers will not ring doorbells or collect census information. All they will do is leave a packet with a questionnaire and instructions about how to respond at the front door. For information about how to identify a census worker, click here. They will also wear appropriate protective gear as needed.
Once people receive their invitation, they are asked to respond as soon as possible; each household should use the 12-digit code included with their census invitation for quicker processing.
There are three ways that people can respond to the census:
Respond online at www.2020census.gov.
Call a toll-free number (4 a.m. to 11 p.m. PT)

English, 844.330.2020
Spanish, 844.468.2020
Other languages available, please contact me for information

Return by Mail
At the end of last week Lakewood had a 58.6 percent response rate, ranking us 126th out of the 281 cities in the state. Pierce County has a 63.5 percent response rate and the state's rate is 63.4 percent. The national response rate is 58 percent.
We want to step up our community response rate to the 2020 census, and we can only do that with your help so please complete the census today!
---
Scenes from Fort Steilacoom Park
Check out the latest photos from Fort Steilacoom Park on the city's Parks and Recreation Facebook page.
A visit to the park Monday found people being active, while socially distancing. It also found a gaggle of goslings gathered along the shore of Waughop Lake.
While you're there don't forget to hit "like" or "follow" the page to stay up to date on the latest happenings in our parks and with our events.
---
Lakewood scenes for your next Zoom conference call
Conducting a lot of video conference calls lately? We have some great virtual backgrounds for you to try for your next Zoom meeting!
Download our Lakewood themed background today.
TO ADD TO ZOOM
Download and save one or all of the images below. Open your Zoom account, and under the settings menu look for the option "Virtual Backgrounds".
Click "Add Image" then select the image you want.
For system requirements and troubleshooting, read more from Zoom here.
---
How to help or get help during COVID-19
Looking for ways to help your community during this time? Or are you looking for assistance?
Pierce County created a website with information about how to donate to area food banks, including Emergency Food Network based in Lakewood, and a fund set up specifically to assist the human services needs facing our community in light of COVID-19 impacts.
There are also resources for individuals and businesses looking for more information about available financing and public assistance options.
---
Veterans Brick Update
Did you purchase a brick to be engraved on the Veterans Memorial located outside Lakewood City Hall in Lakewood Towne Center?
We hope to see the bricks engraved this summer, dependent on weather and the status of any stay home orders around COVID-19.
Thank you to everyone who purchased a brick for your patience while volunteers continued with the brick sales to be able to engrave them all at one time.
Volunteers were able to sell 153 of the 242 bricks remaining at the memorial. They are grateful for the community's support of veterans and proud to see this memorial that was dedicated in 2003 by a citizen-led committee come closer to completion.
---
Join a community advisory board
Do you like to give back to the community? Are you looking to get better connected to Lakewood? Have some free time you want to fill? Consider joining one of the city's community advisory boards. Board members often have experience or expertise they can lend, can meet on a monthly basis and can commit to serving a full term, or longer.
Boards with openings:
Landmarks and Heritage Advisory Board: 2 vacancies. Open until filled.
Lodging Tax Advisory Board: 4 vacancies. Deadline: Open until filled.
Planning Commission: 1 vacancy (unexpired term through Dec. 15, 2021). Open until filled.
Board and commission descriptions, meeting schedule and application form can be found online.
---
Stay up to date with MyLakewood311
Did you know Lakewood has its own free mobile app? All you need to know about the city is at your fingertips. Updates on road projects and detours around the city and other city announcements can be found under the "Public Announcements" header.
Contact the city using the "submit a new request" button and select from the appropriate category. The app allows you to track city staff's response to your request and follow it through the process.
Please only submit one request per item – submitting multiple requests for the same item slows the review process. Note: This app is not monitored 24/7. If you are reporting an emergency that needs immediate assistance please call 911.
Download it now in the iTunes App Store or on Google Play.
---
Upcoming Council Meetings
Under the current stay home order, residents can virtually attend City Council meetings by watching them live on the city's YouTube channel. 
Those who do not have access to YouTube can call in to listen by telephone via Zoom: Dial +1(253) 215- 8782 and enter participant ID: 151082920.
Participation in public comments and public testimony on public hearings will only be accepted via email at this time. Comments should be sent to City Clerk, Briana Schumacher at [email protected]. Comments received up to one hour before the meeting will be provided to the City Council electronically. Comments received after that deadline will be provided to the City Council after the meeting.
May 18, 2020 Regular Meeting
Authorizing the award of a construction contract to Quigg Bros. Inc., in the amount of $2,279,049, for the Harry Todd Waterfront Renovation project
Authorizing the award of a construction contract to Tucci and Sons, Inc., in the amount of $1,129,422.30, for the Fort Steilacoom Park Angle Lane South project
Authorizing the award of a construction contract to Doolittle Construction, LLC, in the amount of $281,029, for the 2020 Chip Seal program
Authorizing the award of a construction contract to Asphalt Patch Systems, Inc., in the amount of $207,866, for the 2020 Roadway Patching project
Authorizing the award of a construction contract to Transportation Systems, Inc., in the amount of $237,690, for the 2019 CDBG Streetlight project
Amending the 2019-2020 Biennial Budget
This is the date set for a public hearing on FY 2020 CDBG Annual Action Plan and Five-Year (2020-2024) Consolidated Plan
This is the date set for a public hearing on the Small Wireless Facility Franchise Agreement with New Cingular Wireless, LLC (AT&T)
Adopting the 2020 Lakewood Parks and Recreation Legacy Plan
Authorizing the City Manager to seek grant funding assistance managed through the Washington State Recreation and Conservation Office for the American Lake Park Waterfront Access Upgrades WWRP Local Parks 20-1349D ALEA: 20-1760D, Wards Lake Park Enhancements Phase I LWCF: 19-1740D WWRP Local Parks: 20-1761D LWCF (standard): 20-1763D Youth Athletic Fund (pump track) 20- 1764D, and Fort Steilacoom Park – Artificial Turf Infields Youth Athletic Fund: 20-1765D
Unfinished Business – Adopting a zero-interest, deferred loan program up to $10,000 to Lakewood businesses with 10 or fewer employees under the Community Development Block Grant (CDBG) Coronavirus Aid, Relief, and Economic Security Act (CARES Act)
Reports by the City Manager – Lakewood Station District Subarea Plan Update
May 26, 2020 (Tuesday) Study Session
Joint Planning Commission meeting
Review of 2020 Comprehensive Plan amendments
CARES Act Update
Reader Board Update