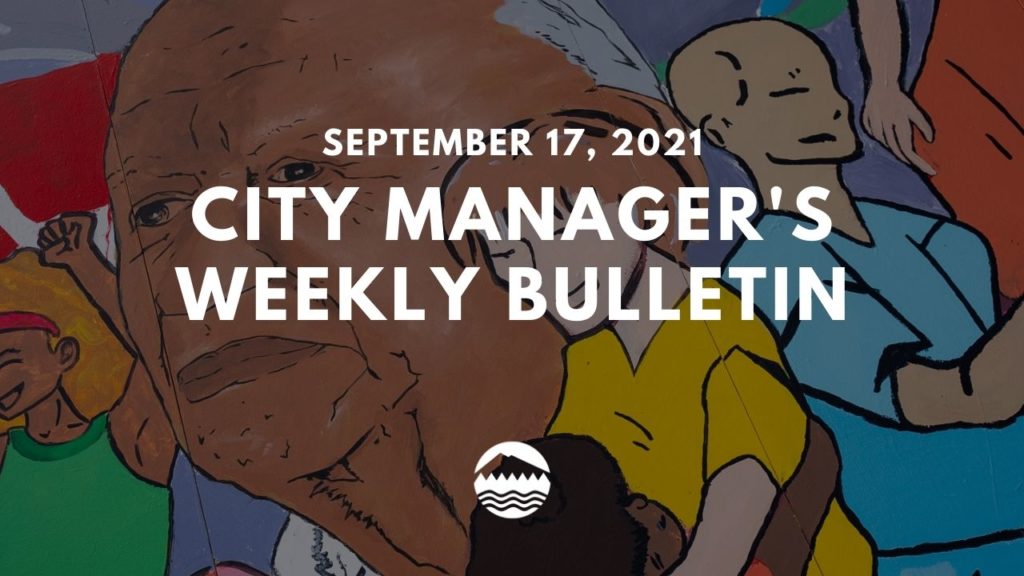 Stormy Forecast Disrupts Weekend Events
Farmers Market canceled and 25th Anniversary Celebration postponed.
Incoming stormy weather has disrupted plans for several weekend events in Lakewood. Clover Park School District has announced the cancellation of the Fort Steilacoom Invitational cross country event. The City of Lakewood has decided to cancel its Friday Farmers Market. The 25th Anniversary street festival scheduled for this weekend has been postponed until next Saturday, Sept. 25.
Weather alerts from the National Weather Service earlier this week indicated the possibility of thunderstorms, high winds, and small hail. That forecast has since relaxed to rain and possible thunderstorms.
Street festival to be held next Saturday at Colonial Plaza
Join us on Saturday, Sept. 25 as we celebrate a quarter-century since the incorporation of Lakewood in 1996.
Enjoy food trucks, a beer garden, community vendors, live entertainment, international performances, and art & history displays.
Lakewood 25th Anniversary Celebration Saturday, Sept. 25 from 4:00 – 8:00 p.m. 6108 Motor Ave SW, Lakewood WA
Magazine reviews upcoming events, climate change initiatives, roundabouts, and updates from LPD.
The autumn edition of our Lakewood Connections magazine was delivered last week. Published quarterly, the magazine highlights upcoming events and discusses a selection of topics important to life in Lakewood.
Upcoming events include the the season's final Farmers Market (Sept. 24), 25th Anniversary (Sept. 25), Truck and Tractor Day (Oct. 9), and a Community Cleanup (Nov. 6 & 7).
The magazine covers updates to Western State Hospital plans, effects of police reform legislation, LPD's body camera program, climate change initiatives, and more. Read the full edition here (.pdf).
The magazine also discusses roundabout etiquette – a series of roundabouts will be installed over the next few years along Gravelly Lake Drive and Washington Boulevard as part of the JBLM North Access project.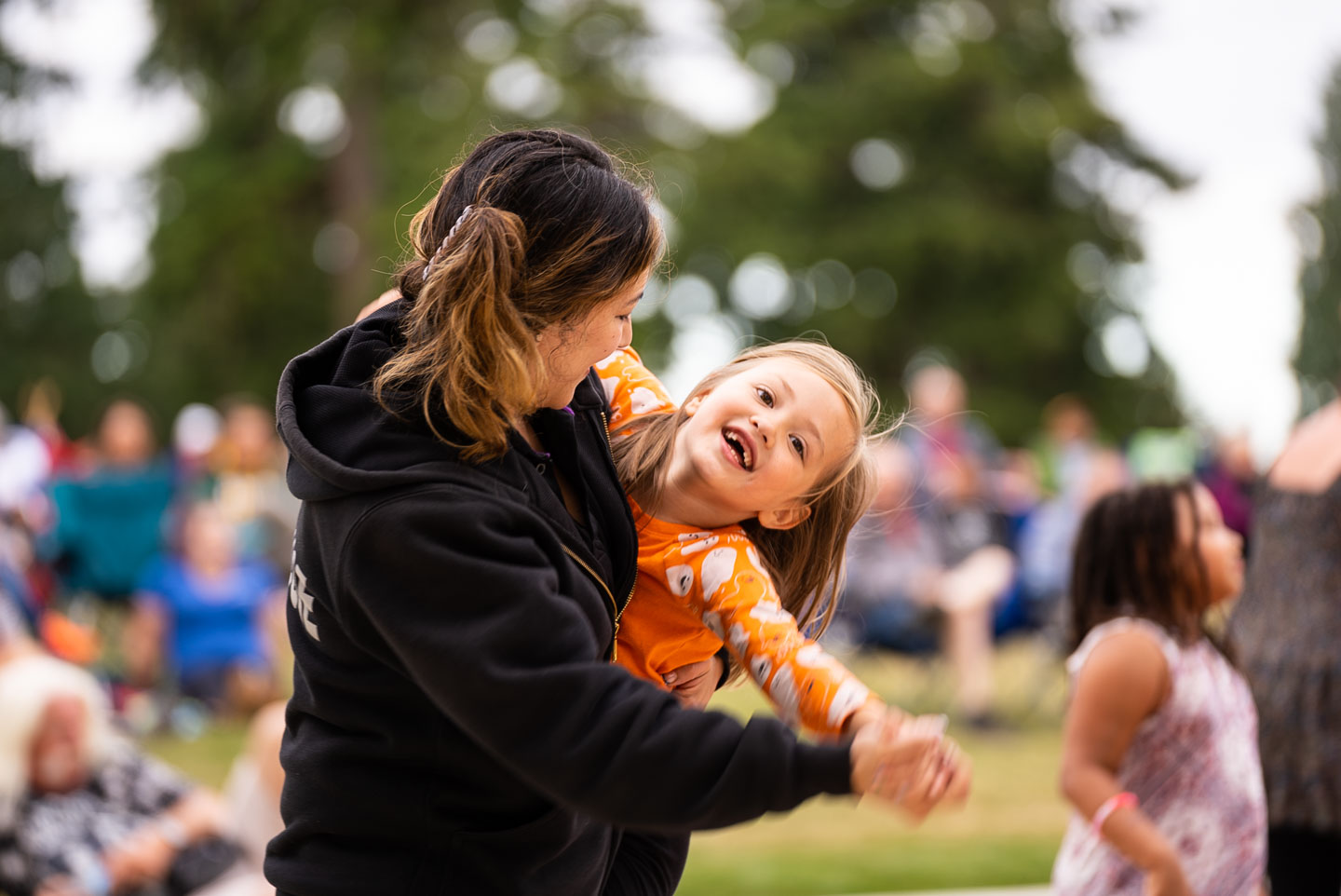 Roundabout under construction at Nyanza & Gravelly Lake; water service connections complete.
The JBLM North Access Project is an ambitious effort to improve the efficiency and safety of Gravelly Lake Drive and Washington Boulevard. Residents can sign up for email updates on the project webpage.
The project is currently in its first stage of work. Gravelly Lake Drive is closed between Nyanza and Veterans until February. The project is progressing; curb, gutter, and sidewalk are being poured and water service reconnections are nearly complete.
Future stages of work will progress North along Gravelly Lake Drive, then West along Washington Boulevard.
Passersby on may have seen the new roundabout foundation in place at the intersection of Gravelly Lake & Nyanza. Roundabouts will appear at several more intersections over the next few years. The image below describes roundabout etiquette and previews the intersection of Gravelly Lake & Nyanza.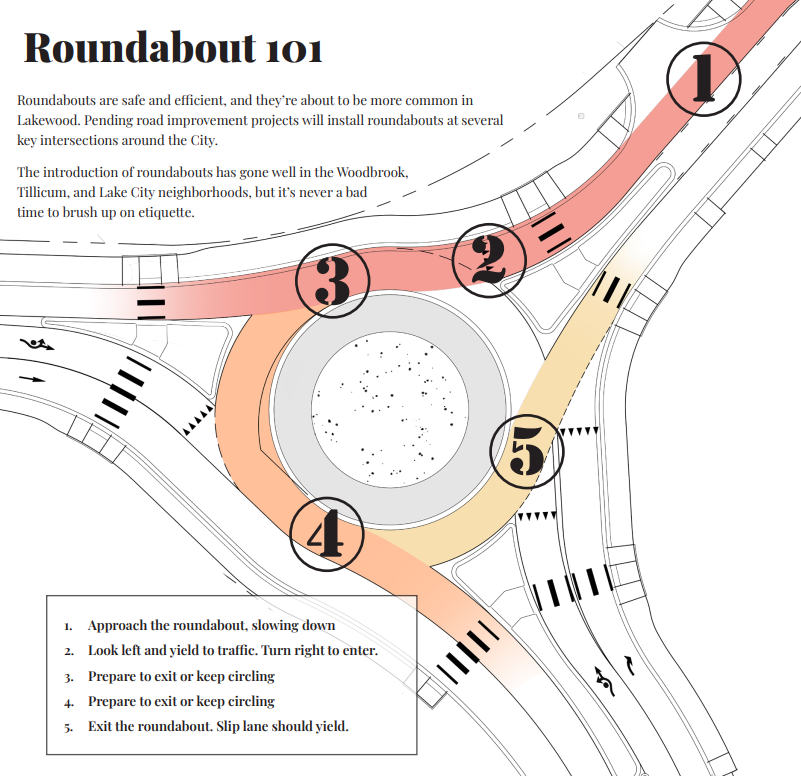 Designed and painted by Clover Park High School Students, the mural celebrates Lakewood's culture and diversity.
Clover Park High School students unveiled a new portable mural this week. Designed and painted by the students, the mural celebrates Lakewood's extraordinary diversity and cultural heritage.
The mural is comprised of panels for ease of transport; the mural will be displayed at future City and school district events, including the upcoming 25th Anniversary Celebration.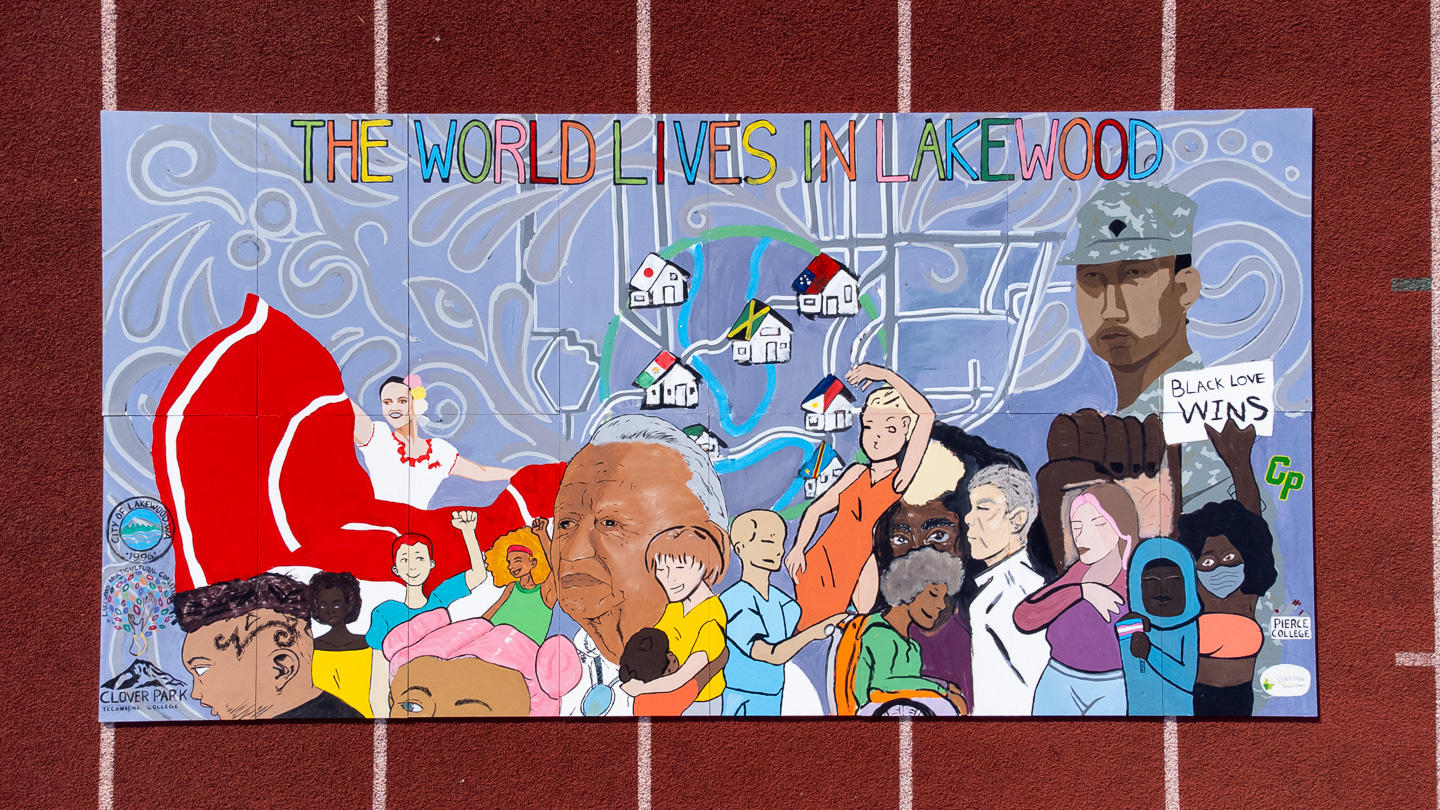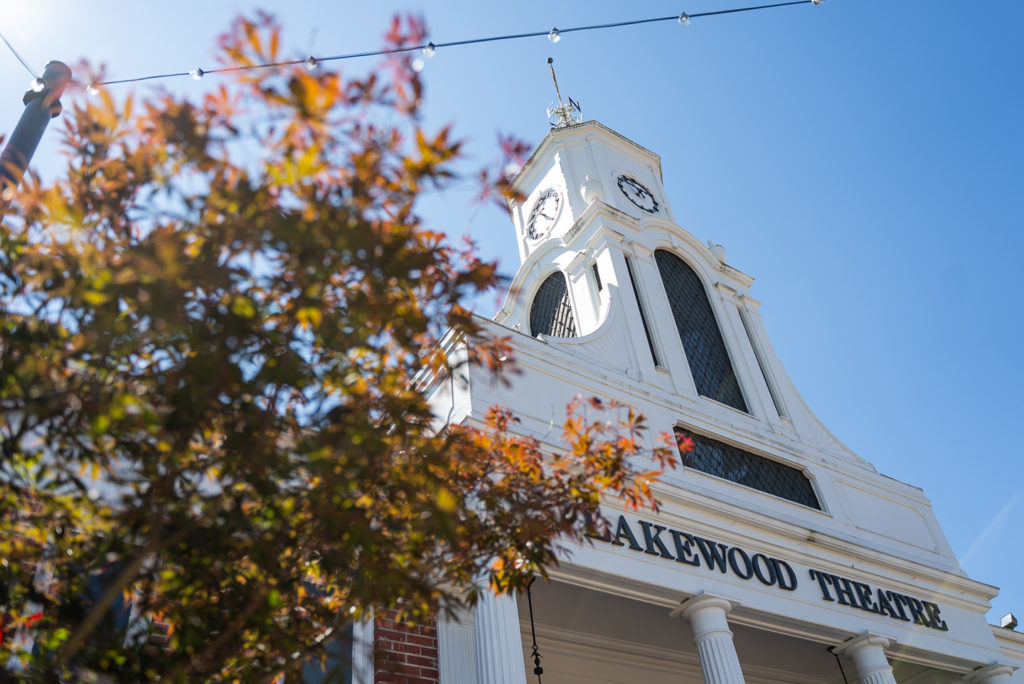 100th & Lakewood: An overnight closure will occur sometime next week. Lakewood Drive (Steilacoom to Bridgeport) and 100th Street (Bridgeport to Lakeview) will both close overnight from 9:00 p.m. to 3:00 a.m. A specific date has not yet been confirmed. Detour routes will be posted.
Steilacoom & Lakewood: Steilacoom Boulevard is currently open, but drivers should expect interruptions once Pierce County resumes repairs in the fall.
Steilacoom & Custer: Various utilities are still in the process of moving overhead lines to the new, larger Glulam poles. Once complete, sidewalk work in this area will proceed. Occasional lane closures will be required, typically in the evening.
Gravelly Lake & Nyanza: Gravelly Lake Drive SW will be closed between Nyanza and Veterans until next February. Water services are being reconnected. Roadway grading, curb & sidewalk, and concrete pouring is proceeding West from Nyanza.
Chip Sealing in Lake City: The Lake City neighborhood, 112th Street, and 150th Street will benefit from Chip Seal work to occur over the next week or so. Drivers, especially motorcyclists, should drive with caution due to loose rock in the roadway.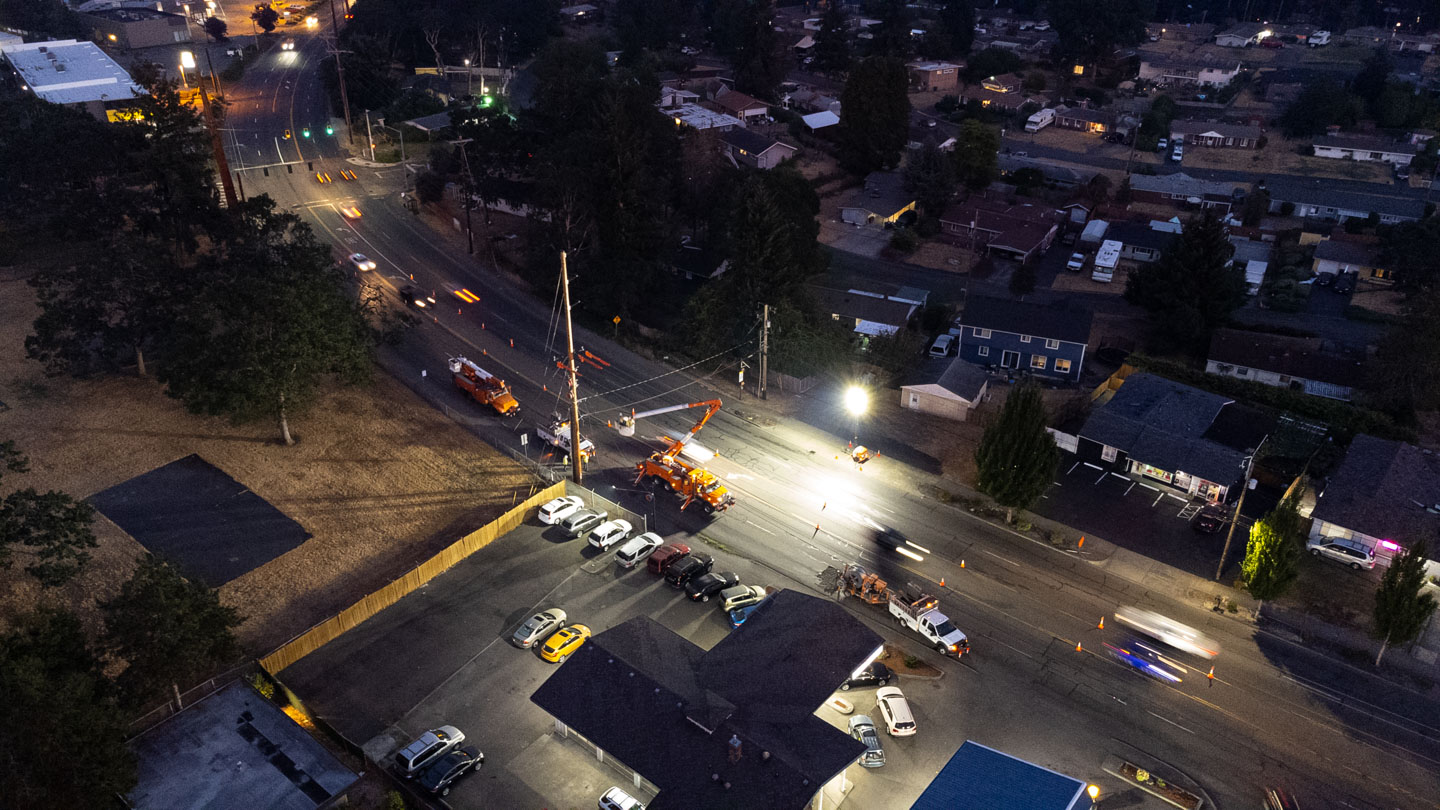 Notes