Thanks for joining us for National Night Out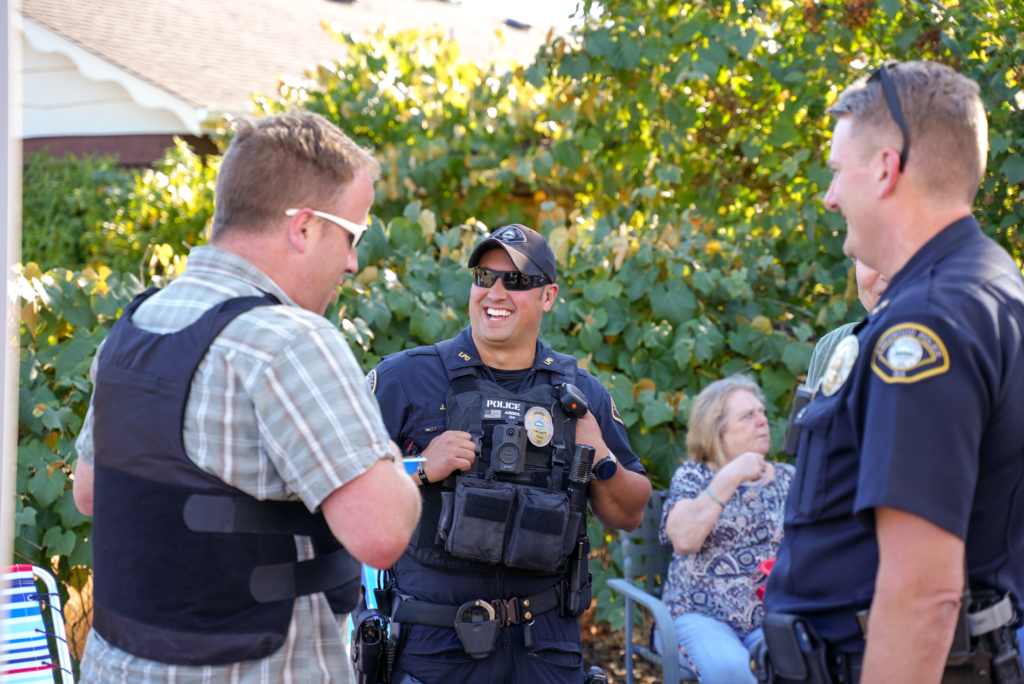 This week our police officers and members of the Lakewood City Council visited more than 20 neighborhoods to celebrate National Night Out. This was one of our larger turnouts in recent years. It was great to spend time hearing from residents and enjoying delicious treats at each stop.
This year marked the 40th anniversary of National Night Out. We are proud to once again participate. Lakewood has held National Night Out events since 2005. Thank you to everyone who joined neighbors, or hosted an event. Strengthening relationships and getting to know each other leads to increased safety and camaraderie.
Find pictures and a video from National Night Out on the Lakewood Police Facebook page.
---
National Farmers Market week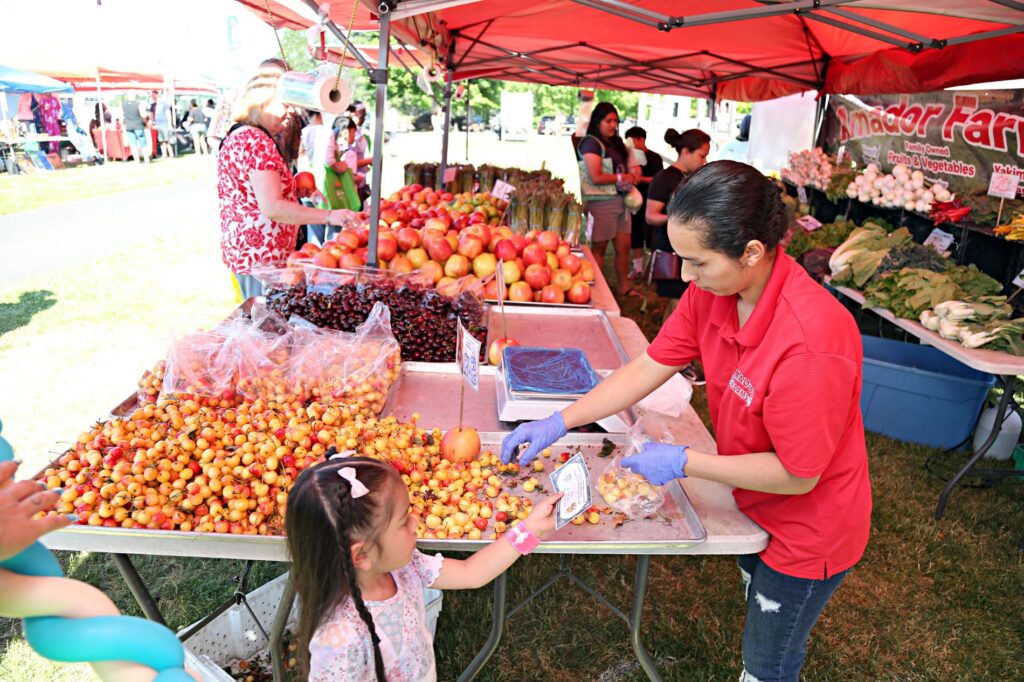 Next week is National Farmers Market week. The recognition was created to celebrate the contributions local growers, farmers and vendors bring to our economy.
The Lakewood Farmers Market is proud to provide a space for farmers, artisans, bakers, distillers, wine makers, brewers, food vendors and more to showcase their products.
If you haven't visited the Lakewood Farmers Market yet this season, make sure to head to Fort Steilacoom Park on Tuesday from 2-7 p.m. The market runs until Sept. 19.
---
Saturday Street Festival Aug. 12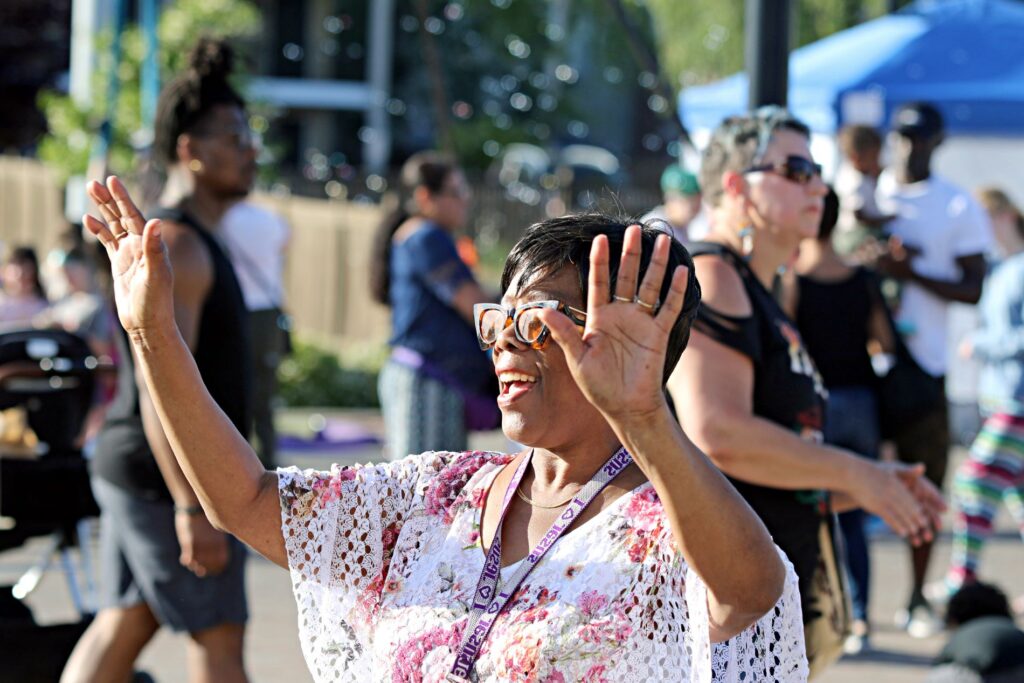 Our next Saturday Street Festival is Aug. 12, 2023 from 4-8 p.m. Head to our plaza on Motor Avenue for an evening of fun.
We'll have a live DJ, food vendors, group dance lessons, fun activities for the kids, a beer garden selling beer and wine, a judged art show and a car show.
Make sure to stop by the Print NW booth to check out the local artwork that has popped up around the city recently on many of our utility boxes. Don't forget to vote for your favorite while you're there.
---
Story time with Mayor Whalen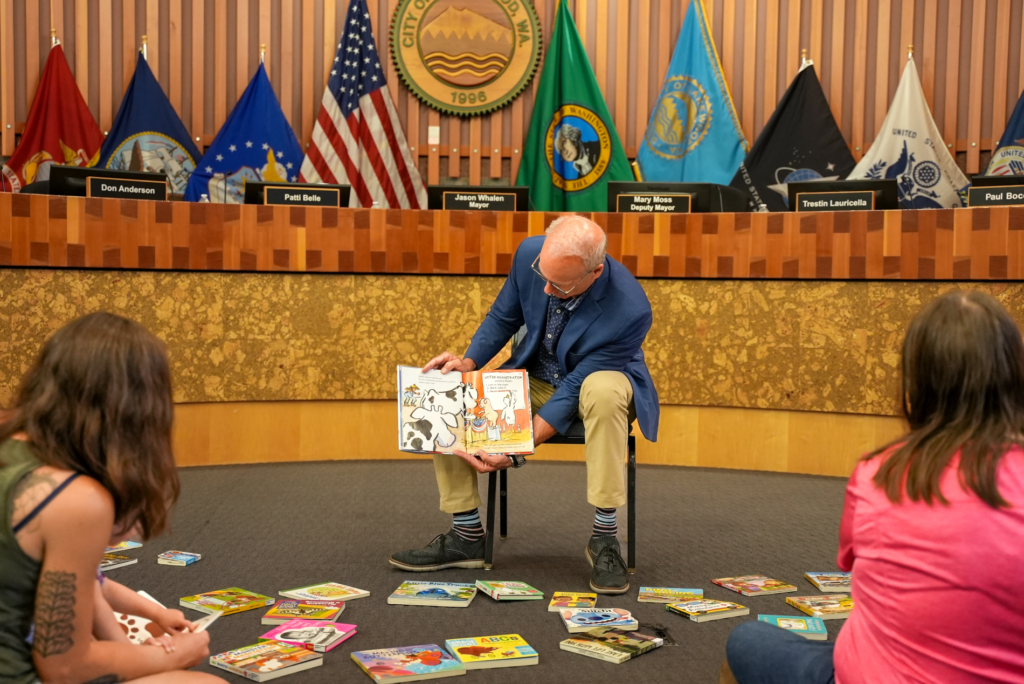 Mayor Jason Whalen served as the special guest reader this week for the Pierce County Library story time. The City of Lakewood's Council Chambers serve as the location for the story time event for children. The PCLS program encourages families to participate in reading together and promotes literacy and exposure to books for our youngest readers.
---
Summer concerts continue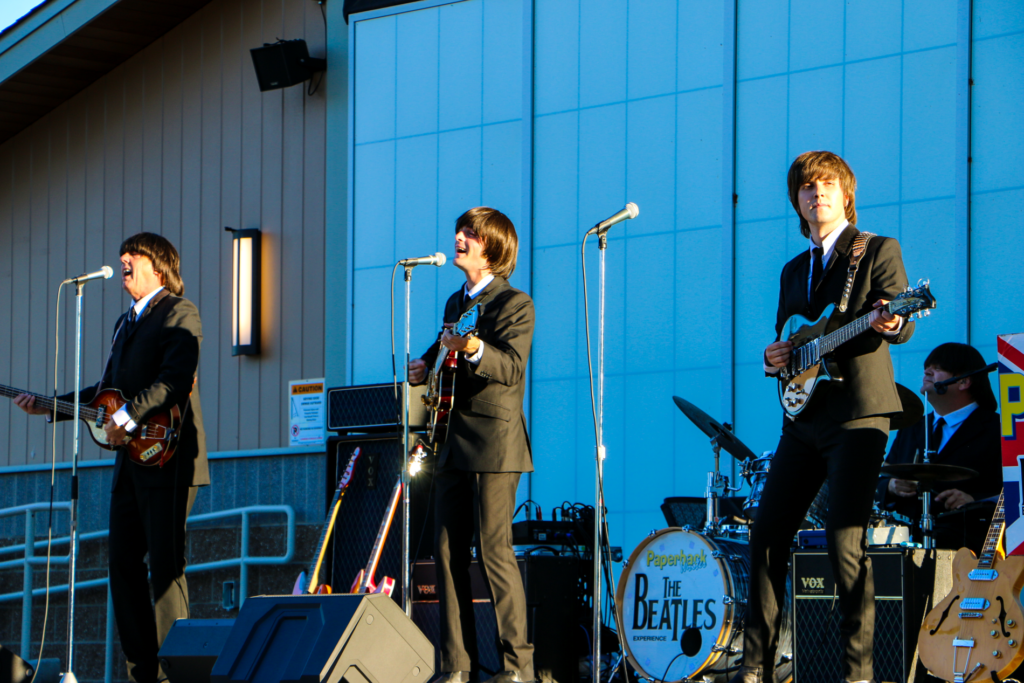 Are you a Beatles fan? If yes, you won't want to miss our Aug. 8 Summer Nights at the Pavilion performance. Paperback Writer: The Beatles Experience takes the stage at 6:30 p.m. The band performed some of the Beatles greatest hits at last year's concerts and drew a large crowd.
We expect the same performance this year – complete with costumes to showcase the Beatles' most iconic eras. Head to The Pavilion at Fort Steilacoom Park to find your spot on the lawn. Don't forget to swing by the Lakewood Farmers Market first to support our market vendors and grab dinner for the concert.
Check out photos from the concerts on our Facebook event page.
---
Council Corner: Meeting preview
The Lakewood City Council did not meet July 31. Council meets Aug. 7, 2023 at 7 p.m. for a regular meeting.
Tentative agenda items include:
Proclamation declaring August 6-12, 2023 as Farmers Market Week
Presentation from Lakewood's CHOICE
Clover Park School District Report
Approving the 2023-2024 Strategic Plan
Appointing the 2023-2024 Youth Council
Reports by the City Manager: Information Technology Plan Update
How to attend: Attend in person at Lakewood City Hall, 6000 Main Street SW; Join via Zoom (or dial 253-215-8782 and enter meeting ID: 868 7263 2373), or watch live on the city's YouTube channel.
---
Police Chief's Corner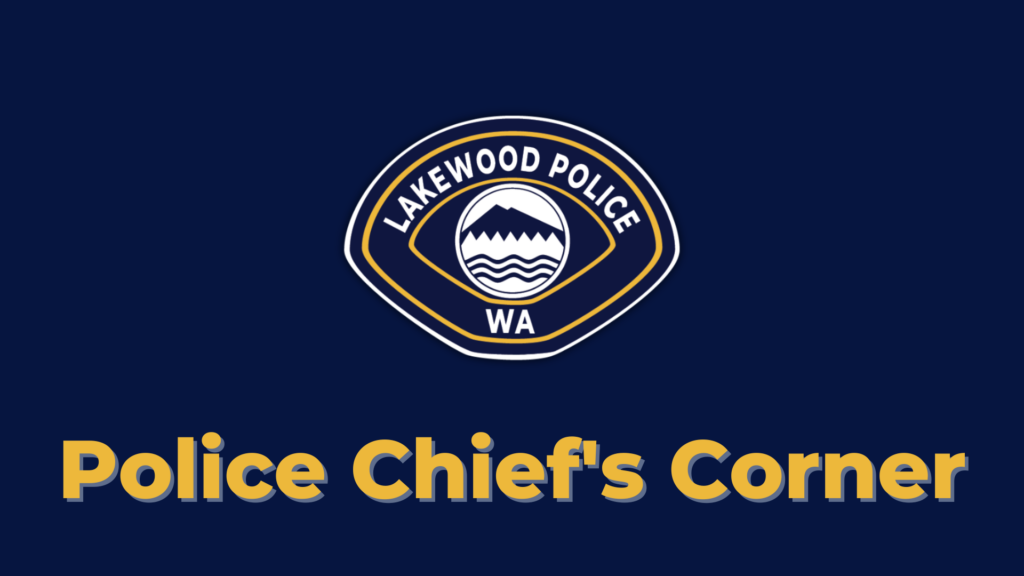 Starting this week, and going forward this newsletter will include space dedicated to Lakewood Police Chief Patrick D. Smith to share the information from the Lakewood Police Department. This includes a look at weekly totals for calls for service and types of crimes reported and responded to by police.
The intent of the summary is to share a snapshot of how the department works keep the community safe.
Weekly Summary, July 25-Aug. 2, 2023
Calls for Service: 1,106
Arrests: 45
Violent Crime: 23
Property Crime: 81
Traffic Stops: 86
Collisions (reportable): 22
Speed Emphasis
This week the department's traffic division conducted a multi-day speed emphasis on Bridgeport Way between Pacific Highway and 112th Street SW. This stretch of road often sees drivers exceeding the 35 mile per hour speed limit. The emphasis was done to remind people to drive the limit to keep our community safe.
Read more to see how many infractions were issued.
---
Larry Saunders Award nominations now open
The Lakewood Community Foundation Fund is accepting nominations for the Larry Saunders Service Award. The recognition is given annually to a person or organization in Lakewood deserving of special recognition and community appreciation.
The nomination period closes Sept. 22, 2023. Find the nomination form online.
Larry Saunders was Lakewood's first police chief, helping form the department in 2004. He retired from the Army to lead the agency. He honored Lakewood with tireless community service benefiting our Boys & Girls Club, Lakewood's two Rotary Clubs, local veterans and neighborhood associations, and more. Larry passed away suddenly in 2016. To honor him, the City, in partnership with the Lakewood Community Foundation Fund, created an award in his name to recognize exemplary service to Lakewood.
---
Wall raising for Claudia Thomas
Habitat for Humanity of Tacoma/Pierce County is ready to build the Thomas Legacy House in Lakewood's Tillicum neighborhood. The house was named after Lakewood's first female Mayor, Dr. Claudia Thomas. Funding for the house was raised by nonprofit "The Friends of Claudia Thomas" who wanted to see a home built for a family in need in name of Thomas.
Habitat needs 15 volunteers to help build the house during an all-day shift Saturday, Aug. 26, 2023. The shift begins at 10 a.m. Register to volunteer.
A ceremonial wall raising will also happen Aug. 26 to celebrate the community's support of the project. The wall raising will happen at 10:30 a.m. at 15210 Portland Ave SW. People are encouraged to carpool as parking will be limited.
---
Pierce Transit requests public feedback
Pierce Transit wants to hear from people about their transportation priorities as it looks to plan the future of public transit. Many things have changed since the onset of COVID, including travel patterns and transportation needs. To ensure services match what current and future riders most need, Pierce Transit is launching a Recovery Plan to strategically increase transit service.
Take its survey by Aug. 31, 2023 and share which improvements matter most to you. Do you want better frequency on the routes with high ridership? More evening service, enhanced weekend service, or expanded Runner on-demand service? What is most important for Pierce Transit to restore first?
Your feedback will help improve Pierce Transit service and recommend service scenarios that address the needs of the community.
---
Sign up for updates on Periodic Review
The city embarked on a state law-required update of its Comprehensive Plan and Development Regulations known as the Growth Management Act (GMA) Periodic Review. The Periodic Review Cycle is a lengthy process that will take over two years to complete.  Public involvement is essential to the success of this effort.
Sign up to receive email updates to stay informed throughout the process.
---
Help us name our Plaza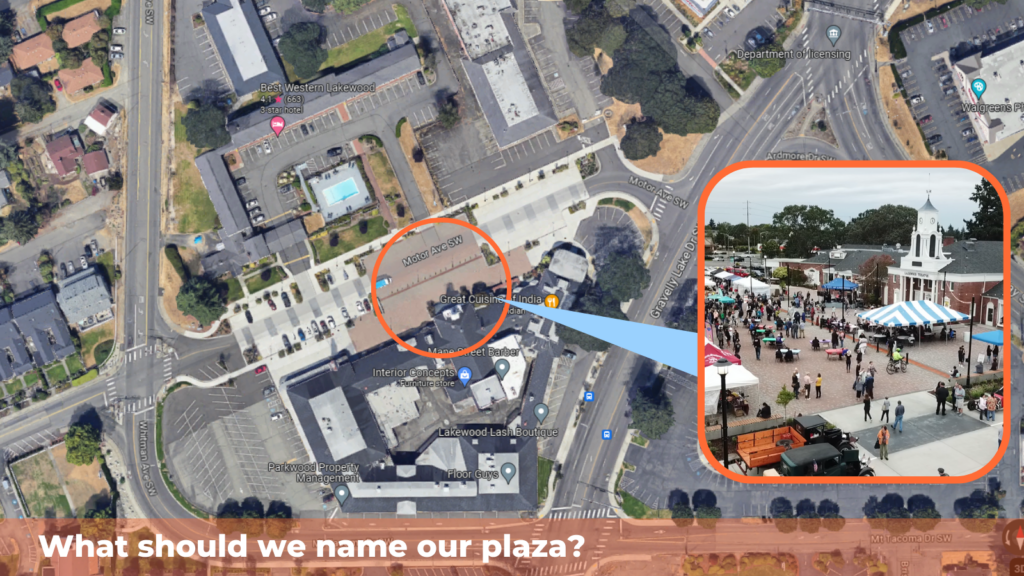 The City of Lakewood is looking to officially name its plaza located on Motor Avenue SW that fronts the historic Lakewood Theatre. If you haven't voted yet for your favorite name, please make sure to take the survey by Aug. 12.
The plaza was redeveloped in 2019 to create a community gathering space in the city's downtown business district. Since its completion the city has hosted numerous events on the site, including its popular Saturday Street Festivals with live music, vendor booths, food and family-friendly activities.
Want to weigh in? Take our quick survey online and let us know what you want it called.
---
Springbrook celebration
Springbrook Connections and Lakewood's Choice are hosting 2023's End of Summer Celebration event in Springbrook Park (12606 Addison St. SW) Saturday, Aug. 19, from 12-5 p.m.
The event is free for all attendees and will include a fun day of free food, live wrestling, games for all ages, and resources.
Those interested in having a table at the event should register no later than Aug. 14. Email [email protected] or [email protected] to register.
---
Work for the city of Lakewood
We're hiring! Looking to change careers? Looking for a new job? Ready to re-enter the job market?
Join the city of Lakewood! We have a variety of positions open across multiple departments.
Lakewood offers a competitive benefits package. We are part of the state retirement system (PERS). And the city is a beautiful place to work.
Find a current list of open positions online.
---
Road project updates
Steilacoom Blvd. Weller to 88th
Work to remove the signal at Phillips Road and Steilacoom Boulevard was successful this week. Thank you for your patience while the road was closed temporarily for the signal removal. Additional work done this week included removing old foundations. Final grading work is next, followed by a concrete pour and minor restoration work. Once done, the project is complete.
112th Street Sidewalks
Striping was done the end of this week. The contractor is finishing up property restoration for the areas impacted by the sidewalk installations. New light poles and electrical service equipment is expected to arrive in two months. Once it does, work to install new street lights will begin.
Washington Boulevard
Grading of the roundabouts and curbing along Washington between Lake City and Interlaaken was done this week. Work continues to be ahead of schedule on this major road improvement project.
Angle Lane/Elwood Drive
Full paving of Angle Lane and the pedestrian path on Elwood Drive is complete. Landscaping work, striping and the installation of light poles are next. The road could reopen as early as mid-week next week.
Chip Seal
Striping is almost complete for the recently chip sealed roads between Bridgeport Way SW, 108th Street SW, Lakeview Drive SW and 100th Street SW.