What is Lakewood doing to address public safety concerns?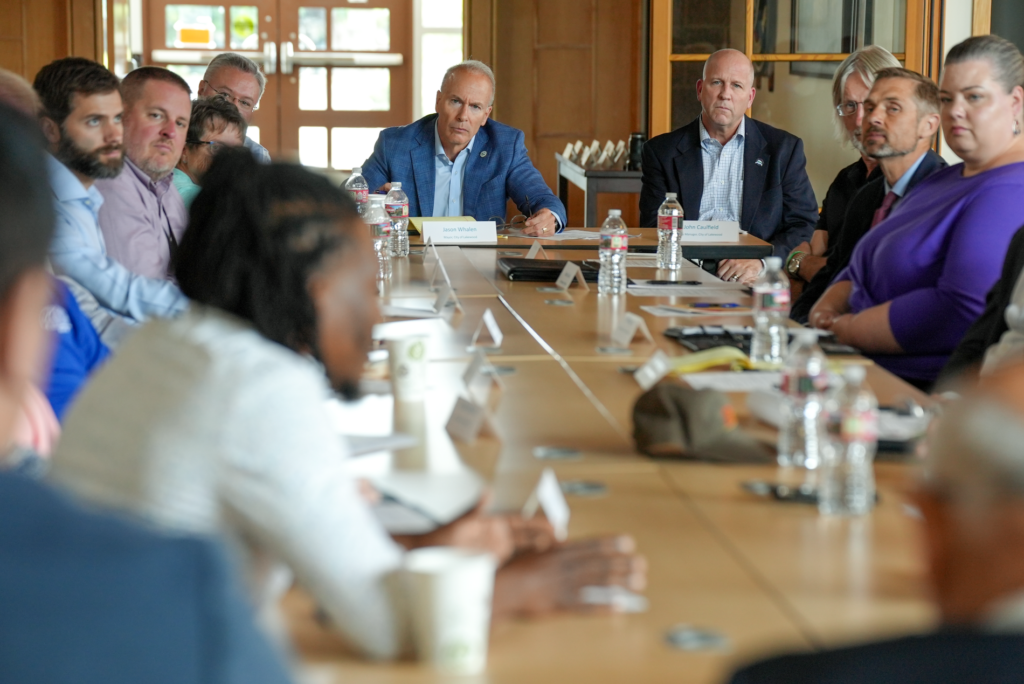 This summer, Lakewood Mayor Jason Whalen and City Manager John Caulfield convened a meeting of Pierce County mayors and city administrators to address the pressing issue of public safety in the region.
At the meeting it was agreed the alarming increases in crime experienced across the state has a negative impact in all our communities. It has also created a lack of trust in local law enforcement's ability to protect residents and businesses. As a result of the summer meeting, the group of mayors and city administrators met again Nov. 1, 2023 to discuss how respective jurisdictions can come together to affect change at the state level.
Read more about what Lakewood and other Pierce County cities are advocating for at the state level.
---
Technical difficulties prevent virtual meeting
On Wednesday, Nov. 15, 2023, the City of Lakewood hosted an in-person and virtual open house on its Comprehensive Plan 2024 Periodic Update. The focus of the open house was to share information with the public about changes to housing laws mandated by the state and what that means for Lakewood to accommodate more high-density housing types.
Unfortunately, due to an unknown technological issue, attendees who joined virtually through Zoom or watched on the city's YouTube channel were not able to hear the presentation.
We sincerely apologize. If you were unable to hear the presentation, you can watch a recording by Long Range and Strategic Planning Manager Tiffany Speir. This recording is of the presentation she used at the open house. View the slides used in the presentation.
---
SSMCP's Bill Adamson recognized nationally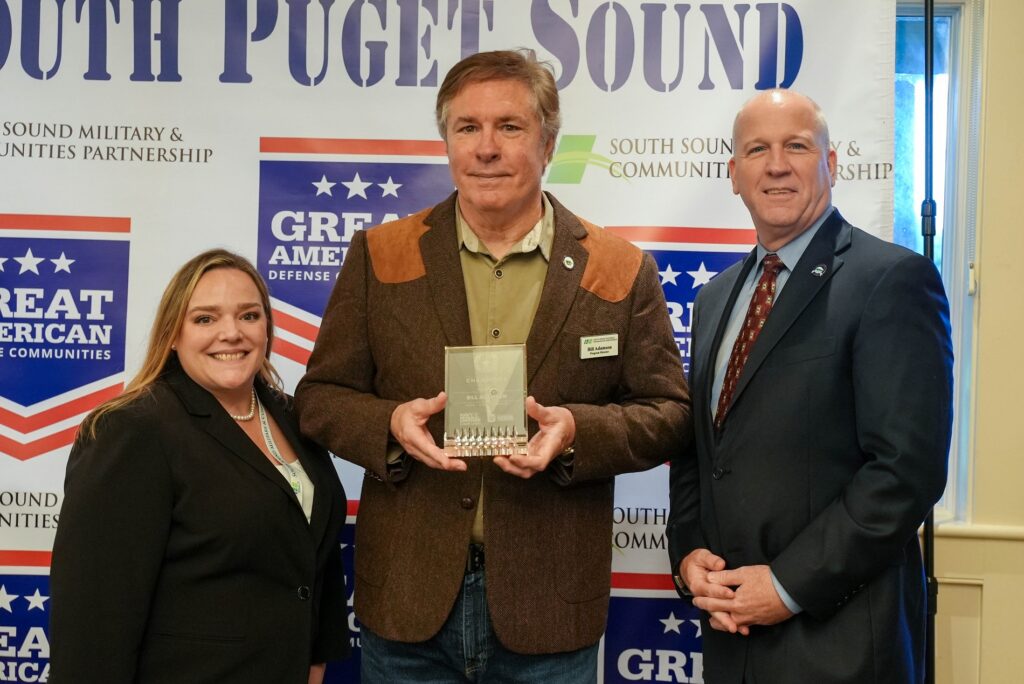 South Sound Military & Communities Partnership program director Bill Adamson was recently recognized for his outstanding achievements.
The Association of Defense Communities named Adamson a "Defense Community Champion." He is one of 16 people from across the United States to receive this honorable recognition. He is the only recipient from Washington State.
Adamson was presented the recognition at the South Sound Military & Communities Partnership (SSMCP) Elected Officials Council breakfast.
The award recognizes individuals who have made a significant impact in their defense community. Defense Community Champions go above and beyond to make meaningful connections with military members, families and veterans in their community. Recipients can be community or military members.
---
Lakewood Jingle Bell 5k Fun Run is back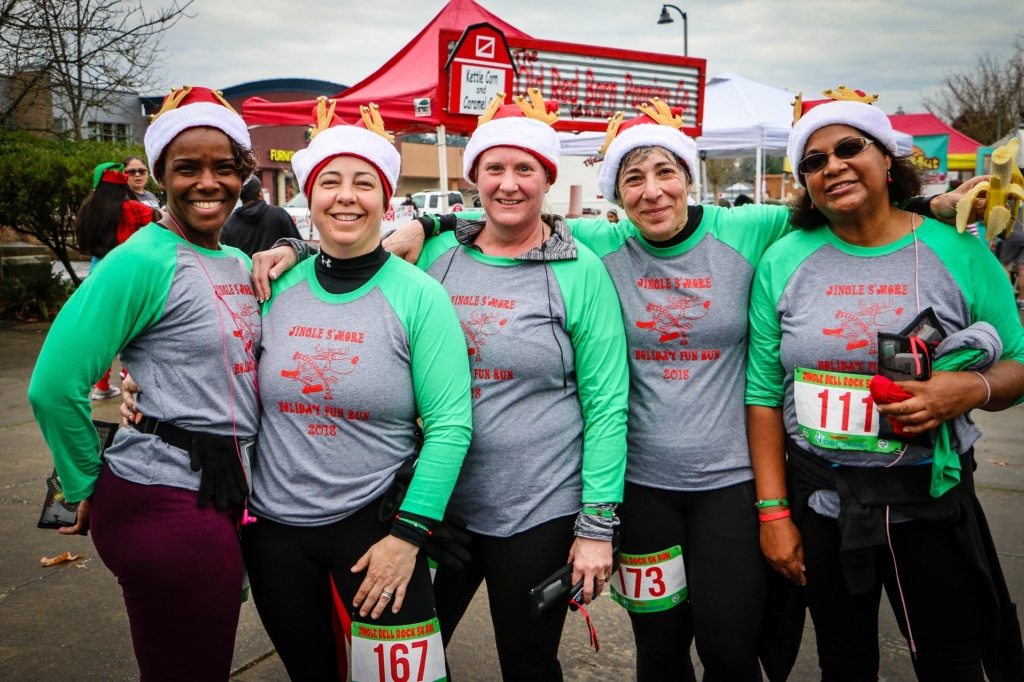 The City of Lakewood and the Lakes Cross Country Boosters Club partnered to return the Jingle Bell 5k run/walk & 1-mile Kid's Run to Fort Steilacoom Park.
Join us for this family-friendly fun run on Saturday, Dec. 16, 2023.
Strollers, well-behaved dogs on leashes and participants of all ages are welcome. Wear your best holiday outfit – costumes are strongly encouraged!
Pre-register and save. Sign up now and pay $10 for kids 12 and under; $30 for 13+.
Race-day registration is $15 for kids 12 and under; $35 for 13+.
This is a chip-timed event.
---
Lakewood Artist Reception is Monday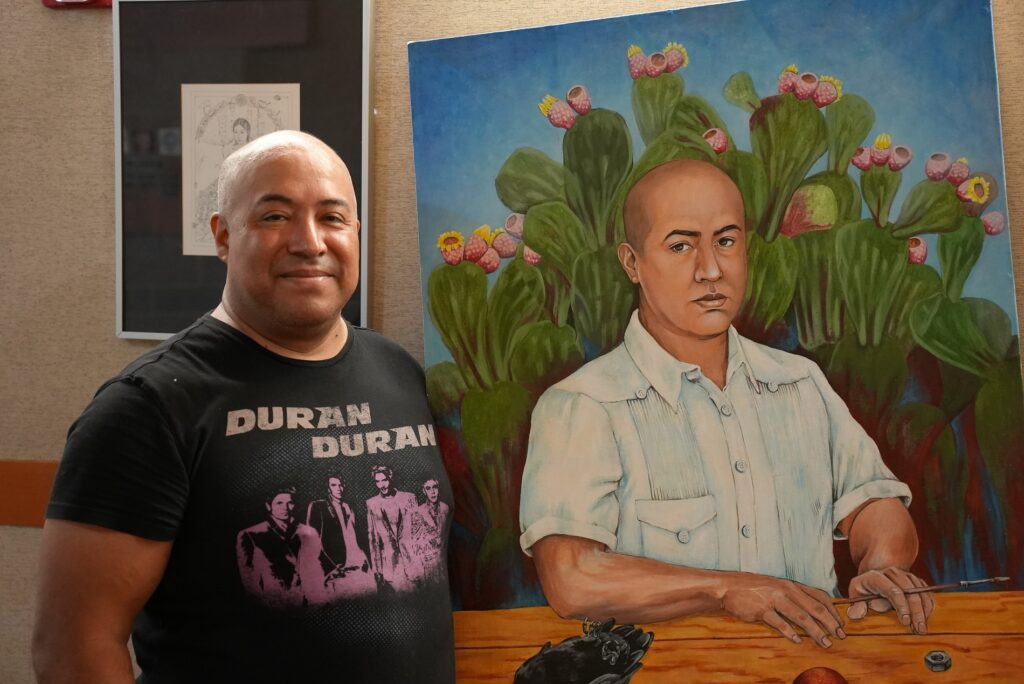 Visit Lakewood City Hall Monday, Nov. 20 from 5-7 p.m. to meet local artists Rene Julio and Roberto Sanchez.
Each has their own unique style and stories to share about how they find inspiration to create their various pieces of art.
The artists will be at the event and will have hands-on activities for people to try. All are welcome to join us for this drop-in, free event. We'll have light refreshments and music.
The reception is held in the foyer of Lakewood City Hall, 6000 Main Street SW.
---
Thanksgiving closures in Lakewood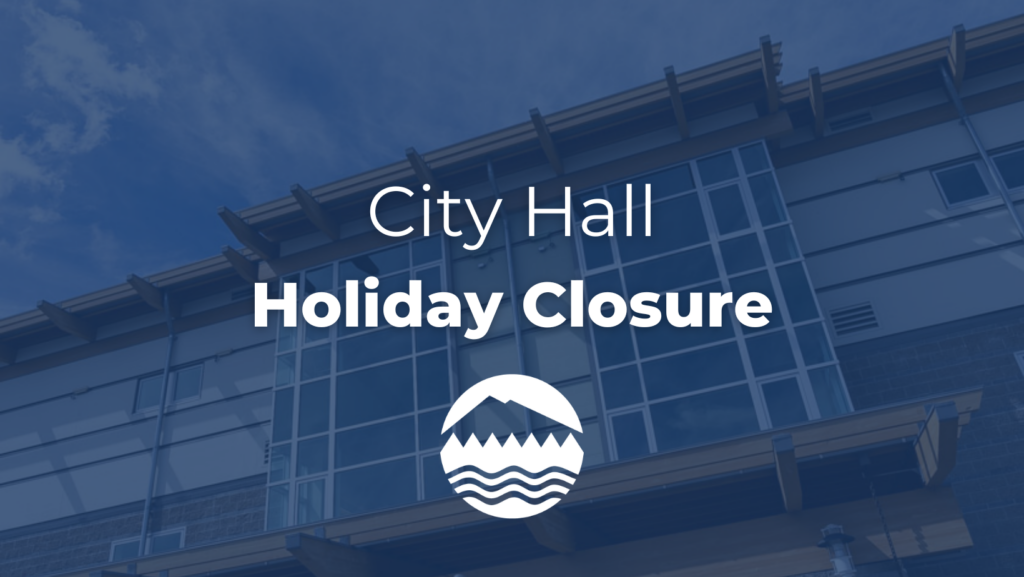 Lakewood City Hall and the Lakewood police station will be closed Thursday and Friday, Nov. 23 and 24, for the Thanksgiving holiday.
Regular operations resume Monday, Nov. 27, 2023. We wish everyone a Happy Thanksgiving!
---
Fallen Officer Food & Blood Drive is Nov. 29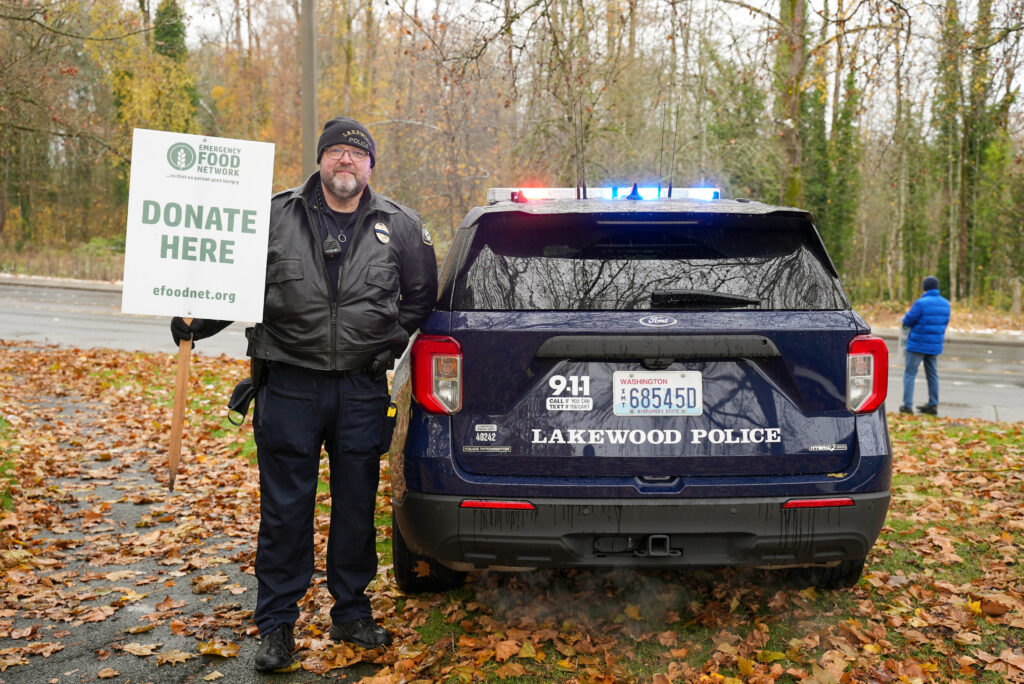 The 14th annual Lakewood Police Department Fallen Officer Food Drive and 7th annual Blood Drive is Nov. 29, 2023 from 6 a.m. to 5:30 p.m.
On this day visit the parking lot across the street from the Lakewood Police Station (9401 Lakewood Dr. SW) to drop off non-perishable food items. All items will be donated to Emergency Food Network. The food network serves all of Pierce County, providing items to smaller food banks in various cities and unincorporated areas.
If you are unable to stop by on Nov. 29, donations will be accepted leading up to the event. Donation bins will be at these locations:
Blue Steele Coffee Company, 11401 Steele St.
Classy Chassis Xpress Lube, 7609 Custer Road W.
Classic Coffee in Lakewood, 7609 Custer Road W.
Classic Coffee in University Place, 4828 Bridgeport Way W.
Lakewood City Hall, 6000 Main St. SW (weekdays, 8:30 a.m. to 5 p.m.)
Lakewood Police Station, 9401 Lakewood Dr. SW (weekdays, 8:30 a.m. to 5 p.m.)
Our region is currently facing a significant blood shortage. If you are able, please consider donating blood to help Bloodworks NW replenish the supply. Blood donations are by appointment only. Please sign up today.
---
Flag Raising Ceremony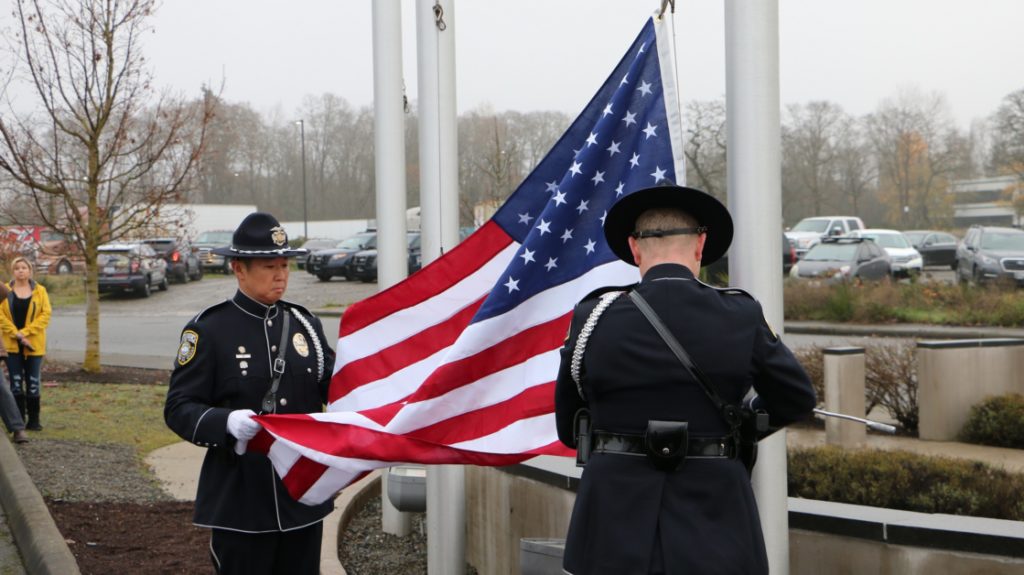 The Lakewood Police Department will hold its annual Flag Ceremony on Nov. 29, 2023 at Blue Steele Coffee at 9 a.m. The event occurs in the parking lot of the coffee shop, next to the Fallen Officer Memorial.
This ceremony is an opportunity for us to come together and reflect as we replace the Lakewood Police Department flag at the memorial site. All are invited to attend.
---
Council Corner: Nov. 13, 2023 recap
Review of 2023-2024 Mid-Biennial Budget. At its study session Monday the Lakewood City Council received an overview of the city's biennial budget. Deputy City Manager and Finance Director Tho Kraus provided the update. The review included a look at a proposed budget adjustment that makes the following types of modification to the current biennium:
Revise the estimated beginning fund balance to reflect the final 2022 ending fund balance.
Adjustments to incorporate items previously approved by the City Council.
Appropriate projects funded by grants and contributions.
Continuation of capital projects.
New allocations as necessary.
Next steps include a public hearing on Nov. 20 for the public to comment on the proposed updates. Council will then take action on the update at its Dec. 4, 2023 regular meeting.
Review of 2024 Lodging Tax funding recommendations. The City Council reviewed proposed allocations of the city's lodging tax monies. The city's appointed Lodging Tax Advisory Committee heard from applicants in September and made a recommendation to the council for review and consideration. The City council is expected to take action on the recommendations at its Nov. 20 regular meeting.
Review of 2024 Fee Schedule amendments. As part of its preparation for adjusting the biennial budget for 2024, the City Council reviewed proposed changes to the city's fee schedule for 2024.This included adding a section for use of the new Home Field Complex baseball field at Fort Steilacoom Park. The City Council is expected to take final action at its Nov. 20, 2023 regular meeting.
Watch the meeting.
What's on Deck: The Lakewood City Council meets Monday, Nov. 20, 2023 for a regular meeting at 7 p.m. in Council Chambers. Tentative agenda items include:
Presentation of the 2024 Stormwater Outreach Calendar
Approving the 2024 Human Services funding recommendations
Approving the 2024 Lodging Tax funding recommendations
Authorizing award of a construction contract to Sound Pacific Construction, LLC in the amount of $5,132,292.91 for the construction of the Hipkins Road Improvement Project
Public hearing: 2023-2024 Mid-Biennial Budget Ordinance
Ordinance amending Lakewood Municipal Code Title 3, Revenue and Finance, Property Tax Exemptions for Multifamily Housing, Chapter 3.64
Ordinance adopting amendments to Title 18A related to zoning and development regulations
Ordinance adopting the 2024 Property Tax Levy
Resolution adopting the 2024 fee schedule
Reports by the City Manager: Tenzler Library Log Relocation Update
How to attend: Attend in person at Lakewood City Hall, 6000 Main Street SW; Join via Zoom (or dial 253-215-8782 and enter meeting ID: 868 7263 2373), or watch live on the city's YouTube channel.
---
Police Chief's Corner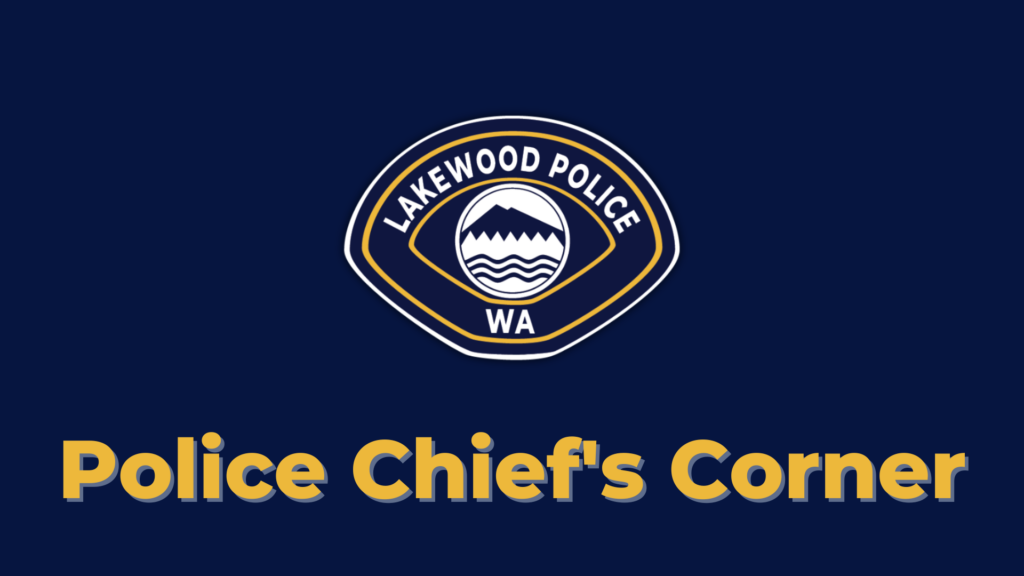 Lakewood Police Chief Patrick D. Smith wants Lakewood residents to know how the department is working for them. Each week he shares a summary that includes a look at total calls for service for the prior week and the types of crimes reported and responded to by police.
The intent of the summary is to share a snapshot of how the department works each week to keep the community safe. To see quarterly statistical analysis, visit the Lakewood Police Department crime statistics page on the city website.
Weekly Summary, Nov. 7-14, 2023
Calls for Service: 977
Arrests: 33
Violent Crime: 32
Property Crime: 77
Traffic Stops: 132
Collisions (reportable): 17
---
City Days now open for McGavick Center
The City of Lakewood is accepting applications for the use of a 2024 City Day at the Clover Park Technical College McGavick Conference Center. Please click here to view the policy and application materials. Applications will be accepted until Friday, Nov. 30, 2023. Applicants will be notified as to the approval or denial of the application by Friday, Dec. 15, 2023.
Complete applications can be emailed directly to City Clerk Briana Schumacher or can be delivered in person or by mail to Lakewood City Hall, 6000 Main Street SW Lakewood, WA 98499.
If you have any questions regarding the application or process, please contact City Clerk Briana Schumacher by email at [email protected] or by phone at 253-983-7705.
---
Community Events
Lakewold Gardens presents Music From Home
Lakewold Gardens is hosting an intimate afternoon with music, Sunday, Dec. 3, 2023 from 3-5 p.m. where performers will present "Unknown".
Originally written for three singers and chamber ensemble to commemorate the 100th anniversary of the Tomb of the Unknown Solider in 2021, Shawn Okpebholo's song cycle Unknown explores ideas of war, honor, and memory through the eyes of soldiers, family members, and Tomb Guards who are connected to each other and the Tomb through their mutual service and sacrifice.
This performance is a special arrangement for voice and piano adapted by the composer for the intimate setting at Lakewold Gardens. The program is completed by works related to the WWI period: Stravinsky's The Soldier's Tale, and a special appearance by pianist David Korevaar performing Ravel's stunning Le Trombeau de Couperin and works by L. Perrachio.
Performers: Myah Rose Paden, mezzo-soprano; Tim Christie, violin; Dallas Neustel, clarinet; Ricardo de la Torre, piano; David Korevaar, piano.
Tickets (include beverage and dessert): $35 General; $28 Students, Seniors & Military; $17.50 Youth 6-17 (5 and under free).
---
Join an advisory board or commission
Lakewood Civil Service Commission vacancy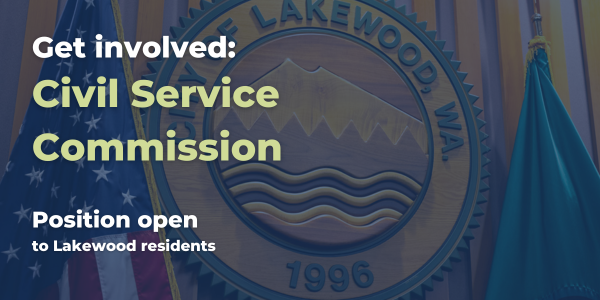 Join the Lakewood Civil Service Commission and work alongside other volunteers to help with the selection process and appointment of Lakewood police officers. Commission members also assist with the promotion or demotion of officers.
The commission meets the first Thursday of the month at 9:30 a.m. There is one vacancy that needs to be filled. Deadline to apply is Nov, 24, 2023.
Find out more about what the position requires its qualifications and the application online.
---
Sign up for Lakewood Alert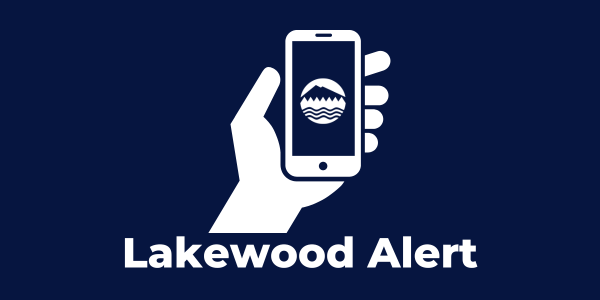 The City of Lakewood uses an alert service: Lakewood Alert to notify residents of important information.
If there is an emergency in the city that requires public notification, we will use this alert system to send out information related to the emergency. An example of when we recently used this is the Aug. 16 fire in Fort Steilacoom Park. In partnership with West Pierce Fire & Rescue and our West Pierce Emergency Management Coalition, we used the system to notify people of voluntary evacuation orders.
Subscribers can sign up to receive text and email alerts. People can also sign up for important non-emergency updates including information about road impacts from large events in the city or information about special events.
Find out more and sign up today.
---
Work for the city of Lakewood
We're hiring! Looking to change careers? Looking for a new job? Ready to re-enter the job market?
Join the city of Lakewood! We have a variety of positions open across multiple departments. Lakewood offers a competitive benefits package. We are part of the state retirement system (PERS). And the city is a beautiful place to work.
Find a current list of open positions online.
---
Road project updates
Washington Boulevard
Work on connecting sidewalks and driveways with the newly paved road will continue next week from Interlaaken Boulevard to Lake City Way. We expect to re-open the road to traffic in the afternoon on Wednesday, Nov. 22, 2023.
Angle Lane/Elwood Drive
Trees will be planted the week after Thanksgiving. We expect no traffic impacts from this work.
Union Ave: Orchard to Spruce Street
Utility relocation will occur over the next few weeks. We expect minimal traffic impacts from this work. In mid-December the light poles will be installed.
---