Lakewood Connections in homes now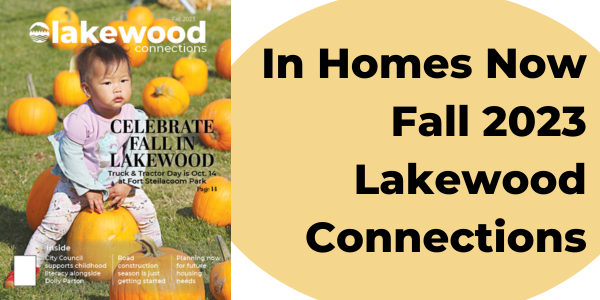 The Fall 2023 edition of the quarterly Lakewood Connections magazine is hitting mailboxes around Lakewood now. Each quarter the magazine is mailed to more than 31,000 residences across the city.
Inside find information about the latest projects, upcoming events, a message from the Lakewood City Council and other details about what's happening in the community.
You can read the publication online in PDF format, or find past editions here.
---
Mayor Whalen's Coffeehouse is Sept. 28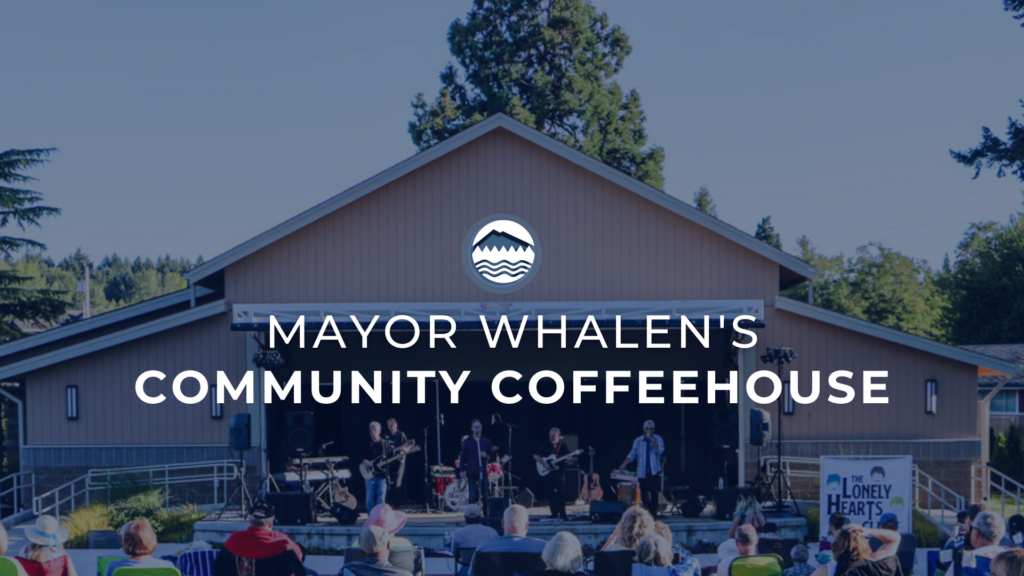 Join Mayor Jason Whalen for his next Community Coffeehouse Thursday, Sept. 28 at 6 p.m. in the Pavilion at Fort Steilacoom Park.
We'll meet inside the building. The topic is housing changes and what impacts recent legislation at the state level will have on local planning policies at the city level. Long-range planner and Special Projects Manager Tiffany Speir will lead the conversation about what impacts are expected in Lakewood.
---
Pierce Transit invites public feedback
Pierce Transit wants its riders and the community at large to voice priorities for the future of local transit in the South Sound. The agency is holding in-person and virtual open houses in the coming weeks for the public.
The purpose is for the public to learn about the recovery plan. Public comment shared through an online survey period will also be shared. Two scenario options will be presented for improved transit service in Pierce County. Public feedback is requested on a preferred scenario. Read more.
Upcoming events:
Sept. 23, 11 a.m.-1 p.m.: Open House at Puyallup Public Library (324 S. Meridian, Puyallup)
Sept. 27, 12-1 p.m.: Virtual Town Hall & Presentation
Sept. 27, 2-4 p.m.: Drop-In Opportunity at Tacoma Mall Transit Center
Oct. 3, 5-7 p.m.: Open House at Asia Pacific Cultural Center (3513 Portland Avenue E, Tacoma)
Oct. 4, 1-3 p.m.: Drop-In Opportunity at Lakewood Transit Center
Oct. 5, 5:30-6:30 p.m.: Virtual Town Hall & Presentation
---
Lakewood Station access improvements
This week Sound Transit launched a public engagement period for its Lakewood Station Access Improvements project. The public is asked to help prioritize potential improvements for people walking, biking and rolling to the station, which provides Sounder train and express bus service.
Two in-person events are planned to gather public input. The first event is Saturday, Sept. 23 from 3-5 p.m. at the Springbrook Connections Community Meal held at Springbrook Park, 12601 Addison Street SW.
The public can also stop by the Sound Transit table at the Lakewood Station on Oct. 4 from 4:30-7 p.m. Lakewood Station is located at 11424 Pacific Highway SW.
View the online open house to comment and find more information on the types of improvements planned. The open house will close Oct. 12. Information presented reflects comments heard from the public late last year. Highlights include:
Other improvements for walking, cycling and rolling
---
Council Corner: Sept. 18, 2023 recap
At its meeting Monday, the Lakewood City Council started the meeting by issuing a proclamation recognizing Sep. 23 to Oct. 1, 2023 as Blue Star Welcome Week in Lakewood. With its proclamation Council recognized the 600,000 active duty and transitioning military families who move to new communities each year. Mayor Jason Whalen noted Lakewood's strong relationship with Joint Base Lewis-McChord as the gateway city to the base and emphasized the role these families play in our community. Read the proclamation.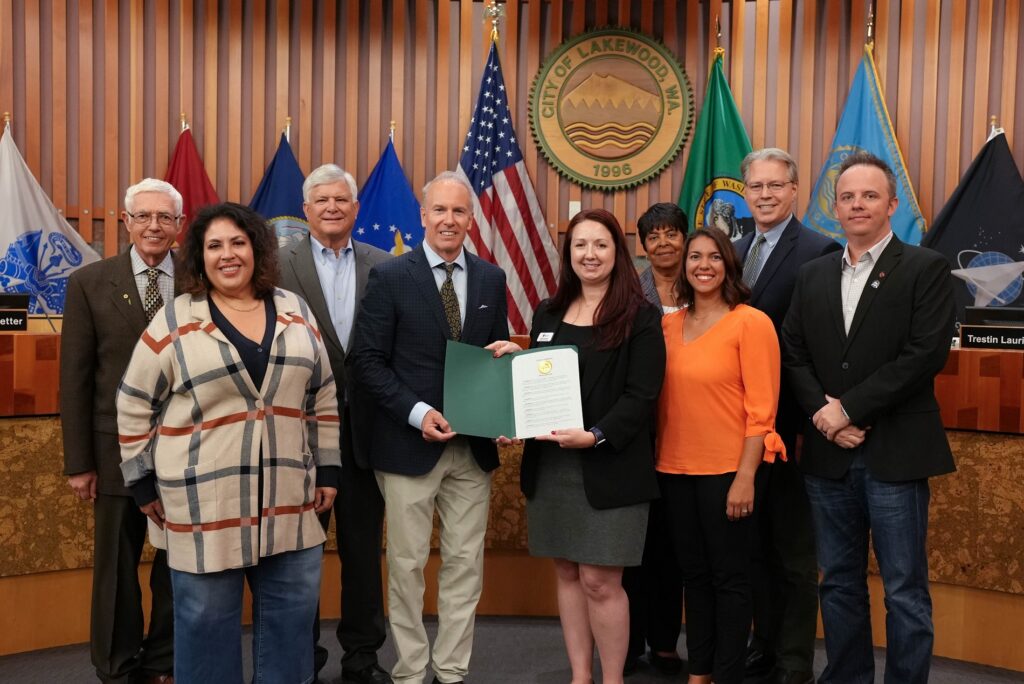 West Pierce Fire & Rescue Chief Jim Sharp then recognized the Lakewood Police Department. Sharp read a letter he penned to Lakewood Police Chief Patrick D. Smith, thanking him and his department for never hesitating to assist fire and rescue personnel on calls. Read more from our partners at West Pierce.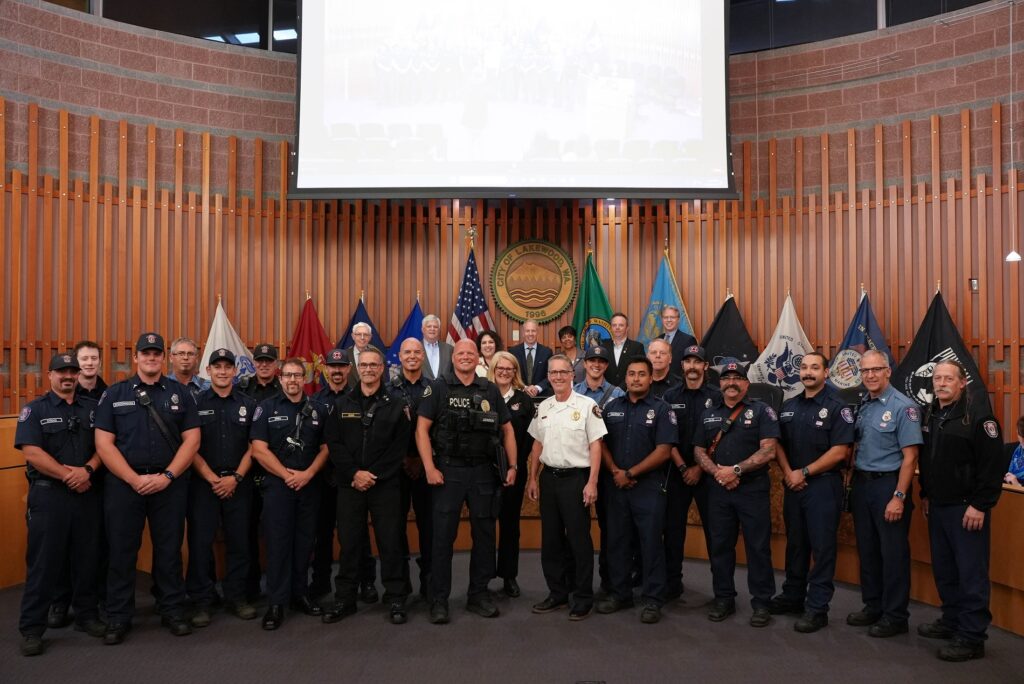 Eagle Scout recognition: Council recognized Eagle Scouts Cal Tsuneyoshi, Gerard Bega and Guillaume (Guy) Bega. Tsuneyoshi took a leadership role replacing aging orienteering markers at Fort Steilacoom Park. Gerard Bega and Guy Bega focused on the expansion of the community garden at Springbrook Park. Read more about their volunteerism.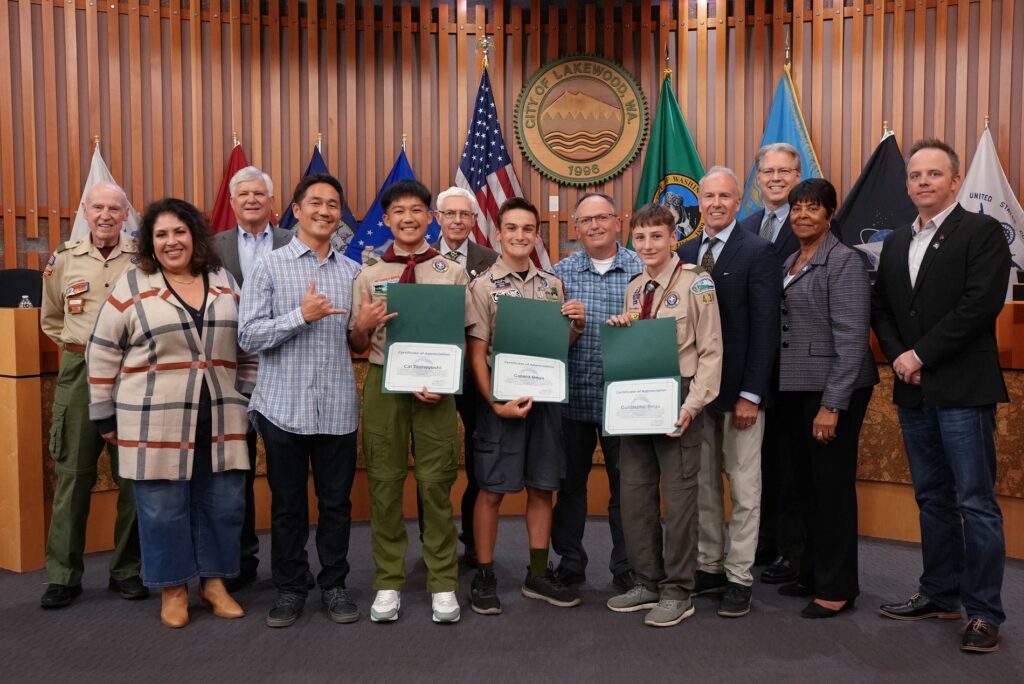 Council Action. Council took action on the following:
Authorized the execution of an agreement with JA Brennan for the Edgewater Park Master Plan Update.
Accepted the Edward Byrne Memorial Justice Assistance Grant, in the amount of $45,000, for technological advancement for crime detection, response and protection.
Authorized the execution of an amendment to the agreement with Doolittle Construction, for the 2023 Chip Seal Program.
Authorized the City Manager to seek grant funding assistance managed through the Washington State Recreation and Conservation Office for Lakewood Parks Maintenance.
Watch the meeting.
What's on Deck: The Lakewood City Council meets Monday, Sept. 25, 2023 at 7 p.m. for a study session. Tentative agenda items include:
Joint Lakewood Arts Commission meeting.
Review of Naming Process for Motor Avenue.
2024 Comprehensive Plan Periodic Review Update: Review of the City's Equity Index Map.
How to attend: Attend in person at Lakewood City Hall, 6000 Main Street SW; Join via Zoom (or dial 253-215-8782 and enter meeting ID: 868 7263 2373), or watch live on the city's YouTube channel.
---
Police Chief's Corner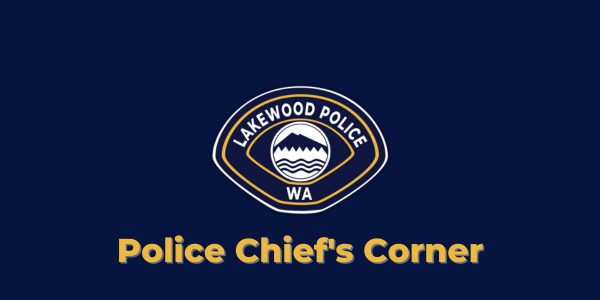 Lakewood Police Chief Patrick D. Smith wants Lakewood residents to know how the department is working for them. Each week he shares a summary that includes a look at total calls for service for the prior week and the types of crimes reported and responded to by police.
The intent of the summary is to share a snapshot of how the department works each week to keep the community safe. To see quarterly statistical analysis, visit the Lakewood Police Department crime statistics page on the city website.
Weekly Summary, Sept. 12-19, 2023
Calls for Service: 1,191
Arrests: 55
Violent Crime: 34
Property Crime: 100
Traffic Stops: 179
Collisions (reportable): 19
---
Volunteer opportunity: South Sound Wildlife
Volunteers are needed to help with the next South Sound Wildlife restoration event on Saturday, Oct. 7 from 9 a.m. to 1 p.m. at the 90-acre site located on Phillips Road.
In partnership with the Clover Park Rotary Club, the all-volunteer crew will tackle its first prairie restoration planting. Work includes removing tarps on the site and planting native grasses and flowers that once covered the area. For more information or to get involved, contact Alan Billingsley ([email protected]) Rotary Project coordinator.
---
Pierce County Manufacturing Day Expo
Head to Clover Park Technical College on Oct. 5, 2023 from 1-5 p.m. to learn about new frontiers in manufacturing. This includes automation, robotics, instrumentation and process control, and supply chain logistics equipment.
While there, meet leaders in the industry and discover how to create, contribute, and connect in this growing sector.
Mayor Jason Whalen recently issued a proclamation supporting this event, and calling attention to the vital role manufacturing plays in the economic development of our city, county, state and nation.
---
Thriving Together Resource Event
The Pierce County Community Navigator team and the City of Lakewood are hosting a FREE Pierce County Thriving Together Small Business Resource event on Oct. 18, 2023 at McGavick Conference Center at Clover Park Technical College, 4500 Steilacoom Boulevard SW, from 8:30 a.m. – 12:30 p.m.
This event will offer small business owners and entrepreneurs the opportunity to connect with Pierce County non-profit organizations, government agencies, and community lenders that offer small business support programs and services. Learn more about the event and register today.
---
Truck & Tractor Day is Oct. 14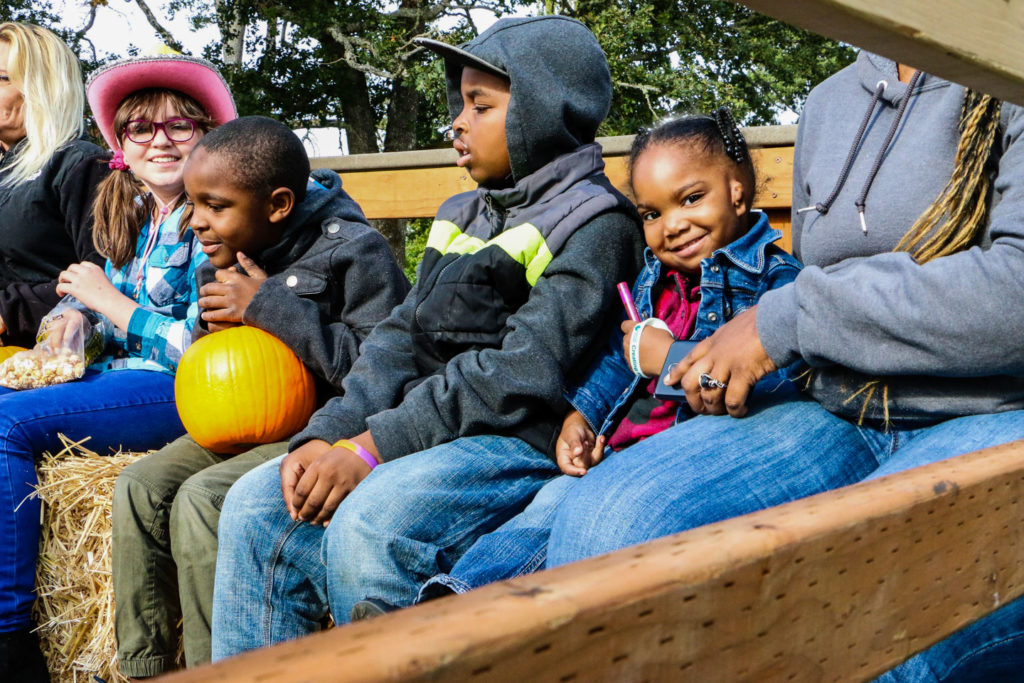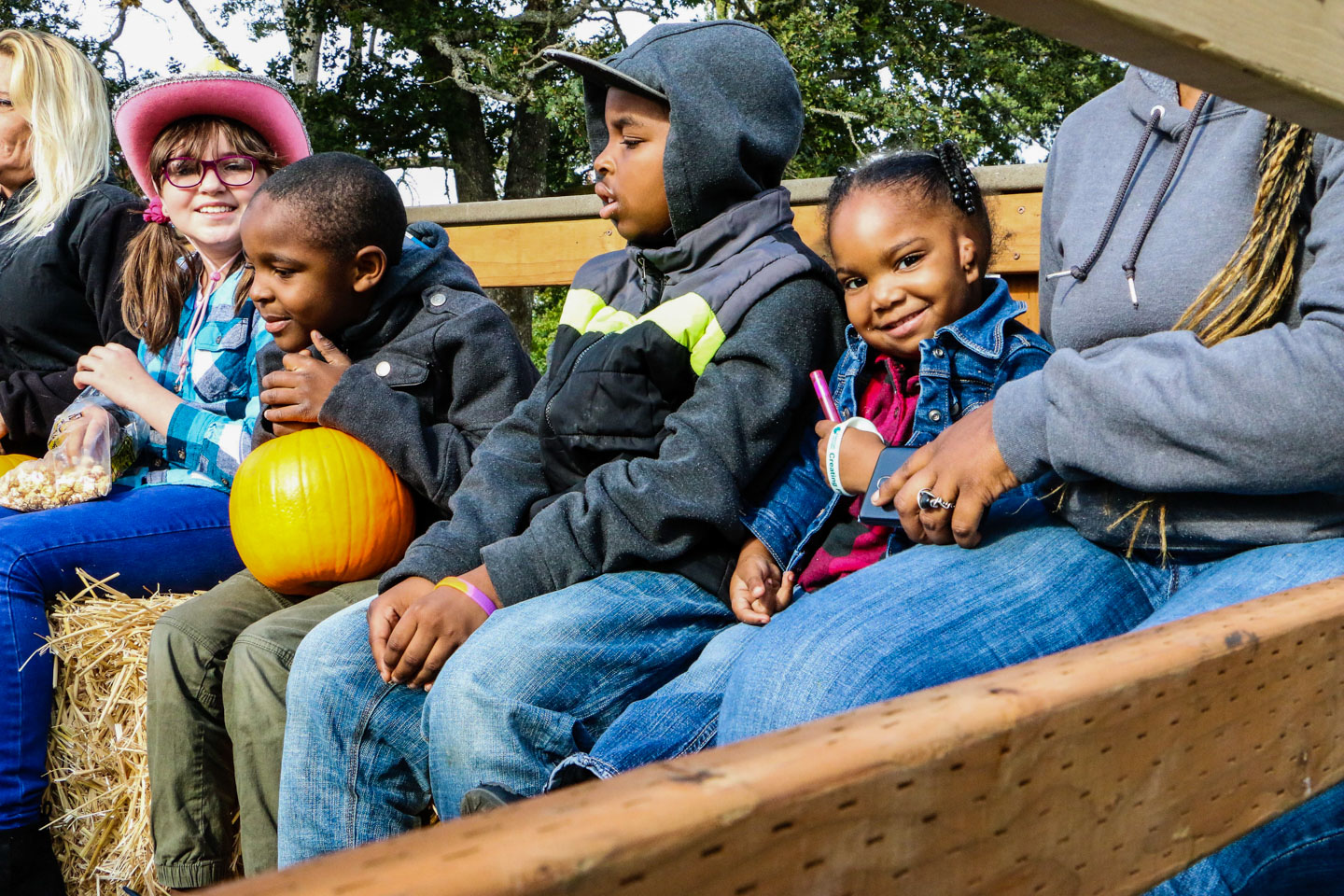 Fall is just around the corner. And so is our favorite fall family event: Truck & Tractor Day! Head to Fort Steilacoom Park Saturday, Oct. 14 from 12-3 p.m. and let the kids climb on big rigs, ride around the park in the hay wagon and enjoy free activities. We'll have a pumpkin patch, food vendors, free hardhats, free child activities, a giant slingshot and more. (Pumpkins may be limited to one per family; hard hats available while supplies last).
---
Participate in Lakewood events
Interested in getting your product or goods in front of Lakewood residents?
Truck & Tractor Day is Oct. 14, 2023 from 12-3 p.m. at Fort Steilacoom Park. We are looking for vendors and companies willing to bring their trucks, tractors or big-rigs for kids to climb on. Find the application online.
The application period is also open for anyone interested in participating in our annual holiday celebration. The Holiday Parade of Lights & Christmas Tree Lighting is Dec. 9, 2023 from 4:30-5:30 p.m.
This success of this event relies on community participation. Individuals, groups, businesses, nonprofits, organizations, cub scouts, sports teams, school groups – everyone is invited to join the parade! Find more details in the parade entry application.
---
Upcoming community events
Pierce County Council District 6 meeting
Pierce County Councilmember Jani Hitchen is hosting a District 6 in-district meeting Wednesday, Sept. 27 at 6:30 p.m. at DuPont City Hall.
Members of the Pierce County Council hold one in-district meeting per year. This provides constituents the opportunity to meet face-to-face with their Council representative and share with them things that are going on in the district.
The meeting will feature several transportation presentations, including long-term planning for the Pierce County ferry system.
Attend in person at DuPont City Hall, 1700 Civic Drive, or virtually via Zoom.
Fort Nisqually Candlelight Tour
Take a guided walking tour back in time and find yourself surrounded by the sights, smells and sounds of life in 1859 at Fort Nisqually. In this reality, candles and campfires illuminate the people and events of the night.
The Candlelight Tour takes place 6-9 p.m. on Friday and Saturday, Oct. 6 and 7.
Advance tickets are required and available online at fortnisqually.org. Walking tours are approximately an hour and begin every 15 minutes. For questions about accessibility or for more information, call (253) 404-3970.
Lakewold Gardens: Halloween events
Visit Lakewold Gardens on the weekends in October for activities for all ages. Stop by on Halloween for a Trick-or-Treat scavenger hunt from 6-7:30 p.m.
Starting Oct. 20 Lakewold Gardens kicks off its All Hallows' Eve: Eerie Enchantments: Poe's Garden of Shadows. This event runs Friday-Sunday, Oct. 20 to Oct. 29, from 6-9 p.m. Tickets are$20 General; $16 Students, Seniors and Military; $10 for 5-17 years (5 and under free). Learn more.
Then visit the garden on Tuesday, Oct. 31 for a special trick-or-treat scavenger hunt. Kids can search for 10 menacing ravens hidden around the gardens. Find a raven, get a treat. Admission is free, but donations are appreciated. Learn more.
Centerforce Auction set for Oct. 27
Don your spookiest or most fun Halloween costume and support a great cause at the same time as Centerforce hosts All Hallows Eve: A Just Like You mixer and auction, presented by KeyBank,on Friday, Oct. 27.
Wine and beer will be available, along with hors d'oeuvres, while visitors browse the silent auction and dance to the DJ spinning tunes. Grab a bottle of wine from the wine pull or try a chance at winning two tickets for travel valid on Alaska Airlines. Tickets are $45 each for the 21-and-older event at Lakewood Elks Lodge #2388, 6313 75th St. W, Lakewood. Doors open at 5 p.m. Costumes are welcome but not required. Purchase tickets.
---
Do you 'know when to go' in an emergency?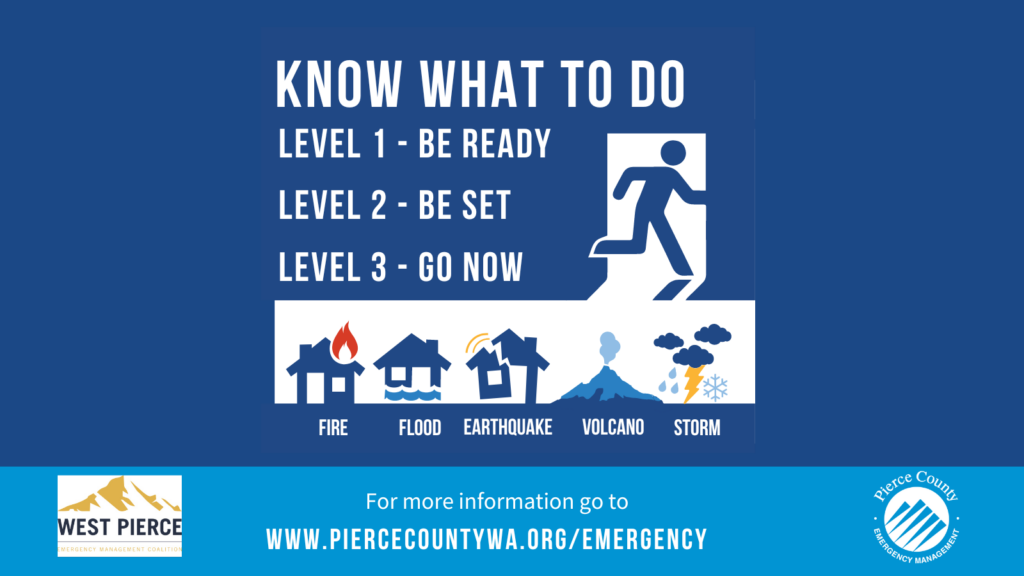 With recent wildfires and corresponding smoke inundating our region on people's minds, the four Western Washington counties of King, Pierce, Snohomish and Thurston are joining forces, along with partners, to launch a regional "Ready, Set, Go!" evacuation campaign.
Learn the evacuation levels and read more.
---
Sign up for Lakewood Alert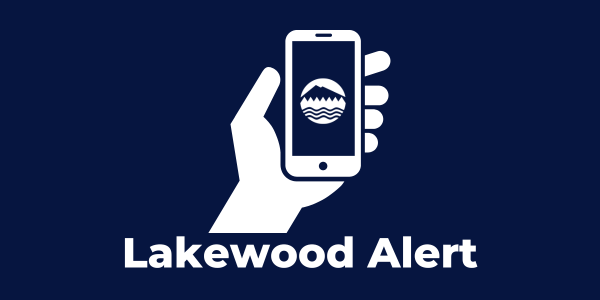 The City of Lakewood uses an alert service: Lakewood Alert to notify residents of important information.
If there is an emergency in the city that requires public notification, we will use this alert system to send out information related to the emergency. An example of when we recently used this is the Aug. 16 fire in Fort Steilacoom Park. In partnership with West Pierce Fire & Rescue and our West Pierce Emergency Management Coalition, we used the system to notify people of voluntary evacuation orders.
Subscribers can sign up to receive text and email alerts. People can also sign up for important non-emergency updates including information about road impacts from large events in the city or information about special events.
Find out more and sign up today.
---
Work for the city of Lakewood
We're hiring! Looking to change careers? Looking for a new job? Ready to re-enter the job market?
Join the city of Lakewood! We have a variety of positions open across multiple departments. Lakewood offers a competitive benefits package. We are part of the state retirement system (PERS). And the city is a beautiful place to work.
Find a current list of open positions online.
---
Road project updates
Washington Boulevard
The city's contractor will have the road closed Tuesday, Sept. 26 between Vernon and Edgewood during the day. Flaggers will be in place at each roundabout. The closure is so the contractor can install new filters in the stormwater catch basin.
Angle Lane/Elwood Drive
Turning on the streetlights is delayed due to theft of material for the lights. This theft setback this portion of the project and it is unknown how long it will take for replacement items to arrive.
Union Ave: Orchard to Spruce Street
Construction continues on Union Avenue between Orchard and Spruce streets. By end of next week the contractor is expected to have all underground work complete. Once done, grading will begin. Despite the single-lane closure businesses located within this section of roadway are open. Please show support by continuing to shop/purchase items from these businesses during construction. This project will add curbs, sidewalks and street lighting on the side of Union Avenue closest to Interstate 5. It will be a quick project, taking no more than 6-7 weeks to complete.
---