At more than 188 acres, the Woodbrook Business Park in Lakewood's Woodbrook neighborhood is the newest area of the city to see industrial development occur. In 2017 a 467,000 square foot logistics center was completed, the first of its kind under the industrial zoning.
Tiffany Speir
Long-Range & Special Projects Manager
6000 Main St SW
Lakewood, WA 98499
(253) 983-7702
[email protected]
Phones & Email:
Monday to Friday: 8:30 a.m. to 5:00 p.m.
---
Woodbrook Business Park Project Overview
Woodbrook is a prime location with its easy on-and-off access to Interstate 5. In 2019 the state Department of Transportation began its rebuild of two overpasses in the Woodbrook and Tillicum neighborhoods, providing easier access to the freeway, and more importantly preparing for the widening of I-5 through the Joint Base Lewis-McChord corridor. The City of Lakewood worked closely with state legislators neighboring cities and the military to see a statewide transportation package passed that included funding to pay for the much-needed widening project.
The new interchanges reroute freeway on ramp and off ramp traffic over adjacent rail lines, and expand the freeway to help increase the flow of traffic between Olympia and Tacoma.
---
Updates
The central Woodbrook area is proposed to be designated as a CoMI based on its emergence as an important industrial node.

Approximately 170 acres have been zoned for industrial uses. Sewers have been extended and roadway improvements have been made to accommodate redevelopment of the area with industrial uses and to facilitate traffic using the JBLM Logistics gate at the end of Murray Road SW. Additional improvements are planned.

One 45,000 sq. ft. industrial building has been constructed, and approximately 700,000 square foot of additional industrial space has been approved for development.

The City adopted the Woodbrook Business Park Development Report in July, 2009, which analyzes development issues and makes recommendations regarding redevelopment of the area with industrial uses.
In 2001, Zoning was changed in the Woodbrook area to allow for a new 150 acre Industrial Business Park (IBP). A 440,000+ square foot manufacturing/ warehouse use building has been approved in the IBP.

The purpose of the IBP zone is to provide for a coordination of uses and design to facilitate an active integration of employment, services, and business/light industrial uses.
First Impressions matter! The city continues its gateway improvement work which started in 2015.

There are 14 different ways to access and enter the Lakewood community and each of the access points (gateways) are different and leave a different impact and impression with those who pass by to visit, shop, or play.
The American Lake Gardens site lies in the southwestern portion of McChord Field where the Air Force operated several disposal areas from the mid-1940s to the early 1970s.

During that time, site operators disposed of unknown amounts of trichloroethylene (TCE) in Area D. These activities contaminated groundwater with hazardous chemicals. Following cleanup, operation and maintenance activities are ongoing. McChord AFB merged with Fort Lewis to become Joint Base Lewis McChord (JBLM). The Army is responsible for management of environmental cleanup responsibilities at JBLM.

The site's long-term remedy included groundwater extraction, treatment and monitoring, and groundwater use restrictions. Remedy construction took place between 1993 and 1994. Groundwater monitoring is ongoing.

For more information and documentation, please visit the Washington Department of Ecology's American Lake Gardens Page:
The Opportunity Zone Program is designed to provide tax incentives to investors who fund businesses in underserved communities.

Investors may defer paying taxes on capital gains that are invested in Qualified Opportunity Funds. These Opportunity funds are invested in distressed communities which are designated as Opportunity Zones by the governor of each state. The census tract including the Tillicum & Woodbrook neighborhoods is designated as an Opportunity Zone.
The Thorne Lane Interchange improvements were completed in late 2021. The new interchange will improve local traffic flow as well as allow for widening of I-5.

Populations in Thurston and Pierce counties have grown exponentially over the past decade, leading to increased traffic congestion along I-5. In recent years, WSDOT, along with local city, county, and Joint Base Lewis-McChord (JBLM) officials, have refocused efforts to improve travel times and operations on the existing highway.

The aim of these infrastructure improvements is to relieve chronic traffic congestion and improve mobility along I-5 near JBLM.

Completed Thorne Lane Interchange Improvements
---
Woodbrook Development Timeline
2019/2020
First building complete, Black Creek (former CPSD) property, south of 150th and Spring Street
Construction started on other Black Creek buildings, American Lake Logistics, and property south of 150th and Woodbrook Drive.· Private sewer installation complete, 150th from Spring to the west (Black Creek)
2018
Extended industrial business park zoning another 31.5 acres (now 188 acres)
Complete sewer extension, 150th, from Woodbrook to the east
467,000 sq ft warehouse leased to DAMCO and GEODIS
Black Creek purchases CPSD property
Emerson Lake Business Park established, SEPA in process
New interchange design build in process
New project at 146th and Woodbrook drive in process (American Lakewood Logistics)
New project south of 150th and Woodbrook Drive in process
2017
Complete Phase I of sewer extension
467,000 sq ft warehouse complete
Multiple properties on the market
2016
Permits submitted for 467,000 sq ft Panattoni warehouse
2015
City supports I-5 JBLM Congestion Relief transportation improvement project
Including reconstruction of Thorne Lane to support movement of freight in and out of the park
Work with CPSD on facilities, and new Mann Middle School
2012
Complete Phase I of sewer extension.
2011
Olympic Moving & Storage completed new building
Extend underlying zoning to include Woodbrook Middle School (added 39 acres)
2009
July, Woodbrook Report published
Main conclusions:
Implement a right of way improvement program to create business park image
Relocate middle school
Extend sewer to unserved areas
Work with housing agencies to relocate lowest income units to other housing areas with more adequate services
Work with WSDOT on cross-base highway from 146th to Fort Lewis (this project will not move forward)
Implement landscaping to reinforce streetscape for the business park
Provide fencing and landscape buffer for adjacent residential zone areas
2008
Port of Tacoma partners with City of Lakewood to fund the Woodbrook Business Park Development Report
Key partnership in preparing for industrial market expansion
2000 and 2001
City creates the 117.5 acre industrial zoned area in Woodbrook, at time of comprehensive plan and zoning adoption
Purpose: to stimulate sewer extension to, and jobs for the area
Instrumental in gaining funding for sewer extensions
20 acres acquired by a single entity in anticipation of the redevelopment opportunity
---
Maps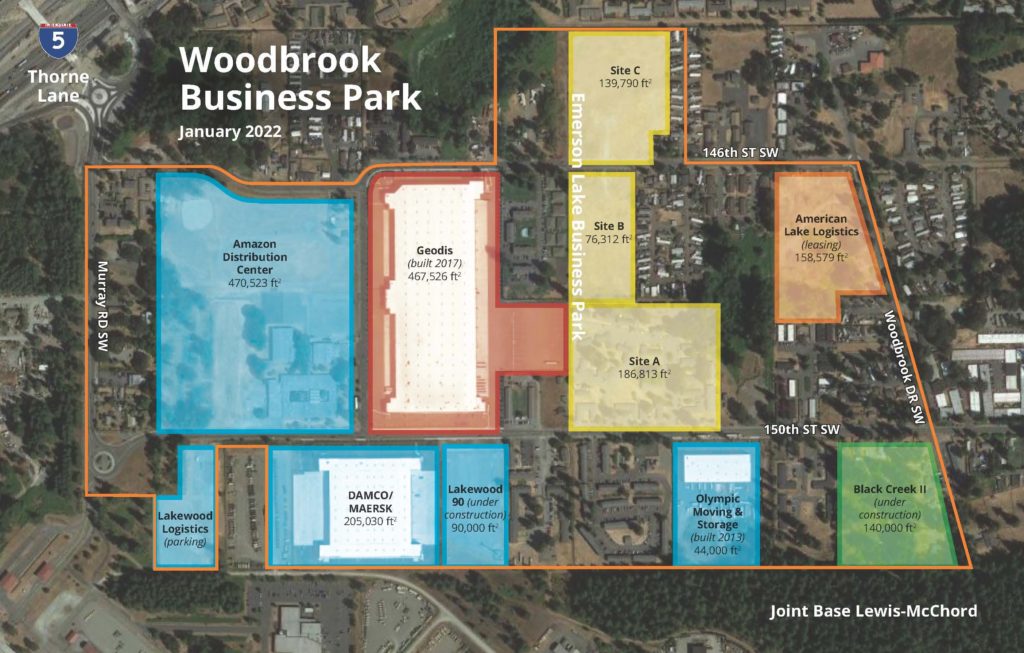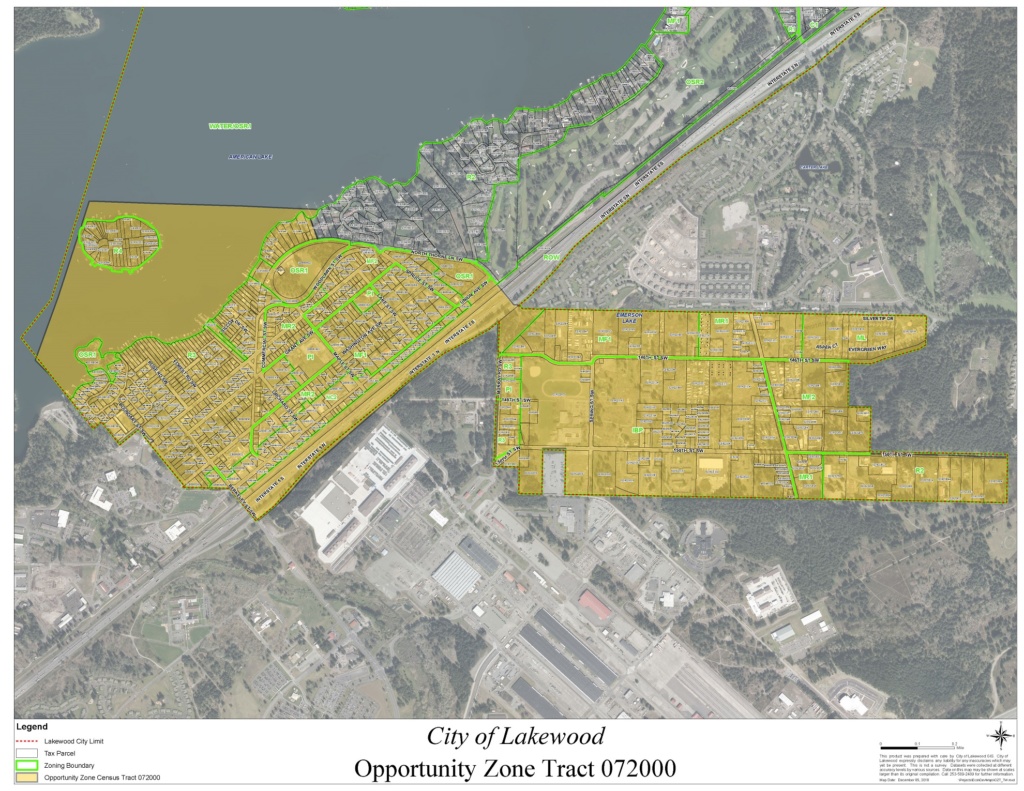 ---
Documents & Resources
Interested in Lakewood development? Follow these useful links to learn about ordinances, planning policies, zoning, and other information that guides development in Lakewood. Visit the Planning & Zoning Maps, Ordinances, and Documents page for more information.
Revised Code of Washington
Lakewood Planning Documents
Regional Planning Documents