Tiffany Speir
Long-Range & Special Projects Manager
6000 Main St SW
Lakewood, WA 98499
(253) 983-7702
To email City employees combine the first letter of their first name with their full last name and add @cityoflakewood.us
Available by phone and email:
Monday to Friday: 8:30 a.m. to 5:00 p.m.
---
Project Overview
In 2009, Lakewood released a Vision for Tillicum document which outlined six key planning initiatives. In 2011, the Tillicum Neighborhood Plan was adopted as a City Subarea Plan. In 2022, the City adopted an Addendum to the TNP that explains what has been done since 2011 to make the Plan's vision a reality.
---
Updates
The 2022 review process ended with the City Council adopting a 2022 Addendum to the 2011 Tillicum Neighborhood Plan that shows the status of its implementation as well as recognizes conditions that have changed since 2011, including:

the I-5 Expansion through Lakewood and other projects affecting access to Tillicum
the replacement of the Berkeley and Thorne Lane Interchanges in the Tillicum area
Zoning Changes within the neighborhood
---
Rezoning Information
The City of Lakewood online permits dashboard allows you to type your address into the City mapping system to find your parcel number. You can see if your house or business is located on one of the parcels that was rezoned as part of the 2022 Comprehensive Plan amendment cycle. Please compare your parcel number to the parcel numbers below:
The following Tillicum Parcels were rezoned in 2022:
0219212108, -109, -110, -111, -112, -113, -114, -115, -117, -118, -141, -142, -143, -144, -192, -195, -196, -148, -149, -150, -151, and -189
If a parcel is included on this list, it may be rezoned to "Mixed Residential 2" (MR2).
When a parcel is rezoned, it is possible that the current use will not conform to the new zoning regulations. If this is the case, the current use will be allowed to continue as-is until redevelopment occurs on that parcel. This means that if you own a home or business on a parcel that is rezoned and your home or business does not conform to the new zoning regulations: your home or business will be allowed to continue as-is until you decide to change the use of your parcel.
If a parcel is rezoned, development regulations for future uses may have changed. Please review the current zoning regulations and the new zoning regulations to understand what future development will be allowed on that parcel.
Contact the City's Community Development Department at (253) 512-2261 or review Lakewood Code Section 18A.40.110 to find out what types of uses are allowed in a Mixed Residential 2 (MR2) zone.
---
Transportation Improvements near Tillicum
I-5 Improvements through JBLM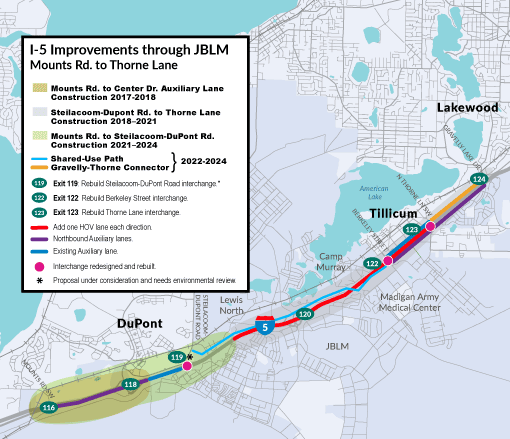 Location of proposed Gravelly-Throne Connector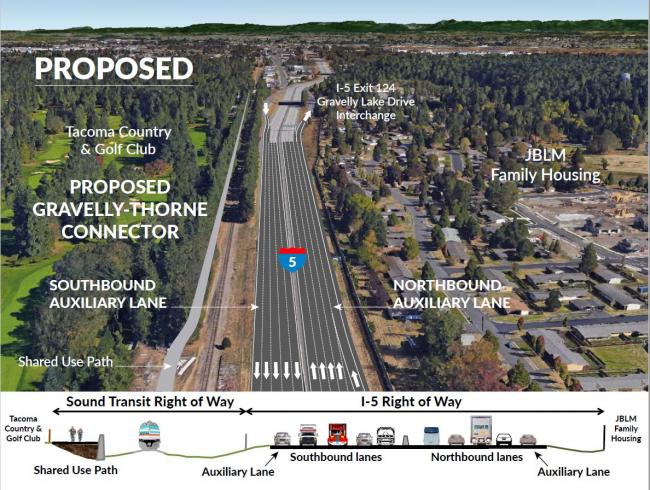 2022 Expansion of Tillicum Center of Municipal Importance Boundaries
Through Ordinance 772, the City Council also updated the boundaries of the Tillicum Center of Municipal Importance (CoMI), which can be seen in the map below.