Public art unites. It beautifies. It tells stories and builds common ground. We believe that art is of great value to the community, and we invest in art throughout the community.
From simple signal box wraps to large-scale sculptures and murals, public art takes many shapes and sizes. All of our diverse pieces share one purpose: to make you proud to live in Lakewood. The Lakewood Arts Commission makes recommendations to City Council about the installation of art.
---
New Art Projects
Colonial Plaza Gateway Arch
Colonial Plaza was renovated in 2019 to become a community centerpiece. On top of the cobbled street and classic architecture, Colonial Plaza will have a welcoming metallic gateway arch.
The graceful arc will welcome from afar and amaze from up close with a collection of community voices. Metal strands will be etched with phrases from local residents and community groups.
Two sweeping steel arcs positioned along the Gravelly Lake Drive entrance to Motor Avenue will beckon visitors to one of Lakewood's community gathering places. Two arcs made from inch-thick curved steel plates will form a gateway: the larger will stretch 50 feet wide and the smaller 34 feet. Both will rise about 4 feet from the ground.
112 aluminum "story strips" will be installed within the arc, each etched with quotes and memories gathered from the community. In Spring 2022, the City will gather phrases, quotes, and stories about life in Lakewood to include in the piece.
From the park side, visitors can enjoy these stories and memories from up close. From the street, the aluminum strips will reflect a luminous glow through triangular cutouts.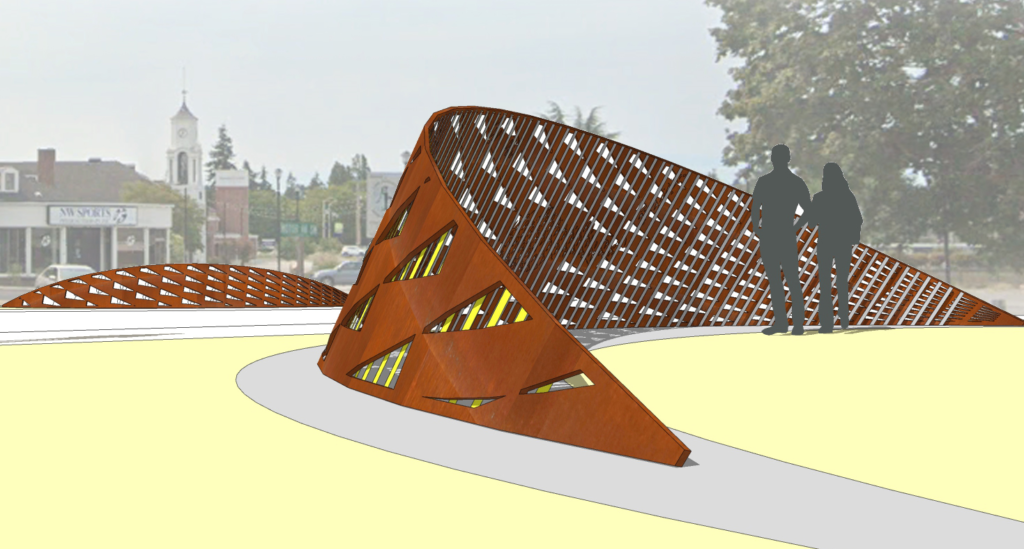 Signal Box Wraps
Large utility boxes are located next to traffic lights at many Lakewood intersections. While you're stuck at a red light, why not enjoy a more pleasant view?
The City is sprucing up a series of boxes, fitting them with unique wraps made by local artists.
---
Gallery