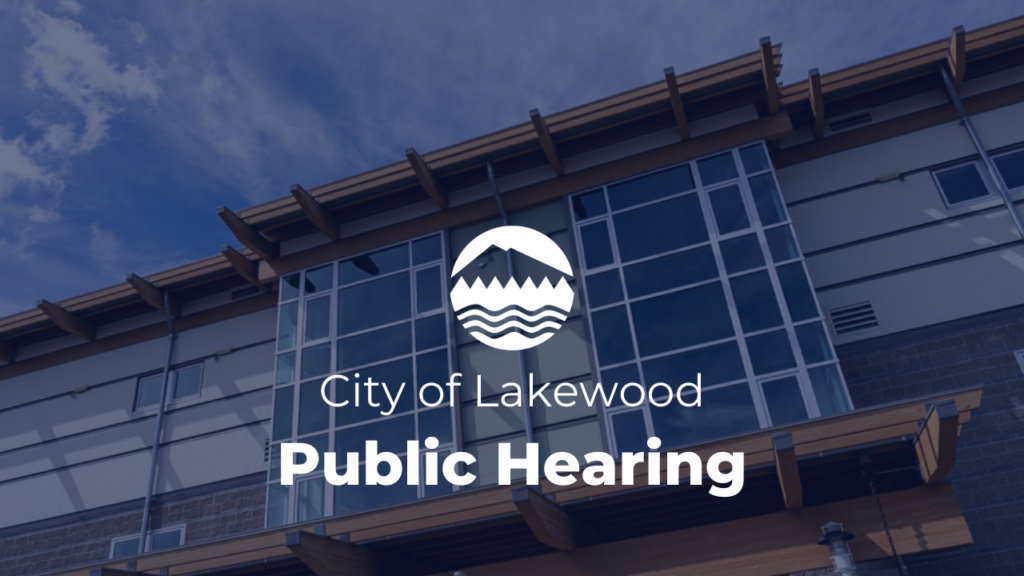 Public hearing on ADUs and short-term rentals
At its regular meeting Nov. 6, 2023, the Lakewood City Council will hold public hearing on proposed 2023 annual development regulation code amendments. One of the 12 proposed amendments relates to accessory dwelling units (ADUs) and whether they should be allowed as short-term rentals.
The Lakewood Planning Commission reviewed the proposed code amendment. After discussion and holding a public hearing, the commission voted to recommend owners of ADUs be allowed to rent them on a short-term basis.
Lakewood planning and development staff recommended against this. Planning staff cited a concern that it will worsen the existing housing crisis facing the region.
Read more and see how you can offer comment.
---
Fall Community Cleanup is Nov. 11-12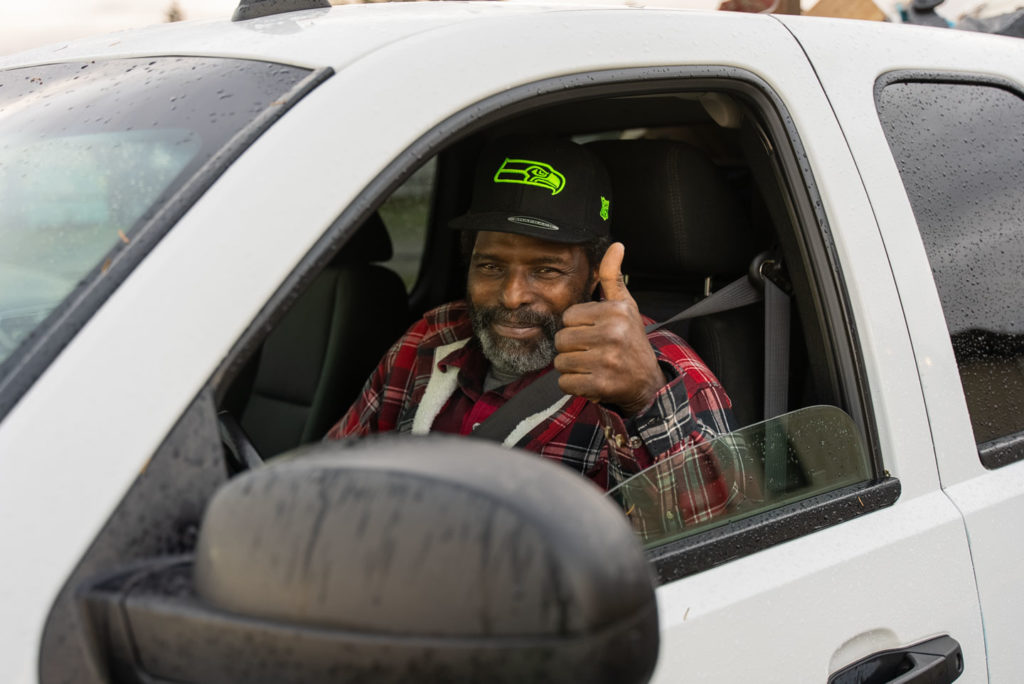 Bring trash, junk and recyclables to the Lakewood Transfer Station for the city's Fall Community Cleanup Saturday and Sunday, Nov. 11-12 from 8 a.m. to 2 p.m. (last vehicle admitted at 1:45 p.m.).
This event is for Lakewood residents only; a utility bill or ID is required to show proof of residence. Participants should be prepared to back up a steep ramp, unload all items yourself, bag all loose items and wear proper footwear. Find a list of what is and is not accepted online.
Additional rules:
5 minute time limit to unload items
No box vans or vehicles taller than 7 feet
Trailers over 4-feet by 8-feet prohibited
Unsafe vehicles may be cited
---
2023 Fallen Officer Food & Blood Drive date announced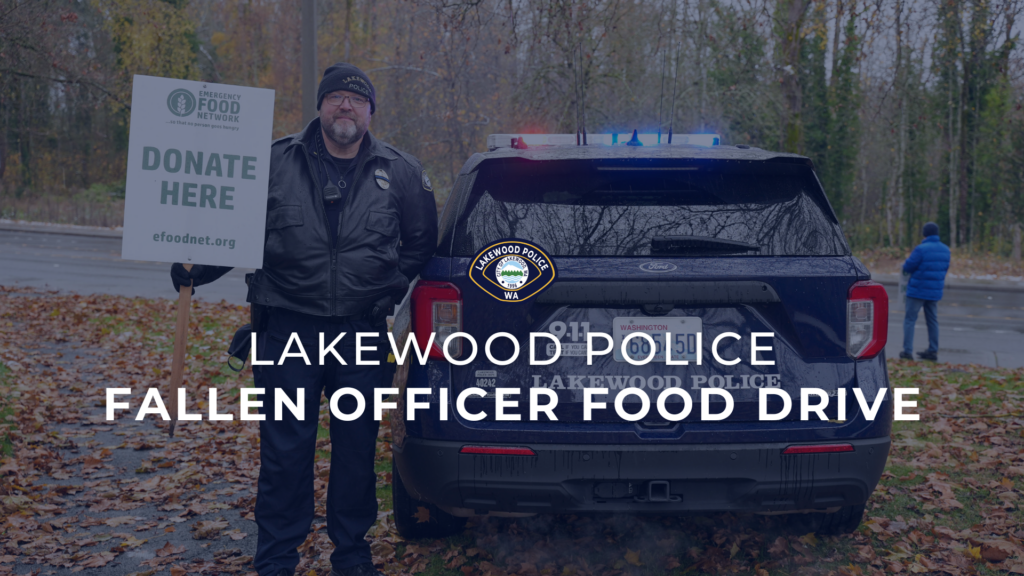 The 14th annual Lakewood Police Department Fallen Officer Food Drive and 7th annual Blood Drive is Nov. 29, 2023, from 6 a.m. to 5:30 p.m.
On this day visit the parking lot across the street from the Lakewood Police Station (9401 Lakewood Dr. SW) to drop off non-perishable food items. All items will be donated to Emergency Food Network. The food network serves all of Pierce County, providing items to smaller food banks in various cities and unincorporated areas.
If you are unable to stop by on Nov. 29, donations will be accepted leading up to the event. Donation bins will be at these locations:
Blue Steele Coffee Company, 11401 Steele St.
Classy Chassis Xpress Lube, 7609 Custer Road W.
Classic Coffee in Lakewood, 7609 Custer Road W.
Classic Coffee in University Place, 4828 Bridgeport Way W.
Lakewood City Hall, 6000 Main St. SW (weekdays, 8:30 a.m. to 5 p.m.)
Lakewood Police Station, 9401 Lakewood Dr. SW (weekdays, 8:30 a.m. to 5 p.m.)
Our region is currently facing a significant blood shortage. If you are able, please consider donating blood to help Bloodworks NW replenish the supply. Blood donations are by appointment only. Please sign up today.
---
Council Corner: Oct. 30, 2023 recap
Park sign design. Council reviewed proposed designs for new park signage. A design consultant created multiple options. The city's volunteer Parks and Recreation Advisory Board reviewed the options and made its recommendation to Council. Council agreed with the recommendation and instructed the Parks and Recreation Department to move forward with next steps to replace the city's aging park signs with new ones.
2024 Legislative Agenda. The City Council had one final review of its proposed federal, state and county legislative agenda. The agenda is focused on roads and neighborhoods and continued advocacy for public safety improvements.
Multifamily Tax Exemption code amendments. The Multi-Family Property Tax Exemption program provides opportunities for cities and counties to encourage multi-family development in certain areas. This program is an important tool in the development of affordable housing. Through the program cities can offer an eight-year property tax exemption for qualifying residential improvements that add new units to predetermined residential areas. Additional deferrals for 12 or 20 years are possible for projects that include income-restricted units.
2023 Annual Development Regulation code amendments. The City Council reviewed proposed amendments to the city's development regulations. The majority of the amendments are technical. One proposes the use of Accessory Dwelling Units as short-term rentals, and another expands the opportunity for childcare facilities to locate in Lakewood. A public hearing is planned on the proposed amendments at Council's Nov. 6 regular meeting.
Watch the meeting.
What's on Deck: The Lakewood City Council meets Monday, Nov. 6, 2023 for a regular meeting at 7 p.m. in Council Chambers. Tentative agenda items include:
Proclamation declaring November as Native American Heritage month
Proclamation declaring Nov. 11, 2023 as Veterans Day and the month of November 2023 as Veterans Appreciation month
Proclamation recognizing Nov. 6 – 11, 2023 as Operation Green Light for Veterans
Proclamation recognizing Gomer Roseman, Habitat for Humanity
Business Showcase:AA Meats
Reports by the Lakewood Youth and Clover Park School District
Approving the 2024 Federal, State and County Legislative Agenda and Policy Manual
Authorizing execution of an agreement with Gordon Thomas Honeywell Governmental Affairs for state governmental affairs
Authorizing execution of an agreement with Johnston Group for federal governmental affairs
Authorizing the award of a construction contract to R.L. Alia, Inc., for $2,615,490.84, to build the Ardmore/Whitman/93rd Street project
Authorizing execution of a contract amendment with Robert Droll Landscape Architects to support additional design for the American Lake Park improvement project
Authorizing execution of an employment agreement with John J. Caulfield for City Manager services.
Appointing Jeff Cox to serve on the American Lake – Lake Management District No. 1 Advisory Committee through June 2, 2024
Public Hearing: 2023 Annual Development Regulation code amendments
Public Hearing: Proposed code amendments to the Lakewood Multifamily Tax Exemption (MFTE) Program
Public Hearing on the 2024 Property Tax Levy Ordinance
Resolution approving the Tax Increment Area boundary and infrastructure needs
How to attend: Attend in person at Lakewood City Hall, 6000 Main Street SW; Join via Zoom (or dial 253-215-8782 and enter meeting ID: 868 7263 2373), or watch live on the city's YouTube channel.
---
Police Chief's Corner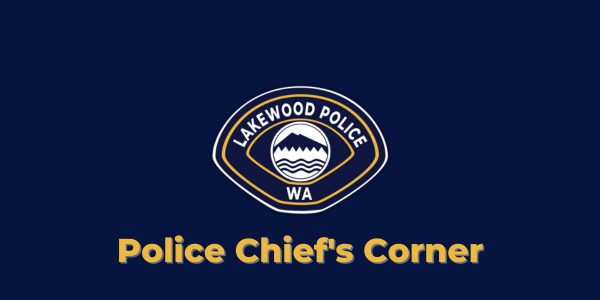 Lakewood Police Chief Patrick D. Smith wants Lakewood residents to know how the department is working for them. Each week he shares a summary that includes a look at total calls for service for the prior week and the types of crimes reported and responded to by police.
The intent of the summary is to share a snapshot of how the department works each week to keep the community safe. To see quarterly statistical analysis, visit the Lakewood Police Department crime statistics page on the city website.
Weekly Summary, Oct. 24-31, 2023
Calls for Service: 927
Arrests: 32
Violent Crime: 29
Property Crime: 97
Traffic Stops: 71
Collisions (reportable): 28
---
Comprehensive Plan Open House
As part of the city's 2024 Comprehensive Plan Periodic Review process there will be a public open house Nov. 15, 2023 at 5:30 p.m. The event is hybrid, offering in-person and virtual attendance.
The open house will review the process and general requirements governing the 2024 Periodic Review update. The event will last 45 minutes.
Attend in person at Lakewood City Hall in Council Chambers, 6000 Main Street SW. Attend virtually through Zoom. Or dial 253-215-8782 and enter meeting ID 873 5008 5037. Use passcode 751617 to join the meeting.
Stay up to date on the process by signing up to receive email updates.
---
Join an advisory board or commission
Lakewood Planning Commission vacancy
Interested in getting involved in city government? There are four vacancies on the Lakewood Planning Commission. Applications are now available for consideration for this all-volunteer commission.
If appointed, the term begins Dec. 16, 2023 and is for five years. The roles and responsibilities of the position are described in the Notice of Vacancy.
Interested? Submit your application by 5 p.m. Nov. 10, 2023. Find the application online.
Lakewood Civil Service Commission vacancy
Join the Lakewood Civil Service Commission and work alongside other volunteers to help with the selection process and appointment of Lakewood police officers. Commission members also assist with the promotion or demotion of officers.
The commission meets the first Thursday of the month at 9:30 a.m. There is one vacancy that needs to be filled. Deadline to apply is Nov, 24, 2023.
Find out more about what the position requires its qualifications and the application online.
---
Be in our holiday parade
Interested in getting your product or goods in front of Lakewood residents?
The application period is also open for anyone interested in participating in our annual holiday celebration. The Holiday Parade of Lights & Christmas Tree Lighting is Dec. 9, 2023 from 4:30-5:30 p.m.
This success of this event relies on community participation. Individuals, groups, businesses, nonprofits, organizations, cub scouts, sports teams, school groups – everyone is invited to join the parade! Apply by Nov. 27. Find more details in the parade entry application.
---
Do you 'know when to go' in an emergency?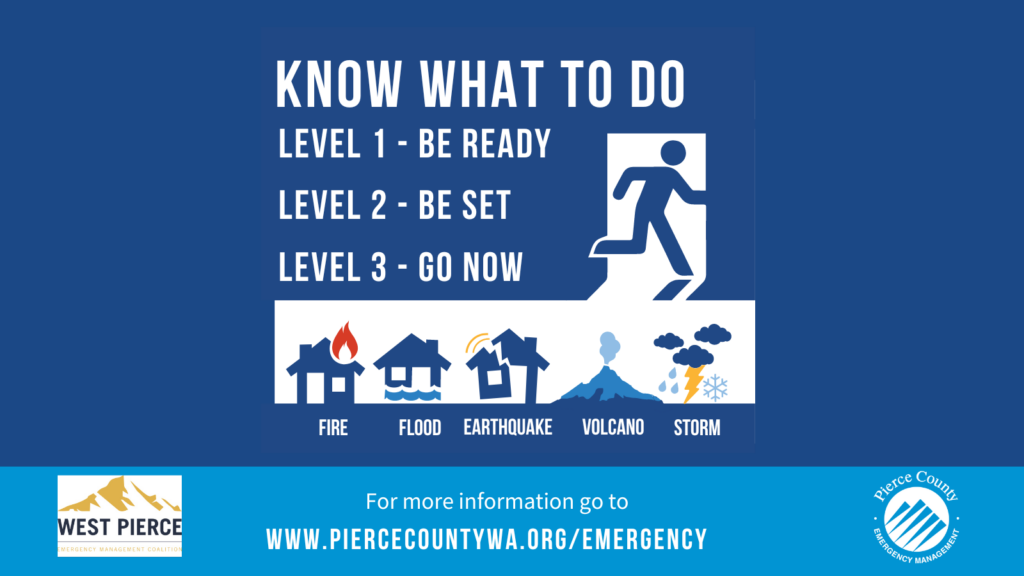 With recent wildfires and corresponding smoke inundating our region on people's minds, the four Western Washington counties of King, Pierce, Snohomish and Thurston are joining forces, along with partners, to launch a regional "Ready, Set, Go!" evacuation campaign.
Learn the evacuation levels and read more.
---
Sign up for Lakewood Alert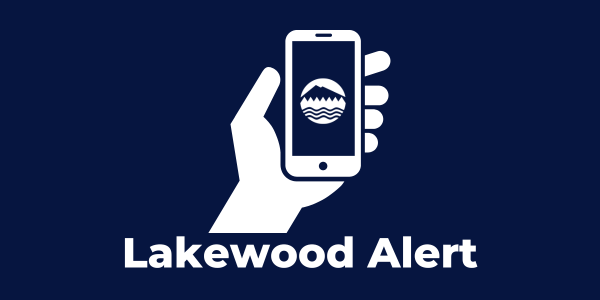 The City of Lakewood uses an alert service: Lakewood Alert to notify residents of important information.
If there is an emergency in the city that requires public notification, we will use this alert system to send out information related to the emergency. An example of when we recently used this is the Aug. 16 fire in Fort Steilacoom Park. In partnership with West Pierce Fire & Rescue and our West Pierce Emergency Management Coalition, we used the system to notify people of voluntary evacuation orders.
Subscribers can sign up to receive text and email alerts. People can also sign up for important non-emergency updates including information about road impacts from large events in the city or information about special events.
Find out more and sign up today.
---
Work for the city of Lakewood
We're hiring! Looking to change careers? Looking for a new job? Ready to re-enter the job market?
Join the city of Lakewood! We have a variety of positions open across multiple departments. Lakewood offers a competitive benefits package. We are part of the state retirement system (PERS). And the city is a beautiful place to work.
Find a current list of open positions online.
---
Road project updates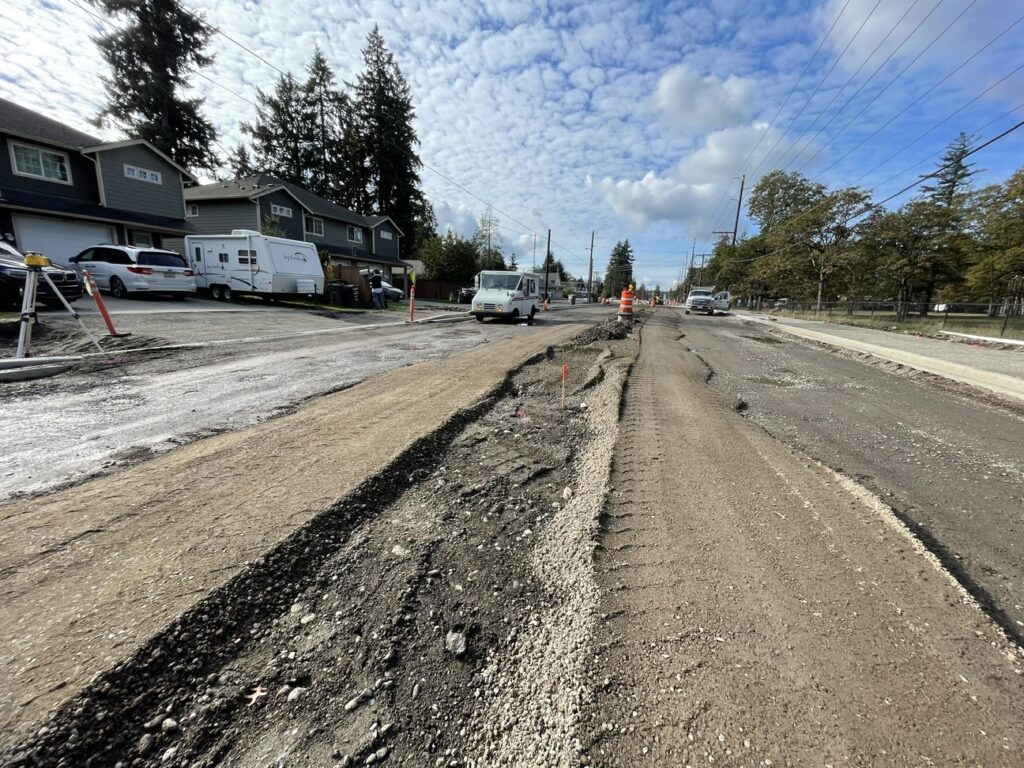 Washington Boulevard
The city's contractor is finishing up work to prepare for the final milestone: paving. Concrete pours for curbing, sidewalks and driveways happened this week and will move into early next week. Asphalt paving is expected to happen next week, but is weather dependent.
Angle Lane/Elwood Drive
A crew will be onsite near the round-a-bout next week to restore the damage to the landscaping, install additional drainage, and add curbing to the north parking lot. Traffic disruptions will be minor, and flaggers will be there to assist with traffic control as needed.
Union Ave: Orchard to Spruce Street
Restoration work was completed this week. Mid-month Puget Sound Energy will replace four poles on Union Avenue. Once this work is completed the contractor will return to pour the remaining sidewalk that was blocked by the old poles. In mid-December the light poles will be installed.
---