Fall Community Cleanup is Nov. 11-12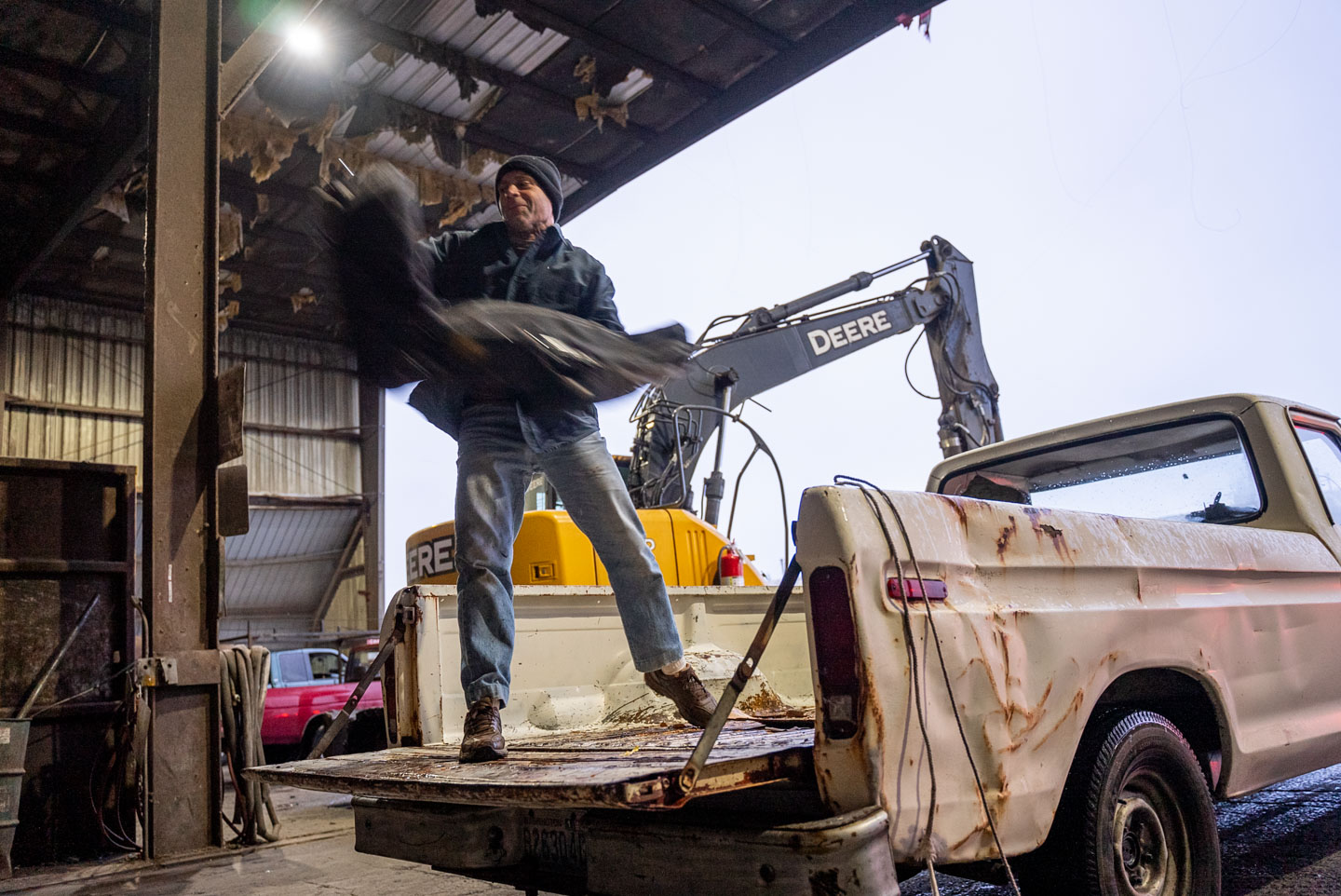 Bring trash, junk and recyclables to the Lakewood Transfer Station for the city's Fall Community Cleanup Saturday and Sunday, Nov. 11-12 from 8 a.m. to 2 p.m. (last vehicle admitted at 1:45 p.m.).
This event is for Lakewood residents only; a utility bill or ID is required to show proof of residence. Participants should be prepared to back up a steep ramp, unload all items yourself, bag all loose items and wear proper footwear.
Additional rules:
5 minute time limit to unload items
No box vans or vehicles taller than 7 feet
Trailers over 4-feet by 8-feet prohibited
Unsafe vehicles may be cited
Accepted items:
Tires (removed from rims)
Bicycles
Furniture
Grills
Appliances
Recyclables
Bagged garbage
Not accepted:
Commercial waste
Loose items
Paint/hazardous materials
Yard waste
Construction waste
Lumber longer than 8-feet
Concrete
Auto parts
Explosive materials
Propane tanks
Electronics
Donations
Mattresses
---
Council Corner: Oct. 23, 2023 recap
Joint meetings. The Lakewood City Council started its study session with two joint meetings. The first was with its Public Safety Advisory Committee. The second was with the Community Services Advisory Board. Council reviewed the respective committees' work in 2023 and there work plans for 2024.
Human Services Funding. Since incorporation the City of Lakewood has dedicated 1% of its general fund to support human service programs assisting Lakewood residents. For the 2023-24 biennium this allocation is $457,500 per year. At its meeting Monday the Lakewood City Council reviewed the Community Services Advisory Board recommendation for how to allocate the coming year's funds. The recommendation proposed dividing it among 21 organizations. Council will take action on the recommendation at its Nov. 20, 2023 regular meeting.
Tax Increment Financing Strategy. Tax Increment Financing (TIF) is a tool that allow cities to bond against future anticipated increases in property taxes due to private investment. The City of Lakewood is considering various funding strategies to purchase and develop a downtown park space. Developing a park in the Downtown subarea is one of the City Council's top priorities to serve the community, realize the Downtown Subarea plan and vision, and to help promote private sector developments. At its meeting Council decided to move forward with further exploration of this funding model to support future development of the city's downtown area.
Watch the meeting.
What's on Deck: The Lakewood City Council meets Monday, Oct. 30, 2023 for a special meeting at 7 p.m. in Council Chambers. Tentative agenda items include:
Authorizing settlement of Pierce County Superior Court Cause No. 23-2-06560-9 between the City of Lakewood and Heirs and Devisees of Edith Josephine Takemoto
Reports by the City Manager: Park Sign Design Project Update
Reports by the City Manager: Review of proposed 2024 Federal, State and County Legislative Agenda and Policy Manual
Reports by the City Manager: Review of Multifamily Tax Exemption Code Amendments
Reports by the City Manager: Review of 2023 Annual Development Regulation Code Amendments
How to attend: Attend in person at Lakewood City Hall, 6000 Main Street SW; Join via Zoom (or dial 253-215-8782 and enter meeting ID: 868 7263 2373), or watch live on the city's YouTube channel.
---
Police Chief's Corner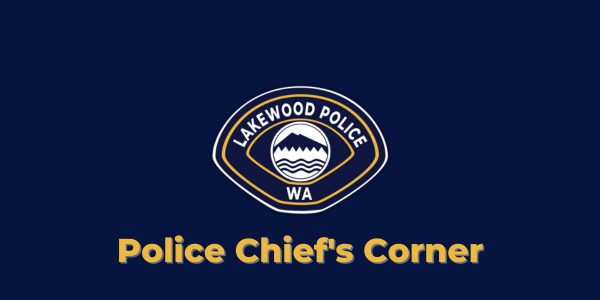 Lakewood Police Chief Patrick D. Smith wants Lakewood residents to know how the department is working for them. Each week he shares a summary that includes a look at total calls for service for the prior week and the types of crimes reported and responded to by police.
The intent of the summary is to share a snapshot of how the department works each week to keep the community safe. To see quarterly statistical analysis, visit the Lakewood Police Department crime statistics page on the city website.
Weekly Summary, Oct. 17-24, 2023
Calls for Service: 958
Arrests: 64
Violent Crime: 25
Property Crime: 102
Traffic Stops: 102
Collisions (reportable): 27a
---
Fall into Yoga in Lakewood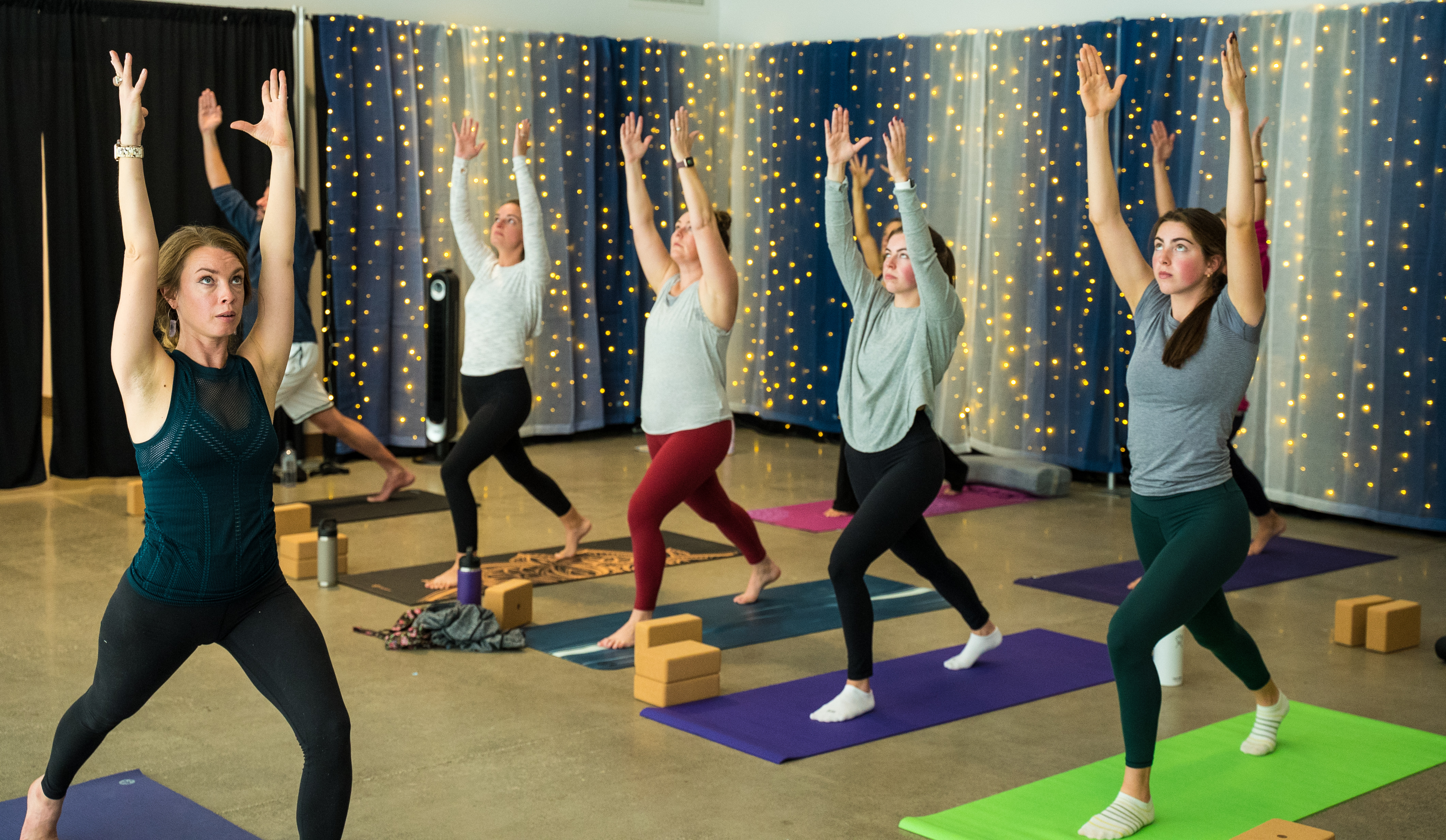 Have you attended the City of Lakewood's Yoga and Meditation classes yet? As the seasons change and you look to continue your mental and physical wellbeing indoors, consider adding the Love Lakewood Yoga & Meditation series to your routine.
Meditation classes are free and focus on topics like anxiety, fear, and forgiveness, while strengthening concentration and intuition. Meditation is every Wednesday from 5 to 6 p.m. (except Nov. 22).
The fall and winter yoga schedule is:
Monday: 4:30-5:30 p.m. Gentle Yoga; 6-7 p.m. Vinyasa
Thursday: 4:30-5:30 p.m. Gentle Yoga; 6-7 p.m. Yin Reiki/Yin Yang
Saturday: 9:30-10:30 a.m. Vinyasa
Stay tuned for the 2024 schedule. Classes will be offered in six-week sessions. Classes are held inside the Pavilion at Fort Steilacoom Park, 9107 Angle Lane SW.
---
West Pierce Emergency Management Coalition
The West Pierce Emergency Management Coalition (WPEMC) launched a new website. The website will be a place where information on local hazards will be shared. It will be used by Lakewood, Lakewood Police, West Pierce Fire & Rescue and our neighbors in University Place and Town of Steilacoom to share information during large-scale emergencies.
This includes sharing information about evacuations are necessary. The information shared will be in addition to what agencies within the coalition will share on their social media platforms.
The West Pierce Emergency Management Coalition (WPEMC) was established in 2020 when the cities of Lakewood and University Place partnered with West Pierce Fire & Rescue to create a comprehensive emergency management program. In 2022, the Town of Steilacoom joined the coalition. The purpose of the coalition is to create a more resilient community through emergency preparedness and planning activities.
Check out the new website: www.WestPierceEmergency.Org
---
Comprehensive Plan Open House
As part of the city's 2024 Comprehensive Plan Periodic Review process there will be a public open house Nov. 15, 2023 at 5:30 p.m. The event is hybrid, offering in-person and virtual attendance.
The open house will review the process and general requirements governing the 2024 Periodic Review update. The event will last 45 minutes.
Attend in person at Lakewood City Hall in Council Chambers, 6000 Main Street SW. Attend virtually through Zoom. Or dial 253-215-8782 and enter meeting ID 873 5008 5037. Use passcode 751617 to join the meeting.
Stay up to date on the process by signing up to receive email updates.
---
Join an advisory board or commission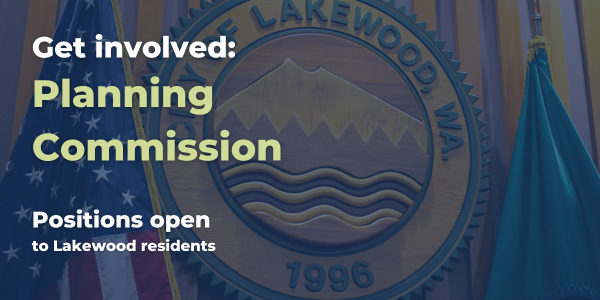 Lakewood Planning Commission vacancy
Interested in getting involved in city government? There are four vacancies on the Lakewood Planning Commission. Applications are now available for consideration for this all-volunteer commission.
If appointed, the term begins Dec. 16, 2023 and is for five years. The roles and responsibilities of the position are described in the Notice of Vacancy.
Interested? Submit your application by 5 p.m. Nov. 10, 2023. Find the application online.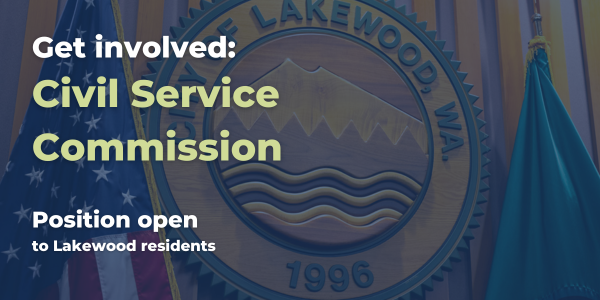 Lakewood Civil Service Commission vacancy
Join the Lakewood Civil Service Commission and work alongside other volunteers to help with the selection process and appointment of Lakewood police officers. Commission members also assist with the promotion or demotion of officers.
The commission meets the first Thursday of the month at 9:30 a.m. There is one vacancy that needs to be filled. Deadline to apply is Nov, 24, 2023.
Find out more about what the position requires its qualifications and the application online.
---
Be in our holiday parade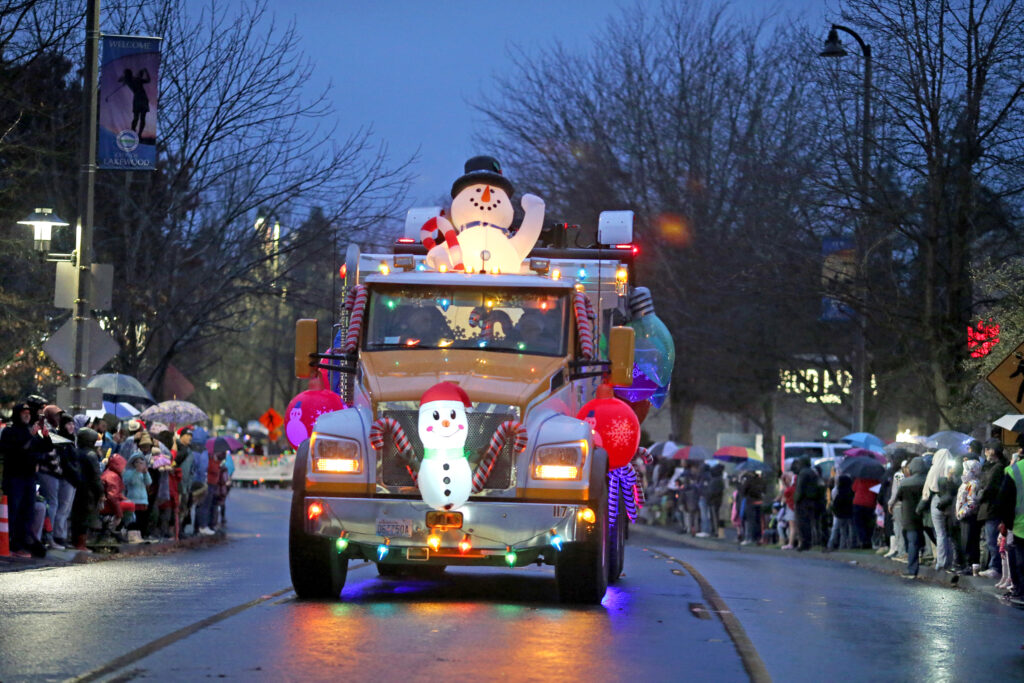 Interested in getting your product or goods in front of Lakewood residents?
The application period is also open for anyone interested in participating in our annual holiday celebration. The Holiday Parade of Lights & Christmas Tree Lighting is Dec. 9, 2023 from 4:30-5:30 p.m.
This success of this event relies on community participation. Individuals, groups, businesses, nonprofits, organizations, cub scouts, sports teams, school groups – everyone is invited to join the parade! Apply by Nov. 27. Find more details in the parade entry application.
---
Upcoming community events
Lakewold Gardens: Halloween events
Visit Lakewold Gardens for its All Hallows' Eve: Eerie Enchantments: Poe's Garden of Shadows. The event through the weekend, from 6-9 p.m. Tickets are $20 General; $16 Students, Seniors and Military; $10 for 5-17 years (5 and under free).Learn more.
Visit the garden on Tuesday, Oct. 31 for a special trick-or-treat scavenger hunt. Kids can search for 10 menacing ravens hidden around the gardens. Find a raven, get a treat. Admission is free, but donations are appreciated. Learn more.
Do you 'know when to go' in an emergency?
With recent wildfires and corresponding smoke inundating our region on people's minds, the four Western Washington counties of King, Pierce, Snohomish and Thurston are joining forces, along with partners, to launch a regional "Ready, Set, Go!" evacuation campaign.
Learn the evacuation levels and read more.
---
Sign up for Lakewood Alert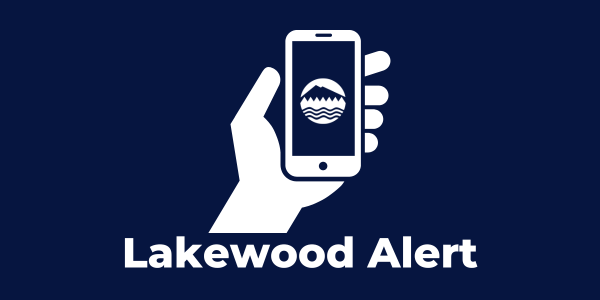 The City of Lakewood uses an alert service: Lakewood Alert to notify residents of important information.
If there is an emergency in the city that requires public notification, we will use this alert system to send out information related to the emergency. An example of when we recently used this is the Aug. 16 fire in Fort Steilacoom Park. In partnership with West Pierce Fire & Rescue and our West Pierce Emergency Management Coalition, we used the system to notify people of voluntary evacuation orders.
Subscribers can sign up to receive text and email alerts. People can also sign up for important non-emergency updates including information about road impacts from large events in the city or information about special events.
Find out more and sign up today.
---
Work for the city of Lakewood
We're hiring! Looking to change careers? Looking for a new job? Ready to re-enter the job market?
Join the city of Lakewood! We have a variety of positions open across multiple departments. Lakewood offers a competitive benefits package. We are part of the state retirement system (PERS). And the city is a beautiful place to work.
Find a current list of open positions online.
---
Road project updates
Washington Boulevard
Work is complete on the roundabout concrete paving at Lake City Boulevard and 83rd. Median pours are expected to begin next week. Asphalt paving is still scheduled for Nov. 8-10 between Lake City Boulevard and Interlaaken Drive.
Angle Lane/Elwood Drive
The replacement lights will be installed once they arrive in November. The installation of the lights were derailed by theft of materials. The contractor will be on site next week repairing the roundabout landscaping that was damaged.
Union Ave: Orchard to Spruce Street
Paving is complete and the road was scheduled to reopen by the end of the day Oct. 27. Next week the contractor will do work to tie in driveways to private property. Flaggers will be out as needed. The road will be open during this work.