The event will be held in-person at Custer Elementary on Aug. 31 at 5:30 p.m.
DSHS will host an open house event at Custer Elementary on Aug. 31 to discuss the proposed construction of a 350-bed forensic hospital on the Western State Hospital campus in Lakewood. DSHS experts will be present to answer direct questions from residents.
A second virtual event will be held on Zoom on Thursday, Sept. 9 at 6:00 p.m.
Two public comment periods related to this proposal have already occurred. Review DSHS responses to common questions on our Western State Hospital Q&A page.
Steilacoom Boulevard to close next week between Lakewood Drive & Gravelly Lake Drive; beach closures lifted
A sewer main beneath Steilacoom Boulevard near Lakewood Drive collapsed in late July. Steilacoom Boulevard will close between Lakewood Drive and Gravelly Lake Drive between Aug. 23 and Sept. 4 for repairs. Refer to the image below for a detour route.
Bookmark our map of all current Lakewood road work for future reference.
The Tacoma-Pierce County Health Department has lifted closures on some beaches connected to Flett Creek. Spillage reached Flett Creek in late July, but bacteria levels have now returned to normal at most locations. Flett Creek remains closed east of Kobayashi park. Refer to the TPCHD announcement for specifics.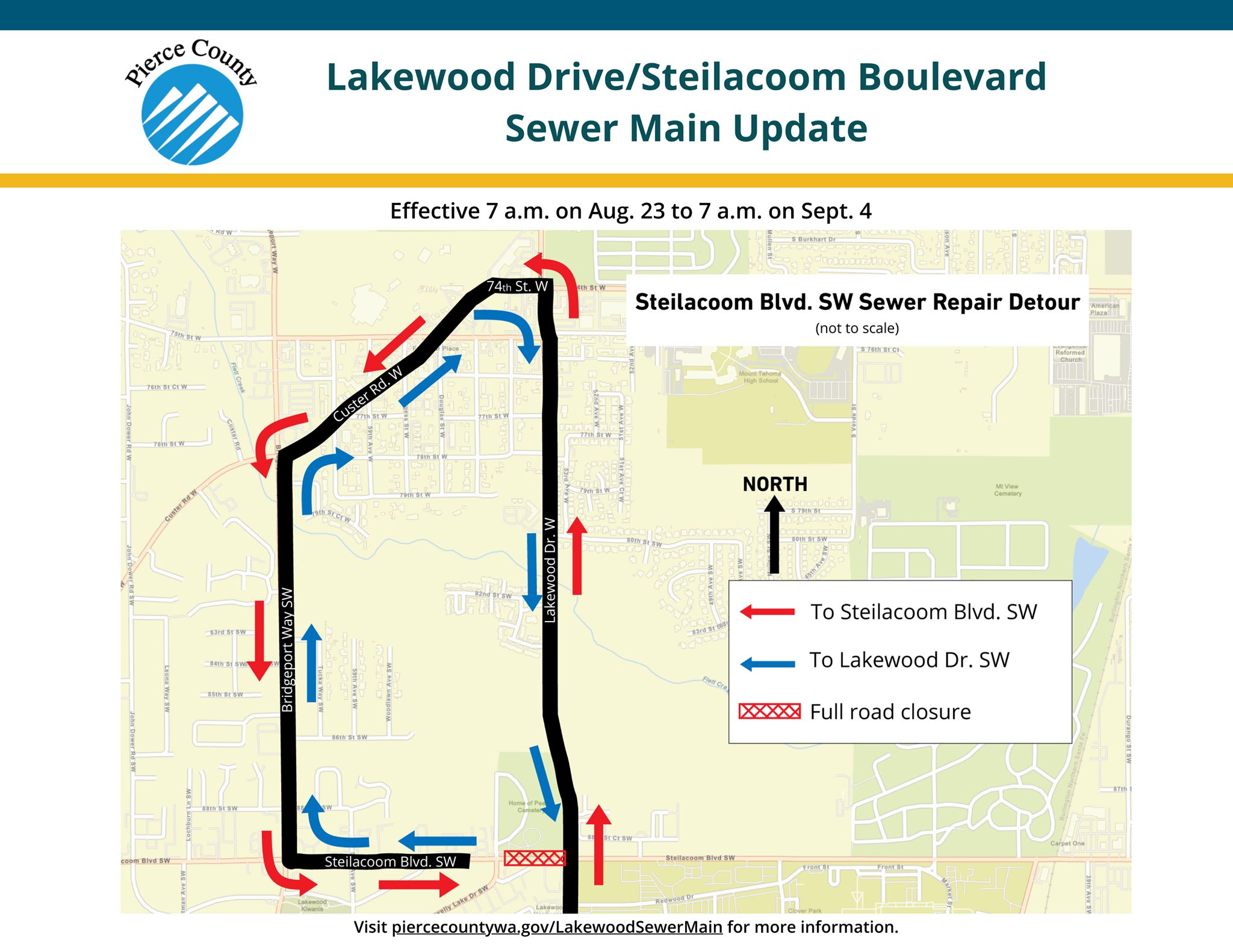 Effective Monday, masks are required in all indoor public spaces
A statewide mask mandate was announced earlier this week: all individuals, regardless of vaccination status, must wear masks in indoor public spaces.
The mask mandate will apply to most all public places across the state, including restaurants, grocery stores, malls and public-facing offices, regardless of vaccination status.
Funds will be spent towards programs that help Lakewood recover from the pandemic.
On August 23, the City Council will begin to discuss how the City will use the $13.77M it will receive from ARPA to help residents, businesses and the City itself recover from the pandemic. The Council will hold a public hearing on September 7 at 7:00 pm.
To review the details of ARPA, or to share how the pandemic has affected you, visit our ARPA webpage.
2022 LTAC grant application period closes August 23, 2021 at 5:00 p.m.
The City of Lakewood invites proposals that encourage local tourism and cultural activities. Applications must be filed by 5:00 p.m. on August 23, 2021 to be considered by the Lodging Tax Advisory Committee (LTAC) for grant award consideration.
City Accepting Donations for Afghan Refugees Next Week
City partnering with World Relief Seattle, Q13 FOX to accept donations of essentials
Seattle and Tacoma are expecting an influx of Afghan refugees following the withdrawal of American forces from Afghanistan.
Donations of dishes, towels, bedding, and other household essentials may be delivered to Lakewood City Hall next week. From Monday, Aug. 23 through Friday, Aug. 27 during business hours (8:30 a.m. – 5:30 p.m.), donations may be deposited into a drop box inside City Hall.
From the parking lot on the South side of City Hall, signage to your left (West) will instruct visitors where to leave donations.
Friday, August 20: Lakewood Farmers Market at Fort Steilacoom Park
Thursday, August 26: Free Outdoor Concert at Fort Steilacoom Park (Victims of Love)
Friday, August 27: Lakewood Farmers Market at Fort Steilacoom Park
Friday, August 27: Drive-In Movie at Fort Steilacoom Park (Remember the Titans)
Saturday, September 18: City of Lakewood 25th Anniversary Celebration at Colonial Plaza
Saturday, October 9: Truck & Tractor Day at Fort Steilacoom Park
CITY COUNCIL
August 16, 2021 – Lakewood City Council Regular Session
Consent Agenda:
Regular Agenda:
Ordinance #758: Adopting amendments to titles 5, 14, 15, and 18A of the Lakewood Municipal Code
Resolution #2021-11: Authorizing the issuance of a conditional certificate of acceptance of tax exemption within a residential target area to Lakeview Chapel, LLC.
Reports by the City Manager:
Abatement Program Update
Virus Activity: COVID-19 cases and hospitalizations are surging in Pierce County and throughout the nation.
Vaccine Locations: Vaccination is the best defense against COVID-19, and the fastest way for us to return to normal. The Towne Center Vaccine Clinic is open 7 days a week

Lakewood Towne Center Vaccine Clinic
Open Daily: 8:00 a.m. to 8:00 p.m.
10330 59th Avenue SW, STE B, Lakewood

Mask Mandate: Masks are now required in all indoor public spaces, regardless of vaccine status (effective Monday).
Relief Programs: Rent, mortgage, and utility bill relief is available under the City of Lakewood program and another by Pierce County.
Interlaaken & Lake Steilacoom: Interlaaken Drive will close between Lake Steilacoom Drive SW and Mt Tacoma Drive SW on Tuesday, Aug. 31 from 7:00 a.m. to 5:00 p.m
Steilacoom & Custer: TPU continues to perform utility work. Occasional lane closures will be required through autumn.
Steilacoom & Lakewood: Sewer repair along Steilacoom Blvd may cause various delays and lane adjustments.
Gravelly Lake & Nyanza: Gravelly Lake Drive SW will be closed between Nyanza and Veterans until next February.
Notes