The City of Lakewood offers many programs, services, and events for local youth. We also work with other agencies to ensure that positive and healthy programs are available. Use this page to find fun, impactful programs near you.
Lakewood Parks & Recreation
6000 Main St SW, 1st Floor
Lakewood, WA 98499
(253) 983-7887
[email protected]
Phone & Staff Hours:
Monday to Friday: 8:30 a.m. to 5:00 p.m.
---
Announcements – Summer Camp Registration is Now Open!
$149 Per Week
Park Lodge Elementary School
6300 100th St SW, Lakewood, WA 98499
Week 1: June 26 – June 30
Week 2: July 10 – July 14
Week 3: July 17 – July 21
Week 4: July 24 – July 28
Week 5: July 31 – August 4
Week 6: August 7 – August 11
Week 7: August 14 – August 18

To register, please fill out this packet and email to [email protected]
---
Current Youth Programs
Below are all of the current city-run youth programs. Check back as we add more throughout the year!
Agents of Discovery
Explore Lakewood Parks in a whole new way! Join Agents of Discovery, the secret agency dedicated to learning and playing outdoors. Walk the parks to solve challenges and learn more about the plants, animals, and history of Lakewood.
Agents of Discovery is an augmented reality app for kids. Players attempt challenges and learn about the wildlife and history of Lakewood.
Updates:
Stay tuned for updates on new missions, locations, and more!
How to Join:
Download the Agents of Discovery app
Use the app to find a "mission".
Go to the park to start your adventure.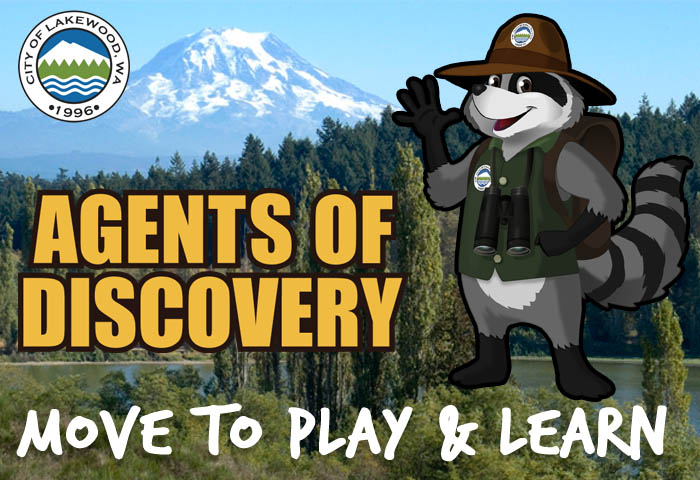 Players complete a set of challenges that are created from the following options. The mission is to complete all of the challenges. Once you complete the mission, contact cfairfield@cityoflakewood to claim your prize!
---
More Activities & Organizations
Many local partners offer youth programs. These include emotional support, food and health programs, and more. Starred programs are supported or funded by the City of Lakewood.
Entity
Programs
* Lakewood Parks & Recreation
Youth Council
After-School Programs
Summer Day Camps
Summer Mobile Recreation
Classes & Activities
Special Events
Agents of Discovery
Sports Leagues
Drive-In Movies
Eagle Scout / Gold Scout Projects
Summer Youth Corp (2022)
Youth Film Festival (2022)
* YMCA
Aquatics
Late Night Program
Teen Leadership
After-School Programs & Camps
Gymnastics
Soccer
Physical Education Classes
* Clover Park School District
3-A PCL School Sports Leagues
Leadership Programs
After-School Clubs & Activities
* Boys & Girls Club
Before- and After- Child Care
Summer Programs
Theater Programs
* Communities in Schools
Youth for Christ – Tillicum Youth & Family Center
Faith Programs
Leadership Programs
Lakewood & Tillicum Libraries
Summer Reading Programs
Mobile Programs
Art Programs
Toddler Learning
* Lakewood-Steilacoom-DuPont Soccer Club
Youth Soccer Leagues
Games/Practices
* Pierce County Parks & Recreation
Classes, Programs & Camps
Specialty Camps
Fun Runs
Specialized Recreation (2022)
* Bricks 4 Kids
LEGO-building Activities
S.T.E.M (Science, Technology, Engineering, Math) Activities
* Snapology
S.T.E.M (Science, Technology, Engineering, Math) Activities
Robotics
Preschool programs
Video Game Design
Team Building
* Skyhawks
Introductory Sports
Golf, Soccer, Basketball, Flag Football, Volleyball, Lacrosse, Cheerleading, Tennis, Track & Field
* Puget Sound Region Volleyball
Youth Volleyball
Introductory Camps
Competitive Leagues
Youth & Community Center (YACC)
Youth Adult (15-25) Activities
Group Counseling
Peer and Educational Support
Young Life
Faith Programs
Relationship Building
Community Support
Year-Round Activities
* Center for Independence
Activities for Youth with Disabilities (14+)
First Tee
Instructional Golf Classes & Camps
Lakewood Lancers
Youth Football
Youth Cheerleading
Cascade Orienteering Club
Classes
Special Events
* Youth Community Garden
Youth Gardening Activities
Open Garden Beds
Food Distribution Center
Food for Families
* St. Leo Food Connection
Mobile Food Banks
Children's Programs
Backpack Programs
Summer Meals
After-School Snacks
* Nourish Pierce County
Food for Children (18 and under)
Volunteer Opportunities
* Caring for Kids
Emergency Food Kits
Backpacks
School Supplies
Winter Clothes
Hygiene Products
* Springbrook Connections
Neighborhood Programs & Events
Community Garden
Food Pantry
Meal Programs
Lakewood Baseball Club
Youth Baseball (4-19)
Pony Baseball
* Commencement Bay Rowing Club
Rowing Instruction
Competitive Rowing (high school students)
* Boy Scouts
Events
Community Service
* Girl Scouts
Events
Community Service
* Asia Pacific Cultural Center
Promised Leaders of Tomorrow
Troubled Youth Services
Graduation Assistance
* Oasis Youth Center
LGBTQ+ Support (16-24)
* Korean Women's Association
Workforce Development
Youth Job Assistance
* YWCA
Domestic Violence Shelter & Services
* Lindquist Dental Clinic
Free Dental Care
Clover Park Technical College
Education
Culinary Arts
Youth Workforce Development
Pierce College
Science Dome
Education
Athletics
Stem Programs
* – Funded or supported by the City of Lakewood